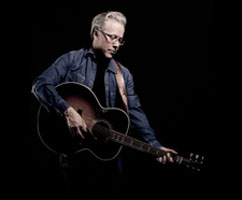 Chanteur Country US né le 20 Juillet 1959 ŕ Del Rio (Texas). Radney Foster a fait parti du duo Foster & Lloyd.

Radney Foster started his career as a songwriter, then found commercial success and critical acclaim as part of the duo Foster & Lloyd, and finally embarked on a solo career in 1991 that centered on his literate approach to country songwriting. Foster was born in Del Rio, TX, and took up the guitar at age 12. He began performing small-club gigs while attending the University of the South, a liberal arts college in Sewanee, TN, and took leave from school to try his luck in Nashville. In 1985, he signed with the MTM publishing firm as a staff songwriter, and soon struck up a partnership with Bill Lloyd, who joined the company two months later. Their "Since I Found You" became a Top Ten hit for the Sweethearts of the Rodeo, and on the strength of their demo tape RCA signed them as recording artists. Foster & Lloyd recorded three albums from 1987-1990, and landed a series of Top Ten singles in addition to complimentary reviews.
When their third album tanked, the duo amicably disbanded and Foster pursued a solo career. His debut, Del Rio, Texas, 1959, appeared in 1992 and proved a commercial as well as critical success; four of its singles hit the Top 40, and of those, "Just Call Me Lonesome" made the Top Ten, while "Nobody Wins" fell one spot short of the top of the country charts. However, the 1995 follow-up, Labor of Love, wasn't quite as popular with audiences as it was with critics. Foster revamped his approach on his third solo effort, 1999's See What You Want to See, which was more influenced by pop and rock. He subsequently parted ways with his label, Arista, and signed with the smaller Dualtone, which issued the live album Are You Ready for the Big Show?, a more traditional country outing, in 2001. The studio follow-up, 2002's Another Way to Go, found Foster exploring classic-style R&B in addition to country. In 2004 he released the acoustic album And Then There's Me (The Back Porch Sessions), only available online, but 2006 saw another Dualtone record, This World We Live In.
Foster reunited with Bill Lloyd for 2011's It's Already Tomorrow, and returned to solo status for 2014's Everything I Should Have Said. Early in 2017, Foster appeared in a musical called Troubadour featuring music by Kristian Bush. Later in the year, he released For You to See the Stars, an album that was accompanied by a book of stories.
https://en.wikipedia.org/wiki/Radney_Foster
Talents : Vocals, Songwriter, Guitar
Style musical : Contemporary Country

http://youtu.be/J9HwkKw8TpU
Years in activity :
| | | | | | | | | | | | |
| --- | --- | --- | --- | --- | --- | --- | --- | --- | --- | --- | --- |
| 1910 | 20 | 30 | 40 | 50 | 60 | 70 | 80 | 90 | 2000 | 10 | 20 |
DISCOGRAPHY
Singles
| | | |
| --- | --- | --- |
| 05/1987 | SP RCA 5210-7-R (US) | FOSTER & LLOYD - Crazy Over You / Part I Know By Heart |
| 09/1987 | SP RCA 5281-7-R (US) | FOSTER & LLOYD - Sure Thing / Hard To Say No |
| 02/1988 | SP RCA 6900-7-R (US) | FOSTER & LLOYD - Texas In 1880 / Token Of Love |
| 06/1988 | SP RCA 8633-7-R (US) | FOSTER & LLOYD - What Do You Want From Me This Time / Don't Go Out With Him |
| 11/1988 | SP RCA 8795-7-R (US) | FOSTER & LLOYD - Fair Shake / After I'm Gone |
| 04/1989 | SP RCA 8942-7-R (US) | FOSTER & LLOYD - Before The Heartache Rolls In / Happy For A While |
| 07/1989 | SP RCA 9028-7-R (US) | FOSTER & LLOYD - Suzette / I'll Always Be Here Loving You |
| 02/1990 | SP RCA 2502-7-R (US) | FOSTER & LLOYD - Is It Love / Workin' On Me |
| 07/1990 | SP RCA 2635-7-R (US) | FOSTER & LLOYD - Can't Have Nothin' / Workin' On Me |
| 08/1992 | SP ARISTA 07822-12448-7 (US) | Just Call Me Lonesome / Louisiana Blue |
| 11/1992 | SP ARISTA 07822-12512-7 (US) | Nobody Wins / Don't Say Goodbye |
| 04/1993 | SP ARISTA 07822-12564-7 (US) | Easier Said Than Done / Don't Say Goodbye |
| 08/1993 | SP ARISTA 07822-12608-7 (US) | Hammers And Nails / A Fine Line |
| 02/1994 | SP ARISTA 07822-12652-7 (US) | Closing Time / Old Silver |
| 06/1994 | SP ARISTA 07822-12716-7 (US) | Labor Of Love / Jesse's Soul |
| 10/1994 | SP ARISTA 07822-12758-7 (US) | The Running Kind (Radney FOSTER) / Silver Wings (Pam TILLIS) |
| 03/1995 | SP ARISTA 07822-12752-7 (US) | Willin' To Walk / Last Chance For Love |
| 08/1995 | SP ARISTA 07822-12861-7 (US) | If It Were Me / Walkin' Talkin' Woman |
| | |
| --- | --- |
| | |
Albums
09/1987
CD RCA 6372-2

-R

(US)
FOSTER AND LLOYD - FOSTER & LLOYD - Turn Around / Crazy Over You / What Do You Want From Me This Time / Token Of Love / Sure Thing / Hard To Say No / Part I Know By Heart / Texas In 1880 / You Can't Come Crying To Me
04/1989
CD RCA

9587-2-R

(US)
FASTER AND LLOUDER - FOSTER & LLOYD - Faster And Llouder / Fair Shake / She Knows What She Wants / Happy For Awhile / Fat Lady Sings / I'll Always Be Here Loving You / Suzette / Before The Heartache Rolls In / Lie To Yourself
12/1990
CD RCA 2113-2-R(US)
VERSION OF THE TRUTH - FOSTER & LLOYD - Is It Love / Version Of The Truth / I Wishdaida Run Into You / Leavin' In Your Eyes / Side Of The Road / It's A Done Deal / Lonesome Run / It's Over / All Said And Done / Workin' On Me / Whoa
07/1992
CD ARISTA 07822-18713-2 (US)
DEL RIO - TX 1959 - Just Call Me Lonesome / Don't Say Goodbye / Easier Said Than Done / Fine Line / Went For A Ride / Nobody Wins / Louisiana Blue / Closing Time / Hammer And Nails / Old Silver
04/1994
CD ARISTA 07822-18757-2 (US)
LABOR OF LOVE - Willin' To Walk / Labor Of Love / My Whole Wide World / Never Say Die / Jesse's Soul / Everybody Gets The Blues / If It Were Me / Broke Down / Precious Pearl / Last Chance For Love / Walkin' Talkin' Woman / Making It Up As I Go Along
04/1996
CD RCA 07863-66825-2 (US)
THE ESSENTIAL FOSTER & LLOYD - FOSTER & LLOYD - Crazy Over You / What Do You Want From Me This Time? / Sure Thing / Hard To Say No / Don't Go Out With Him / Texas In 1880 / You Can Come Cryin' To Me / Faster And Louder / Fair Shake / She Knows What She Wants / Happy For A While / Fat Lady Sings / After I'm Gone / Suzette / Before The Heartache Rolls In / Is It Love / Can't Have Nothin' / All Said And Done / White Train / Whoa
05/1999
CD ARISTA 07822-18833-2 (US)
SEE WHAT YOU WANT TO SEE - I've Got A Picture / I'm In / Raining On Sunday / Folding Money / Angry Heart / Kiss / You Were So Right / God Knows When / Lucky Ones / Godspeed (Sweet Dreams)
06/2001
CD DUALTONE 80302-01102-2 (US)
ARE YOU READY FOR THE BIG SHOW - Tonight / God Knows When / Just Call Me Lonesome / School Of Hard Knocks / Went For A Ride / I'm Used To It / Folding Money / Leaning On What Love Can Do / How You Play The Hand / Nobody Wins / I'm In / Texas In 1880 / Tonight
09/2002
CD DUALTONE 80302-01128-2 (US)
ANOTHER EASY WAY TO GO - Real Fine Place To Start / Everday Angel / Again / Sure Feels Right / Disappointing You / I Got What You Need / Tired Of Pretending / What Is It That You Do / Scary Old World / Love Had Something To Say About It / What Are We Doing Here Tonight / Just Sit Still / Another Way To Go
04/2006
CD DUALTONE 80302-01234-2 (US)
THIS WORLD WE LIVE IN - Drunk On Love / Sweet And Wild / Kindness Of Strangers / Big Idea / Half Of My Mistakes / New Zip Code / I Won't Lie To You / Prove Me Right / Fools That Dream / Never Gonna Fly
06/2008
CD Thirty Tigers 706008 (US)

Revival -

Radney FOSTER & THE CONFESSIONS - Little Revival / Forgiveness / Until It's Gone / Second Chances / I Know You Can Hear Me / Angel Flight / Trouble Tonight / Shed A Little Light / I Made Peace With God / Life Is Hard (Love Is Easy) / If You Want To Be Loved / Suitcase / A Little Revival (reprise)
05/2011
CD EFFIN ELL ? (US)
IT'S ALREADY TOMORROW - FOSTER & LLOYD

-

It's Already Tomorrow / That's What She Said / If It Hadn't Been For You / Lucky Number / Picasso's Mandolin / Hiding Out / Just This Once / Something 'bout Forever / Can't Make Love Make Sense / Hold That Thought / Don't Throw It Away / Watch Your Movie / When I Finally Let You Go
08/2012
CD Devil's River 3564 (US)

Del Rio, TX Revisited - Unplugged and Lonesome

- Just Call Me Lonesome / Don t Say Goodbye / Easier Said Than Done / Fine Line / Me And John R. / Nobody Wins / Old Silver / Louisiana Blue / Closing Time / Hammer And Nails / Went For A Ride
09/2013
2 CD Yellow Label SPV 266152 (GER)
Del Rio, Tx 1959 & Labor of Love :

CD 1 : Just Call Me Lonesome / Don't Say Goodbye / Easier Said Than Done / Fine Line / Went For A Ride / Nobody Wins / Louisiana Blue / Closing Time / Hammer And Nails / Old Silver
CD 2 : Willin' To Walk / Labor Of Love / My Whole Wide World / Never Say Die / Jesse's Soul / Everybody Gets The Blues / If It Were Me / Broke Down / Precious Pearl / Last Chance For Love / Walkin' Talkin' Woman / Making It Up As I Go Along
© Rocky Productions 4/11/2013