| | |
| --- | --- |
| | |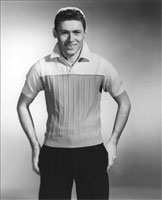 Chanteur US né le 4 Août 1939 à Gretna (Louisiane). Frankie Ford a enregistré à la fin des années cinquante et au début des soixante pour Ace et Imperial Records. Il fut crédité d'un immense hit "Sea Cruse". Il est décédé le 28 Septembre 2015.



Frankie Ford was the adopted son of Vincent and Anna Guzzo, who named him Francis Guzzo. He was born in Gretna, Louisiana, on August 4, 1939, won a scholarship to nearby South-Eastern College, Hammond, and whilst there formed a band called the Syncopators with some other students. Frankie was the singer and piano player.
One night after a local gig, Frankie was introduced to Joe Caronna, who was the New Orleans distributor for Ace Records. Asked if he was interested in making a record, Frankie's answer was, of course, "yes". Caronna was so impressed with Frankie that he became his manager and set up his first recording session at Cosimo Matassa's studio. The result of that Ace Records session was Frankie's first regional hit, 'Cheatin' Woman' (549). The follow-up release was 'Sea Cruise', an exuberant rocker backed with an equally energetic 'Roberta', a sole million seller for Frankie.
'Sea Cruise' is a landmark in studio trickery. Sometime around the end of 1958, Huey Smith and the Clowns, featuring vocalist Bobby Marchan, travelled from their base in New Orleans to Jackson, Mississippi, to cut some tracks with a local record distributor, Johnny Vincent, owner of Ace Records. Ace had already scored a national hit for Smith woth his 'Rockin' Pneumonia And The Boogie Woogie Flu' and Vincent hoped to find more gold amongst the pianist/songwriter's store of novelty R&B tunes.
Vincent liked two of the Clowns' tracks, 'Loberta' and 'Sea Cruise', but didn't think Marchan's Vocals were up to scratch, so he brought in Frankie Ford. Ford wasn't a great singer but his Southern/Italian accent lent him a potential teen appeal akin to Bobby Darin and Dion, something that could not be said of a band named after a pianist and fronted by a black transvestite. So, without consulting Smith or Marchan, Vincent put Ford's voice over the Clowns' tracks. Ford wound up with a national hit and a brief period on the road fronting Smith's band. Smith wound up with a couple of important copyrights ('Loberta' became the pounding 'Roberta'). 'Sea Cruise' reached No.14 in the US chart.
Frankie's other Ace releases included 'Alimony' (566), Time After Time' (580), 'Chinatown' (592) and 'Ocean Full Of Tears' (8009).
In 1960, Frankie signed with Imperial records after they approached him with an offer he couldn't refuse. Produced by Dave Bartholomew, Frankie's first Imperial release was 'You Talk Too Much', a cover of Joe Jones' version on Roulette Records. Imperial released several other Frankie Ford records, including 'Seventeen', 'Saturday Night Fish Fry', 'Dog House', 'The Groom', 'Let Them Talk' and 'A Man Only Does'.
In 1962, Frankie was drafted into the U.S. Army and continued to entertain as a member of Special Services throughout the United States, Korea and Viet Nam. After his discharge from the Army he continued to record for various labels. Doubloon Records in New Orleans issued 'I Can't Face Tomorrow', arranged by Allen Toussaint. During the '70s and '80s he recorded for Paula, Cinnamon, ABC and Briarmeade Records. In 1995 Frankie returned to Ace to record a new album, 'Hot And Lonely'.
He was inducted into The Louisiana Hall of Fame and received the Lifetime Achievement Award from The South Louisiana Music Association. The legendary rock n' roll pianist and performer continues to entertain the masses all over the world in concerts, night clubs, casinos and festivals. He died September 28, 2015.
https://en.wikipedia.org/wiki/Frankie_Ford
Talents : Vocals, Piano
Style musical : Rock 'n' Roll, Rhythm 'n' Blues

http://youtu.be/i5tIHtbctFQ
Years in activity :
| | | | | | | | | | | | |
| --- | --- | --- | --- | --- | --- | --- | --- | --- | --- | --- | --- |
| 1910 | 20 | 30 | 40 | 50 | 60 | 70 | 80 | 90 | 2000 | 10 | 20 |
DISCOGRAPHY
Singles & EP
05/1958
SP ACE 549 (US)
.
Cheatin' Woman / The Last One To Cry
12/1958
SP ACE 554 (US)
.
Sea Cruise / Roberta
04/1959
SP VIN 1013 (US)
.
Morgus The Magnificent (

Morgus

& The 3

Ghouls

) / The Lonely Boy (

Frankie & Mac

)
06/1959
SP ACE 566 (US)
.
Alimony / Can't Tell My Heart
12/1959
SP ACE 580 (US)
.
Time After Time / I Want To Be Your Man
1959
EP ACE 105 (US)
THE BEST OF FRANKIE FORD - Chinatown / Time After Time / Sea Cruise / Roberta
06/1960
SP ACE 592 (US)
Chinatown / What's Goin' On ?
08/1960
SP IMPERIAL X5686 (US)
.
You Talk Too Much / If You've Got Troubles
10/1960
SP IMPERIAL X5706 (US)
.
My Southern Belle / The Groom
1960
EP POLYDOR 27725 (F)
You Talk Too Much / If You've Got Troubles / The Groom / My Southern Belle
03/1961
SP IMPERIAL X5735 (US)
.
Seventeen / Doghouse
05/1961
SP IMPERIAL X5749 (US)
.
Saturday Night Fish Fry / Love Don't Love Nobody
09/1961
SP IMPERIAL X5776 (US)
.
What Happened To You ? / Let 'Em Talk
03/1962
SP IMPERIAL X5819 (US)
.
A Man Only Does / They Said It Couldn't Be Done
1963
SP ACE 8009 (US)
.
Ocean Full Of Tears / Hour Of Need
1963
SP CONSTELLATION 101 (US)
.
Chinatown / Ocean Full Of Tears
1965
SP WHITE CLIFFS 210 (US)
.
Basin Street Blues / Lonesome Road
1967
SP DOUBLOON ONE 01 (US)
.
Half A Crown / I Can't Face Tomorrow
06/1971
SP PAULA 351 (US)
.
Peace Of Mind / I'm Proud Of What I Am
1972
SP CINNAMON C-752 (US)
.
When I Stop Dreamin' / I'm Proud Of What I Am
1973
SP CINNAMON C-767 (US)
.
Talk To A Carpenter / When I Stop Dreamin'
1973
SP GOLDIES 45 D-2475 (US)
.
Sea Cruise / Roberta
04/1974
SP ABC ABC-11431 (US)
.
Blue Monday / All Alone Am I
1976
SP BRIARMEADE 7600 (US)
.
I've Found Someone Of My Own / Battle Hymn Of The Rebublic
1977
SP BRIARMEADE 7701 (US)
.
Desperado / Mardi-Gras In New Orleans
1978
SP JANUS 1JG 746 (US)
.

Sea Cruise / Cinnamon Cinder (The PASTEL SIX)

1978
SP GOLDISC G 3062 (US)
.
Sea Cruise / Time After Time
1979
SP STARFIRE S-119 (US)
Cheatin! Woman / Time After Time
1979
SP BRIARMEADE 7901 (US)
.
Halfway To Paradise / I'm Proud Of What I Am
1982
SP SYC 1227 (US)
.
Growing Pains / Ups And Downs
1982
SP RIPETE R45-267 (US)
.
Time After Time / Mashed Potato Time (Dee Dee SHARP)
1983
SP SYC 1228 (US)
.
My Prayer / Gospel Ship
1984
SP ORIGINAL SOUND OBG 4524 (US)
.
Sea Cruise (Frankie FORD) / Don't You Just Know It (Huey SMITH & The CLOWNS)
1984
SP RIPETE R45-146 (US)
.

Sea Cruise (Frankie FORD) / Rockin' Pneumonia (And The Boogie Woogie Flu) (Huey SMITH & The CLOWNS)

1985
SP JIN 402 (US)
.
Frankie FORD with JOHNNY & The ROCCOS - Whiskey Heaven / I Wanna Walk You Home
1992
SP STARDUST URS-002 (CAN)
.
Frankie FORD with JOHNNY & The ROCCOS - Whiskey Heaven / I Want To Walk You Home
Albums
1959
LP 12" ACE LP-1005 (US)
LET'S TAKE A SEA CRUISE WITH FRANKIE FORD - Sea Cruise / Alimony / Danny Boy / It Must Be Jelly / Watchdog / What's Going On / Roberta / Can't Tell My Heart / Your Game Is Over / I'm Worried Over You / Hour Of Need / Cheatin' Woman
1976
LP 12" BRIARMEADE 5002 (US)
FRANKIE FORD - Wheel Of Fortune / I've Found Someone Of My Own / Sonny Ain't A Bad Girl / Halfway To Paradise / Just What I've Been Looking For / Lonely Street / Battle Hymn Of The Republic / Ode To Billy Joe / Long Way Down The Road / Bridge Over Troubled Water / Songwriter's Blues
1979
LP 12" ACE VS 1009 (US)
LET'S TAKE A SEA CRUISE WITH FRANKIE FORD - Sea Cruise / Alimony / Danny Boy / It Must Be Jelly / Watchdog / What's Going On / Roberta / Can't Tell My Heart / Your Game Is Over / I'm Worried Over You / Hour Of Need / Cheatin' Woman
1984
LP 12" ACE CH 116 (UK)
NEW ORLEANS DYNAMO - Frankie FORD with JOHNNY & The ROCCOS - Don't Drop It / A Certain Girl / Sick And Tired / Whiskey Heaven / Fine Thang ! / Don't You Know Yockomo / That's Right / Lipstick Traces / Rockin' Behind The Iron Curtain / Yours Truly / I Wanna Walk You Home / Bony Moronie
1991
CD STARDUST CD-5002 (CAN)
THE ALL-TIME GREATEST HITS OF FRANKIE FORD - Cheatin' Woman / Sea Cruise / Roberta / Alimony / I Want To Be Your Man / What's Going On / You Talk Too Much / Fine Thang ! / Whiskey Heaven / I Wanna' Walk You Home
07/1992
CD ACE 2036 (US)
LET'S TAKE A SEA CRUISE WITH FRANKIE FORD - Sea Cruise / Alimony / Danny Boy / It Must Be Jelly / Watchdog / What's Going On / Roberta / Can't Tell My Heart / Your Game Is Over / I'm Worried Over You / Hour Of Need / Cheatin' Woman / Can't Tell My Heart What To Do / Blow Wind Blow / Geronimo / Danny Boy / Your Game Is Over / St. Louis Blue
09/1995
CD ACE 2060 (US)
HOT AND LONELY - Hot And Lonely / Dancing With My Baby / Don't Lie To Me / Meet Me Tonight / Even Fools Have Feelings / Hurt By Love Before / Three People / Love Stealing Time Again / Gone / Man Got To Do What A Man Got To Do / Back Streets / Thank God
05/1998
CD WESTSIDE WESM 519 (UK)
OOO-WEE BABY! - THE VERY BEST OF FRANKIE FORD - Sea Cruise (take 1) / Cheatin' Woman / Last One To Cry / Sea Cruise (take 13) / Roberta / Can't Tell My Heart What To Do / Alimony / Time After Time / I Want To Be Your Man / Chinatown (take 5) / What's Getting On / Morgus The Magnificent (

Morgus

& The

Three Ghouls

) / Lonely Boy (

Frankie & Mac

) / Ocean Full Of Tears / Hour Of Need / Blow Wind Blow / It Must Be Jelly / Your Game Is Over / St. Louis Blues / Geronimo / I'm Worried Over You / Watch Dog / Can't Tell My Heart What To Do (undubbed take) / Time After Time (undubbed take) / Hour Of Need (undubbed take) / Danny Boy / Pretending You're Mine (take 3)
06/1998
CD MUSIC CLUB 50062 (UK)
SEA CRUISE: THE VERY BEST OF FRANKIE FORD - Sea Cruise / Roberta / Cheatin' Woman / Last One To Cry / Alimony / Can't Tell My Heart / I Want To Be Your Man / Time After Time / What's Going On / It Must Be Jelly / Your Game Is Over / Watch Dog / I'm Worried Over You / Blow Wind Blow / Geronimo / St. Louis Blues / Ocean Full Of Tears / Hour Of Need
06/1998
CD AVANTI CD 1002 (US)
A NEW ORLEANS TRADITION - Rockin' Pneumonia And The Boogie Woogie Flu / Because I Do / Just A Moment / Time After Time / Don't You Just Know It / A Different Kind Of Love / A Fool Or A Wise Man / St. Louis Blues / Havin' A Good Time / Promises / Cotton Fields / Your Game Is Over / High Blood Pressure / I Want To Be Your Man / Chinatown / Lonely, Lonely Nights / Sea Cruise
11/1998
CD ACE CDCHD 696 (UK)
CRUISIN' WITH FRANKIE FORD - THE IMPERIAL SIDES AND LONDON SESSIONS - If You've Got Troubles / You Talk Too Much / They Said It Couldn't Be Done / Dedicated To Fats / The Groom / Dog House / A Man Only Does / One Hour/My Southern Belle / Seventeen / What Happened To You / Love Don't Love Nobody / Let 'Em Talk / Satruday Night Fish Fry / Whiskey Heaven / Don't Drop It / A Certain Girl / Sick And Tired / Fine Thang ! / Don't You Know Yockomo / That's Right / Lipstick Traces / Rockin' Behind The Iron Curtain / Yours Truly / I Wanna Walk You Home / Bony Moronie
1999
CD AVANTI AVI-1030 (US)
CHRISTMAS - Christmas On Bourbon Street / Blue Christmas / When Christmas Is Here / Silent Night / Santa Won The Lottery / Please Come Home For Christmas / Adeste Fidelis / All I Want For Christmas Is You / Ave Marie / Jingle Bell Rock / White Christmas / The 12 Drinks Of Christmas / Have Yourself A Merry Little Christmas / Santa Got Stuck Up The Chimney / Jingle Bells / Christmas Chased My Blues Away
09/2001
CD LOUISIANA RED HOT CD 1141 (US)
CHRISTMAS - Christmas On Bourbon Street / Blue Christmas / When Christmas Is Here / Silent Night / Santa Won The Lottery / Please Come Home For Christmas / Adeste Fidelis / All I Want For Christmas Is You / Ave Marie / Jingle Bell Rock / White Christmas / The 12 Drinks Of Christmas / Have Yourself A Merry Little Christmas / Santa Got Stuck Up The Chimney / Jingle Bells / Christmas Chased My Blues Away
2002
CD BRIARMEADE BR-200 (US)
NIGHT SONGS - Gone / Looking Back / The Twelfth Of Never / Saying Goodbye / At The End Of A Rainbow / At Last / Let Them Talk / Can't Tell My Heart / The Fool / With You In Mind / A Man Only Does / I've Heard That Story Before / For Your Love / Over The Rainbow / Night Song
03/2003
CD BRIARMEADE BR-3001 (US)
THAT CAN BE USED AGAIN ! - Lady Waiting / Beer Drinkin', Honky Tonkin' Woman Chasing Son Of A Gun / One Too Many Heartaches, One Too Many Times (with Travis HATCHER) / One Night In Dallas (with Curtis HEBERT) / Louisiana, I'm Coming Home (with Eddie MAHNE JR.) / Mama Loochie / Whenever I / You're The Reason Our Kids Are Ugly (with Grace BROUSSARD) / Louisiana Anna/This Time (with Troy SHONDELLl) / That Can Be Used Again (with Mason McCLAIN) / Red High Heels / Together Forever (with Nancy HEBERT) / I'm Gonna Be Strong
4/2009
CD

Fuel

2000 061762 (US)

The Best of Frankie Ford - SEA CRUISE -

Sea Cruise / Roberta / Cheatin' Woman / Last One To Cry / Alimony / Can't Tell My Heart / It Must Be Jelly / Your Game Is Over / Watch Dog / I'm Worried Over You / Blow Wind Blow / Time After Time / I Want To Be Your Man / What's Going On / Chinatown / Geronimo / St. Louis Blues / Hour Of Need / Ocean Full Of Tears / Sea Cruise
09/2009
CD Matassa Music 2009 (?)

On the Street Where You Live -

On The Street Where You / Street Of Dreams / On The Sunny Side Of The Street / Easy Street / Happiness Street / Standing On The Corner / Grant Avenue / Beale Street Mama / Lonesome Road / Lonely Street / Boulevard Of Broken Dreams / Basin Street Blues
05/2011
CD JASMINE JASCD 150 (UK)

Sea Cruise and Other Hits -

Cheatin' Woman / Last One To Cry / Sea Cruise / Roberta / Alimony / Can't Tell My Heart What To Do / Time After Time / I Want To Be Your Man / Chinatown / What's Goin' On / Danny Boy / It Must Be Jelly / Watchdog / Your Game Is Over / I'm Worried Over You / Hour Of Need / Morgus The Magnificent (Frankie FORD feat:

Morgus & The Ghouls

) / Lonely Boy (Frankie FORD feat:

Frankie & Mac

) / You Talk Too Much / If You've Got Troubles / My Southern Belle / The Grom
© Rocky Productions 25/10/2013