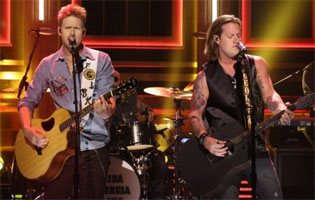 Duo Country US composé de Tyler Hubbard (de Monroe, Georgie) et de Brian Kelley (de Ormand Beach, Floride).

Florida Georgia Line came out of nowhere in 2012 to become the biggest country group of the new decade. The vehicle of their success was "Cruise," a slick, shimmering ode to the wide-open road that became an unkillable crossover hit in 2013 and, eventually, the biggest country single of all time. They'd lose that record to Sam Hunt, whose "Body Like a Back Road" took the country crown in 2017, but they regained it the next year when "Meant to Be," their duet with pop singer Bebe Rexha, stayed at the top of Billboard's Hot Country Songs charts for 35 weeks. "Meant to Be" wasn't Florida Georgia Line's first genre-bending crossover hit. After "Cruise" broke through on its own merits, reaching 16 on the Billboard Hot 100, its life was extended thanks to a remix featuring rapper Nelly. This unexpected collaboration pushed the single all the way to number four on the Hot 100, but at that point it was clear that the appeal of "Cruise" lay in Florida Georgia Line's unabashedly polished pop perspective. Unlike some fellow contemporary country bros, the duo of Brian Kelley and Tyler Hubbard didn't swagger; they were bright, sunny, and friendly, qualities showcased on subsequent hits "Get Your Shine On" and "Round Here." Where some of their peers -- tagged as "bro-country" due to their macho swagger and frat-friendly sensibility -- stumbled on their second or third albums, Florida Georgia Line's willingness to incorporate pop and hip-hop styles into their sound meant that they stayed on the top of the charts throughout the 2010s.
Brian Kelley and Tyler Hubbard -- the former hails from Ormond Beach, Florida, the latter Monroe, Georgia, hence their band name -- met as students at Nashville's Belmont University, and began writing songs together between classes. Soon, they were playing local clubs, quickly building a fan following on the Southeast club circuit and developing a sharp contemporary country sound. After self-releasing an EP of originals called Anything Like Me in December 2010, the duo signed a publishing and management deal with Big Loud Mountain, then entered the studio with producer Joey Moi to track an EP, It'z Just What We Do.
It'z Just What We Do appeared in May of 2012, preceded by the single "Cruise." Within two months, the single debuted on the Billboard Hot Country Songs chart, where it would reside for months on end. On December 15, 2012, it wound up topping the country charts for the first time. It would stay at the top for 24 weeks, shattering the previous long-held record of 21 weeks at the top, a record held jointly by Webb Pierce's 1955 hit "In the Jailhouse Now," Hank Snow's 1950 "I'm Movin' On," and Eddy Arnold's 1947 "I'll Hold You in My Heart ('Til I Can Hold You in My Arms)." As "Cruise" ruled the country charts, a pop-oriented remix featuring rapper Nelly appeared as a separate single, turning the song into a pop hit; it climbed all the way to four on the Hot 100. "Cruise" kept many other hits away from the number one position, and that included two subsequent singles by Florida Georgia Line: the January 2013 single "Get Your Shine On" and its sequel, "Round Here." Both of these were huge hits, topping the Country Airplay chart on their way to platinum certification, but they were dwarfed by "Cruise," which wound up selling over 6,500,000 units on its way to becoming the biggest country single of all time. "Cruise" also won the 2013 CMA for Single of the Year, the same year Florida Georgia Line snagged Vocal Duo of the Year.
Naturally, the accompanying Here's to the Good Times album -- which was produced by Joey Moi, a producer who made the transition from Nickelback to Jake Owen in 2011 -- also became a hit, reaching number one on the Country Albums chart in the summer of 2013 on its way to double-platinum certification from the RIAA. Once "Get Your Shine On," "Round Here," and "Stay" finished their stays at number one on Billboard's Country Airplay chart, the album was reissued as an expanded edition called Here's to the Good Times...This Is How We Roll for the holiday season of 2013, with their number one duet with Luke Bryan called "This Is How We Roll" added to the album (which also reached number one on the country chart).
Florida Georgia Line reunited with Joey Moi for their second album, Anything Goes. Preceded by the July single "Dirt" -- which would become their fifth number one hit -- Anything Goes debuted at number one upon its release in October 2014. Over the next year, the album spawned four additional Billboard country hits: "Sun Daze," "Sippin' on Fire," and "Confession," which all hit number one, plus "Anything Goes." Anything Goes kept Florida Georgia Line rolling into 2016, when they geared up to release their third album, Dig Your Roots. Produced like its predecessors by Joey Moi, Dig Your Roots produced three successive number one Country Airplay singles over the course of 2016 and 2017: the first single "H.O.L.Y.," the Tim McGraw duet "May We All," and the Backstreet Boys collaboration "God, Your Mama, and Me."
In October 2017, Florida Georgia Line duetted on "Meant to Be," a single from Bebe Rexha, a pop singer on the rise. "Meant to Be" rocketed to number one on Billboard's Country Airplay chart, eventually crossing over to number two on the Hot 100 in 2018, all on its way toward snatching back the title for most weeks at number one on the Hot Country Songs chart from Sam Hunt. With that honor once again bestowed upon Florida Georgia Line, the band started to roll out singles from a fourth album in the guise of a digital EP. First up was "Simple," which appeared in June 2018 and peaked at nine on the Country Airplay chart; it was accompanied by the digital-only "Colorado." Another song, "Talk You Out of It," was added to the ever-evolving untitled EP in July, followed by "Sittin' Pretty" in August. All these songs were featured on Can't Say I Ain't Country, the full-length album FGL delivered in February 2019.
Can't Say I Ain't Country debuted at number four on Billboard's Top 200 and number one on their Country charts. After its release, "Talk You Out of It" was worked at country radio, making it to number 11 on the Country Airplay charts. In October, FGL issued Acoustic Sessions, which offered new acoustic versions of 17 of their biggest songs. "I Love My Country," the first new song Florida Georgia Line released since Can't Say I Ain't Country, appeared in March 2020. The single wound up anchoring the EP 6-Pack, which arrived that May. The following year saw the release of the full-length effort Life Rolls On.
http://www.floridageorgialine.com/
https://en.wikipedia.org/wiki/Florida_Georgia_Line
Talents : Tyler Hubbard : Vocals, Guitar - Brian Kelley : Vocals, Guitar
Style musical : Contemporary Country, Country Pop

https://youtu.be/puiJKDWFars
Years in activity :
| | | | | | | | | | | | |
| --- | --- | --- | --- | --- | --- | --- | --- | --- | --- | --- | --- |
| 1910 | 20 | 30 | 40 | 50 | 60 | 70 | 80 | 90 | 2000 | 10 | 20 |
20
DISCOGRAPHY
Singles & EP
05/2012
CD Republic 223438455 (US)

It'z Just What We Do -

Cruise / Get Your Shine On / Tip It Back / Tell Me How You Like It / It'z Just What We Do
2013
CD Republic FGLCD01 (UK) (promo)

Cruise (featuring NELLY) (remix)

2014
CD Republic B0021314-32 (US)

Dirt (album version) / Dirt (radio edit)

2015
CD BIG MACHINE ? (UK) (promo)

Dirt
Albums
12/2012
CD REPUBLIC B 001777302 (US)
HERE'S TO THE GOOD TIMES -

Cruise / Round Here / Get Your Shine On / Here's To The Good Times / It'z Just What We Do / Stay / Hell Raisin' Heat Of The Summer / Tell Me How You Like It / Tip It Back / Dayum, Baby / Party People

2013
CD + DVD REPUBLIC B0019606-10 (US) (deluxe edition)

Here's To The Good Times / This Is How We Roll :

CD : Cruise / Round Here / Get Your Shine On / Here's To The Good Times / It'z Just What We Do / Stay / Hell Raisin' Heat Of Summer / Tell Me How You Like It / Tip It Back / Dayum, Baby / Party People / This Is How We Roll / Take It Out On Me / People Back Home / Headphones / Hands On You / Cruise (remix)
DVD :

Music Videos :

Cruise / Cruise (remix) / Get Your Shine On / Round Here / Stay / It'z Just What We Do /

Behind-The-Scenes Videos :

Cruise BTS / Cruise (remix) BTS / Get Your Shine On BTS / Round Here BTS / Stay BTS / Making Of The Album

11/2013
D + DVD REPUBLIC B0019607-10 (US) (deluxe edition)

Here's To The Good Times / This Is How We Roll :

CD : Cruise / Round Here / Get Your Shine On / Here's To The Good Times / It'z Just What We Do / Stay / Hell Raisin' Heat Of Summer / Tell Me How You Like It / Tip It Back / Dayum, Baby / Party People / This Is How We Roll / Take It Out On Me / People Back Home / Headphones / Hands On You / Cruise (remix) /

Exclusive Bonus Tracks

:

What Are You Drinking About / Country In My Soul

DVD :

Music Videos :

Cruise / Cruise (remix) / Get Your Shine On / Round Here / Stay / It'z Just What We Do /

Behind-The-Scenes Videos :

Cruise BTS / Cruise (remix) BTS / Get Your Shine On BTS / Round Here BTS / Stay BTS / Making Of The Album

10/2014
CD REPUBLIC B 002159400 (US)

Anything Goes -

Anything Goes / Sun Daze / Good Good / Dirt / Smile / Sippin' On Fire / Smoke / Bumpin' The Night / Angel / Confession / Like You Ain't Even Gone / Every Night
10/2014
CD REPUBLIC B0021720-02 (US) (deluxe edition)

Anything Goes -

Anything Goes / Sun Daze / Good Good / Dirt / Smile / Sippin' On Fire / Smoke / Bumpin' The Night / Angel / Confession / Like You Ain't Even Gone / Every Night /

Deluxe Tracks :

Girl On The Radio / Dance For Me / That's What's Up

08/2016
CD BMX 0300 (US)

Dig Your Roots -

Smooth / Dig Your Roots / Life Is A Honeymoon / H.O.L.Y. / Island / May We All / Summerland / Lifer / Good Girl, Bad Boy / Wish You Were On It / God, Your Mama, And Me / Music Is Healing / While He's Still Around / Grow Old / Heatwave
02/2019
CD BMX 3003826 (US)

Can't Say I Ain't Country - Tyler Got Him A Tesla / Can't Say I Ain't Country / Simple / Talk You Out Of It / All Gas No Breaks / Speed If Love / Women / People Are Different / Told You / Sack'A Puppies / Y'all Boys / Small Town / Sittin' Pretty / Catfish Nuggets / Can't Hide Red / Colorado / Like You Never Had It / Swerve / Blessings

10/2019
LP 12" BMX 0420 (US)

The Acoustic Sessions - Cruise / Round Here / Stay / Get Your Shine On / This Is How We Roll (feat. Luke Bryan) / Sippin' On Fire / Sun Daze / Dirt / Anything Goes / Confession / Smooth / H.O.L.Y. / May We All (feat. Tim McGraw) / God, Your Mama, And Me (feat. Backstreet Boys) / Simple / Talk You Out Of It / Meant to Be (feat. Bebe Rexha)

02/2021
CD Big Machine 3006015 (US)

Life Rolls On - Long Live / Life Looks Good / Countryside / Always Gonna Love You / I Love My Country / Hard To Get To Heaven / Long Time Comin' / Interlude / Ain't Worried Bout It / Beer:30 / New Truck / Eyes Closed / Second Guessing / Good To Me / U.S. Stronger / Life Rolls On
© Rocky Productions 13/02/2021