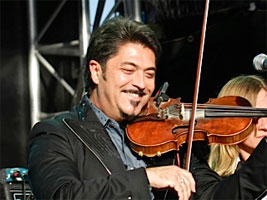 Chanteur et multi-instrumentiste Country né le 18 Juin 1961 à San Antonio (Texas). Bobby Flores a accompagné beaucoup de chanteurs Country dont Larry Gatlin, Tanya Tucker, Conway Twitty, Johnny Rodriguez, Marty Robbins, Bobby Bare, Wynn Stewart, Johnny Bush. Bobby Flores est mort le 23 Juin 2022.

Bobby Flores is a multi-instrumentalist, vocalist, arranger, producer, composer and first call session musician. He studied music theory and classical violin at Trinity University under the late Domenick Saltarelli, jazz guitar with Jackie King and classical guitar with David Underwood. Bobby is featured on over four hundred albums, CD's and singles, including performances with numerous artists on major labels. He composes music for radio and television commercials airing throughout the U.S., Europe and Australia. While Bobby feels at home in the country, pop-rock, jazz, blues, Latin and classical genres, he also enjoys composing for and performing with string quartets.
In 1968, at the age of seven, Bobby started his professional career by performing at local functions and Texas area circuits in a gospel duo with his mother Mary Jane Flores. Two years later, Bobby began working nightclubs as a featured single artist with George Chambers & The Country Gentlemen, a well known San Antonio country band.
The next ten years would set the precedence for Bobby's career. He formed his first band at the age of thirteen and started opening for national artists such as Tanya Tucker and Conway Twitty. To coincide with Bobby's live performances, he was also chosen to be a feature spokesman for the regional Big Red soft drink television commercials. Shortly afterward, he recorded his first of four charting country singles and released his first LP album on the San Antonio based Joey Records.
By the middle 80's, Bobby had become bandleader, show opener and fiddle player for Johnny Bush and the Bandoleros, vocalist/guitarist for Top 40 and rock bands, "Gone City" and "The Boiz", and was also performing with the Trinity University Community Orchestra.
In 1988, along with brother, Greg and sister, Sandra, Bobby formed the band "Angel Fire" and played the Texas "A" circuit until 1997, opening for numerous country superstars, including George Strait and Garth Brooks. Shortly thereafter, he toured the U.S. and Canada with David Kersh (Curb Records), including performances for Prime Time Country on TNN and numerous radio shows. As fate would have it, this turn of events led him to his dream job of becoming first violin/fiddle player for Ray Price through 2001. This also inspired Bobby to record his debut CD, "Just For The Record". In 2002, Bobby received a Grammy Award for string and brass arrangements and violin performances on Freddy Fender's CD, "La Musica de Baldemar Huerta".
It's 2007, and Bobby Flores is continuously gaining recognition as one of Texas' premier musicians and vocalists, both on stage and in the studio.
Bobby Flores died on June 23, 2022.
Talents : Vocals, Guitar, Classic Guitar, Fiddle, Steel Guitar, Mandolin, Bass, Keyboard
Style musical : Traditional Country

http://youtu.be/XcjtTmkbyyk
Years in activity :
| | | | | | | | | | | | |
| --- | --- | --- | --- | --- | --- | --- | --- | --- | --- | --- | --- |
| 1910 | 20 | 30 | 40 | 50 | 60 | 70 | 80 | 90 | 2000 | 10 | 20 |
DISCOGRAPHY
Albums
2003
CD YELLOW ROSE 0001 (US)
JUST FOR THE RECORD - One More Time / I'd Fight The World / Just For The Record / Bubbles In My Beer / I'll Find A Way / Same Two Life / Spicher Waltz / I Don't Know Why / I Lie A Lot / Be A Good Girl / Soft Rain / Your Old Love Letters / I'm Still Not Over You / Oh Lonesome Me
2004
CD YELLOW ROSE 0005 (US)
FESTIVAL FAVORITES - I'll Have Somebody Else / Too Much Love / 24th Hour / Silverlake Blues / Curtain In The Window / Who'll Turn Out The Lights (In Your World Tonight) / Danny Boy / Keeper Of My Heart / South Of The Border / I've Got A New Heartache
2004
CD YELLOW ROSE 0006 (US)

Christmas In Ol' San Antone -

Bobby FLORES & Dicky Overby - Away In A Manger; O Come, All Ye Faithful; O Holy Night; Silent Night; Joy To The World; Silver Bells; O Little Town Of Bethlehem; What Child Is This; In Excelsis Deo; The First Noel
2005
CD YELLOW ROSE 0008 (US)
TWO MANY RIVERS - Big Shoes / When Your House Is Not A Home / Brothers Strangers And Friends / My Life's Been A Pleasure / Too Many Rivers / Last Letter / Too Late / Unloved Unwanted / I Wonder Where You Are Tonight / I've Just Destroyed The World I'm Living In / How Long Is Forever This Time
2006
CD YELLOW ROSE YR-014 (US)
DIRECT FROM BLANCO COUNTY - I Didn't Realize / Darkness On The Face Of The Earth / It's Four In The Morning / Different Kind Of Flower / Rose Colored Glasses / Don't Say Love Or Nothing / I've Got A New Road Under My Wheels / He'll Let You Live A Little / Burning A Hole In My Mind / Shoes Of A Fool / Jealous Heart / Waltz Of The Tumbleweed / Meanest Jukebox In Town / Maiden's Prayer
2007
CD YELLOW ROSE 115 (US)

Neon Nights -

Country Girl / I'm So Afraid Of Losing You Again / The Same Old Memories / Spanish Eyes / Talk Back Trembling Lips / Case Of Sorrow / I Hate You / Who'll Be The First To Say (I Told You So) / I Let My Mind Wander / A Stranger Was Here / Make The World Go Away
2008
CD YELLOW ROSE YR-015 (US)

Eleven Roses -

If I Ever Fall In Love (With A Honky-Tonk Girl) / Cajun Baby / Are You Teasing Me / Eleven Roses / Double Life / Don't You Believe Her / La Golondrina / I'd Go Anywhere / Sweet Nellie / Danny Boy
2011
CD YELLOW ROSE YR 97602 (US)

Fast Company -

Fast Company / Glad To Let Her Go / Make Room For The Blues / Look What Thoughts Will Do / A Little Unfair / Your Old Used To Be / I Guess I Had It Coming / Lonely Street / In The Corner Of My Mind / Talk To Me Old Lonesome Heart / Born To Lose / The One You Hang Around
© Rocky Productions 25/06/2022