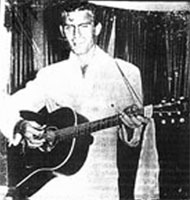 Chanteur Rockabilly US né Therman Fisher, le 13 Septembre 1931 à Chandler (Texas). Sonny Fisher a débuté en 1949 avec un petit groupe Country et en janvier 55, il se lance et enregistre un disque à ses frais dans les studios Goldstar de Houston. C'est du grand Rockabilly et le producteur Jack Starnes édite immédiatement 4 singles. L'histoire aurait pu s'arrêter là, car en tout Sonny n'a enregistré que 8 titres, mais il a continué à chanter sur scène jusqu'en 1961. Heureusement, il est revenu sur scène au début des années quatre-vingts et a enregistré à nouveau des Rockabillies. Sonny Fisher est décédé le 8 Octobre 2005 à Houston (Texas).

"The Wild Man from Texas," rockabilly cat Sonny Fisher recorded a series of little-heard but incendiary singles for the Starday label during the mid-'50s, finally winning acclaim from European audiences close to a quarter century later. Born Therman Fisher on a farm outside Chandler, TX, on November 13, 1931, he grew up in Tacoma, WA, but eventually returned to the Houston area. First drawn to music by his father, an amateur singer and guitarist, the adolescent Fisher also favored Hank Williams, Roy Acuff, and Ernest Tubb. Fisher formed his own country band in 1951, assembling fiddler Paul Vaughan, steel guitarist Red Leonie, bassist Leonard Curry, and drummer Darrell Newsome. With the addition of electric guitarist Joey Long, the group began incorporating R&B covers into its repertoire, and after Fisher witnessed Elvis Presley's late 1954 appearance at Houston's Texas Korral, he steered his music fully in the direction of rockabilly, sacking Vaughan and Leonie while dubbing the remaining trio the Rocking Boys.
Following an appearance at Houston's Cosy Corner, Fisher signed with the local Starday imprint, cutting his debut single, "Rockin' Daddy," in early 1955. Though earning little notice outside the local market, the record remains a classic example of rockabilly at its most primal, galvanized by Fisher's impassioned Vocals and Long's ferocious guitar soloing. "Sneaky Pete" followed in the spring, and while it too failed commercially, Presley was so impressed that he borrowed Newsome for a series of Houston performances. Fisher and the Rocking Boys closed out the year with "Rockin' and a-Rollin'" and in mid-1956 resurfaced with the blistering "Pink and Black." When all four singles netted Fisher a royalty check amounting to only 126 dollars, he refused to renew his Starday deal, instead co-founding Columbus Records with Newsome. Fisher produced sides for singer/guitarist Eddie Eddings and saxophonist Hub Sutter, but never recorded for Columbus himself, eventually selling his share of the company to Newsome. After the Rocking Boys split, he led his own R&B group for a time before returning to country, working the Houston nightclub circuit until 1965, when he retired to mount his own flooring business.
In 1979 Ted Carroll and Ray Topping, founders of the British reissue label Ace, tracked down Fisher at his home in Crosby, TX. With vintage rockabilly all the rage in Europe, they financed Fisher's first tour of the U.K. and collected his eight Starday sides on a much-acclaimed 10" LP, Texas Rockabilly. The singer's talents proved to have diminished little if at all in the years since his retirement — and with his jet-black pompadour and jaw-length sideburns, he also looked much as he did on-stage at the Cosy Corner 25 years earlier. With Scottish backing band Johnny & the Roccos, Fisher entered the studio in mid-1980 to record a new four-song EP, followed a year later by the Big Beat release of his first ever full-length effort, Texas Rockabilly Tear-Up. After returning home to the Lone Star State, Fisher dropped out of sight for over a decade, but in 1993 he turned up in Spain, cutting Rockabilly Fiesta with fellow Texas legend Sleepy LaBeef and the Spanish group los Solitarios. The recording was Fisher's swan song. Little is known of his activities in the decade prior to his death in Houston on October 8, 2005.
Talents : Vocals, Guitar, Songwriter
Style musical : Rockabilly

https://youtu.be/rzaSogkFlzg
Years in activity :
| | | | | | | | | | | | |
| --- | --- | --- | --- | --- | --- | --- | --- | --- | --- | --- | --- |
| 1910 | 20 | 30 | 40 | 50 | 60 | 70 | 80 | 90 | 2000 | 10 | 20 |
DISCOGRAPHY
Singles
Unissued Track
| | | |
| --- | --- | --- |
| 195? | Unissued - (Buffalo Bop CD 55027 (#19) / El Toro CD 1010 (#34) / Starday LP 218 (#1)) | Rockin' Daddy [alt. vers.] |
Albums
1979
LP 10" ACE 10 CH 14 (UK)
TEXAS ROCKABILLY - Rockin' Daddy / Hold Me Baby / Sneaky Pete / Rockin' & Rollin' / Pink & Black / I Can't Lose / Hey Mama / Little Red Wagon
1983
LP 10" BIG BEAT BBR 0015 (F)
TEXAS ROCKABILLY TEAR UP : Drivin's My Life Away - Sweet Sixteen / Your' Right / Raining In My Heart / Truckstop Baby / Shake It Around / I'm Flyin' In / Rockabilly Tonight / I Miss You Elvis / On The Road Again
1983
LP 12" BIG BEAT BBR 1016 (F)

King Of Rockabilly -

Drivin' My Life Away / Paper Doll / Good Man / I Can't Give You Up / If I Cry / Goin' Rockin' / Tell Me You Love Me / England Woman / I Hate You / After School / My Woman / If You Leave Me Tonight / Lonesome Train
1989
CD BIG BEAT 7904092 (F)
TEXAS ROCKABILLY - Driving My Life Away / Shake It Around / Sweet Sixteen / You'r Right / Raining My Heart / Truckstop Baby / I'm Flyin' / Rockabilly Tonight / I Miss You Elvis / On The Road Again / Paper Doll / Good Man / I Can't Give You Up / If I Cry / Goin' Rockin' / Tell Me You Love Me / Blue Bayou / Just Do It / I Can Help / That's All Right Mama / Memories / It's Heartache / Rockin' Daddy / I Can't Loose / Sneaky Peate / If You Leave Me Tonight I'll Cry / Mathilda
1991
LP 12" SD 810 (GER)
ROCKIN' DADDY - Sonny FISHER : Rockin' Daddy / Hold Me Baby / Sneaky Pete / Hey Mama / Rockin' And A Rollin' / I Can't Lose / Pink And Black / Little Red Wagon / Sleepy LABEEF : I'm Through / All Alone / Little Bit More [vers. 1] (unissued) / I Ain't Gonna Take It (unissued) / Ice Water / Shadow My Baby / Feeling No Pain / Hole In The Wall
04/1994
LP 12" BARSA LP 035 (S)
SONNY FISHER DE NUEVO ROCK 'N ROLL - VOL. 2 - SONNY IN SPAIN - Rocking Daddy / It's A Heartache / Sneaky Petet / I Can Help / Rockabilly Tonight / Pink And Black / I'm Flying In / If You Leave Me Tonight / Honky Tonk Man / Shaking Around
06/1994
CD GEE DEE 270101-2 (GER)
ROCKABILLY FIESTA - SONNY FISHER & SLEEPY LABEEF IN SPAIN - Sonny FISHER : Rocking Daddy / It's A Heartache / Sneaky Pete / I Can Help / Rockabilly Tonight / Pink & Black / I'm Flying In / Honky Tonk Man / Sleepy LABEEF : Dixie Rebel Saints / Ashes Of Love / Pledging My Love / Who Do You Love / Mystery Train / Tiger By The Tail / Lonely, Lonely Nights / Don't Be Angry
© Rocky Productions 26/09/2013