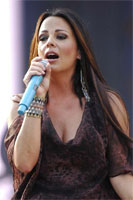 Chanteuse Country US née Sara Linn Evans, le 5 Février 1971 à Booneville (Missouri).

She eventually married and moved to Oregon in 1992, but continued to perform as Sara Evans & North Santiam. The group opened for Willie Nelson and Tim McGraw, among others, but Evans eventually returned to Nashville to try to remake her career. There she impressed Howard enough that he recommended her to RCA executives, who connected her with producer Pete Anderson (a veteran of many albums by Dwight Yoakam). After her debut album, Three Chords & the Truth, was released in July 1997, Evans earned a special honor by being handpicked by George Jones to open a special show in Nashville. No Place That Far followed a year later, and in 2000 she resurfaced with Born to Fly. The title track was a big hit for Evans, and the album eventually peaked in the Top Ten of Billboard's country charts.
She followed that up with 2003's Restless, and returned in 2005 with the Top Ten hit Real Fine Place. Following some tumultuous developments in her personal life, Evans stayed out of recording studios for the latter half of the 2000s. Her label issued Greatest Hits in 2007. She returned to the popular arena with Stronger in early 2011. Reentering the studio in November 2012 with producer Mark Bright, Evans set about recording her seventh studio album, Slow Me Down. Preceded by the release of the title track in September 2013, the album appeared early in March 2014.
Talents : Singer
Style musical : Contemporary Country, Country-Pop, Country Rock, Traditional Country, Songwriter

https://www.youtube.com/watch?v=KbTomvmZJfU
Years in activity :
| | | | | | | | | | | |
| --- | --- | --- | --- | --- | --- | --- | --- | --- | --- | --- |
| 1910 | 20 | 30 | 40 | 50 | 60 | 70 | 80 | 90 | 2000 | 10 |
DISCOGRAPHY
Singles
| | | | |
| --- | --- | --- | --- |
| 04/1997 | SP RCA 64784-7 (US) | . | True Lies / Week The River Raged |
| 06/1997 | SP RCA 64875-7 (US) | . | Three Chords And The Truth / Week The River Raged |
| 12/1997 | SP RCA 65324-7 (US) | . | Shame About That / Shame About That (remix) |
| 06/1998 | SP RCA 65517-7 (US) | . | Cryin' Game / Wait A Minute |
| 09/1998 | SP RCA 65584-7 (US) | . | No Place That Far / Cryin' Game |
| 03/1999 | SP RCA 65744-7 (US) | . | Fool I'm A Woman / No Place That Far |
| 06/1999 | CD RCA 74321677602 (US) | | Cryin' Game / Wait A Minute |
| 07/2000 | SP RCA 69008-7 (US) | . | Born To Fly / I Could Not Ask For More |
| 07/2000 | CD RCA 60268 (US) | | Born To Fly |
| 08/2001 | SP RCA 69107-7 (US) | . | Saints And Angels / I Learned That From You |
Albums
09/1997
CD RCA 66995 (US)
THREE CHORDS AND THE TRUTH - True Lies / Shame About That / Three Chords And The Truth / If You Ever Want My Lovin' / Imagine That / Even Now / I Don't Wanna See The Light / I've Got A Tiger By The Tail / Unopened / Walk Out Backwards / Week The River Raged
10/1998
CD RCA 676532 (US)
NO PLACE THAT FAR - Great Unknown / Cryin' Game / No Place That Far / I Thought I'd See Your Face Again / Fool I'm A Woman / Time Won't Tell / Knot Comes Untied / Love Don't Be A Stranger / These Days / Cupid / There's Only One
03/1999
CD BNA 45615 (US)
GIRL'S NIGHT OUT - Sara EVANS with FRIENDS (Martina MCBRIDE, Mindy MCCREADY, Lorrie MORGAN) - Cryin' Game / Almost New / Three Chords And The Truth / Independence Day / Till I Can Make It On My Own / Happy Girl / Ten Thousand Angels / Over And Over / Long Long Time / Heart That Jack Broke / Go Away / Good As I Was To You
10/2000
CD RCA 67964 (US)
BORN TO FLY - Born To Fly / Saints And Angels / I Could Not Ask For More / I Keep Looking / I Learned That From You / Let's Dance / Why Should I Care / Four Thirty / Show Me The Way To Your Heart / You Don't / Every Little Kiss
08/2003
CD RCA 67074 (US)
RESTLESS - Rockin' Horse / Backseat Of A Greyhound Bus / Restless / Niagara / Perfect / Need To Be Next To You / To Be Happy / Tonight / Otis Redding / Feel It Comin' On / I Give In / Big Cry / Suds In The Bucket
12/2005
CD CRACKER BARREL 241964 (US)
FEELS LIKE HOME - The Great Unknown / Fool, I'm A Woman / No Place That Far (Sara EVANS feat: Vince GILL) / Born To Fly / Three Chords And The Truth / Why Should I Care / Let's Dance / Rockin' Horse / Niagara / I Give In / You Don't / Every Little Kiss
10/2005
CD RCA 69486 (US)
REAL FINE PLACE - Coalmine / A Real Fine Place To Start / Cheatin' / New Hometown / You'll Always Be My Baby / Supernatural / Roll Me Back In Time / The Secrets That We Keep / Bible Songs / Tell Me / Kissing Missouri / Momma's Night Out / These Four Walls
2006
CD HALLMARK PR 3908 (UK)

ALWAYS T

HERE - Suds In The Bucket / Born To Fly / You Ought To Know By Now / Even Now / The Great Unknown / Brooklyn & Austin / To Be Happy / Cryin' Game
06/2007
CD CD BABY 56676 (US)
THE EARLY YEARS - Love's Not Blind / The The Way Things Were Done / You're Gonna Go / You've Never Seen My Face / All The Way To Heaven / I'm Not Gonna Fall / Love Is The Only Thing That You Need / Until He Comes Back Home / Heart Of Stone / Another Day / Saying Goodbye / Here Comes That Old Heartache
10/2007
CD RCA 708770 (US)
GREATEST HITS - As If / Born To Fly / I Could Not Ask For More / Perfect / Cheatin' / Suds In The Bucket / Saints & Angels / You'll Always Be My Baby / I Keep Looking / No Place That Far / A Real Fine Place To Start / Love You with All My Heart / Pray For You

/

Some Things Never Change
09/2008
2 CD LEGACY / RCA 88697368442 (US)
BORN TO FLY / RETLESS :

CD 1 : Born To Fly / Saints & Angels / I Could Not Ask For More / I Keep Looking / I Learned That From You / Let's Dance / Why Should I Care / Four-Thirty / Show Me The Way To Your Heart / You Don't / Every Little Kiss
CD 2 : Rockin' Horse / Backseat Of A Greyhound Bus / Restless / Niagara Falls / Perfect / Need To Be Next To You / To Be Happy / Tonight / Otis Redding / Feel It Comin' On / I Give In / Big Cry / Suds In The Bucket

11/2010
3 CD BMG / SONY A774697 (US)
TRIPLE FEATURE :

CD 1 : True Lies / Shame About That / Three Chords And The Truth / If You Ever Want My Lovin' / Imagine That / Even Now / I Don't Wanna See The Light / I've Got A Tiger By The Tail / Unopened / Walk Out Backwards / The Week The River Raged
CD 2 : The Great Unknown / Cryin' Game / No Place That Far / I Thought I'd See Your Face Again / Fool, I'm A Woman / Time Won't Tell / The Knot Comes Untied / Love, Don't Be A Stranger / These Days / Cupid / There's Only One
CD 3 : Born To Fly / Saints & Angels / I Could Not Ask For More / I Keep Looking / I Learned That From You / Let's Dance / Why Should I Care / Four-Thirty / Show Me The Way To Your Heart / You Don't / Every Little Kiss

03/2011
CD SONY 88697496932 (US)
STRONGER - Desperately / A Little Bit Stronger / My Heart Can't Tell You No / Anywhere / Alone / Ticket To Ride / Life Without Losing / What That Drink Cost Me / Wildfire / Born To Fly [Bluegrass version]
01/2012
3 CD RCA / SONY 1901732 (US)
ORIGINAL ALBUM CLASSICS :

CD 1 : True Lies / Shame About That / Three Chords And The Truth / If You Ever Want My Lovin' / Imagine That / Even Now / I Don't Wanna See The Light / I've Got A Tiger By The Tail / Unopened / Walk Out Backwards /

The Week The River Raged

CD 2 : The Great Unknown / Cryin' Game / No Place That Far / I Thought I'd See Your Face Again / Fool, I'm A Woman / Time Won't Tell / The Knot Comes Untied / Love, Don't Be A Stranger / These Days / Cupid / There's Only One
CD 3 : Rockin' Horse / Backseat Of A Greyhound Bus / Restless / Niagara / Perfect / Need To Be Next To You / To Be Happy / Tonight / Otis Redding / Feel It Comin' On / I Give In / Big Cry / Suds In The Bucket

01/2013
CD LEGACY / RCA 88765439512 (US)
PLAYLIST - THE VERY BEST OF SARA EVANS - Born To Fly / I Could Not Ask For More / I Keep Looking / No Place That Far / You Don't / A Real Fine Place To Start / Sweet By And By / Three Chords And The Truth / Suds In The Bucket / Niagara Falls / Crackers / Cheatin' / Never Alone (Sara EVANS feat: Jim BRICKMAN) / Feels Just Like A Love Song
03/2014
CD RCA / SONY 88883773452 (US)

Slow Me Down -

Slow Me Down / Not Over You (Sara EVANS feat: Gavin

D

e

Graw

) / Put My Heart Down / Can't Stop Loving You (Sara EVANS feat: Isaac S

lade

) / You Never Know / If I Run / Sweet Spot / Good Love Is Hard To Find / Better Off (Sara EVANS feat: Vince

Gill

) / Gotta Have You / Revival
© Rocky Productions 14/03/2014