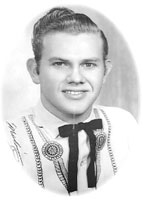 Chanteur Country US né le 30 Janvier1934 à Heber Springs (Arkansas). Melvin Endsley a débuté à Nashville en 1956 et enregistra pour RCA (57-57), MGM (59), Hickory (60-61), Millionaire (65) et Melark Records (67-68). Il est décédé le 16 Août 2004 à Drasco (Arkansas).

By rights, Melvin Endsley should have been a major country artist of the late '50s -- he had the talent, and the songs, and the drive, but not the luck to become as well known as, say, Marty Robbins. But he provided Robbins with one of the biggest hits of his career, "Singin' the Blues," and became a popular artist on the Grand Ole Opry and the Louisiana Hayride, performing from a wheelchair.
Endsley was born in the town of Drasco, AR, and at age three he contracted polio, which cost him the use of his legs but only gave him the motivation to pursue life with even greater drive. It was while at the Crippled Children's Hospital in Memphis, from ages 13 to 15, that he started listening to Wayne Raney, the Delmore Brothers, and other country acts of the era and began learning guitar as a way to break up the loneliness that he felt from his parents' infrequent visits. The major influences on his singing and later composing were the artists he discovered in his teen years, including Hank Williams, Ernest Tubb, and Lefty Frizzell.
It was while attending high school in Drasco that he began writing songs, and before he was 20 he'd already written a song called "It Happens Everytime" that would find its way to Don Gibson and Dorsey Burnette. He began appearing on a local Arkansas radio station while he was attending a local teachers' college, but before he had finished there, he was a regular on KWCB out of Searcy, AR, chosen from the pack of aspiring artists by his longtime idol Raney.
Endsley introduced the biggest hit song he ever wrote, "Singin' the Blues," on KWCB, and it was well enough received that he began looking into getting it copyrighted and published, along with "It Happens Everytime" and four other songs he'd written. He went to Nashville to try and sell the songs and impressed Robbins with "Singin' the Blues" enough that he brought Endsley to Wesley Rose, of Acuff-Rose; suddenly, Endsley had a publisher.
Robbins cut "Singin' the Blues" for Columbia in November of 1955, and the single was issued nine months later. It rode the number one spot on the country charts from November of 1956 until February of 1957. The way the record business was set up in those days, Endsley was due for multi-layered success, as Columbia Records gave "Singin' the Blues" to pop vocalist Guy Mitchell, whose version, issued simultaneously with Robbins', got to number one on the pop charts. The combined sales of the two versions were over two and a half million copies, and while they were flying out the doors of record stores, Endsley's other songs were being cut by Gibson ("It Happens Everytime"), Billy Worth ("Too Many Times"), and Janis Martin ("Love Me to Pieces").
During this same era, Endsley toured with the Grand Ole Opry and the Louisiana Hayride. Endsley got a recording contract of his own with RCA and cut 15 songs for the label between 1956 and 1958, but none of these sold well. He revealed himself an expressive singer and an effective guitarist, leading the band in his own sessions and coming up with embellishments that producer Chet Atkins encouraged and utilized in the final versions -- Endsley's sides had a brisk tempo and a good beat, and a few could even have qualified as rockabilly. In his own estimation, however, Endsley believed he was allowed the recording contract as a way of keeping him happy but was only really of interest to the label as a source of songs for other artists. He left RCA in 1958 for a contract with MGM, and later recorded for Acuff-Rose's own Hickory label.
Endsley later left Acuff-Rose and briefly had his own record label, Mel-Ark, based in Drasco, but he didn't pursue recording seriously after the early '60s. His last hit as a songwriter came from Stonewall Jackson, whose "Why I'm Walkin'" charted in 1960, but he's best remembered as the writer of "Singin' the Blues" and a half-dozen other late-'50s country classics.
https://en.wikipedia.org/wiki/Melvin_Endsley
Talents : Vocals, Guitar, Songwriter
Style musical : Traditional Country, Rockabilly, Country Blues
| | |
| --- | --- |
| I AIN'T GETTIN' NOWHERE WITH YOU (1957) LONELY ALL OVER AGAIN (1957) | |
Years in activity :
| | | | | | | | | | | | |
| --- | --- | --- | --- | --- | --- | --- | --- | --- | --- | --- | --- |
| 1910 | 20 | 30 | 40 | 50 | 60 | 70 | 80 | 90 | 2000 | 10 | 20 |
DISCOGRAPHY
Singles
Unissued Tracks
Albums
1967
LP 12" POINT P-315 (US)

MELVIN ENDSLEY -

I Ain't Gettin' Nowhere With You / I Like Your Kind Of Love / Keep A Lovin' Me Baby / Is It True / Lonely All Over Again / Hungry Eyes / Just Wanted To Be Wanted / Getting Used To The Blues / Lovin' On My Mind / Let's Fall Out Of Love / I'll Get Even With You / Ain't It Fine / I Can't Go Anywhere / Can I Say Something / I'd Just Be Fool Enough (To Fall) / Bringin' The Blues To My Door
1987
LP 12" BEAR FAMILY BFX 15275 (GER)
I LIKE YOUR KIND OF LOVE - I Like Your Kind Of Love / Is It True / I Got A Feelin' / Keep A Lovin' Me Baby / Let's Fall Out Of Love / Getting Used To The Blues / Just Wanted To Be Wanted / I Ain't Gettin' Nowhere With You / Hungry Eyes / Lovin' On My Mind / Lonely All Over Again / There's Bound To Be / Getting Used To The Blues / Bringin' The Blues To My Door / I'd Just Be Fool Enough (To Fall)
06/1992
CD BEAR FAMILY BCD 15595 (GER)
I LIKE YOUR KIND OF LOVE - I Ain't Gettin' Nowhere With You / Is It True / Keep A-Lovin' Me, Baby / I Got A Feelin' / Hungry Eyes / Lovin' On My Mind / Getting Used To The Blues / Let's Fall Out Of Love / I'd Just Be Fool Enough / Just Wanted To Be Wanted / Gettin' Used To The Blues / There's Bound To Be / Lonely All Over Again / Bringin' The Blues To My Door / Ain't It Fine! / Oh, Yeah Baby / Let Me Sing The Blues (Just One More Time) / I'll Get Even With You / I Can't Go Anywhere / Can I Say Something / The Search / Here I Am / You Make It Sound So Easy / For My Baby / I Wish I Knew / How Lonely Can You Get / Everytime I See The Sun Go Down / Started Out A-Walkin'
1993
CD MELARK NR-19405 (US)

GETTING USED TO THE BLUES -

Everytime I See The Sun Go Down / You Made It Sound So Easy / Singing The Blues / Love Don't Look Like That / Giving Up Getting Over You / You Put Me On My Feet / We Make A Lovely Couple / Music To Cry By / Everlovin' Never Changing Mind / Almost Crying / Half As Blue / It Ain't Easy / I Just Came From There / You Gotta Go Out And Get It / I Found Myself Losing You / Getting Used To The Blues
© Rocky Productions 1/03/2017