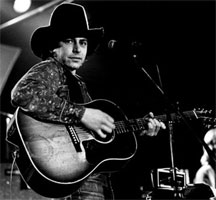 Chanteur Country US né Earle R. Ely, le 9 Février 1947 à Amarillo (Texas). Joe Ely a fait parti des Flatlanders avec Jimmie Dale Gilmore.

Country-rock singer/songwriter/guitarist Joe Ely was born Earle R. Ely on February 9, 1947, in Amarillo, Texas. His family had worked for the Rock Island Line railroad dating back to the start of the century. When he was 12, the family moved to Lubbock, Texas, where his father ran a used clothing store. Inspired by seeing Jerry Lee Lewis perform when he was a child, Ely aspired to a musical career, and he briefly took violin and steel guitar lessons before turning to the guitar. His father died when he was 14, and his mother was institutionalized for a year due to the trauma, so he and his brother were forced to stay with relatives in other cities. When the family came back together in Lubbock, he took a job washing dishes to bring in some money.
He also dropped out of school and began playing music professionally in local clubs, forming a band called the Twilights that became successful enough for him to quit being a dishwasher. Soon after, however, he became sufficiently restless to begin traveling, at first to other cities in Texas, then California, and later New York, with even a trip to Europe working for a theatrical company. This peripatetic period in his life lasted a full seven years, from 1963 to 1970. In the summer of 1971, back in Lubbock, he teamed up with a couple of singer/songwriter friends with whom he was living, Butch Hancock and Jimmie Dale Gilmore, along with some other musicians, to form the Flatlanders, a country-folk group. They attracted interest from the small Nashville record label Plantation Records and in March 1972 went to Nashville and cut an album that Plantation barely released, credited to Jimmie Dale & the Flatlanders. (The album is reputed to have been issued only as an eight-track tape.)
Ely returned to rambling around the country, but he was back in Lubbock by 1974, when he began putting together a permanent backup band to play there and around Texas. The Joe Ely Band featured Ely on acoustic guitar and Vocals, Jesse Taylor on electric guitar, Lloyd Maines on steel guitar, Gregg Wright on bass, and Steve Keeton on drums. A demo tape made by the group was passed to members of Jerry Jeff Walker's backup band, who gave it to Walker, who gave it to an A&R representative of Walker's label, MCA Records, and in the fall of 1975, Ely was signed to MCA. During 1976, he recorded his debut album, Joe Ely, which was released on January 10, 1977, along with a single, "All My Love," that reached the Billboard country charts. That song was one of five original Ely compositions on the LP; the other five had been written by Hancock or Gilmore.
Over a year later, on February 13, 1978, Ely followed with his second album, Honky Tonk Masquerade. (By this point, accordionist Ponty Bone had joined the backup band.) Again, the collection was a combination of Ely originals, including the title song, "Fingernails" (a Jerry Lee Lewis-styled rocker with piano by Shane Keister), and "Cornbread Moon" (all of which were released as singles), and songs written by Hancock and Gilmore (the latter's "Tonight I Think I'm Gonna Go Downtown," co-written with John X. Reed, had appeared on the Flatlanders' album). There was also a cover of Hank Williams' "Honky Tonkin'." Honky Tonk Masquerade was well received critically upon release (and a 1990 article in Rolling Stone magazine named it one of the essential albums of the 1970s), but it didn't sell. Ely was back in record stores a year later with Down on the Drag, released in February 1979. Another four Hancock compositions were introduced, along with five Ely originals. The album reached the Cash Box country chart.
Ely and his band toured extensively in the late '70s, headlining small shows and opening for bigger acts. Among these, surprisingly enough, was the British punk rock band the Clash. The group befriended Ely, however, and asked him to open shows for them back in the U.K. This expanded his following overseas and exposed him to rock audiences. The British division of MCA took advantage of the attention to record an Ely live album during the tour, and Live Shots, credited to The Joe Ely Band, was released only in the U.K. in the spring of 1980. (By this point, Robert Marquam had replaced Steve Keeton as Ely's drummer.) Meanwhile, the British reissue label Charly Records licensed the Flatlanders' recordings and gave them their first widely distributed release on a compilation called One Road More.
Back in the U.S., the American division of MCA initially declined to release Live Shots, preferring to wait for Ely's next studio album and continue to try to break him as a country artist. That album, Musta Notta Gotta Lotta, appeared in March 1981 on SouthCoast Records, an imprint founded by Ely's manager, still manufactured and distributed by MCA. (By now, Michael Robberson had replaced Gregg Wright on bass; Smokey Joe Miller [saxophone] and Reese Wynans [keyboards] had joined the band; and Lloyd Maines had dropped out of touring, although he continued to participate in Ely studio recordings.) Again, it mixed Ely originals like the title song with songs by Hancock and Gilmore (the latter's contribution being "Dallas," another song drawn from the Flatlanders' album). The commercial response to Musta Notta Gotta Lotta reflected Ely's increasing profile in both the country and rock markets. It reached the Cash Box country chart and even the Billboard and Cash Box pop charts, with the title song earning enough airplay to reach Billboard's mainstream rock chart. In October 1981, SouthCoast/MCA finally bowed to popular pressure and released Live Shots in the U.S., packaging it with a bonus four-song EP, Texas Special. It reached the Billboard pop chart.
By the end of 1982, Ely was arguably on the cusp of breaking through commercially as a country-rock crossover artist. He had opened shows for the likes of Linda Ronstadt, Tom Petty & the Heartbreakers, and even the Rolling Stones. But he had been touring continually for years, and the pace wore on him and his band. His guitarist, Jesse Taylor, quit. His drummer, Robert Marquam, died. He broke up what was left of the band and retreated to his home in Austin, Texas, with his wife, Sharon Glaudt and, soon after, a baby daughter, Marie Elena. There he began writing songs intended for a movie and toying with computers and synthesizers. The financing for the film ran out, but by then he had a batch of songs that he took to Los Angeles and recorded in synth rock arrangements, calling the resulting disc Hi-Res. It appeared in May 1984, his first new music in more than three years, receiving mixed reviews and not selling.
Ely submitted another album to MCA, which the label declined to release, bringing his contract to an end. In a sense, he started over, assembling a new band and hitting the road. The new group featured lead guitarist David Grissom, bassist Jimmy Pettit, and drummer Davis McLarty, plus keyboardist Mitch Watkins, a holdover from Hi-Res. Ely signed to the independent HighTone Records label and in July 1987 released his sixth studio album, Lord of the Highway. Reviews were favorable, for a disc that again contained a couple of Butch Hancock songs, although Ely's own "Me and Billy the Kid" garnered the most attention, with covers recorded by Ramblin' Jack Elliott and Marty Stuart, among others. Dig All Night followed in October 1988. All the songs were written by Ely, with the title track co-written by Watkins, who did not perform on the album. (Some had been written prior to Lord of the Highway for the rejected MCA album.) Among them were "Settle for Love," which was covered by Kelly Willis, and "For Your Love," which Chris LeDoux took into the country chart in 1993.
By the late '80s, Ely's sound, having long since lost its more overt country elements, had moved toward the mainstream rock style of John Mellencamp and Tom Petty. At the same time, however, a more rocking style had become more acceptable in Nashville, where, for example, Dwight Yoakam, Hank Williams Jr., and Steve Earle had all topped the country album chart in recent years. In that atmosphere, MCA again became interested in Ely, re-signing him and issuing his second concert recording, Live at Liberty Lunch, in November 1990. Ely's first live album in a decade, it found him performing the best of the songs he had recorded since Live Shots. It spent five weeks in the Billboard country chart. Also in 1990, Rounder Records released the Flatlanders' More a Legend than a Band, a revised version of the group's barely released 1972 album.
In early 1992, Ely joined together with John Mellencamp, Dwight Yoakam, John Prine, and James McMurtry in an impromptu country-rock singer/songwriter supergroup called Buzzin' Cousins to record a Mellencamp composition, "Sweet Suzanne," for the soundtrack of the film Falling from Grace, in which Mellencamp starred. The track reached the country singles chart. In September 1992, MCA released Ely's eighth studio album, Love and Danger. Ely turned to acting in July 1994, appearing in the musical Chippy: Diaries of a West Texas Hooker at Lincoln Center in New York City. He also contributed songs to the score and appeared on the cast album, released by Hollywood Records. MCA released his ninth studio album, Letter to Laredo, in August 1995, by which time Ely's bassist was Glenn Fukunaga. If not quite "unplugged," it was more of an acoustic effort than previous releases and prominently featured flamenco guitarist Teye, with occasional harmony and background Vocals by Jimmie Dale Gilmore, Raul Malo of the Mavericks, and Bruce Springsteen. It reached the Billboard country chart.
Although Ely had produced albums by Jimmie Dale Gilmore and Butch Hancock, the three resisted calls for them to reunite as the Flatlanders until 1998, when they resurrected the band name to record the song "South Wind of Summer" for the soundtrack to the film The Horse Whisperer, issued in April. In May, Ely followed with his tenth studio album, Twistin' in the Wind. It spent four weeks in the Billboard country chart, but after releasing four albums without scoring a big hit, MCA again dropped Ely. In September, he participated in the self-titled debut by the Tex-Mex supergroup Los Super Seven, alongside Freddy Fender, Joel Jose Guzman, Flaco Jiménez, Rubén Ramos, Doug Sahm, Rick Trevino, and David Hidalgo and Cesar Rosas of Los Lobos, and he shared the album's Grammy Award for Best Mexican-American/Tejano Music Performance.
In 2000, Ely had two live recordings in release. His 1990 solo acoustic appearance at the Cambridge Folk Festival in the U.K. resulted in the six-song EP Live at the Cambridge Folk Festival on BBC/Strange Fruit Records in Great Britain. And he signed to Rounder, which released his third full-length concert collection, Live @ Antone's, in June. His band for the shows, taped in January 1999, consisted of returning members Jesse Taylor and Lloyd Maines, along with Teye, bassist Gary Herman, drummer Rafael O'Malley Gayol, and accordion player Joel Guzman. The album reached the Billboard country chart. the Flatlanders, meanwhile, had taken another step toward reconstitution by launching a national tour in the late winter of 2000. In May 2002, Ely, Gilmore, and Hancock finally re-formed the Flatlanders for a new full-length album, Now Again, released by New West Records. Ely co-wrote 12 of the 14 songs and produced the set, which reached the Top 20 of the Billboard country chart. Ely's 11th studio album, Streets of Sin, was released in July 2003. It reached the Billboard country chart. Having waited 30 years between their first and second albums, the Flatlanders were ready with their third, Wheels of Fortune, within two years. Again produced by Ely, it was released in January 2004 and spent 11 weeks in the Billboard country chart. Among the four Ely compositions on the disc was "Indian Cowboy," a song he had not previously recorded, but which had been recorded over the years by Guy Clark, Tom Russell, Townes Van Zandt, and Katy Moffatt. Six months later, there was another Flatlanders album, the archival Live '72.
Ely had sat out the second Los Super Seven album, Canto, in 2001, but he returned for 2005's Heard It on the X. Leaving Rounder, he founded his own record label, Rack 'Em Records, and in February 2007 released his 12th studio album, Happy Songs from Rattlesnake Gulch. The same month, the University of Texas Press released his book of memoirs of life on the road, Bonfire of Roadmaps. That spring, he embarked on a tour with Lyle Lovett, John Hiatt, and Guy Clark. At the same time, in April, Rack 'Em had its second release, Silver City, an acoustic collection of early Ely compositions in newly recorded performances featuring only Ely and accordionist Joel Guzman. Ely and Guzman were co-credited on Rack 'Em's third release, Live Cactus!, which appeared in March 2008. Ely returned to the studio in 2010. Those sessions resulted in the album Satisfied at Last, his first record of new material in four years. It was issued by Rack 'Em in 2011.The deeply personal Panhandle Rambler LP arrived in 2015 along with the announcement that Ely would be officially appointed Texas State Musician for the year 2016.
https://en.wikipedia.org/wiki/Joe_Ely
Talents : Vocals, Songwriter, Guitar, Steel Guitar
Style musical : Country Rock, Outlaw Country

http://www.youtube.com/watch?v=Hu56oi8ui84&feature=share&list=PL5D799D5E73E50099
Years in activity :
| | | | | | | | | | | | |
| --- | --- | --- | --- | --- | --- | --- | --- | --- | --- | --- | --- |
| 1910 | 20 | 30 | 40 | 50 | 60 | 70 | 80 | 90 | 2000 | 10 | 20 |
DISCOGRAPHY
Singles & EP
| | | | |
| --- | --- | --- | --- |
| 12/1976 | SP MCA MCA-40666 (US) | . | All My Love / Mardi Grass Waltz |
| 03/1977 | SP MCA MCA-40709 (US) | . | Gambler's Pride / Tennessee's Not The State I'm In |
| 03/1978 | SP MCA MCA-40870 (US) | . | Fingernails / Because Of The Wind |
| 05/1978 | SP MCA MCA-40906 (US) | . | Honky Tonk Masquerade / Johnny Blues |
| 10/1978 | SP MCA MCA-40956 (US) | . | She Never Spoke Spanish To Me / Cornbread Moon |
| 04/1981 | SP MCA MCA-51102 (US) | . | Musta Gotta Notta Lotta / Wishin' For You |
| 06/1981 | SP MCA ? (US) | . | Dallas / Hard Livin' |
| 1981 | EP SOUTH COAST / MCA EPS33-1736 (US) (promo) | | TEXAS SPECIAL - Crazy Lemon / Not Fade Away / Treat Me Like A Saturday Night / Wishin' For You |
| 1981 | SP MCA MCA-688 (UK) | | Musta Notta Gotta Lotta / Wishin' For You |
| 1987 | SP HIGHTONE 001 (US) | . | Settle For Love |
| 11/1990 | SP MCA ? (US) | . | Row Of Dominoes / Me And Billy The Kid |
| 1990 | SP MCA MCA-1453 (UK) | | Row Of Dominoes / Me And Billy The Kid |
Albums
1972
LP 12" REPRISE REP 44 143 (GER)

A DAY'S LULLABY - EBERHARD SCHOENER, BRUCE GAMBILL, JOEY ELY - A Day's Lullaby - Dawn City / Some Day Soon / A Day's Lullaby - Morning / You Ain't Goin' Nowhere / A Day's Lullaby - Childrens Hour / Candy Man / A Day's Lullaby - Reading Children / Kite Song / A Day's Lullaby - Day Fall / Good Good Bye / Storm / Pancake-Brazierre-Burger / Abilene Auction / The Lady And The Loom / From A Hill / Night's Lullaby / Friend And Me

01/1977
LP 12" MCA MCA-2242 (US)
JOE ELY - I Head My Hopes On High / Mardi Grass Waltz / She Never Spoke Spanish To Me / Gambler's Bride / Suckin' A Big Bottle Of Gin / Tennessee's Not The State I'm In / If You Were A Blue Bird / Treat Me Like A Saturday Night / All My Love / Johnny Blues
02/1978
LP 12" MCA MCA-2333 (US)
HONKY TONK MASQUERADE - Cornbread Moon / Because Of The Wind / Boxcars / Jericho / Tonight I Think I'm Gonna Go Downtown / Honky Tonk Masquearade / I'll Be Your Fool / Fingernails / West Texas Waltz / Honky Tonkin'
02/1979
LP 12" MCA MCA-3080 (US)
DOWN ON THE DRAG - Fools Fall In Love / BBQ And Foam / Standin' At The Big Hotel / Crazy Lemon / Crawdad Train / In Another World / She Leaves You Where You Are / Down On The Drag / Time For Travelin' Maria / Maria
1979
LP 12" MCA MCG-3532 (UK)
DOWN ON THE DRAG - Fools Fall In Love / BBQ And Foam / Standin' At The Big Hotel / Crazy Lemon / Crawdad Train / In Another World / She Leaves You Where You Are / Down On The Drag / Time For Travelin' Maria / Maria
03/1981
LP 12" SOUTH COAST MCA-5183 (US)
MUSTA NOTTA GOTTA LOTTA - Musta Notta Gotta Lotta / Dallas / Wishin' For Year / Hold On / Rock Me My Baby / I Keep Gettin' Paid The Same / Good Rockin' Tonight / Hard Livin' / Road Hawg / Dam Of My Heart / Bet Me
09/1981
LP 12" SOUTH COAST MCA-5262 (US)
LIVE SHOTS - Fingernails / Boxcars / Honky Tonkin' / Fools Fall In Love / Johnny's Blues / I Head My Hopes Up High / She Never Spoke Spanish To Me / Midnight Shift / Honky Tonk Masquerade / Long Shake Moan / Crazy Lemon / Not Fade Away / Treat Me Like A Saturday Night / Wishin' For You
1982
LP 12" SOUTH COAST 07 (US)
WHAT EVER HAPPENED TO MARIA? - I Head My Hopes Up High / Mardi Gras Waltz / Gambler's Bride / All My Love / Johnny Blues / Cornbread Moon / Because Of The Wind / Honky Tonk Masquerade / I'll Be Your Fool / Fingernails / Crazy Lemon / Crawdad Train / She Leaves You Where You Are / Time For Travelin'
04/1984
LP 12" SOUTH COAST MCA-5480 (US)
HI-RES - What's Shakin' Tonight / Cool Rockin' Loretta / Madame Woe / Dream Camera / Letter To Laredo / She Gotta Get The Gettin' / Lipstick In The Night / Imagine Houston / Dame Tu Mano / Locked In A Boxcar With The Queen Of Spain
09/1987
CD HIGHTONE HCD-8008 (US)
LORD OF THE HIGHWAY - Lord Of The Highway / Don't Put Lock On My Heart / Me And Billy The Kid / Letter To LA / No Rope Daisy O / My Baby Thinks She's French / Everybody Got Hammered / Are You Listenin' Lucky / Row And Dominoes / Silver City / Screaming Blue Jillions
1987
CD DEMON FIEND 101 (US)
LORD OF THE HIGHWAY - Lord Of The Highway / Lock On My Heart / Me And Billy The Kid / Letter To LA / No Rope Daisy O / My Baby Thinks She's French / Everybody Got Hammered / Are You Listenin' Lucky / Row And Dominoes / Silver City
10/1988
CD HIGHTONE HCD-8015 (US)
DIG ALL NIGHT - Settle For Love / For Your Love / My Eyes Got Lucky / Maybe She'll Find Me / Drivin' Man / Dig All Night / Grandfather Blues / Jazz Street / Rich Man Poor Boy / Behind The Bamboo Shade / I Didn't Even Do It
1988
CD SUNS TORM 05 (UK)
MILKSHAKES AND MALTS - She Never Spoke Spanish To Me / Suckin' A Big Bottle Of Gin / Tennessee Is Not The State I'm In / If You Were A Bluebird / Boxcars / Jericho / West Texas Waltz / Fools Fall In Love / Standin' At The Big Hotel / In Another World / Down On The Drag / I Keep Wishing For You / Road Hawg
10/1990
CD MCA MCA-10095 (US)
LIVE AT LIBERTY LUNCH - Me And Billy The Kid / Are You Listening Lucky / Grandfather Blues / BBQ And Foam / Row Of Dominoes / Dallas / Where Is My Love / She Gotta Get The Getting / Driving To The Poorhouse In A Limousine / Cool Rocking Loretta / Musta Notta Gotta Lotta / Letter To LA / If You Were A Bluebird
09/1992
CD MCA MCA-10584 (US)
LOVE AND DANGER - Sleepless In Love / Pins And Needles (In My Heart) / Love Is The Beating Of Hearts / Slow You Down / Road Goes On Forever / Settle For Love / Highways And Heartaches / Whenever Kidness Falls / She Collected / Every Night About This Time
07/1994
CD SUNSTORM 10 (UK)

CHIPPY -

Good Night Dear Diary (Joe ELY) / Across The Great Divide (Jo Carol PIERCE) / Chippy (Narration by Jo Harvey ALLEN) / Buildin More Fires Than She's Been Puttin Out (Joe ELY) / Wind's Gonna Blow You Away (Butch HANCOCK) / Gonna California (Terry ALLEN) / Thunderstorms And Neon Signs (Wayne HANCOCK) / Fate With A Capital 'F' (Joe ELY & Terry ALLEN) / Way I Was Raised (A Cappella by Jo Harvey ALLEN) / Cup Of Tea (Joe ELY & Jo Harvey ALLEN) / Tongues (Narration by Jo Carol PIERCE) / Low Lights Of Town (Butch HANCOCK) / I Blame God (Jo Carol PIERCE) / Oil Wells (Narration by Jo Harvey ALLEN & Joe ELY) / Cold Black Hammer (Joe ELY) / Boomtown Boogie (Joe ELY, Terry ALLEN, Jo Carol PIERCE, Butch HANCOCK) / Back To Black (Wayne HANCOCK) / Just Dancin' (Narration by Jo Harvey ALLEN & Barry TUBB) / Whiskey And Women And Money To Burn (Joe ELY) / Morning Goodness (Robert Earl KEEN & Butch HANCOCK) / Angels Of The Wind (Terry ALLEN) / Roll Around (Butch HANCOCK) / Goodnight (Joe ELY)
04/1995
CD EDSEL 418 (UK)
NO BAD TALK OR LOUD TALK - Honky Tonk Masquerade / If You Were A Bluebird / Dallas / Fingernails / Boxcars / Tonight I Think I'm Gonna Go Downtown / I Had My Hopes Up High / Fools Fall In Love / Treat Me Like A Saturday Night / Maria / Down On The Drag / Hard Livin' / Musta Notta Gotta Lotta / Suckin' A Big Bottle Of Gin / Johnny's Blues / She Never Spoke Spanish To Me / Because Of The Wind / West Texas Waltz
08/1995
CD MCA MCAD-11222 (US)
LETTER TO LAREDO - All Just To Get To You / Gallo Del Cielo / Run Preciosa / Saint Valentine / Ranches And Rivers / Letter To Laredo / I Saw It In You / She Finally Spoke Spanish To Me / I Ain't Been Here Long / That Ain't Enough / I'm A Thousand Miles From Home
07/1996
CD EDSEL 486 (UK)
TIME FOR TRAVELLIN' - Mardi Gras Waltz / Tennessee's Not The State I'm In / Gambler's Bride / All My Love / Jericho / I'll Be Your Fool / Cornbread Moon / Standin' At The Big Hotel / Crazy Lemon / Crawdad Train / In Another World / She Leaves You Where You Are / Time For Travelin' / Wishin' For You / Hold On / I Keep Gettin' Paid The Same / Road Hawg / Dam Of My Heart / Bet Me
05/1998
CD MCA MCAD-70031 (US)
TWISTIN' IN THE WIND - Up On The Ridge / Roll Again / It's A Little Like Love / Twistin' In The Wind / Queen Of Heaven / Sister Soak The Beans / I Will Lose My Life / You're Workin' For The Man / Nacho Mama / Behind The Bamboo Shade / Gulf Coast Blues / If I Could Teach My Chihuahua To Sing
07/1998
CD STRANGE FRUIT 38003 (UK)
LIVE AT THE CAMBRIDGE FOLK FESTIVAL - I Had My Hopes Up High / She Never Spoke Spanish To Me / Me And Billy The Kid / Rich Man Poor Boy / Boxcars / My Eyes Got Lucky
06/2000
CD ROUNDER 11661-3171-2 (US)
LIVE @ ANTONE'S - Road Goes On Forever / All Just To Get To You / Gallo Del Cielo / Ranches And Rivers / You're Workin' For The Man / Me And Billy The Kid / Up On The Ridge / Nacho Mama / Dallas / Thousand Miles From Home / Road Hawg / Everybody Got Hammered / My Eyes Got Lucky / Oh Boy
11/2000
CD MCA 088 171 151-2 (US)
THE BEST OF JOE ELY - She Never Spoke Spanish To Me / Suckin' A Big Bottle Of Gin / Tennessee's Not The State I'm In, Boxcars / Tonight I Think I'm Gonna Go Downtown / Honky Tonk Masquerade / West Texas Waltz / Fools Fall In Love / Standin' At The Big Hotel / Musta Notta Gotta Lotta / Dallas / Fingernails / Long Snake Moan / Cool Rockin' Loretta / Settle For Love / Me And Billy The Kid / If You Were A Bluebird / Letter To Laredo / Roll Again / All Just To Get To You
06/2002
CD MCA 088 170 244-2 (US)
FROM LUBBOCK TO LAREDO - THE BEST OF KOE ELY - Treat Me Like A Saturday Night / She Never Spoke Spanish To Me / Johnny's Blues / Honky Tonk Masquerade / Fingernails / Boxcars / West Texas Waltz / Because Of The Wind / Down On The Drag / Musta Notta Gotta Lotta / Dallas / Cool Rockin' Loretta / Slow You Down / Road Goes On Forever / Settle For Love / Letter To Lorado / Run Preciosa / Sister Soak The Beans / If I Could Teach My Chihuahua To Sing
07/2003
CD ROUNDER 11661-3181-2 (US)
STREETS OF SIN - Fightin' For My Life / I'm On The Run Again / Flood On Our Hands / All That You Need / Run Little Pony / Streets Of Sin / 95 South / Carnival Bum / Twisty River Bridge / That's Why I Love You Like I Do / Wind's Gonna Blow You Away / I Gotta Find Ol' Joe
03/2004
CD MCA B-0001763-02 (US)
THE MILLENNIUM COLLECTION -

THE BEST OF JOE ELY -

She Never Spoke Spanish To Me / Suckin' A Big Bottle Of Gin / Tonight I Think I'm Gonna Go Downtown / Honky Tonk Masquerade / Fingernails / Fools Fall In Love / Dallas / Musta Notta Gotta Lotta / Settle For Love / Road Goes On Forever / Me And Billy The Kid / All Just To Get To You
07/2004
CD HIGHTONE HCD-8172 (US)
SETTLE FOR LOVE - Lord Of The Highway / Rich Man Poor Boy / Row Of Dominoes / Are You Listenin' / Me And Billy The Kid / Letter To LA / Dig All Night / Settle For Love / Maybe She'll Find Me / Silver City / White Line Fever / Love And Danger / My Baby Thinks She's French
02/2007
CD RACK'EM RER-CD-001 /

CBUJ ENT. 9749-2 (US)
HAPPY SONGS FROM RATTLESNAKE GULCH - Baby Needs A New Pair Of Shoes / Sue Me Sue / Hard Luck Saint / Jesse Justice / Miss Bonnie And Mister Clyde / Little Blossom / Firewater / July Blues / Up A Tree / So You Wanna Be Rich? / River Fever
04/2007
CD RACK'EM RER-CD-002 / CBUJ ENT. 9767-2 (US)

SILVER CITY -

Silver City / Medley / Indian Cowboy / Wounded Knee / Cloister Mountain / Time For Travelin / I Know Will Never Be Mine / Drivin' Cross Russia / Windy Windy Windy / Billy Boy
03/2008
CD RACK'EM RER-CD-003 / CBUJ ENT. 4286-2 (US)
LIVE CACTUS ! - Joe ELY & Joel GUZMAN - Up On The Ridge / Slow You Down / Because Of The Wind / All Just To Get To You / Miss Bonnie And Mr. Clyde / Letter To Laredo / Where Is My Love / Ranches And Rivers / All That You Need / Wind's Gonna Blow You Away / Maybe She'll Find Me / I'm A Thousand Miles From Home / White Freightliner Blues
01/2009
CD RACK'EM RER-CD-004 (US)

LIVE CHICAGO 1987 -

Drivin' To The Poorhouse / Don't Put Alock On My Heart / Me And Billy The Kid / City Pf Angels / Lord Of The Highway / Cool Rockin' Loretta / Musta Notta Gotta Lotta / Fingernails / My Baby Thinks She's French / Oh Boy
11/2009
CD BEAT GOES ON 896 (UK)
MUSTA NOTTA GOTTA LOTTA / HI-RES - Musta Notta Gotta Lotta / Dallas / Wishin' For Year / Hold On / Rock Me My Baby / I Keep Gettin' Paid The Same / Good Rockin' Tonight / Hard Livin' / Road Hawg / Dam Of My Heart / Bet Me / What's Shakin' Tonight / Cool Rockin' Loretta / Madame Woe / Dream Camera / Letter To Laredo / She Gotta Get The Gettin' / Lipstick In The Night / Imagine Houston / Dame Tu Mano / Locked In A Boxcar With The Queen Of Spain
06/2011
CD RACK'EM RER-CD-005 (US)
SATISFIED AT LAST - The Highway Is My Home / Not That Much Has Changed / Satisfied At Last / Mockingbird Hill / You Can Bet I'm Gone / Leo And Leona / I'm Gonna Live Forever / Roll Again / I'm A Man Now / Circumstance
06/2012
2 CD Floating World FLOATM 6148 (UK)

Lord of the Highway / Dig All Night :

CD 1 : Lord Of The Highway / Lock On My Heart / Me And Billy The Kid / Letter To

la /

No Rope Daisy O / My Baby Thinks She's French / Everybody Got Hammered / Are You Listening Lucky / Row Of Dominoes / Silver City / Screaming Blue Jillions
CD 2 : Settle For Love / For Your Love / My Eyes Got Lucky / Maybe She'll Find Me / Drivin' Man / Dig All Night / Grandfather Blues / Jazz Street / Rich Man Poor Boy / Behind The Bamboo Shade / I Didn't Even Do It

06/2014
CD RACK'EM CD RER 006 (US)

B4 84 - Imagine Houston / You Got The Broken Heart / What's Shakin' Tonight / Ride A Motorcycle / My Baby Thinks She's French / Cool Rockin' Loretta / Dame Tu Mano / Lipstick In The Night / Madame Wo / Isabella

10/2013
2 CD Humphead HUMP134 (US)
THE DEFINITIVE COLLECTION :

CD 1 : Mardi Gras Waltz / I Had My Hopes Up High / Gambler's Bride / Tennessee's Not The State I'm In / If You Were A Bluebird / Treat Me Like A Saturday Night / Honky Tonk Masquerade / Honky Tonkin' / Tonight I Think I'm Gonna Go Downtown / I'll Be Your Fool / Fingernails / Fools Fall In Love / BBQ & Foam / Crazy Lemon / Down On The Drag / Time For Travelin' / Dallas / Hard Livin' / Musta Notta Gotta Lotta / I Keep Gettin' Paid The Same / Cool Rockin' Loretta / Midnight Shift (live in London) / Not Fade Away (live in London)
CD 2 : Drivin' To The Poorhouse In A Limousine (live at Liberty Lunch) / Row Of Dominoes (live at Liberty Lunch) / Slow You Down / Settle For Love / Every Night About This Time / The Road Goes On Forever / Highways And Heartaches / Saint Valentine / Ranches And Rivers / Letter To Laredo / Gallo Del Cielo / She Finally Spoke Spanish To Me / All Just To Get To You / Up On The Ridge / You're Workin' For The Man / Sue Me Sue / I'm A Thousand Miles From Home / You Can Bet I'm Gone

06/2015
CD Echoes ECHOCD 2034 (EUR)

Live in Austin, Texas - My Eyes Got Lucky / Where Is My Love / Row Of Dominoes / Rich Man,Poor Man / For Your Love / Treat Me Like A Saturday Night / The Road Goes On Forever / Indian Cowboy / Sleeplees In Love / Tenneessee Not The State / Gimmie A Ride To Heaven

09/2015
CD RACK'EM CDRACK 007 (US)

Panhandle Rambler - Wounded Creek / Magdalene / Coyotes Are Howlin' / When The Nights Are Cold / Early In The Mornin' / Southern Eyes / Four Ol' Brokes / Wonderin' Where / Burden Of Your Load / Here's To The Weary / Cold Black Hammer / You Saved Me

08/2018
CD RACK'EM ? (US)

Full Circle - The Lubbock Tapes - Windmills And Water Tanks / Because Of The Wind / Road Hawg / Standin' At A Big Hotel / Gambler's Bride / Fools Fall In Love / If You Were A Bluebird / B.B.Q. & Foam / Down On The Drag / I'll Be Your Fool / I Keep Gettin' Paid The Same / Joe's Cryin' Schottiche / I Had My Hopes Up High / All My Love / Maria

07/2020
CD RACK'EM 7470 (US)

Love In The Midst of Mayhem - Soon All Your Sorrows Be Gone / Garden Of Manhattan / A Man And His Dog / There's Never Been / Your Eyes / All You Are My Love / Cry / Don't Worry About It / You Can Rely On Me / Glare Of Glory
© Rocky Productions 5/07//2020