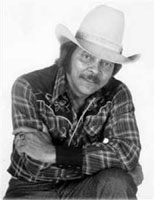 Chanteur Country US né Frenchy Edwards, le 24 Décembre 1929 à Seminole (Oklahoma). Stoney Edwards est décédé le 5 Avril 1997.

Stoney Edwards never made it to the big time, yet he and his soulful honky tonk sound had a devoted following, and he was one of the few African-American performers to try his hand in the genre. He was born Frenchy Edwards in rural Oklahoma, one of seven children. Even as a boy, Edwards dreamed of playing on the Grand Ole Opry like his hero, Bob Wills. By the time he was 13, he had mastered several instruments and frequently jammed with his uncles. After leaving home as a teen, he married in 1954 and moved to San Francisco to settle down for the next 15 years. When not working he played music. After breaking his back in a job-related mishap, Edwards was ordered to avoid heavy work by his doctors. Without an income, he seriously thought of leaving his family so they could receive welfare, but just as he was leaving his daughter came forth with the gift of wind-up toy. Deeply moved, Edwards was inspired to write his first song, "A Two Dollar Toy," and began focusing his energy on a music career.
In 1970, he was invited to play at a benefit for Bob Wills in Oakland, and his performance led to a contract with Capitol Records. The following year, he released his first album, Stoney Edwards, A Country Singer, and made his single debut with "A Two Dollar Toy," which made the Top 70. In 1972, Edwards released his second album, Down Home in the Country, and began to attract a following. "He's My Rock" came out in 1973 and stayed in the Top 20 for almost four months. Although his subsequent releases were generally minor hits, some have become regarded as country classics, such as his version of the Frazier & Owens song "Hank and Lefty Raised My Country Soul." He continued recording and appearing on the charts through the early '80s, when his career and his health began to wane. Eventually he had part of his right leg amputated due to problems with diabetes. In 1986, Edwards returned to make an album with Johnny Gimble, Ray Benson, Floyd Domino, Jimmy Day, Leon Rausch, and Ralph Mooney.
https://en.wikipedia.org/wiki/Stoney_Edwards
Talents : Vocals, Songwriter, Guitar, Fiddle, Piano
Style musical : Traditional Country, Honky Tonk

https://youtu.be/vzIforBJyis
Years in activity :
| | | | | | | | | | | | |
| --- | --- | --- | --- | --- | --- | --- | --- | --- | --- | --- | --- |
| 1910 | 20 | 30 | 40 | 50 | 60 | 70 | 80 | 90 | 2000 | 10 | 20 |
DISCOGRAPHY
Singles
| | | |
| --- | --- | --- |
| 12/1970 | SP CAPITOL 3005 (US) | Two Dollar Toy / Old Mule's Hip |
| 03/1971 | SP CAPITOL 3061 (US) | Poor Folks Sticks Together / Mama's Love |
| 06/1971 | SP CAPITOL 3131 (US) | Cute Little Waitress / Please Bring A Bottle |
| 09/1971 | SP CAPITOL 3191 (US) | Odd-Job Dollar Bill Man / Fishin' Song |
| 02/1972 | SP CAPITOL 3270 (US) | Daddy Did His Best / I Bought The Shoes |
| 06/1972 | SP CAPITOL 3347 (US) | All She Made Of Me / You Can't Call Yourself Country |
| 10/1972 | SP CAPITOL 3462 (US) | She's My Rock / I Won't Make It Through The Day |
| 02/1973 | SP CAPITOL 3550 (US) | You're A Believer / She's Helping Me Get Over You |
| 07/1973 | SP CAPITOL 3671 (US) | Hank And Lefty Raised My Country Soul / Few Of The Reasons |
| 11/1973 | SP CAPITOL 3766 (US) | Daddy Bluegrass / It's Raining On My Sunny Day |
| 05/1974 | SP CAPITOL 3878 (US) | I Will Never Get Over You / Honey (Stoney's Yodel Blues) |
| 09/1974 | SP CAPITOL 3949 (US) | Our Garden Of Love / Talk About A Woman |
| 01/1975 | SP CAPITOL 4015 (US) | Clean Your Own Tables / Do You Know The Man |
| 04/1975 | SP CAPITOL 4051 (US) | Missisippi You're On My Mind / Two Dollar Toy |
| 07/1975 | SP CAPITOL 4124 (US) | Moon Over Morocca / Partners On The Road |
| 11/1975 | SP CAPITOL 4188 (US) | Blackbird (Hold Your Head High) / Pickin' Wild Flowers |
| 03/1976 | SP CAPITOL 4246 (US) | Love Still Makes The World Go Round / Real Thing |
| 09/1976 | SP CAPITOL 4337 (US) | Don't Give Up On Me / July 12 1939 |
| 05/1977 | SP CAPITOL 4433 (US) | Yankee Lady / Pickin' Wild Flowers |
| 10/1978 | SP JMI JMI-47 (US) | If I Had To Do All Over Again / I Feel Chained |
| 1979 | SP JMI JMI-49 (US) | My Oklahoma / Someone Like You |
| 01/1980 | SP MUSIC AMERICA MA-105 (US) | Lean On Me / Too Much Of Too Little |
| 04/1980 | SP MUSIC AMERICA MA-107 (US) | No Way To Drown A Memory / Reverend Leroy |
| 08/1980 | SP MUSIC AMERICA MA-109 (US) | One Bar At A Time / Stranger In My Arms |
| 1982 | SP POWER 1 (US) | All-Around Cowboy / Reverend Leroy |
| 1990 | SP HILL COUNTRY 901 (US) | Our Little Christmas Tree / Silent Night |
| 1992 | SP HILL COUNTRY 921 (US) | Just For Old Time's Sake / Dixie Sundown |
Albums
1971
LP 12" CAPITOL ST-741 (US)
COUNTRY SINGER - Poor Folks Stick Together / Two Dollar Toy / Old Mule's Hip / Please Bring A Bottle / Mama's Love / Cute Little Waitress / Something New And Different / I Bought The Shoes / Few Of The Reasons / You Stayed Long Enough
1971
LP 12" CAPITOL ST-834 (US)
DOWN HOME IN THE COUNTRY - Dixie Boy / Mama's Old Quilt / Saturday Night / Our Garden Of Love / Good To Have You Home / You'll Remember Me / Beyond The Shadow Of A Doubt / Fishin' Song / Odd-Job Dollar Bill / Don't Be Angry
05/1972
LP 12" CAPITOL ST-11090 (US)
STONEY EDWARDS - All She Made Of Me / Daddy Did His Best / She Believed In Me / Kingdom I Call Home / Tell Me Thet You Love Me / Why You Change Your Mind / You Can't Tell Yourself Country / Why Don't You Go Home / I Don't Believe I'll Fall In Love Today / I Won't Make It Through The Day
1973
LP 12" CAPITOL ST-11173 (US)
SHE'S MY ROCK - You're A Believer / Sunshine Feeling / She's Helping Me Get Over You / Fishin' Song / I've Got The Mine / Two Dollar Toy / Honky Tonk Heaven / She's My Rock / You Stayed Long Enough / Something New And Different
05/1975
LP 12" CAPITOL ST-11401 (US)
MISSISSIPPI YOU'RE ON MY MIND - Mississippi You're On My Mind / Hank And Lefty Raised My Country Soul / Cute Little Waitress / We Sure Danced Us Some Good 'uns / Jeweldene Turner / Rollin' In Your Sweet Sunshine / We're Learning How To Smile Again / She's My Rock / Two Dollar Toy / Summer Melodies
02/1976
LP 12" CAPITOL ST-11499 (US)
BLACKBIRD - Real Thing / Yankee Lady / Holdin' On To Myself / Blackbird / Pickin' Wildflowers / Love Still Makes The World Go Round / Head Bootlegger Man / July 12 1939 / Don't Give Up On Me / Bird On A Wire
1981
LP 12" MUSIC AMERICA 10021 (US)
NO WAY TO DROWN MY MEMORY - Bigger Man Than Me / I Just Want You To Make Over Me / No Way To Drown A Memory / Fightin' Side Of Me / Constantly Amazed / Stranger In My Arms / Reverend Leroy / Rose Colored Glasses / One Bar At A Time / Because It Isn't You
07/1991
CD HILL COUNTRY HCR-29110 (US)
JUST FOR OLD TIME'S SAKE - Just For Old Time Sake / You're The One I Sing My Love Songs To / I Miss You / That Old River / They All Come Down / Lately I've Been Leanin' / After All / Me And You / I Can't Find A Way To Say Goodbye / Dixie Sundown
05/1998
CD RAZOR & TIE RE-8-2169-2 (US)
THE BEST OF STONEY EDWARDS - POOR FOLKS STICK TOGETHER - Two Dollar Toy / Poor Folks Stick Together / Cute Little Waitress / Odd Job Dollar Bill Man / Fishin' Song / I Bought The Shoes That Just Walked Out On Me / Good To Have You Home / Mama's Old Quit / Don't Be Angry / You Can't Call Yourself Country / She's My Rock / I Won't Make It Through The Day / Hank And Lefty Raised My Country Soul / Honky Tonk Heaven / I Spent A Week There Last Night / Jimmie Rodgers Blues / Jeweldene Turner / Mississippi You're On My Mind / Head Bootlegger Man / Blackbird
08/2005
CD HUX HUX 069 (UK)
STONEY EDWARDS / SHE'S MY ROCK -

All She Made Of Me / Daddy Did His Best / She Believed In Me / A Kingdom I Call Home / Tell Me That You Love Me /What Made You Change Your Mind? / You Can't Call Yourself Country / Why Don't You Go Home (Where You Belong) / I Don't Believe I'll Fall In Love Today / I Won't Make It Through The Day / You're A Believer / Sunshine Feeling / She's Helping Me Get Over You / The Fishin' Song / A Two Dollar Toy / She's My Rock / I've Got Mine / Honky Tonk Heaven / You Stayed Long Enough (To Make Me Love You) / Something New And Different
© Rocky Productions 1/07/2013