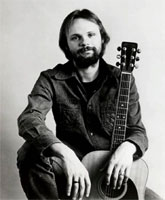 Chanteur Country-Folk US né le 28 Juillet 1946 à Aitkin (Minnesota).

Best remembered for his crossover hit "Sunshine," country and folk singer/songwriter Jonathan Edwards was born July 28, 1946, in Aitkin, MN, and grew up in Virginia. While attending military school, he began playing guitar and composing his own songs. After moving to Ohio to study art, he became a fixture on local club stages, playing with a variety of rock, folk, and blues outfits, often in tandem with fellow students Malcolm McKinney and Joe Dolce.
In 1967, Edwards and his bandmates relocated to Boston, where they permanently changed their name to Sugar Creek and became a full-time blues act, issuing the 1969 LP Please Tell a Friend. Wanting to return to acoustic performing, he left the group to record a solo album. Near the end of the 1970 sessions, one of the finished tracks, "Please Find Me," was accidentally erased, forcing Edwards to instead record a brand new composition. The song was "Sunshine," and when it was released as a single the following year, it quickly became a Top Five pop hit.
With the release of 1972's Honky-Tonk Stardust Cowboy, Edwards' music began gravitating toward straight-ahead country; his label was at a loss as to how to market the record, however, and over the course of two more albums, 1973's Have a Good Time for Me and the following year's live Lucky Day, his sales sharply declined. Soon, Edwards dropped out of music, buying a farm in Nova Scotia.
In 1976, Edwards' friend Emmylou Harris enlisted him to sing backup on her sophomore record, Elite Hotel; the cameo resulted in a new record deal and the LP Rockin' Chair, recorded with Harris' Hot Band. Sail Boat, cut with most of the same personnel, appeared a year later. Another layoff followed, however, and when Edwards resurfaced — with an eponymous 1982 live record — it was on his own label, Chronic.
After touring the nation with a production of the musical Pumping Boys and Dinettes, Edwards joined the bluegrass group the Seldom Scene, issuing the 1983 LP Blue Ridge. After a 1987 solo children's record, Little Hands, Edwards moved to Nashville; his 1989 album The Natural Thing generated his biggest country hit, "We Need to Be Locked Away." A follow-up, One Day Closer, appeared in 1994. Two years later, Edwards followed up with Man in the Moon. He released two concert albums during this time, including 2007's Live in Massachusetts and 2010's Rollin' Along: Live in Holland. In 2011, Edwards returned with the studio album My Love Will Keep.
http://www.jonathanedwards.net/
Talents : Vocals, Songwriter, Guitar, Piano, Harmonica, Bass, Drums
Style musical : Country, Progressive Bluegrass, Folk-Rock, Bluegrass, Contemporary Pop/ Rock, AM Pop, Pop/Rock, Children's, Psychedelic

https://youtu.be/TfQR724hfoA
Years in activity :
| | | | | | | | | | | | |
| --- | --- | --- | --- | --- | --- | --- | --- | --- | --- | --- | --- |
| 1910 | 20 | 30 | 40 | 50 | 60 | 70 | 80 | 90 | 2000 | 10 | 20 |
DISCOGRAPHY
Singles
| | | | |
| --- | --- | --- | --- |
| 1971 | SP CAPRICORN C 8021 (US) | . | Emma / Sunshine |
| 1971 | SP ATLANTIC ATL 10 085 (GER) | | Emma / Sunshine |
| 1971 | SP ATCO OS-13136 (US) | . | Sunshine / Good Time Charlie's Got The Blues |
| 1972 | SP ATCO 45-6881 (US) | . | Train Of Glory / Everybody Knows Her |
| 1972 | SP ATCO 45-6911 (US) | . | Stop And Start It All Again / That's What Our Life Is |
| 1972 | SP ATCO 45-6920 (US) | . | Honky Tonk Stardust Cowboy / ? |
| 1972 | SP ATCO ATCO-10085 (F) | | Sunshine / Emma |
| 1973 | SP ATCO 45-6952 (US) | . | Rolling Along / The Place I've Been |
| 08/1976 | SP REPRISE RPS-1358 (US) | . | Favorite Song / White Line |
| 03/1977 | SP WARNER BROS. WBS-8364 (US) | . | Carolina Caroline / Never Together (But Close Sometimes) |
| 07/1988 | SP MCA / CURB MCA-53390 (US) | . | We Need To Be Locked Away / Back Up Grinnin' |
| 11/1988 | SP MCA / CURB MCA-53467 (US) | . | Look What We Made / Fewer Threads Than These |
| 02/1989 | SP MCA / CURB MCA-53613 (US) | . | It's A Natural Thing / My Baby's A Country Song |
| 11/1989 | SP CURB CRB-10571 (US) | . | Listen To The Radio / On God's Green Earth |
| 07/1990 | SP CURB NR-76829 (US) | . | Guitar Talk / Dime A Dance Romance |
Albums
09/1971
LP 12" CAPRICORN SD-862 (US)
JONATHAN EDWARDS - Everybody Knows Her / Cold Snow / Athens County / Dusty Morning / Emma / Shanty / Sunshine (minimal stereo separation) / The King / Don't Cry Blue / Jesse / Sometimes / Train Of Glory
09/1972
LP 12" ATCO

SD-7015 (US)

HONKY TONK STARDUST COWBOY -

Stop And Start It All Again / Everything / Longest Ride / Give Us A Song / Dues Days Bar / Morning Train / Ballad Of Upsy Daisy / It's A Beautiful Day / Sugar Babe / Dream Song / Paper Doll / Honky-Tonk Stardust Cowboy / That's What Our Life Is
10/1973
LP 12" ATCO

SD-7036 (US)

HAVE A GOOD TIME FOR ME -

Have Yourself A Good Time For Me / King Of Hearts / Places I've Been / I'm Alone / Travelin' Blues / Rollin' Along / My Home Ain't In The Hall Of Fame / Angelina / Thirty Miles To Go / Sit Down Rock And Roll Man / When The Roll Is Called Up Yonder
10/1974
LP 12" ATCO

SD-36-104 (US)

LUCKY DAY - Give Us A Song / Don't Cry Blue / Nova Scotia / Today I Started Loving You Again / Shanty / Have You Seen Her / Everybody Knows Her / Lucky Day / Sometimes / Hit Parade Of Love / Stop And Start It All Again / My Home Ain't In The Hall Of Fame / That's What Our Life Is / You Are My Sunshine - Sunshine (Go Away Today)
01/1976
LP 12" REPRISE

MS-2238 (US)

ROCKIN' CHAIR - How Long / Hearts Overflowing / Favorite Song / White Line/Ain't Got Time / Hello / Song For The Life / Rockin' Chair (Gonna Get You) / The Christian Life / Lady
01/1977
LP 12" WARNER BROS.

BS-3020 (US)

SAILBOAT - Blow On Chilly Wind / Evangelina / Sailboat / People Get Ready / How About You / Girl From The Canyon / Weapon Of Prayer / Never Together (But Close Sometimes) / Carolina Caroline / Let The Rough Side Drag
1982
LP 12" CHRONIC CR-1001 (US)
JONATHAN EDWARDS LIVE ! - Sunshine / Sailboat / Daddy's Gone Singin' / Lady / Medley: Don't Cry Blue - Athens County / Everybody Know Her / Emma / Shanty / Sometimes In The Morning
1985
LP 12" SUGAR HILL

SH-3747 (US)

BLUE RIDGE - Jonathan EDWARDS & The SELDOM SCENE - Don't This Road Look Rough And Rocky / How Long Have I Been Waiting For You / Blue Ridge / Seven Daffodils / Sunshine / Back To Where I Don't Belong / If I Gave You / Honey, I Won't Be Around / Only A Hobo / God Gave You To Me / Little Hands / I Don't Believe I'll Stay Here Anymore / Don't Crawfish Me, Baby
08/1987
LP 12" AMERICAN MELODY AM-102-1 (US)
LITTLE HANDS - Winkin, Blinkin And Nod / Children Go Where I Send Thee / My Little Girl / Red Light, Green Light / Stewball / Little Hands / Flies In The Buttermilk / Give Us A Song / Old Jim / Graceful Lullabye
1989
LP 12" MCA

/

CURB

MCA-42256 (US)

THE NATURAL THING - It's A Natural Thing / Listen To The Radio / Look What We Made / Guitar Talk / Where Did We Go Right / We Need To Be Locked Away / Fewer Threads Than These / It's Easy To Write A Love Song / Back Up Grinnin' / Dime-A-Dance Romance / My Baby's A Country Song / On God's Green Earth
11/1994
CD RISING 2-10101 (US)
ONE DAY CLOSER - Everything Takes Time / Following My Heart / One Day Closer / This Island Earth / Our First Kiss / I Don't Know What Love Is / Lovers Like You And Me / Margaret / I Know You / This Old Guitar / Chesapeake / Sticks And Stones
02/1997
CD RISING 2-10102 (US)
THE NATURAL THING - It's A Natural Thing / Listen To The Radio / Look What We Made / Guitar Talk / Where Did We Go Right / We Need To Be Locked Away / Fewer Threads Than These / It's Easy To Write A Love Song / Back Up Grinnin' / Dime-A-Dance Romance / My Baby's A Country Song / On God's Green Earth
09/1997
CD RISING 2-10106 (US)
MAN IN THE MOON - Stay Down / NGHT Fog / Man In The Moon / Slave For Love / Whatever Gets You Through The Night / To Me / Do You Remember Me / Follow The Stars / Break Out Of The Blue / Howl At The Moon / I'll Forget You / No More Sad Songs
05/2001
CD MEDIA ARTISTS 1414 (US)
CRUISING AMERICA'S WATERWAYS - Lucky Day / Sailboat / This Island Earth / Lady / Sunshine (Go Away Today) / It's A Beautiful Day / Seven Daffodils / Let's Talk Dirty In Hawaiian / Is It Peace Or Is It Prozac? / Jim - Don't Cry Blue / Train Of Glory / This Old Guitar / Our First Kiss / Man In The Moon
11/2002
CD ORCHARD 802330 (US)
NOW AND ZEN - Traveling Song / Trade Winds / Driving Into The Sun / Vigeland Skulptur Park Om Natten / Mbira Dream / You Can Get The Next Mutant / Too Many Yesterdays / Ghost In The Darkness / Juggling / Until Someone Says Goodbye / Javali / Taking Magic Seriously
02/2007
CD RISING ? (US)
LIVE IN MASSACHUSETTS - Evangelina / Man In The Moon / She Loves You / Sunshine (Go Away Today) / One Day Closer / Crazy Texas Woman / Waiting In Vain / Is It Peace Or Is It Prozac / I Don't Believe I'll Stay Here Anymore / Don't Cry Blue / Let's Talk Dirty In Hawaiin / Sometimes In The Morning / One More Trip Around The Sun / Shanty / Little Hands / Emma
07/2008
CD STRICTLY COUNTRY SCR-68 (NL)
ROLLIN' ALONG "LIVE IN HOLLAND" - Red Light, Green Light / That's What Our Life Is / Carolina, Caroline / Have Yourself A Good Time For Me / Seven Daffodils / Rollin' Along / If I Were A Carpenter / Athens County / Four Strong Winds / Morning Train / Choices / Everybody Knows Her / Hearts Overflowing / Early Morning Rain / Honky Tonk Stardust Cowboy / Rockin' Chair / One More Trip Around The Sun / This Island Earth / People Get Ready - Train of Glory / Angelina
06/2011
CD APPLESEED 1126 (US)
MY LOVE WILL KEEP - Surrounded / Johnny Blue Horizon / My Love Will Keep / Crazy Texas Woman / She Love You / How Long;This Island Earth / Lightkeeper / Tomorrow's Gonna Come / Everybody Works In China / Freewheeler / Sailor's Prayer
11/2011
CD CORINTHIAN 117 (US)
JONATHAN PLAYS "FATS" (ALMOST), DARLENE REMEMBERS "DUKE" (SOMETIMES) -

DARLENE EDWARDS / JONATHAN EDWARDS -

Ain't Misbehavin' / Sophisticated Lady / Honeysuckle Rose / I'm Beginning To See The Light / I'm Gonna Sit Right Down And Write Myself A Letter / Take A Train / Keeping Out Of Mischief Now / Mood Indigo / Black And Blue / Don't Get Around Much Anymore / I've Got A Feelin' I'm Fallin' / Do Nothin' Til You Hear From Me / Stayin' Alive / I Am Woman / Copacabana /

Tie A Yellow Ribbon
© Rocky Productions 30/06/2013