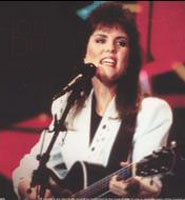 Chanteuse US née Holly Suzette Dunn, le 22 Août 1957 à San Antonio (Texas). Holly Dunn est décédée le 14 Novembre 2016.

One of the most popular female country singers of the late '80s, Holly Dunn was born in San Antonio in 1957 and was the sister of future country songwriting pro Chris Waters. In high school, she performed with a group called the Freedom Folk, which toured the south and performed at the White House bicentennial celebration. While attending Abilene Christian University, she sang with the school's Hilltop Singers touring choir, and also co-wrote a song with her brother called "Out of Sight, Not Out of Mind." It was recorded by Cristy Lane, which convinced Dunn to try her luck in Nashville after graduation. She worked as a demo singer for a time before joining her brother as a staff songwriter at CBS. In 1984, she moved over to MTM and penned material for several different singers, including Louise Mandrell, who made "I'm Not Through Loving You Yet" a Top Ten hit. In the wake of its success, Dunn landed a record contract in her own right, and released her first single in 1985. Her self-titled debut album appeared the following year and produced her first Top Ten hit, "Daddy's Hands." 1987's Cornerstone contained two Top Five singles in "Love Someone Like Me" and "Only When I Love," and Dunn produced the 1988 follow-up, Across the Rio Grande, herself, resulting in the hits "Strangers Again" and "(It's Always Gonna Be) Someday." MTM subsequently went bankrupt, and Dunn signed with Warner Bros. for 1989's The Blue Rose of Texas, which produced her first-ever number one single, "Are You Ever Gonna Love Me," as well as the Top Five "There Goes My Heart Again." 1990's Heart Full of Love spawned another chart-topper, "You Really Had Me Going," and Warner followed it with the hits compilation Milestones in 1991. One of the new tracks, "Maybe I Mean Yes," sparked controversy over its lyrical content, which some interpreted as an apology for date rape. Dunn's popularity took a hit with 1992's Getting It Dunn, and she subsequently parted ways with Warner. She resurfaced in 1995 on the smaller River North label with Life and Love and All the Stages, and was back on a major (A&M) for 1997's Leave One Bridge Standing, which failed to revive her commercial standing.
Holly Dunn passed away on November 14, 2016.
https://en.wikipedia.org/wiki/Holly_Dunn
Talents : Vocals, Songwriter, Guitar
Style musical : Contemporary Country

http://youtu.be/fnZpCVZwIZ8
Years in activity :
| | | | | | | | | | | | |
| --- | --- | --- | --- | --- | --- | --- | --- | --- | --- | --- | --- |
| 1910 | 20 | 30 | 40 | 50 | 60 | 70 | 80 | 90 | 2000 | 10 | 20 |
DISCOGRAPHY
Singles
05/1985
SP MTM B-72052 (US)
Playing For Keeps / I'm Not Through Loving You Yet
09/1985
SP MTM B-72057 (US)
My Heart Holds On / Shot In The Dark
03/1986
SP MTM B-72064 (US)
Two Too Many / You
08/1986
SP MTM B-72075 (US)
Daddy's Hands / Hideaway Heart
12/1986
SP WARNER BROS. 7-28471 (US)
Face In The Crowd (Michael Martin MURPHEY

&

Holly DUNN) / You're History (Michael Martin MURPHEY)
12/1986
SP WARNER BROS. 7-28471 (US) (promo)
Michael Martin MURPHEY & Holly DUNN - A Face In The Crowd / A Face In The Crowd
01/1987
SP MTM B-72082 (US)
Love Someone Like Me / Burnin' Wheel
08/1987
SP MTM B-72091 (US)
Only When I Love / Little Frame House
12/1987
SP MTM B-72093 (US)
Strangers Again / Wrap Me Up
05/1988
SP MTM B-72108 (US)
That's What Your Love Does To Me / Lonesome Highway
08/1988
SP MTM B-72111 (US)
Just Across The Rio Grande / Las Manos Mi Papa (Daddy's Hands)
10/1988
SP MTM B-72116 (US)
(It's Always Gonna Be) Someday / On The Wings Of An Angel
04/1989
SP WARNER BROS. 7-22957 (US)
Are You Ever Gonna Love Me / If Id' Never Loved You
08/1989
SP WARNER BROS. 7-22796 (US)
There Goes My Heart Again / Blue Rose Of Texas
01/1990
SP REPRISE 7-19972 (US)
If I Knew Then What I Know (with Kenny ROGERS) / + Kenny ROGERS
05/1990
SP WARNER BROS. 7-19847 (US)
My Anniversary For Bein' A Fool / Light In The Window
07/1990
SP WARNER BROS. 7-19756 (US)
You Really Had Me Going / When No Place Is Home
12/1990
SP WARNER BROS. 7-19472 (US)
Heart Full Of Love / Temporary Lost Of Memory
06/1991
SP WARNER BROS. 7-19266 (US)
Maybe I Mean Yes / Daddy's Hands (original version)
10/1991
SP WARNER BROS. 7-19149 (US)
No One Takes The Train Anymore / Two Too Many
03/1992
SP WARNER BROS. 7-18956 (US)
No Love Have I / Love Someone Like Me
07/1992
SP WARNER BROS. 7-18831 (US)
As Long As You Belong To Me / You Can Have Him
| | |
| --- | --- |
| | |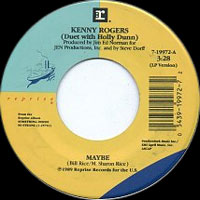 Albums
04/1986
LP 12" MTM ST-71052 (US)
HOLLY DUNN - Two Too Many / Your Memory (Won't Let Go Of Me) / Burnin' Wheel / Sweetest Love I Never Knew / It'll Be All Right / Daddy's Hands / My Heart Holds On / That's A Real Good Way To Get Yourself Loved / Hideaway Heart / Someone Carried You
05/1987
LP 12" MTM ST-71063 (US)
CORNERSTONE : Cornerstone / Small Towns / Strangers Again / Only When I Love / Fewer Threads Than These / Love Someone Like Me / Lover's Cross / Why Wyoming / Wrap Me Up / Little Frame House
06/1988
LP 12" MTM D1-71070 (US)
ACROSS THE RIO GRANDE - City Limit / Stronger The Tie / Just Across The Rio Grande / Have A Heart / If Nobody Knew My Name / That's What Your Love Does To Me / (It's Always Gonna Be) Someday / Lonesome Highway / Travelin' Prayer / On The Wings Of An Angel
07/1989
CD WARNER BROS. 25939-2 (US)
THE BLUE ROSE OF TEXAS - Are You Ever Gonna Love Me / You're Still Keeping Me Up At Night / Most Of All Why / Thunder And Lightnin' / No One Takes The Train Anymore / Blue Rose Of Texas / Sometime Today / There Goes My Heart Again / If I'd Never Loved You / There's No Heart So Strong
05/1990
CD WARNER BROS. 26173-2 (US)
HEART FULL OF LOVE - Heart Full Of Love / Don't Worry Bout Me / Temporary Loss Of Memory / Light In The Window Went Out / Home / My Anniversary For Being A Fool / You Really Had Me Going / My Old Love In New Mexico / When No Place Is Home / Broken Hearted
07/1991
CD WARNER BROS. 26630-2 (US)
MILESTONES - GREATEST HITS - Daddy's Hands / Only When I Love / It's Always Gonna Be Someday / Love Someone Like Me / Face In The Crowd / Strangers Again / Maybe I Mean Yes / There Goes My Heart Again / Are You Ever Gonna Love Me / No One Takes The Train Anymore / You Really Had Me Going
06/1992
CD WARNER BROS. 26949-2 (US)
GETTING IT DUNN - No Love Have I / If Your Heart Can't Do The Talking / Golden Years / You Say You Will / I Laughed Until I Cried / As Long As You Belong To Me / Let Go / I've Heard It All / Half A Million Teardrops / You Can Have Him / single I Love You
04/1995
CD RIVER NORTH 751416-1140-2 (US)
LIFE AND LOVE AND ALL THE STAGES - I Am Who I Am / It's Not About Blame / Wonder Of Love / Rock-A-Billy / Loving Every Minute / Cowboys Are My Weakness / What Kind Of Love / Love Across The Line / I'd Know That Heartache Anywhere / 1001 Ways
04/1997
CD RIVER NORTH 751416-1212-2 (US)
LEAVE ONE BRIDGE STANDING - Leave One Bridge Standing / Don't Break The Wings / That Never Stopped Me / We've Got The Love / Whatshisname / Talking Goodbye / You Just Don't Know It Yet / For Your Love / Real Deal / Wonder Of Love / I'm Not Through Loving You Yet
06/2003
CD OMS OMS-25090 (US)
FULL CIRCLE - Wonderful Savior / Sweet Hour Of Prayer / Devil Stand Back / I Know It's Heaven / I Come To The Garden Alone / There's A Call Comes Ringing / On The Wings Of An Angel / Where You Are / Softly And Tenderly / Revive Us Again
06/2005
CD PLATINUM DISC 3741 (US)
DADDY'S HANDS - Love Someone Like Me / Only When I Love / That's What Your Love Does to Me / Are You Ever Gonna Love Me / There Goes My Heart Again / You Really Had Me Going / Daddy's Hands / Strangers Again / (It's Always Gonna Be) Someday / Heart Full Of Love
06/2005
2 CD PLATINUM DISC 3744 (US)
JANIE FRICKE AND HOLLY DUNN :

CD 1 : Janie FRICKE : Always Have, Always Will / Do Me With Love / Don't Worry 'Bout Me, Baby / Down to My Last Broken Heart / Easy To Please / He's A Heartache / If The Fall Don't Get You / It Ain't Easy Being Easy / Let's Stop Talking About It / She's Single Again
CD 2 : Holly DUNN : Love Someone Like Me / Only When I Love / That's What Your Love Does To Me / Are You Ever Gonna Love Me / There Goes My Heart Again / You Really Had Me Going / Daddy's Hands / Strangers Again / (It's Always Gonna Be) Someday / Heart Full Of Love

04/2011
CD AMERICAN LEGENDS 192101 (US)
AMERICAN LEGEND - You Really Had Me Going / Are You Ever Gonna Love Me / There Goes My Heart Again / Strangers Again / Love Someone Like Me / Daddy's Hands / Only When I Love / Heart Full Of Love / That's What Your Love Does To Me
© Rocky Productions 8/06/2013