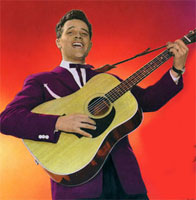 Chanteur Country US né John Franklin Duncan, le 7 Septembre 1932 à Oliver Springs (Tennessee). Johnny Duncan chanta des spirituals avant de faire parti de l'orchestre de Bill Monroe. En 1953, par amour, il s'installe en Angleterre et joue avec Chris Barber et en 1956, Johnny tente sa chance avec sa formation les "Blue Grass Boys" et fait un premier succès en 1957. Johnny Duncan retourna ensuite aux Etats Unis pour y poursuivre sa carrière chez Rebel et Roulette Records. Aujourd'hui, relativement oublié, ce pionnier de la Country Music en Europe, vivait à Melbourne en Australie. Johnny Duncan est décédé le 15 Juillet 2000.

The American-born British skiffle star Johnny Duncan (not to be confused with the Texas-born country singer of the same name from the 1970s) brought a brand of country music to England during the late '50s, enjoying considerable success in the process. His popularity lasted only for the duration of the British skiffle boom, from the summer of 1957 to the end of that year, beginning with "Last Train to San Fernando" (a British number two hit) and ending with "Blue Blue Heartache" and "Footprints in the Snow." The latter had been a hit for bluegrass legend Bill Monroe, and Duncan claimed to have been a member of Monroe's band, but the doubts about that claim were only one area of mystery behind this most elusive figure ever to achieve stardom in country music (after a fashion) or to become a recording star England.
Duncan claimed Tennessee as his place of birth, and gave his birthday as September 7, 1931, but none of this information could ever be verified. The date may have been real, but the Tennessee birthplace was later deemed to be a complete fabrication, to make his status as a singer of folk- and country-style music more authentic. He was probably born in Michigan, and was stationed in England during his American military service. He married in England, and Duncan and his wife apparently went to America in the mid-'50s after the end of his military service, but they came back to England in 1955 when his wife fell ill. He'd done some singing, and on seeing the new level of interest in American music, Duncan decided to try his luck at a musical career. The "Southern" accent with which he presented himself was later deemed to be an affectation, but it fooled many Britishers at the time.
In 1956, he was spotted singing American country songs by jazz bandleader Chris Barber, who had recently lost the leader of his group's skiffle outfit, Lonnie Donegan, to a solo career. Duncan auditioned and was accepted into the group, and he stayed with Barber's band until 1957. Duncan decided to go solo that year, with a band comprised of bassist Jack Fallon, drummer Lennie Hastings, and guitarist Bryan Daly, who was later replaced by top-flight jazz player Denny Wright, a veteran of Donegan's band. The group was christened the Blue Grass Boys, in "honor" of Monroe's group, and was all part of Duncan's charade of having played with Monroe.
Although Duncan was being sold as a skiffle man, he was really more of a country singer, and his direct influences included Jimmie Rodgers and Red Foley, as well as Bill Monroe and Hank Williams. He was signed to the Pye/Nixa Records label, which was Donegan's label, and was assigned Denis Preston, the same producer who was working on Donegan's records.
Duncan's first release, recorded when Daly was still in the band, was a four-song EP featuring "Freight Train Blues," "Press On," Jimmie Rodgers' "Johnny's Blue Yodel," and the Cliff Bruner standard "Out of Business." This stuff was solid country-style material, lacking some of the excitement of "Rock Island Line" and other early skiffle, but perfectly fine as country-blues, and more authentic than anything else in England at the time, since Duncan -- Southerner or not -- was an American, and at least had that part of the accent right. This release from the early spring of 1957 didn't do much, but then fate played a card. Preston discovered a calypso-style number called "Last Train to San Fernando" and brought it to Duncan.
By that time, Denny Wright -- who could play guitar about as well as anyone in England -- was in the band. "Last Train to San Fernando" was cut as a country song and got a 17-week run on the charts, getting all the way to number two, kept out of the top spot only because of competition from Paul Anka's latest record. Duncan never had another hit anywhere near as big, but he continued to record right into the '60s, doing country-style numbers like John D. Loudermilk's "Tobacco Road," Roger Miller's "Dang Me," and the Flatt & Scruggs hit "The Ballad of Jed Clampett." He appeared with Peter, Paul & Mary on their British television special of 1963, and as late as 1967, he was still performing on the cabaret circuit. His last known recordings, done for English Decca, date from early 1973. Duncan is said to have moved to Australia in the mid-'70s, and hasn't been seen or heard from since.
http://www.45-rpm.org.uk/dirj/johnnyd.htm
https://en.wikipedia.org/wiki/Johnny_Duncan_(bluegrass_musician)
Talents : Vocals, Guitar
Style musical : Skiffle, Rockabilly
Years in activity :
| | | | | | | | | | | | |
| --- | --- | --- | --- | --- | --- | --- | --- | --- | --- | --- | --- |
| 1910 | 20 | 30 | 40 | 50 | 60 | 70 | 80 | 90 | 2000 | 10 | 20 |
DISCOGRAPHY
Singles & EP
| | | | |
| --- | --- | --- | --- |
| 04/1957 | SP COLUMBIA DB 3925 (UK) | . | Johnny DUNCAN & The BLUE GRASS BOYS - Kaw-Liga / Ella Speed |
| 06/1957 | SP COLUMBIA DB 3959 (UK) | . | Johnny DUNCAN & The BLUE GRASS BOYS - Last Train To San Fernando / Rock-A-Billy Baby |
| 06/1957 | EP COLUMBIA SEG 7708 (UK) | | Johnny DUNCAN & The BLUE GRASS BOYS - Freight Train Blues / Press On / Johnny's Blues Yodel / Out Of Business |
| 09/1957 | SP COLUMBIA DB 3996 (UK) | . | Johnny DUNCAN & The BLUE GRASS BOYS - Blue, Blue Heartache / Jig Along Home |
| 10/1957 | EP COLUMBIA SEG 7733 (UK) | | Johnny DUNCAN & The BLUE GRASS BOYS - Last Train To San Fernando / Jig Along Home / Blue Blue Heartache / Ella Speed |
| 11/1957 | SP COLUMBIA DB 4029 (UK) | . | Johnny DUNCAN & The BLUE GRASS BOYS - Footprints In The Snow / Get Along Home Cindy |
| 1957 | EP COLUMBIA ESDF 1179 (F) | | Johnny DUNCAN & The BLUE GRASS BOYS - Last Train To San Fernando / Blue Blue Heartaches / Rock-A-Billy Baby / Get Along Home Cindy |
| 02/1958 | SP COLUMBIA DB 4074 (UK) | . | Johnny DUNCAN & The BLUE GRASS BOYS - If You Love Me Baby / Goodnight Irene |
| 02/1958 | EP COLUMBIA SEG 7753 (UK) | | Johnny DUNCAN & The BLUE GRASS BOYS - FOOTRINTS IN THE SNOW - Footprints In The Snow / Kaw-Liga / Rock-A-Billy Baby / Get Along Home Cindy |
| 04/1958 | SP COLUMBIA DB 4118 (UK) | . | Johnny DUNCAN & The BLUE GRASS BOYS - Itching For My Baby / I Heard The Bluebirds Sing |
| 07/1958 | SP COLUMBIA DB 4167 (UK) | . | Johnny DUNCAN & The BLUE GRASS BOYS - All Of The Monkeys Ain't In A Zoo / More And More |
| 08/1958 | SP COLUMBIA DB 4179 (UK) | . | Johnny DUNCAN & The BLUE GRASS BOYS - My Lucky Love / Geisha Girl |
| 08/1958 | SP PYE 7NJ 2014 (UK) | . | Doin' My Time / Where Could I Go? |
| 11/1958 | EP COLUMBIA SEG 7850 (UK) | | Johnny DUNCAN & The BLUE GRASS BOYS - TENNESSEE SING - SONG - Rockabilly Medley / Waltz Medley / Railroad Medley / Gospel Medley |
| 1958 | EP COLUMBIA ESDF 1205 (F) | | Johnny DUNCAN & The BLUE GRASS BOYS - Johnny's Blue Yodel / Out Of Business / Greight Train Blues / Press On |
| 1958 | EP COLUMBIA ESDF 1208 (F) | | Johnny DUNCAN & The BLUE GRASS BOYS - Footprint In The Snow / Kaw-Liga / Ella Speed / Get Along Home Cindy |
| 04/1959 | SP COLUMBIA DB 4282 (UK) | . | Johnny DUNCAN & The BLUE GRASS BOYS - Rosalie / This Train |
| 07/1959 | SP COLUMBIA DB 4311 (UK) | . | Johnny DUNCAN & The BLUE GRASS BOYS - Kansas City / That's All Right Darlin' |
| 02/1960 | SP COLUMBIA DB 4415 (UK) | . | Johnny DUNCAN & The BLUE GRASS BOYS - Anytime / Yellow, Yellow Moon |
| 05/1961 | SP PYE 7N 15358 (UK) | . | Johnny DUNCAN & The BLUE GRASS BOYS - Sleepy-Eyed John / Tobacco Road |
| 09/1961 | SP PYE 7N 15380 (UK) | . | Johnny DUNCAN & The BLUE GRASS BOYS - Hannah / The Legend Of Gunga Din |
| 1961 | SP LONDON 10509 (US) | . | Legend Of Gonga Din / Hannah |
| 03/1962 | SP PYE 7N 15420 (UK) | . | Johnny DUNCAN & The BLUE GRASS BOYS - A Long Time Gone / Waitin' For The Sandman |
| 12/1963 | SP COLUMBIA DB 7164 (UK) | . | Johnny DUNCAN & The KINGPINS - The Ballad Of Jed Clampett / Will You Be Mine ? |
| 08/1964 | SP COLUMBIA DB 7334 (UK) | . | Johnny DUNCAN & The BLUE GRASS BOYS - Dang Me / Which Way Did He Go ? |
| 1966 | SP COLUMBIA DB 7833 (UK) | . | Johnny DUNCAN & The BLUE GRASS BOYS - My Little Baby/ I Thank My Lucky Stars |
| 06/1976 | SP EMI EMI 2465 (UK) | . | Johnny DUNCAN & The BLUE GRASS BOYS - Last Train To San Fernando / Long Gone Lonesome Blues |
| 1981 | SP STRAND 6.13 001 (GER) | | Last Train To San Fernando / Rockabilly Baby |
| 1989 | SP OLD GOLD OG 9902 (UK) | . | Last Train To San Fernando (Johnny DUNCAN)/ Rock Island Line (Lonnie DONEGAN) |
Albums
11/1957
LP 10" COLUMBIA 33 S 1122 (UK)
JOHNNY DUNCAN'S TENNESSEE SONG BAG - Get Along Hone, Cindy / Old Blue / Travelin' Blues / St. James Infirmary / Calamity Mose / Just A Little Lovin' / Which Way Did He Go ? / More And More / Mind Your Own Business / Just A Little Closer With Thee
09/1958
LP 10" COLUMBIA 33 S 1129 (UK)
JOHNNY DUNCAN SALUTES HANK WILLIAMS - Hey Good Lookin' / Wedding Bells / Monin' The Blues / Cold Cold Heart / Jambalaya / Your Cheatin' Heart / Long Gone Lonesome Blues / Half As Much / May You Never Be Alone / Salute To Hank Williams
1961
LP 12" MUSIC FOR PLEASURE MFP1032 (UK)
BEYOND SUNSET - Beyond The Sunset / Just A Little Talk With Jesus / Amazing Grace / Where Could I Go But To The Lord / Just A Closer Walk With Thee / Walking In Jerusalem Just Like John / Precious Lord Hold My Hand / o Hiding Place Down There / I've Just Told Mama Goodbye / Press On / In The Garden / When God Dips His Pen Of Love In My Heart
1973
LP 12" DECCA SPA 295 (UK)
THE WORLD OF COUNTRY MUSIC VOL. 2 - JOHNNY DUNCAN & THE BLUEGRASS BOYS - RECORDED LIVE AT THE NASHVILLE ROOM, LONDON - Mustang Prang / Life Can Be Beautiful / Hello Heartache / If It Feels Good, Do It / The Wild Side Of Life / Just For What I Am / Salty Dog Blues / Just A Little Lovin' / Footprints In The Snow / Blue, Blue Heartaches / Someone To Give My Love To / Tribute To Hank Williams : Hey Good Lookin' - I Can't Help It (If I'm Still In Love With You) / Smoke! Smoke! Smoke! (That Cigarette) / Tom Dooley / Last Train To San Fernanado / Mustang Prang (revisited)
1985
LP 12" BEAR FAMILY BFX 15169 (GER)
LAST TRAIN TO SAN FERNANDO - Last Train To San Fernando / Itching For My Baby / Geisha Girl / Jig Along Home / Railroad Steamboat, River And Canal / I Heard The Bluebirds Sing / Git Along Homme Cindy / Rockabilly Medley : Raise A Ruckus Tonight - Rock-A-Billy Baby - Detour / Rock-A-Billy Baby / Dang Me / Which Way Did He Go ? / Blue, Blue Heartache / Footprints In The Snow / My Little Baby / Yellow Moon / Railroad Medley : Pan American - I'm Movin' On - Last Train To San Fernando
1985
LP 12" BEAR FAMILY BFX 15170 (GER)
RARE AND UNISSUED GEMS - Cajun Joe / Louisiana Moon / There's A Big Wheel / Fisherman's Luck / Lovey Told Me Goodbye / Bad News / Nothing To Gain / Five Hundred Miles From Home / Tiger Rag / Keep On The Sunny Side / Red Beret / Kevin Barry / The Comancheros / Just A Wearying For You / Ding Ding / Leavin' Blues
11/1996
4 CD BEAR FAMILY BCD 15947 (GER)
LAST TRAIN TO SAN FERNANDO :

CD 1 : Last Train To San Fernando / Rock-A-Billy Baby / Footprints In The Snow / Blue Blue Heartache / Jig Along Home / If You Love Me Baby / Goodnight Irene / Freight Train Blues / Press On / Johnny's Blue Yodel / Out Of Business / Get Along Home, Cindy / Old Blue / Calamity Mose / Just A Little Lovin' / Which Way Did He Go? / More And More / Just A Closer Walk With Thee / Travelin' Blues / St. James Infirmary / Mind Your Own Business / Kaw-Liga / Ella Speed / Doin' My Time / Where Could I Go / Can't You Line 'Em / Gipsy Davy / Blue Yodel / Blowin' Down This Old Dusty Road
CD 2 : Itching For My Baby / I Heard The Bluebirds Sing / More And More / Railroad, Steamboat, Rivers And Canals / Geisha Girl / All Of The Monkeys Ain't In The Zoo / This Train / Rosalie / Hey Good Lookin' / Wedding Bells / Moanin' The Blues / Cold Cold Heart / Jambalaya / Your Cheatin' Heart / Long Gone Lonesome Blues / Half As Much / May You Never Be Alone / Salute To Hank Williams / My Son Calls Another Man Daddy / My Lucky Love / Any Time / Kansas City / That's All Right. Darlin' / Yellow Yellow Moon / Medley (Rockabilly) : Raise A Ruckus Tonight - Rockabilly Baby - Detour / Medley (Waltz) : Home On The Range - Tennessee Waltz - The Love Song Of The Waterfall / Medley (Railroad) : Pan American Queen - I'm Moving On - Last Train To San Fernando / Medley (Gospel) : Old Time Relegion - Just A Little Talk With Jesus - Let The Church Roll On
CD 3 : Sleepy-Eyed John / Tobacco Road / The Legend Of Gunga Din / Hannah / Waitin' For The Sandman / A Long Time Gone / Will You Be Mine / She's My Baby / You Shouldn't Have Cried / Baby We're Really In Love / Bluebird Island / The Ballad Of Jed Clampett / Dang Me / Which Way Did He Go / My Little Baby / I Thank My Lucky Stars / Beyond The Sunset / Just A Little Walk With Jesus / Amazing Grace / Where Could I Go But To The Lord / Just A Closer Walk With Thee / Walking In Jerusalem Just Like John / Precious Lord Hold My Hand / No Hiding Place Down There / I've Just Told Mama Goodbye / Press On / In The Garden / When God Dips His Pen Of Love In My Heart
CD 4 : Last Train To San Fernando / Little Things / I Fought The Law / Out Of Business / I Wonder Where You Are Tonight / Someone Stole My Steel Guitar / Joe And Mabel's 12th Street Bar And Grill / Margie's At Lincoln's Park Inn / Footprints In The Snow / Kaw Liga / I Ain't Buyin' / Mustang Prang / Life Can Be Beautiful / Hello Heartache / If It Feels Good, Do It / The Wild Side Of Life / Just For What I Am / Salty Dog Blues / Just A Little Lovin' / Footprints In The Snow / Blue Blue Heartaches / Someone To Give My Love To / Medley (Tribute To Hank Williams) : Hey Good Lookin' - I Can't Help It - Jambalaya / Smoke! Smoke! Smoke! (That Cigarette) / Tom Dooley / Last Train To San Fernando / Mustang Prang

02/2002
CD ROLLERCOASTER ROLL 3045 (UK)
LAST TRAIN... FROM TENNESSEE TO TAREE - Rockabilly Baby / Last Train To San Fernando / Footprints In The Snow / Get Along Home, Cindy / Rockabilly Medley / Blue, Blue Heartache / Jig Along Home / Gospel Medley / If You Love Me Baby / Freight Train Blues / Press On / Johnny's Blue Yodel / Which Way Did He Go? / More And More / Kaw-Liga / Ella Speed / Just A Little Lovin' / Calamity Mose / Itchin' For My Baby / I Heard The Bluebirds Sing / Yonder Comes A Sucker / All Of The Monkeys Ain't In The Zoo / This Train / That's All Right Darlin' / Railroad Medley / She Took The Engineer / Cold And Lonely Trail / Hillbilly Daddy / Tennessee To Taree
© Rocky Productions 6/06/2013