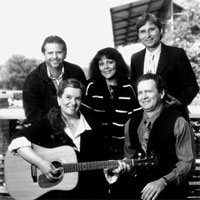 Groupe Bluegrass US fondé en 1976 par Ron Homason et composé de John Baker, Robert Leach et John Carpenter, auquel s'est jointe deux ans plus tard Mary Jo Leet.

Dry Branch Fire Squad was a modern bluegrass band dedicated to bluegrass, old-timey, and Southern gospel music traditions. Mandolin player and comedian Ron Homason founded the Fire Squad in 1976. The earliest incarnation the group included guitarist John Baker, banjo player Robert Leach, and bass player John Carpenter. Two years later, Mary Jo Leet became the group's vocalist. The group released a series of independent releases before signing with Rounder in 1978; they would stay with the venerable roots label for the rest of their career.
The Fire Squad continued to release albums on Rounder throughout the 1980s; standouts included Good Neighbours & Friends (1985) and the gospel-flavored Golgotha from a year later. By 1996's Live! At Last, the group included Homason, guitarist Adam McIntosh, and banjoist Dan Russell; Mary Jo Leet was joined by her husband, Charlie, on harmonies and acoustic bass. The live album displayed the Fire Squad's penchant not only for traditional bluegrass and other Americana styles, but uproarious comedy as well. Memories That Bless & Burn appeared in 1999. The record mixed older material with new, and featured vocalist Suzanne Thomas. The band followed with 2001's Hand Hewn, and continued to be a favorite on the bluegrass and folk festival circuit. A second live album, the double disc Live at the Newburyport Firehouse, was released on Rounder in 2005. In 2007 Rounder released Thirtieth Anniversary Special, a retrospective that included four new tracks, followed by the all new Echoes of the Mountains in 2009.
http://www.drybranchfiresquad.com/
Talents : Ron : Mandolin, Comedy - John Baker : Guitar - Robert : Banjo - John Carpenter : Bass - Mary Jo : Vocals
Style musical : Bluegrass, Bluegrass-Gospel, Old-Timey, Appalachian Folk, String Band

http://youtu.be/-og-66Bzwzw
Years in activity :
| | | | | | | | | | | |
| --- | --- | --- | --- | --- | --- | --- | --- | --- | --- | --- |
| 1910 | 20 | 30 | 40 | 50 | 60 | 70 | 80 | 90 | 2000 | 10 |
DISCOGRAPHY
Albums
1977
LP 12" R.T. 513 (US)

THE DRY BRANCH FIRE SQUAD LIVE AT THE CRYING COWBOY CONCERT SALOON - Banjo In The Hills / When I Loved You / Cowboy Jim / Little Girl And The Dreadful Snake / Cripple Creek / Little Ellen / God Gave You To Me / White House Blues / Rawhide / I'll Never Make You Blue / Gray Eagle Hornpipe / Drunkard's Dream / Out On The Blue Ridge Mountain / Out On The Ocean / Black Lung / Old Joe Clark

1977
LP 12" RITE 001 (US)
SPIRITUAL SONGS FROM DRY BRANCH - Oak Grove Church / Jesus On The Mainline / Working On A Building / Sweetest Gift / Happy On My Way / Scarlet, Purple Robe / I Believe In The Old Time Way / They Won't Believe / Lonely Tombs / Sunny Side Of Life / Upper Window / Children, Go Where I Send Thee / Angel Band / Going Up Home To Live In Green Pastures
1978
LP 12" RITE RT 002 (US)
DRY BRANCH FIRE SQUAD - Rollin' On Rubber Wheels / I Believed In You Darlin' / Pal Of Mine / Louisiana Love / Two Soldiers / Get Up John / Montana Cowboy / Medicine Springs / Rollin' In My Sweet Baby's Arms / When The Golden Leaves Begin To Fall / Road To Columbus / Sugar Coated Love / Out On The Mountain High
1978
LP 12" ROUNDER 0119 (US)
BORN TO BE LONESOME - Wild Mountain Honey / Born To Be Lonesome / Legend Of The Johnson Boys / On The Old Kentucky Shore / Where The Soul Never Dies / I Love No One But You / She's More To Be Pitied / Brand New Tennessee Waltz / I'm Lookin' For The Stone / Orphan Girl / Sweetest Love / Were You There?
1981
LP 12" ROUNDER 0139 (US)
ANTIQUES & INVENTIONS - Bachelor's Hall / It's Too Late Now / Golden Ring / I'll Forget The Tears I've Cried / Midnight On The Stormy Deep / Travel, Travel On / Old River / Leona / Goin' Across The Mountain / Jessie's Waltz / Cabin Of Love / I'm Only Human / Oh! What A Storm / Dak's Song
1983
LP 12" ROUNDER 0163 (US)
FANNIN' THE FLAMES - Down South In New Orleans / Fannin' The Flames / Walking Back To Richmond / I'll Be No Stranger / Little Girl And The Dreadful Snake / Cowboy Jim / Mount Zion's Lofty Heights / Love's Just A Game / When Heaven Comes Down / I Have Found The Way / Aragon Mill / Golden Vanity / Fatal Wedding
1985
LP 12" ROUNDER 0218 (US)
GOOD NEIGHBOURS & FRIENDS - Someone Play Dixie For Me / Adieu To Cold Weather / Please, Mommy, Please / Leather Britches / Faded Coat Of Blue / Cripple Creek / You've Been A Friend To Me / Do I Ever Cross Your Mind / Auction At The Home Place / The Name Of It / Drunkard's Dream / Women Make A Fool Out Of Me / Steels Of A White Man / Good Neighbors & Friends
1985
LP 12" GORDO 001 (US)

ON TOUR - RECORDED LIVE AT GRANITE HILL PARK, GETTYSBURG, PA. - Hot Corn, Cold Corn / Dak's Nursury Song / Lonesome River / Radio S-A-V-E-D / Touch The Hem / Bluegrass Breakdown / Black Lung / Whitehouse Blues / Fox On The Run

1986
LP 12" ROUNDER 0224 (US)
GOLGOTHA - Walk The Streets Of Glory / The Gospel Way / There's A River / Dip Your Fingers In Water / Shine Hallejuah Shine / Must Jesus Bear The Cross Alone / Goin' Up The Mountain / Gospel Ship / We'll Work This Jesus Comes / Looking For The Stone / There's Dust On The Bible / Golgotha
1988
CD ROUNDER 11519 (US)
TRIED AND TRUE - Down South In New Orleans / Brand New Tennessee Waltz / Someone Play Dixie For Me / Going Up On The Mountain / Auction At The Home Place / Legend Of The Johnson Boys / Aragon Mill / Goin' Across The Mountain / Faded Coat Of Blue / Wild Mountain Honey / Little Girl And The Dreadful Snake Girl / Oh! What A Storm / She's More To Be Pitied / Cripple Creek / Golden Ring / There's Dust On The Bible / Cowboy Jim / Walking Back To Richmond / Golgotha
1989
CD ROUNDER CD-0258 (US)
FERTILE GROUND - Devil, Take The Farmer / Darlin'Nellie Across The Sea / Where We'll Never Die / Turkey In The Straw / There's Nothing Between Us / Love Has Brought Me To Despair / The Honest Farmer / The Great Titanic / Golden Morning / Do You Ever Dream Of Me? / The Old Time Way / Bonaparte Crossing The Rhine
1992
CD ROUNDER CD-0289 (US)
LONG JOURNEY - Long Journey / Orphan Chid / Rain And Snow / I'd Rather Be The Girl You Left Behind / Oak Grove Church / I've Always Been A Rambler / Jesus On The Mainline / Saalo's Song / Old Katy Hill / A House Divided / Don't Ever Look Back / We Believe In Happy Endings
1993
CD ROUNDER CD-306 (US)
JUST FOR THE RECORD - I've Lived A Lot In My Time / A Distant Land To Roam / Going To The Races / Midnight On The Stormy Deep / A Mother's Last Words To Her Daughter / Going Across The Sea / Why Do We Keep Holding On To A Heartache? / The Girl At The Bar / Church By The Road / Sugar Tree Ridge / Unwed Fathers / Carolyn At The Broken Wheel Inn / The God That Never Fails / Our Darlin's Gone
10/1996
CD ROUNDER CD-339 (US)
LIVE ! AT LAST - Late Last Night / True Historia / Aragon Mill / Economical Talk / John Henry / A Pitiful Thing / The Cowboy Song / Housework Is My Life / Red Rocking Chair / Cultural Exchange / Someone Play Dixie For Me / Hambone - Balo's Song / Testosterone Poisoning / Midnight On The Stormy Deep / Banjo Jokes / Blue Grass Breakdown / Band Introductions / World's Greatest Folksinger / Hard Times / Goin Up On The Mountain / Walk The Streets Of Glory
10/1999
CD ROUNDER CD-469 (US)
MEMORIES THAT BLESS & BURN - Memories That Bless And Burn / Hide You In The Blood / Looking For The Stone (A Cappella) / Looking For The Stone / Were You There? / Travel, Travel On / I'll Be No Stranger / When Heaven Comes Down / I Have Found A Way / Where We'll Never Die / Dip Your Fingers In Some Water / The Gospel Way / The God That Never Fails / That Home Far Away / When I Wnet Down In The Valley / Touch The Hem Of His Garment
04/2001
CD ROUNDER CD-466 (US)
HAND HEWN - Angelina Baker / I Saw A Man At The Close Of Day / I Can Go To Them / Nazeer, Nazeer (Nazeer, Nazeer) / Atlanta Is Burning / Willye Brennan / While Roving On Last Winter's Night / Sailor's Return / Black Lung / The Cuckoo Is A Pretty Bird / Two Coats / Midnight, The Unconquered Outlaw / I'll Live Again / Papa's Billy Goat / Lonesome Road Blues
01/2005
2 CD ROUNDER CD-0527 (US)
LIVE AT THE NEWBURYPORT FIREHOUSE :

CD 1 : Rubber Wheels / Cas / Orphan Child / Banjo Picking / Roanoke / Coming To Us / Coming To Us Dead / Metaphor / Miner / Carter Family / 50 Miles / Folk Music / Orphan Train / Grandma's Stove / Standing By The River
CD 2 : Hot Corn / Reverend Foote / By The Mark / Bill Monroe / Shine / Mel Bay / Lonesome Fugitive / Dave Van Ronk / Jesus On The Mainline / The Horse / Goin Up Home / Woodmaster / Shenandoah

05/2007
CD ROUNDER CD-0585 (US)
THIRTIETH ANNIVERSARY SPECIAL - I've Lived A Lot In My Time / Devil, Take The Farmer / I Saw A Man At Close Of Day / Rollin' On Rubber Wheels / Church By The Road / He's Coming To Us Dead / A Distant Land To Roam / Over In The Glory Land / Do You Ever Dream Of Me? / The Honest Farmer / Long Journey / Oak Grove Church / Hide You In The Blood / Golden Ring / Carolyn At The Broken Wheel Inn / When I Went Down In The Valley To Pray / The Orphan Train / While Roving On Last Winter's Night / Dip Your Fingers In Some Water / We Believe In Happy Endings / How Great Thou Art
01/2009
CD ROUNDER CD-0574 (US)
ECHOES OF THE MOUNTAIN - Dixie Cowboy / Echo Mountain / Rider On An Orphan Train / Up On The Divide / (You Got To Pray To The Lord) When You See Those Flying Saucers / Bring It On Home To Me / Little Joe / Seven Spanish Angels / Stormy Waters / O Captain! My Captain! / Power In The Blood / Rovin' Gambler / Grayson's Train / Thank You, Lord
© Rocky Productions 7/08/2011