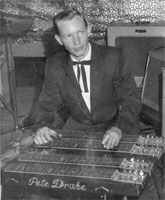 Steel guitariste Country US né Roddis Franklin Drake, le 8 Août 1932 à Atlanta (Georgie). Pete Drake est décédé le 29 Juillet 1988 à Nashville (Tennessee).

When rock artists, including Bob Dylan and members of the Beatles, began to record in Nashville, Pete Drake (born Franklin Drake) was the natural choice as steel guitarist. Although he had a Top 30 hit, "Talking Steel," in 1964, Drake recorded very little on his own. Instead, he used the trademark mellow tone of his steel guitar to strengthen albums by other artists. In addition to working with country artists, including Marty Robbins, Bobby Bare, Johnny Cash, the Louvin Brothers, Dolly Parton, and Ernest Tubb, he pioneered the use of the steel guitar in rock, performing on recordings by Buddy Holly, the Everly Brothers, Carl Perkins, Jerry Lee Lewis, and Elvis Presley. He played on such seminal recordings as Lynn Anderson's "(I Never Promised You A) Rose Garden," Charlie Rich's "Behind Closed Doors," and Tammy Wynette's "Stand By Your Man." Featured on Dylan's albums John Wesley Harding, Nashville Skyline, and Self Portrait, Drake also produced and assembled the band for Ringo Starr's country album, Beaucoups of Blues, and played on George Harrison's solo debut, All Things Must Pass.
The son of a Pentecostal minister, Drake began his career with a group, the Drake Brothers, that he shared with his brothers, one of whom, Jack, went on to play with Ernest Tubb's Texas Troubadors for nearly a quarter of a century. Drake's melodic steel guitar playing made him one of Atlanta's top young instrumentalists. He joined with future country music superstars Jerry Reed, Doug Kershaw, Roger Miller, and Joe South in a mid-'50s band. Although this group failed to record, it provided Drake with the impetus to move to Nashville in 1959. Drake's involvement with Elvis Presley, which began in May 1966 when he played on Presley's How Great Thou Art album, lasted for more than a year and included appearances on the soundtracks of Presley's films Double Trouble, Clambake, and Speedway.
Launching his own record label, First Generation, in the late '70s, Drake signed Ernest Tubb, who had left MCA after 35 years, and released an album, The Legend and the Legacy, in 1977. Comprised of reworkings of Tubb's greatest hits, the album included guest appearances by Willie Nelson, Waylon Jennings, Johnny Paycheck, Charlie Daniels, Conway Twitty, Marty Robbins, Loretta Lynn, Vern Gosdin, George Jones, Merle Haggard, and Johnny Cash. Drake occasionally stepped into the spotlight, releasing solo album of pop-gospel standards, Steel Away, and a eponymously titled album that included steel guitar interpretations of Dylan and Beatles tunes.
https://en.wikipedia.org/wiki/Pete_Drake
Talents : Steel Guitar, Dobro, Guitar, Record Producer, Music Publisher
Style musical : Traditional Country

https://youtu.be/0eQdDAcaqBg
Years in activity :
| | | | | | | | | | | | |
| --- | --- | --- | --- | --- | --- | --- | --- | --- | --- | --- | --- |
| 1910 | 20 | 30 | 40 | 50 | 60 | 70 | 80 | 90 | 2000 | 10 | 20 |
DISCOGRAPHY
Singles
| | | |
| --- | --- | --- |
| 01/1962 | SP STARDAY 45-575 (US) | Pete DRAKE & His TALKING STEEL GUITAR - The Spook (instr.) / Pleading (instr.) |
| 1963 | SP SMASH S-1415 (US) | Pete DRAKE & His TALKING STEEL GUITAR - Forever / I'm Sorry |
| 01/1964 | SP SMASH S-1867 (US) | Forever / Sleep Walk |
| 04/1964 | SP SMASH S-1888 (US) | Midnight In Amarilla / Forever |
| 07/1964 | SP SMASH S-1910 (US) | Pete DRAKE & His TALKING STEEL GUITAR - I'm Just A Guitar / I'm Sorry |
| 11/1964 | SP SMASH S-1935 (US) | Pete DRAKE & His TALKING STEEL GUITAR - Are You Sincere / I'm Walkin' |
| 01/1965 | SP STARDAY 706 (US) | Invitation To The Blues / Rick-A-Shay |
| 03/1965 | SP SMASH S-1978 (US) | Pete DRAKE & His TALKING STEEL GUITAR - Dream / Am I That Easy To Forget |
| 12/1965 | SP STARDAY 751 (US) | Y'all Come / My Abilene |
| 06/1966 | SP SMASH S-2046 (US) | Mystic Dream / I'm A Fool To Care |
| 10/1968 | SP STOP ST-222 (US) | Pete DRAKE & The MAVERICKS - Joggin' / Mama's Talkin' Guitar |
| 10/1969 | SP STOP ST-349 (US) | Pete DRAKE & His TALKING STEEL GUITAR - Lay Lady Lay / For Pete's Sake |
Albums
| | | | |
| --- | --- | --- | --- |
| 1962 | LP 12" STARDAY SLP 180 (US) | | THE FABULOUS STEEL GUITAR SOUND - For Pete's Sake / Pleading / Oriental Twist / After Hours / Southern Sunday / Loves I've Known / Spook / Till Tomorrow / Kick Off / Star Gazing / Tearing Down The Tee Pee / Galaxie |
| 1963 | LP 12" CUMBERLAND MGC-29503 (mono) / SRC-69053 (stereo) (US) | | COUNTRY STEEL GUITAR - Steel Guitar Rag / Midnite In Amarilla / Pleading, Kentucky Waltz / Boot Heel Rag / Panhandle Rag / Steel After Hours / For Pete's Sake / Forever / Wild Side Of Life |
| 05/1964 | LP 12" SMASH MGS-27053 (mono) / SRS-67053 (stereo) (US) | | FOREVER - Forever / Spook / Sleep Walk / Melody Of Love / My Bluest Day / For Those That Cry / I'm Just A Guitar / Danny Boy / Red Sails In The Sunset / Still / Making Believe / Paradise |
| 11/1964 | LP 12" SMASH MGS-27060 (mono) / SRS-67060 (stereo) (US) | | TALKING STEEL GUITAR - Blue Guitar / I'm Walkin' / Always / This Is Our Last Night Together / Gone / Little Bitty Broken Heart / I'm Sorry / Ain't She Sweet / Are You Sincere / Pleading / Funny How Time Slips Away / I'm Blue |
| 04/1965 | LP 12" SMASH MGS-27064 (mono) / SRS-67064 (stereo) (US) | | TALKING STEEL GUITAR SINGING STRINGS - Dream, Only You / Let It Be Me / Roses Are Red / Lonely Street / Unchained Melody / Welcome To My World / Tammy / Clinging Vine / Blue Velvet / Near You / Am I That Easy To Forget |
| 1965 | LP 12" STARDAY SLP-319 (US) | | THE AMAZING AND INCREDIBLE PETE DRAKE - Y'all Come / Alley / Hot Rod Guitar / Color Of The Blues / Ida / Abilene / Invitation To The Blues / Just Another Song / Rick-A-Shay / Pleading / Galaxie / Satisfied Mind |
| 1965 | LP 12" MOUNTAIN DEW S7042 (US) | | PETE DRAKE AND HIS TALKING GUITAR - There Goes My Everything / Green, Geeen, Grass Of Home / Almost Persuaded / Still / Anymore / Don't Let Me Cross Over / Bird Of Paradise / Tippy Toeing / The End Of The World / Bear With Me A Little Longer |
| 1966 | LP 12" AMBASSADOR S-98061 (US) | | THE HITS I PLAYED ON - Green Green Grass Of Home / Almost Persuaded / Tippy Toeing / Don't Let Me Cross Over / Still / There Goes My Everything / Anymore / Bear With Me A Little Longer / End Of The World / May The Bird Of Paradise Fly Up Your Nose |
| 1968 | LP 12" HILLTOP JS-6052 (US) | | ARE YOU SINCERE - Are You Sincere / I'm Walking / This Is Our Last Night Together / I'm Sorry / Little Bitty Broken Heart, Pleading, Blue Guitar, Gone, Funny How Time Slips Away / I'm Blue |
| 1968 | LP 12" CANAAN CA-4640 (mono) / CA S-9640 (stereo) (US) | | STEEL AWAY - Steel Away / Happy Tracks / In The Garden / What A Friend / When They Ring Those Golden Bells / Eyes Of Jesus / Beyond The Sunset / How Great Thou Art / Stairway To Heaven / Whispering Hope |
| 1989 | LP 12" STOP LP-10011 (US) | | THE PETE DRAKE SHOW - RECORDED LIVE AT FRONTIER CITY - I'm Walkin' / Forever / For Pete's Sake / Today I Started Lovin' You Again / Fugitive / San Antonio Rose / Orange Blossom Special / High Heel Sneakers / You Ain't Woman Enough / Thing Called Sadness / Night Before / Shame On Me / Oldies But Goodies |
| 1989 | CD SMASH 836903 (US) | | SLEEPWALK & OTHER STEEL GUITAR CLASSICS - Forever / Melody Of Love / Blue Guitar / Are You Sincere / Sleep Walk / I'm Sorry / Making Believe / I'm Just A Guitar / Red Sails In The Sunset |
| 199? | CD HOLLYWOOD 506 (US) | | PETE DRAKE PLAY ALL TIME COUNTRY FAVOURITES |
| 10/1999 | CD FIRST GENERATION FGCD-107 (US) | | PETE DRAKE - Something / Hey Jude / Lay Lady Lay / Isn't It A Pity / Behind The Locked Door / Yesterday / Get Back / The Mighty Quinn / Country Pie / Funny Bone / Pleading / Talking Steel Guitar |
| 11/2000 | CD KING KMCD-6111 (US) | | FOR PETE'S SAKE - For Pete's Sake / Pleading / Oriental Twist / Satisfied Mind / Alley / Loves I've Known / Color Of The Blues / After Hours / Till Tomorrow / Y'all Come / Rick-A-Shay / My Abilene / Galaxie / Kick Off / Invitation To The Blues / Star Gazing / Lay Lady Lay / Southern Sunday / Spook / Tearing Down The Tee Pee |
© Rocky Productions 22/11/2005