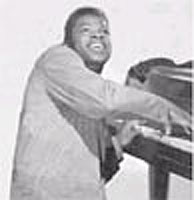 Chanteur et pianiste US né le 9 Janvier 1940 à Lenapah (Oklahoma). "Big" Al Downing, tout en accompagnant Wanda Jackson, a débuté une petite carrière solo en 1958 sur le label White Rock. Big Al a ensuite été sur de nombreux labels dont Challenge (1958), Carlton (58-59), V-Tone (60-61), Kansoma (62), Chess (62), Pop-Line (62), Lenox (63) et Columbia Records (65). Big Al Downing est devenu un pianiste réputé à Nashville (Tennessee). Il est décédé le 4 Juillet 2005 à Leicester (Massachusetts).

Big Al Downing was a unique if unsung figure in the annals of popular music, becoming one of the first African-Americans to enjoy success in the white-dominated realms of rockabilly and country. So varied and checkered was his long career that he even cracked the disco charts. Born January 9, 1940, in Lenapah, OK, Downing was one of 12 children, joining his father and three siblings in a family gospel group. At age ten he began teaching himself piano and by 14 he was performing local events, drawing inspiration from his idol Fats Domino. In fact, Downing not only won a Coffeyville, KS, radio station talent contest covering "Blueberry Hill," but his performance so impressed local rockabilly singer Bobby Poe that he invited the young pianist to join his backing band, the Rhythm Rockers (soon after rechristened the Poe Kats). Downing turned down a basketball scholarship from Kansas State University to accept the offer, and after several tours of the Midwest the group signed to the Dallas-based White Rock label to cut two 1958 singles: the first, "Down on the Farm," was credited to Big Al Downing & the Poe Kats, while the follow-up was credited to Poe. Downing brought to both a gritty, R&B-inspired edge largely absent from most rock & roll records of the time, even recalling Jerry Lee Lewis with his frenetic piano playing.
Neither White Rock release was a hit, but the Poe Kats nevertheless caught the attention of rockabilly spitfire Wanda Jackson, who tapped the group as her new backing unit. Despite touring behind Jackson, Downing & the Poe Kats still found time to cut a second White Rock side, "Miss Lucy," which the Carlton label licensed for national distribution. Carlton set up the next session at producer Cosimo Matassa's New Orleans studio, site of Fats Domino's greatest achievements. Backed by Crescent City session aces like Mac Rebennack (the future Dr. John) and Alvin "Red" Tyler, Downing cut 1959's "When My Blue Moon Turns to Gold," but again the disc went nowhere and he and the Poe Kats resumed their work with Jackson, cutting the classic Capitol sessions that yielded her 1960 global smash "Let's Have a Party," which features Downing on piano. Over the next 18 months he headlined three singles for the V-Tone label -- "Yes, I'm Loving You," "Words of Love," and "So Many Memories" -- but solo success remained elusive; a 1962 cover of Marty Robbins' "The Story of My Life" first cut for Downing's own Kansoma imprint nevertheless piqued the interest of Chess, which reissued the disc nationally to little avail. Kansoma's last-gasp follow-up, "The Saints," was at least something of a pyrrhic victory: Domino later covered its b-side, "Heartbreak Hill."
In 1963 Downing signed to the Lenox label and traveled to Nashville to cut a session with Little Esther Phillips. The resulting duet "You Never Miss Your Water (Till the Well Runs Dry)" proved a surprise hit, reaching the number 73 spot on the Billboard pop charts. The solo follow-up, "If I Had Our Love to Live Over," earned little notice, however, and a year later he resurfaced on Columbia with "All I Want Is You." The subsequent "Georgia Slop," a cover of the Jimmy McCracklin tune, ranks among Downing's most incendiary performances, but it too was a commercial failure and his recording career ground to a halt. He spent the next several years as a hired gun, touring behind everyone from Johnny Mathis to Dottie West to his boyhood hero Domino. When he finally returned as a headliner with a 1969 re-recording of "The Saints," issued on the Silver Fox label, he shunned the rock & roll trappings of his earlier efforts in favor of a country-soul sound. The follow-up, "Melody of Soul," which fused three Four Tops hits, further established the new status quo, but again Downing found the charts impenetrable and after one final disc, "Give Me Good Loving," his recording career again went into limbo.
Downing did not resurface until 1973, landing with Chess' Janus subsidiary for "Thank You Baby." When the following "I'll Be Holding On" began generating interest at radio and -- more surprisingly -- nightclubs, Chess reissued the track on its own imprint, and it emerged as one of the earliest disco hits, cracking the Billboard R&B Top 40 and reaching number 85 on the pop charts. Chess had high hopes for its sequel, "Gimmie Some Lovin'," but the record tanked and the label terminated Downing's contract. His lone Polydor release, 1976's "I Love to Love," met a similar fate and the singer again dropped from sight, cutting his already-tenuous ties to dance music to return to his country music roots. His 1978 Warner Bros. debut, "Mr. Jones," immediately hit the Billboard country Top 20, and the subsequent "Touch Me (I'll Be Your Fool Once More)" proved even more successful, reaching the number 18 slot. With 1979's "Midnight Lace" and "I Ain't No Fool," Downing reached only the lower rungs of the Nashville charts, but with 1980's "The Story Behind the Story" he returned to the Top 40. Despite "Bring It on Home" reaching the number 20 position, Warner nevertheless declined to extend Downing's contract, and he went M.I.A. for two years.
When Downing reappeared with 1982's "I'll Be Loving You," he was the flagship act of the fledgling Team Entertainment label. This maiden release still slipped into the number 48 spot, although the subsequent "Darlene" and "Let's Sing About Love" managed to climb only into the mid-sixties. 1983's "It Takes Love" would prove Downing's final Top 40 country entry, although his final Team releases, 1984's "The Best of Families" and "There'll Never Be a Better Reason for Bein' Wrong," both charted. Downing next recorded for Vine Street, notching minor hits with 1986's "How Beautiful You Are (To Me)" and the next year's "Just One Night Won't Do." His final country singles -- the 1990 Door Knob releases "Bound for Baltimore" and "Father #1" -- coincided with a resurgence of interest in Downing's early rockabilly sides, and in 1994 he released Back to My Roots, a return to the sound of his formative recordings. He maintained a relentless tour schedule during the decade to follow, regularly appearing on Nashville's legendary Grand Ole Opry as well. In 2003, he issued his final collection of new material, One of a Kind. After battling leukemia, Downing died July 4, 2005, in Leicester, MA.
https://en.wikipedia.org/wiki/Al_Downing_(musician)
Talents : Vocals, Piano, Keyboard
Style musical : Rockabilly, Rock 'n' Roll, Traditional Country, Rhythm 'n' Blues

https://youtu.be/2TgSlJ_GAmQ
DOWN ON THE FARM (1958)

OH ! BABE (1958)

WHEN MY BLUE MOON TURNS TO GOLD AGAIN (1959)

THE STORY OF MY LIFE (1962)
Years in activity :
| | | | | | | | | | | | |
| --- | --- | --- | --- | --- | --- | --- | --- | --- | --- | --- | --- |
| 1910 | 20 | 30 | 40 | 50 | 60 | 70 | 80 | 90 | 2000 | 10 | 20 |
DISCOGRAPHY
Singles
03/1958
SP WHITE ROCK 1111 (US)
.
Al DOWNING with The POE KATS - Down On The Farm / Oh ! Babe
04/1958
SP CHALLENGE 59006 (US)
.
Al DOWNING with The POE KATS - Down On The Farm / Oh ! Babe
08/1958
SP WHITE ROCK 1113 (US)
.
Al DOWNING & The POE KATS - Miss Lucy / Just Around The Corner
1958
SP WHITE ROCK 1113 (US)
.
Al DOWNING & The POE KATS - Miss Lucy

/ Passing By

11/1958
SP CARLTON 489 (US)
.
"Big" Al DOWNING & The POE KATS - Miss Lucy / Just Around The Corner
04/1959
SP CARLTON 507 (US)
.
"Big" Al DOWNING & The POE KATS - When My Blue Moon Turns To Gold Again / It Must Be Love
10/1960
SP V-TONE 215 (US)
.
Yes I'm Loving You / Please Come Home
1961
SP V-TONE 220 (US)
.
Words Of Love / If I Had Our Love To Live Over
12/1961
SP V-TONE 230 (US)
.
So Many Memories / There'll Come A Time
02/1962
SP KANSOMA 01 (US)
.
The Story Of My Life / I'd Love To Be Loved
03/1962
SP CHESS 1817 (US)
.
The Story Of My Life / I'd Love To Be Loved
1962
SP KANSOMA 04 (US)
.
The Saints / Heartbreak Hill
09/1962
SP POP-LINE 0209 (US)
.
Big RIVERS ("Big" Al DOWNING) - No One Else / Land Of Make Believe
03/1963
SP LENOX NX-5565 (US)
.
"Little" Esther PHILLIPS & "Big" Al DOWNING - You Never Miss Your Water (Till The Well Runs Dry) / If You Want It (I've Got It)
07/1963
SP LENOX NX-5572 (US)
.
If I Had Our Love To Live Over / Mr. Hurt Walked In
04/1964
SP COLUMBIA 4-43028 (US)
.

I'm Just Nobody / All I Want Is You

12/1965
SP COLUMBIA 4-43185 (US)
.
Georgia Slop / I Feel Good
1969
SP SILVER FOX 3 (US)
.

The Saints / Cornbread Row

1969
SP SILVER FOX 11 (US)
.

Medley Of Soul (It's The Same Old Song - Something About You - I Can't Help Myself) / These Arms You Push Away

12/1970
SP HOUSE OF THE FOX HOF-4 (US)
.

Give Me Good Loving / I'll Be Your Fool Once More

1973
SP JANUS 211 (US)
.

Thank You Baby / Bring Your Good Lovin' Home

1974
SP JANUS 234 (US)
.

I'll Be Holding On / Hands

1974
SP CHESS CH 2158 (US)
.
I'll Be Holding On / I'll Be Holding On (disco mix)
10/1974
SP CHESS CH 2158 (US)
.

Baby Let's Talk It Over / I'll Be Holding On

1974
SP CHESS CH 2158 (US)
.

I'll Be Holding On / Baby Let's Talk It Over

1974
SP CHESS CH 2158 (NL)

I'll Be Holding On / Baby Let's Talk It Over

1974
SP CHESS JET 2308 (JAP)

I'll Be Holding On / Baby Let's Talk It Over

01/1975
SP CHESS CH 2174 (US)
.

Gimme Some Lovin' / The Whole World's Gone Funky

1975
SP CHESS CH 2174 (I)

Gimme Some Lovin' / The Whole World's Gone Funky

1975
SP BELLAPHON BF 18313 (GER)
I´ll Be Holding On / Baby Let´s Talk It Over
03/1976
SP POLYDOR PD 14311 (US)
.

I Love To Love / I'm Just Nobody

1976
SP POLYDOR 2066 665 (I)

I Love To Love / I'm Just Nobody

1977
SP R.M.A. 1017 (US)
.
Al DOWNING with The POE-KATS -

Down On The Farm / Oh! Babe

1978
SP WARNER BROS. 8716 (US) (promo)
.
Mr.Jones / Mr.Jones
1978
SP WARNER BROS. WBS 8716 (US)
.

Mr. Jones (long version) / I Don't Cry (The Onion Song)

1979
SP WARNER BROS. WBS 8787 (US) (promo)
.
Touch Me (mono) / Touch Me (stereo)
1979
SP WARNER BROS. WBS 8787 (US)
.

Touch Me (I'll Be Your Fool Once More) / I Ain't No Fool

1979
SP WARNER BROS. WBS 49034 (US)
.

Midnight Lace / Counting Highway Signs

1979
SP WARNER BROS. WBS 49141 (US)
.

I Ain't No Fool / Mr. Jones

01/1980
SP WARNER BROS. WBS 49161 (US) (promo)
The Story Behind The Story (mono) / The Story Behind The Story (stereo)
01/1980
SP WARNER BROS. WBS 49161 (US)
.

The Story Behind The Story / Daddy Played The Banjo

05/1980
SP WARNER BROS. WBS 49270 (US)
.

Bring It On Home / Beer Drinking People

1982
SP TEAM 1001 (US) (promo)
.
I'll Be Loving You (mono) / I'll Be Loving You (stereo)
1982
SP TEAM TRS 1001 (US)
.

I'll Be Loving You / Don't Mess With An Angel (With A Honky Tonk Mind)

09/1982
SP TEAM 1002 (US) (promo)
.
Darlene (mono] / Darlene (stereo)
09/1982
SP TEAM TRS 1002 (US)
.

Darlene / Love Was Right Here (With You All The Time)

1983
SP TEAM TRS 1003 (US)
.

Let's Sing About Love / We Can Only Say Goodbye

1983
SP TEAM TRS 1004 (US) (promo)
.
It Takes Love (stereo) / It Takes Love (mono)
1983
SP TEAM TRS 1004 (US)
.

It Takes Love / If You're Leaving

1984
SP TEAM 1007 (US) (promo)
.
The Best Of Families (mono] / The Best Of Families (stereo]
1984
SP TEAM TRS 1007 (US)
.

The Best Of Families / Fool Of The Year

1984
SP TEAM TRS 1008 (US) (promo)
.
There'll Never Be A Better Night For Bein' Wrong (mono) / There'll Never Be A Better Night For Bein' Wrong (stereo)
1984
SP TEAM TRS 1008 (US)
.
There'll Never Be A Better Night For Bein' Wrong

/ T. V. Women

198?
SP TUG BOAT T.G. 1021 (US)
.
"Big" Al DOWNING with EAGLE FEATHER & The T.N.P. BAND - Mr. Jones (The Final Chapter) / Mr. Jones (The Final Chapter)
1986
SP VINE STREET 103 (US)
.

How Beautiful You Are (To Me) / The Only Thing Missing Is You

1987
SP VINE STREET 105 (US)
.

Just One Night Won't Do (short version) / Just One Night Won't Do (long version)

1987
SP VINE STREET 105 (US)
.

Just One Night Won't Do / How Beautiful You Are (To Me)

1987
SP VINE STREET 106 (US)
.

How Ya Gonna Do It / The Only Thing Missing Is You

1988
EP ROLLERCOASTER RCEP105 (UK)
DOWN ON THE FARM - Down On The Farm / Miss Lucy / Georgia Slop / Yes I'm Loving You
1989
SP DOOR KNOB 89-328 (US)
.

I Guess By Now / I Guess By Now

1990
SP DOOR KNOB 90-340 (US)
.

Bound For Baltimore / Bound For Baltimore

1990
SP DOOR KNOB 90-345 (US)
.

Father #1 / Father #1
Need Info
| | | |
| --- | --- | --- |
| 19?? | Need info - (Eagle CD 90125 (#26)) | Bonie Maronie |
| 19?? | Need info - (Eagle CD 90125 (#22)) | Break Up |
| 19?? | Need info - (Eagle CD 90125 (#9)) | Don't Ever Leave Me |
| 19?? | Need info - (Eagle CD 90125 (#3)) | Great Balls Of Fire |
| 19?? | Need info - (Eagle CD 90116 (#17) / Rollercoaster LP 2015 (#12) / Schoolkids CD 1548 (#16)) | I Found Someone To Love |
| 19?? | Need info - (Eagle CD 90125 (#29)) | I Got A Feeling |
| 19?? | Need info - (Eagle CD 90125 (#18)) | I Got A Woman |
| 19?? | Need info - (Eagle CD 90125 (#21)) | I Was The One |
| 19?? | Need info - (Eagle CD 90125 (#8)) | I'm A Fool [vers. 1] |
| 19?? | Need info - (Eagle CD 90125 (#11)) | I'm A Fool [vers. 2] |
| 19?? | Need info - (Eagle CD 90125 (#4)) | Just Because |
| 19?? | Need info - (Eagle CD 90125 (#17)) | Keep-A-Knockin' |
| 19?? | Need info - (Eagle CD 90125 (#5)) | Let The Four Winds Blow |
| 19?? | Need info - (Eagle CD 90125 (#15)) | Let's Have A Ball |
| 19?? | Need info - (Eagle CD 90125 (#25)) | Little Coquette |
| 19?? | Need info - (Eagle CD 90125 (#10)) | Love My Baby |
| 19?? | Need info - (Eagle CD 90125 (#14)) | Love You So |
| 19?? | Need info - (Eagle CD 90125 (#1)) | Lucille |
| 19?? | Need info - (Eagle CD 90125 (#6)) | Miss Lucy [alt. vers. 1] |
| 19?? | Need info - (Eagle CD 90125 (#28)) | Miss Lucy [alt. vers. 2] |
| 19?? | Need info - (Eagle CD 90116 (#21)) | My Blue Heaven |
| 19?? | Need info - (Eagle CD 90125 (#23)) | One Night |
| 19?? | Need info - (Eagle CD 90125 (#2)) | Poor Me |
| 19?? | Need info - (Eagle CD 90125 (#16)) | Rebel Without A Cause |
| 19?? | Need info - (Eagle CD 90125 (#7)) | Right Around The Corner |
| 19?? | Need info - (Eagle CD 90116 (#20)) | She's Tough |
| 19?? | Need info - (Eagle CD 90125 (#24)) | Stagger Lee |
| 19?? | Need info - (Eagle CD 90125 (#12)) | Things Were Done Again |
| 19?? | Need info - (Eagle CD 90125 (#20)) | Woman's Love |
| 19?? | Need info - (Eagle CD 90125 (#19)) | You Win Again |
Albums
1971
LP 12" COLLECTOR CL1007 (NL)
BIG AL DOWNING AND HIS FRIENDS - Piano Nellie (Bobby POE) / Hoy Hoy (Clyde STACY) / Baby Shame (Clyde STACY) / Rock It (Tommy HUDSON) / Rock & Roll Boogie (Bobby POE) / Rock And Roll Record Girl (Bobby POE) / Down On The Farm / Just Around The Corner / Miss Lucy / It Must Be Love / Georgia Slop / Oh! Baby
1983
LP 12" TEAM TRA 2001 (US)
BIG AL DOWNING - Mr Jones / Touch Me / Bring It On Home / We Can Only Say Goodbye / Darlene / It Takes Love / Does He Know About Me / Beer Drinkin' People / Just Strangers / I'll Be Loving You
1987
LP 12" JUMBLE 1111 (US)
BIG AL DOWNING & THE POLE CATS - Down On The Farm / Oh Baby / Miss Lucy / Just Around The Corner / It Must Be Love / When My Blue Moon Turns To Gold Again / Story Of My Life / Georgia Slop / Rock'n'Roll Boogie (Bobby POE) / Rock'n'Roll Record Girl (Bobby POE) / Piano Nellie (Bobby POE) / I Found A New Love (Bobby POE) / End Up With The Blues (SPIC & SPAN) / Summertime Blues (SPIC & SPAN) / You're Satisfied (Clyde STACY) / Sittin' Down Crying (Clyde STACY)
1988
LP 12" VINE STREET VSR-LP-005 (US)
THANK YOU - Thank You / Boogie Woogie Saturday Night / When Love Is Gone / How Ya Gonna Do It / How Beautiful You Are (To Me) / Midnight Lace / Mr. Jones / The Only Thing Missing Is You / Just One Night Won't Do / Touch Me
1988
LP ROLLERCOASTER 2015 (UK)
ROCKIN' & ROLLIN' WITH BIG AL DOWNING - Down On The Farm / Oh Babe / Miss Lucy / Just Around The Corner / Yes, I'm Loving You / Georgia Slop / When My Blue Moon Turns To Gold Again / It Must Be Love / If I Had Our Love To Live Over / Please Come On Home / Words Of Love / Heartbreak Hill / I Found Somebody To Love / The Story Of My Life / The Saints / Rock & Roll Boogie / Rock & Roll Record Girl / Piano Nellie
1993
CD ORCHARD CD 3270 (US)
BACK TO MY ROOTS - Long Trucking Night / Sneaky Freaky People / Please Help Me Mama / Daddy's Words / Give A Hand To The Lady / I Always Come Back To Loving You / Everybody's Got A Dream / Don't Even Think About It / Be-Bop Cat / Love's Just A Suitcase In My Hand / Mama Was A Preacher / Don't You Want To Go To Love With Me?
1994
CD EAGLE EA-R 90116 (GER)
ROCKIN' DOWN THE FARM - VOL. 1 - Georgia Slop / Down On The Farm / Oh Babe! / Miss Lucy / Just Around The Corner / Yes, I'm Loving You / Please Come Home / There 'll Come A Time / No One Else / Land Of Make Believe / So Many Memories / When My Blue Moon Turns To Gold Again / It Must Be Love / If I Had To Live Our Love Over / Words Of Love / Hearbreak Hill / I Found Somebody To Love / The Story Of My Life / When The Saints Go Marching In / She's Tough / My Blue Heaven / I'm Just Nobody / All I Want Is You / I Feel Good
1996
CD SCHOOLKIDS CD 1548 (US)

ROCKIN' 'N' ROLLIN' WITH BIG AL DOWNING - Down On The Farm / Oh Baby / Miss Lucy / Just Around The Corner / Yes, I'm Loving You / Rock & Roll Boogie / Rock & Roll Record Girl / Piano Nellie / Georgia Slop / When My Blue Moon Turns To Gold Again / It Must Be Love / If I Had Our Love To Live Over / Please Come On Home / Words Of Love / Heartbreak Hill / I Found Somebody To Love / The Story Of My Life / The Saints

1997
CD ROLLERCOASTER RCCD 3026 (UK)
BACK TO MY ROOTS - Long Trucking Night / Sneaky Freaky People / Please Help Me Mama / Daddy's Words / Give A Hand To The Lady / I Always Come Back To Loving You / Everybody's Got A Dream / Don't Even Think About It / Be-Bop Cat / Love's Just A Suitcase In My Hand / Mama Was A Preacher / Don't You Want To Go To Love With Me? / Melinda
1997
2 CRAZY MUSIC 52002 (AUT)
CLASSIC COLLECTION :

CD 1 : Mr. Jones / Beer Drinkin´ People / The Story Behind The Story / Countin´Highway Signs / I Ain´t No Fool / I'll Be Loving You / Just Strangers / Does He Know About Me / Don't Mess With An Angel / Song Of Home / Kid At The Bar / There'll Never Be A Better Night / Fool Of The Year / It Takes Love / Honky Tonk Country (demo)
CD 2 :

Darlene / Midnight Lace / T.V. Women / Mama Was A Preacher (demo) / Daddy Played The Banjo / Touch Me / The Onion Song / Let's Sing About Love / You Don't Belong To Daddy / You're Leavin' / Bring It On Home / The Best Of Families / We Can Only Say Goodbye / Gator Man (demo) /

Give Me A Minute (demo)

01/1998
CD BEAR FAMILY BBX 577933 (GER)
BACK TO MY ROOTS - Long Trucking Night / Sneaky Freaky People / Please Help Me Mama / Daddy's Words / Give A Hand To The Lady / I Always Come Back To Loving You / Everybody's Got A Dream / Don't Even Think About It / Be-Bop Cat / Love's Just A Suitcase In My Hand / Mama Was A Preacher / Don't You Want To Go To Love With Me? / Melinda
1998
CD EAGLE EA-R 90125 (GER)
ROCKIN' DOWN THE FARM - VOL. 2 - THE POE-KATS FEATURING BIG AL DOWNING - Lucille / Poor Me / Great Balls Of Fire / Just Because / Let The Four Winds Blow / Miss Lucy (alternative take) / Right Around The Corner / I'm A Fool / Don't Ever Leave Me / Love My Baby / I'm A Fool (alternative take) / Things Were Done Again / Rock 'n' Roll Boogie (alternative take) / Love You So / Let's Have A Ball (alternative take) / Rebel Without A Cause (alternative take) / Keep-A-Knockin' / I Got A Woman / You Win Again / Woman's Love / I Was The One / Break Up / One Night / Stagger Lee / Little Coquette / Bonie Maronie / Bobby Brant Intoduces The Band / Piano Nellie / Miss Lucy / I Got A Feeling / Summertime Blues
04/2000
CD TUG BOAT 3270 (US)
BACK TO MY ROOTS - Long Trucking Night / Sneaky, Freaky People / Please Help Me Mama / Daddy's Words / Give A Hand To The Lady / I Always Come Back To Loving You / Everybody's Got A Dream / Don't Even Think About It / Be Hop Cat / Love's Just A Suitcase In My Hand / Mama Was A Preacher / Don't You Want To Go To Love With Me
02/2003
CD ROLLERCOASTER RCCD 3026 (UK)
BACK TO MY ROOTS - Long Trucking Night / Sneaky Freaky People / Please Help Me Mama / Daddy's Words / Give A Hand To The Lady / I Always Come Back To Loving You / Everybody's Got A Dream / Don't Even Think About It / Be-Bop Cat / Love's Just A Suitcase In My Hand / Mama Was A Preacher / Don't You Want To Go To Love With Me? / Melinda
06/2003
CD ORCHARD 802567 (US)
BIG AL DOWNING'S GREATEST HITS - VOLUME 1 - Mr. Jones / Mr. Jones (The Final Chapter) / Touch Me / Love Is On A High Roll / Payin' My Dues / Give A Hand To The Lady / Sneakie Freakie People / Love's Just A Suitcase / Hold Me (duo with Bent' BOE) / Mama Was A Preacher / Be Bop Cat / Please Help Me Mama
07/2003
CD HAYDEN'S FERRY 2304 (US)
ONE OF A KIND - Hometown America / Cigarette, A Bottle, And A Jukebox / Love's Tragedy / Jesus, It's Only Me, Johnny / Talkin' The Talk / I'm Too Green To Be Blue / Joe's Truck Stop / Boogie-Woogie Roll / She's A Miracle (To Me) / Goodbye My Love (Teresa COLIER) / What A Man Will Do (A Woman Will Too) / I'm Raisin' Hell / I Never Got Over You / Rock Me Baby
2005
CD ALBE MUSIC 903 (US)
CLASSIC COLLECTION - The Best Of Families / Does He Know About Me / Bring It On Home / Mr. Jones / Touch Me / Fool Of The Year / Kid At The Bar / Let's Sing About Love / Just Strangers / I Ain't No Fool / You Don't Belong To Daddy / Daddy Played The Banjo / The Story Behind The Story / There'll Never Be A Better Night / If You're Leavin'
2005
CD ALBE MUSIC 904 (US)

LONG TRUCKIN' NIGHT - Don't Even Think About It / Melinda / Give A Hand To The Lady / Don't You Want To Go To Love With Me / Please Help Me Mama / Be-Bop Cat / Boogie Woogie Saturday Night / How Ya' Gonna Do It / How Beautiful You Are To Me / Happy Anniversary Darling / I Guess By Now / The Story Behind The Story / Mr. Jones / Mr. Jones #2 (The Final Chapter) / Long Truckin' Night

2007
2 CD CRAZY MUSIC SP 605 (AUT)
LIVE AT XM-RADIO :

CD 1 : RECORDED AT XM-RADIO WASHINGTON, D.C. AUGUST 6TH, 2003 : Did He Do It ? / Sneaky Freaky People / I'll Be Your Fool Once More (Touch Me) / Boogie Woogie Saturday Night / I'm Raisin' Hell / I Never Told You That I Love You / Let The Good Times Roll / A Cigarette, A Bottle And A Jukebox / Mr. Jones / Al talks about his youth / Blueberry Hill / Boll Weevil / Father Number One / Don't You Want To Go To Love With Me? / Hometown America / Al talks with Country Dan Dixon & introduces Rio Drive
CD 2 : RECORDED AT THE COUNTRY MUSIC HALL OF FAME - NASHVILLE, TENNESSEE MAY 6th, 2005 : Live interview parts 1-16

2008
CD CRAZY MUSIC SP 608 (AUT)

BEST OF THE EARLY YEARS - Narrative / Down On The Farm / Oh Babe / Miss Lucy / Just Around The Corner / It Must Be Love / When My Blue Moon Turns To Gold Again / Yes I'm Loving You / Please Come Home / If I Had Our Love To Live Over / Words Of Love / So Many Memories / There'll Come A Time / The Story Of My Life / Oh When The Saints / Heartbreak Hill / Land Of Make Believe / No One Else / She's Tough / Mr. Hurt Walked In / You Never Miss Your Water / If You Want It I Got It / Georgia Slop / I Feel Good / Bonus Tracks : I Found A Love / Down On The Farm [extended]
© Rocky Productions 6/05/2013