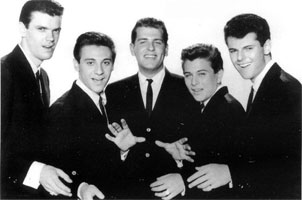 Groupe Doo Wop US formé en 1957 à Philadelphie (Pennsylvanie), tout d'abord sous le nom de "Brooktones". Les Dovells étaient composés de Len Borisoff (Len Barry), Jerry Gross (Jerry Summers), Mark Gordesky (Mark Stevens), Mike Freda (Mike Dennis), Arnie Silver (Arnie Satin) et Jim Mealey (Danny Brooks).

The Dovells are best known for a handful of early-'60s dance hits, including their biggest one -- "The Bristol Stomp" -- number one (according to Cash Box) and number two (Billboard) on the pop charts in 1961, climbing its way to number seven on the R&B charts as well. They went on to have four more dance hits, three of which charted in the Top 40, giving them five different charters to five different dances in a little over a year during 1962, including "Do the New Continental" (number 37), "Bristol Twistin' Annie" (number 27), "Hully Gully Baby" (number 25), and a Top 100 charter, "The Jitterbug" (number 82).
The Dovells originally formed in 1957 as the Brooktones, taking their name from Overbrook High School in Philadelphia, where each of the original members -- Jerry Gross (aka Jerry Summers), lead and first tenor, Len Borisoff (aka Len Barry), lead and tenor, Mike Freda (aka Mike Dennis), second tenor, Arnie Silver (aka Arnie Satin), baritone, Jim Mealey, bass, and part-timer Mark Gordesky (aka Mark Stevens), tenor -- attended classes. They began singing at local school functions and occasionally at John Madara's record store, located at 60th and Market Streets in Philly. (Madara had co-written "At the Hop" for Danny & the Juniors, in addition to other classics).
Inspired by Frankie Lymon and the Teenagers -- they would even record "Why Do Fools Fall in Love" and "I Want You to Be My Girl" -- the Brooktones performed for the next few years and even though their "No, No, No" gained some recognition in Philadelphia, the group had little success outside the immediate area and disbanded. Summers and Dennis left to form a new group called the Gems with Mark Stevens and Alan Horowitz in the summer of 1960. In the meantime, Barry and the other Brooktones were negotiating to sign with Bob Marcucci's Chancellor Records (home to teen idols Fabian and Frankie Avalon), adding William Shunkwiler and Jerry Sirlin.
In December of 1960, after a live audition was arranged for the quintet with Cameo/Parkway, they were quickly signed to the label. Barry later asked Summers to come back and help out on the harmonies and at Summer's suggestion, Mike Dennis also joined the group as well. They were now back to the core group. Cameo exec Bernie Lowe suggested the Brooktones change their name to the Deauvilles (after the Deuville Hotel in Miami Beach), but the group thought it was too hard to spell and changed it instead to the Dovells.
The Dovells' first single, released in March 1961, was a re-recorded version of "No, No, No" which fared little better the second time it was released. In May, The Dovells recorded "Out in the Cold Again" (a remake of the Teenagers' ballad) and a new song based on a dance that Parkway promotion man Billy Harper had witnessed kids doing at the Goodwin Fire Hall in Bristol, PA, just outside Philadelphia. It was called "The Stomp," so the Dovells' decided to give it a more formal name on their recording: "The Bristol Stomp." The song didn't chart during the summer of 1961, but in September, just as school was once again in session, the song broke out of the Midwest and began to get airplay, gaining enough momentum to go national by September 11. By mid-October, it was climbing the charts, making it all the way to number one.
Parkway followed up the Dovells' "Bristol" with several dance-related Top 40 tunes. During 1962, the Dovells were immortalizing every dance Dave Appell and Kal Mann (who wrote many of The Dovells' songs) could think of, but didn't have another hit until "You Can't Sit Down," their version of Phil Upchurch's "break" song. In 1964, The Dovells recorded one of the first covers of "She Loves You" by a new English group called the Beatles, but Parkway delayed its release, and when the original shot to number one, it seemed like a bad idea to release The Dovells version (which continues to sit in a vault somewhere).
The Dovells backed up Fabian, Chubby Checker, and Jackie Wilson at the Brooklyn Fox and often recorded as an uncredited Vocals group behind Checker (that's them on the hit "Let's Twist Again"). They toured continuously too, until the inevitable tensions arose and ultimately exploded at a Christmas show performance in Miami Beach in December 1963. Len Barry quit the group. (He later signed with Decca as a solo act and is today remembered best for his hit single "One, Two, Three," which charted at number two on the pop charts in November 1965.) Now down to a trio, the remaining Dovells recorded three Parkway singles in 1964 and toward the end of 1965, they appeared in the film Don't Knock the Twist, appearing alongside Dion, Chubby Checker, and the Marcels.
In the spring of 1968, Summers came up with an idea for a song based on a skit he saw on TV's "Laugh-In" comedy show. The song -- -- like the repeated phrase from the skit -- was " "Here Come the Judge."It was recorded with a female lead, Jean Hillery, and was later released on MGM Recordsunder the name " The Magistrates. The other Dovells later heard the song and were clearly miffed. That summer, "Judge" became East Coast smash (#54 on Billboard's Pop charts), and the Dovells toured behind it with Hillery; when she came out they'd become the Magistrates (despite the hit, they'd never record again). Later, Dennis was replaced by part-time Dovell Mark Stevens.
In 1974, the Dovells recorded a cover of "Dancin' in the Street," which had been a huge hit for Martha and the Vandellas ten years before in 1964, but their version -- for the Event label -- barely charted at number 105. They continued to perform until Satin gave notice that he, too, would be leaving the group. Stevens and Summers decided to continue, having band members filling in on Vocals and developing a Dean Martin/Jerry Lewis-styled stage act to go with their million-selling hits. This approach enabled them to work for another 16 weeks a year in Las Vegas. In 1991, Len Barry rejoined for two reunion performances. Summer and Stevens continue to perform nationally and internationally and have performed for former president Bill Clinton twice at inaugural balls. Summers also produces corporate events and runs an advertising agency when not performing with The Dovells.
Talents : Len Barry : Lead and Tenor - Jerry Summers : First Tenor - Mark Stevens : Tenor - Mike Dennis : Second Tenor - Arnie Satin : Baritone - Danny Brooks : Bass
Style musical : Doo Wop, Rock 'n' Roll
Years in activity :
| | | | | | | | | | | | |
| --- | --- | --- | --- | --- | --- | --- | --- | --- | --- | --- | --- |
| 1910 | 20 | 30 | 40 | 50 | 60 | 70 | 80 | 90 | 2000 | 10 | 20 |
DISCOGRAPHY
Singles & EP
| | | | |
| --- | --- | --- | --- |
| 03/1961 | SP PARKWAY 819 (US) | . | No No No / Letters Of Love |
| 06/1961 | SP PARKWAY 827 (US) | . | Bristol Stomp / Out In The Cold Again |
| 09/1961 | SP PARKWAY 827 (US) | . | Bristol Stomp / Letters Of Love |
| 01/1962 | SP PARKWAY 833 (US) | | Do The New Continental / Mope-Itty Mope Stomp |
| 04/1962 | SP PARKWAY 838 (US) | | Bristol Twistin' Annie / The Actor |
| 07/1962 | SP PARKWAY 845 (US) | | Hully Gully Baby / Your Last Chance |
| 10/1962 | SP PARKWAY 855 (US) | | The Jitterbug / Kissin' In The Kitchen |
| 1962 | EP BEL AIR 211 091 (F) | | |
| 1962 | EP 33 t. Galleria Del Corso SLC 1507 (I) | | Don't Knock The Twist - Chubby CHECKER : I Love To Twist / CARROLL BROTHERS : Bo Diddely / Chubby CHECKER : Twistin' / Don't Knock The Twist / DOVELLS : Do The New Continental / CARROLL BROTHERS : Salome' Twist |
| 01/1963 | SP PARKWAY 861 (US) | | Save Me, Baby / You Can't Run Away From Yourself |
| 03/1963 | SP PARKWAY 867 (US) | | You Can't Sit Down / Stompin' Everywhere |
| 1963 | SP PARKWAY 867 (US) | . | Wildwood Days / You Can't Sit Down |
| 06/1963 | EP CAMEO / PARKWAY 217 003 (F) | | Hully Gully Square Dance / Hully Gully / Hully Gully Baby / Country Club Hully Gully |
| 07/1963 | EP CAMEO / PARKWAY 217 005 (F) | | You Can't Sit Down / Stompin' Everywhere / Save Me Baby / You Can't Run Away From Yourself |
| 07/1963 | SP PARKWAY 882 (US) | | Betty In Bermudas / Dance The Froog |
| 10/1963 | SP PARKWAY 889 (US) | | Stop Monkeyin' Aroun' / No No No |
| 1963 | EP COLUMBIA ESDF 1393 (F) | | BRISTOL STOMP - Bristol Stomp / Mope-Itty, Mope / Foot Stompin' / No, No, No ! |
| 1963 | EP HISPAVOX HCP 267-04 (S) | | NO TE SENTARAS - You Can't Sit Down / Short Fat Fanny /Wildwood Days / If You Wanna Be Happy |
| 01/1964 | SP PARKWAY 901 (US) | . | Be My Girl / Dragster On The Prowl |
| 03/1964 | SP PARKWAY 911 (US) | . | Happy Birthday Just The Same / One Potato Two Potato Three Potato Four |
| 07/1964 | SP PARKWAY 925 (US) | | What In The World Has Come Over You / Watusi With Lucy |
| 10/1965 | SP SWAN 4231 (US) | . | Happy / Alright |
| 1966 | SP DIAMOND 198 (US) | . | Happy Summer Days / Long after |
| 11/1966 | SP MGM K 13628 (US) | . | There's A Girl / Love Is Everywhere |
| 05/1968 | SP MGM K 13946 (US) | . | Here Come The Judge / Girl (The Magistrates) |
| 1969 | SP JAMIE 1369 (US) | . | Our Winter Love / Blue |
| 1970 | SP DECCA 32919 (US) | . | Happy Summer Days / Long After |
| 03/1970 | SP EVENT 3310 (US) | | Roll Over Beethoven / Something About You Boy |
| 12/1971 | SP PARAMOUNT 0134 (US) | . | L-O-V-E, Love / We're All In This Together |
| 12/1972 | SP VERVE 10701 (US) | . | Sometimes / Far Away |
| 06/1973 | SP MGM K 14568 (US) | . | Mary's Magic Show / Don't Vote For Luke McAbe |
| 1974 | SP EVENT 216 (US) | . | Dancing In The Streets / Back On The Road Again |
| 1974 | SP ABKCO 4011 (US) | . | The Bristol Stomp / You Can't Sit Down |
| 1975 | SP ABKCO 4029 (US) | . | Baby Work Out / Hully Gully Baby |
| 199? | SP COLLECTABLES COL 3036 (US) | . | Surfin' Bird (The TRASHMEN) / You Can't Sit Down (The DOVELLS) |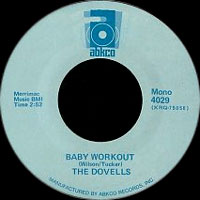 Albums
1961
LP 12" PARKWAY P-7006 (US)
BRISTOL STOMP - Bristol Stomp / Out In The Cold Again / Little Girl Of Mine / Desirie / Foot Stompin' / Three Coins In The Fountain / Mope-Itty Mope / I Really Love You / Change / No No No / Let's Twist Again
1962
LP 12" PARKWAY P-7010 (US)
ALL THE HITS OF THE TEEN GROUPS - In The Still Of The Night / There Goes My Baby / Your Last Chance / Trickle Trickle / The Clock / Two People In The World / Bristol Twistin' Annie / Why Do Fools Fall In Love / To Make A Long Story Short / Little Bitty Pretty One / I Want You To Be My Girl / Oh What A Night
1962
LP 12" PARKWAY P-7021 (mono) / SP-7021 (stereo) (US)
FOR YOUR HULLY GULLY PARTY - Hully Gully Baby / Jitterbug / Kissin' In The Kitchen / Stompin' Everywhere / Time For The Madison / Hully Gully Square Dance / Country Club Hully Gully / Cheat/Do The New Continental / Why Not You / Hully Gully / Stop Look And Listen
1963
LP 12" PARKWAY P-7025 (US)
YOU CAN'T SIT DOWN - You Can't Sit Down / Short Fat Fanny / 36-22-36 / Maybellene / Miss Daisy De Lite / Hey Beautiful / Baby Workout / Wildwood Days / If You Wanna Be Happy / Lockin' Up My Heart / Summer Job / Havin' A Good Time
1963
LP 12" CAMEO C-1067 (US)
GOLDEN HITS - You Can't Sit Down / Bristol Stomp / Hully Gully Baby / Baby Workout / If You Wanna Be Happy / Trickle Trickle / + ORLONS
1964
LP 12" WYNCOTE W-9052 (mono) / SW-9052 (US)
DISCOTHEQUE WITH THE DOVELLS - Dance The Froog / The Jitterbug / Stop Monkeying Around / Bristol Stomp / Time For The Madison / Swimmin' USA / Stompin' Everywhere / Hully Gully Baby / Betty In Bermudas / Do The New Continental
1965
LP 12" CAMEO C-1082 (mono) / SC-1082 (stereo) (US)
LEN BARRY SINGS WITH THE DOVELLS - Hearts Are Trump (Len BARRY) / Don't Come Back (Len BARRY) / Havin' A Good Time / Lockin' Up My Heart / Save Me Baby / Miss Daisy DeLite / Little White House (Len BARRY) / Jim Dandy (Len BARRY) / Bristol Stomp / You Can't Sit Down / Betty In Bermudas / 36-22-36
1965
LP 12" WYNCOTE W-9114 (mono) / SW-9114 (US)
DOVELLS BIGGEST HITS - Bristol Stomp / Hully Gully Baby / The Jitterbug / Letters Of Love / You Can't Run Away From Yourself / You Can't Sit Down / No No No / Country Club Hully Gully / Dragster On The Prowl / Be My Girl
1989
LP 12" DOMINO 1006 (EUR)
THE DOVELLS - Bristol Stomp / Jim Dandy / Save Me Baby / 36 - 42 - 36 / Summer Job / Why Do Fools Fall In Love / To Make A Long Story Short / Trickle Trickle / (I'll Remember) In The Still Of The Night / Your Last Chance / Bristol Twistin' Annie / Two People In The World / The Clock / Oh What A Night / Little Bitty Pretty One / I Want You To Be My Girl / Little Girl Of Mine / Letters Of Love / No, No, No / You Can't Sit Down
06/2001
2 CD IMPORT 33014 (UK)
ALL THEIR HITS AND MUCH MORE :

CD 1 : You Can't Sit Down / Do The New Continental / Bristol Stomp / Hully Gully Baby / Stop Monkeyin' Around / Bristol Twistin' Annie / Stompin' Everywhere / Betty In Bermudas / Your Last Chance / Mope-Itty Mope Stomp / The Jitterbug / Kissin' In The Kitchen / Wildwood Days / Save Me Baby / Dance The Frog / No No No / Letters Of Love / One Potatoe / Watusi With Lucy / The Actor / You Can't Run Away From Yourself / Foot Stompin' / Maybelline / Let's Twist Again / Out In The Cold Again / Hey Beautiful / If You Wanna Be Happy / Havin' A Good Time / Be My Girl / Happy Birthday Just The Same / Dragster On The Prowl / What In The World's Come Over You
CD 2 : Mope-Itty Mope / I Really Love You / Deserie / Two People In The World / Why Do Fools Fall In Love / I Want You To Be My Girl / Short Fat Annie / Ah Choo! / Trickle Trickle / To Make A Long Story Short / Three Coins In The Fountain / In The Still Of The Night / There Goes My Baby / Oh What A Night / 36-22-36 / Little Bitty Pretty One / The Clock / Lockin' Up My Heart / Summer Job / Change! / Little Girl Of Mine / Why Not You / Cheat / Jim Dandy / Baby Workout / Miss Daisy De Lite / Country Club Hully Gully / Hully Gully / Stop Look And Listen / Don't Come Back / Hearts Are Trump / Little White House

10/2005
CD ABKCO 92262 (US)
THE BEST OF THE DOVELLS - 1961-1965 - Bristol Stomp / No, No, No / Foot Stompin' / Mope-Itty Mope / Do The New Continental / Actor / Bristol Twistin' Annie / Hully Gully Baby / Your Last Chance / Kissin' In The Kitchen / Jitterbug / You Can't Sit Down / Baby Workout / Hey Beautiful / Betty In Bermudas / Dance The Froog / Stop Monkeyin' Around / Don't Come Back (Len BARRY) / Little White House (Len BARRY) / Hearts Are Trump (Len BARRY) / 1-2-3 (Len BARRY)
11/2010
CD UNIVERSAL CCM2151 (CAN)
FOR YOUR HULLY GULLY PARTY / YOU CAN'T SIT DOWN - Hully Gully Baby / Jitterbug / Kissin' In The Kitchen / Stompin' Everywhere / Time For The Madison / Hully Gully Square Dance / Country Club Hully Gully / Cheat/Do The New Continental / Why Not You / Hully Gully / Stop Look And Listen / You Can't Sit Down / Short Fat Fanny / 36-22-36 / Maybellene / Miss Daisy De Lite / Hey Beautiful / Baby Workout / Wildwood Days / If You Wanna Be Happy / Lockin' Up My Heart / Summer Job / Havin' A Good Time
© Rocky Productions 5/05/2013