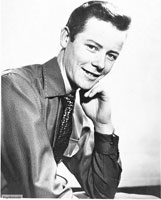 Chanteur Rock 'n' Roll Britannique né Terence Perkins, le 12 Août 1941, originaire de l'île de Wight.

England during the late '50s had its equivalents to Frankie Avalon and Fabian, teenage boy singers whose sounds were specifically tailored to appeal to the most romantic sides of the young female psyche and not offend their parents. Craig Douglas was one of the better of these and has proved one of the most enduring, still performing more than 40 years after cutting his first record.
Born Terry Perkins on the Isle of Wight, he was one of a pair of twins (and those twins were one of three sets among nine children). His mother sang well, one of Douglas' sisters performed on the Isle of Wight, and he'd reportedly begun trying to sing while still in the crib. An indifferent student, he preferred athletics and being outdoors, which led to his volunteering during a school holiday to help the milkman make his deliveries.
It was the latter brief diversion that got the boy labeled the Singing Milkman at the outset of his career. At 16, his mother entered him in a local talent contest and he won by singing "Love Letters in the Sand." He got to a final round, where he specifically avoided doing the standard Elvis Presley imitations that his competitors presented. This led to an appearance at a variety show on the island, where he was seen by London agent Bunny Lewis, whose wife was performing on the same bill. She, in turn, was impressed with the boy's poise and professionalism. Lewis arranged for singing lessons for the 16-year-old and began grooming him for a career on the stage in London. He also acquired the name Craig Douglas.
His breakthrough came on The Six-Five Special, then the only real showcase for rock & roll on British television. Douglas was booked on the show the same week that Cliff Richard and Joe Brown appeared, but he made an impression even in their company: A few days later, he was presented with two huge sacks of fan mail from the performance. The Six-Five Special led Douglas to a recording contract and a string of successes. Much of Douglas' career was spent at EMI, for which he had a number one hit with his version of "Only Sixteen," but also charted very high with "A Teenager in Love," "The Heart of a Teenage Girl," "Pretty Blue Eyes," and "When My Little Girl Is Smiling."
Douglas wasn't really a rock & roll singer, his diction being too good and his delivery too straight-ahead for that designation. His early records call up images of Ricky Nelson but, like a lot of young British singers of his era, he quickly aimed for a more mature audience. His singing was very emotive but also very clean. He was obviously more comfortable with dignified pop music, such as "Time," than with the more rocking numbers like "Ring-A-Ding" that he was occasionally called upon to record, with its slurred lyrics, honking saxes, and loud electric guitars (although Douglas acquitted himself well in that setting).
He made the usual moves, appearing on film soundtracks (Two and Two Make Six) and in movies (It's Trad, Dad; A Painted Smile), as well as numerous television shows. Douglas' appearance alongside his EMI stablemate Helen Shapiro in It's Trad, Dad (which was Richard Lester's first feature and a dry run for A Hard Day's Night) showed off his strengths and weaknesses. He was charismatic simply based on his good looks, but was rather a stiff on camera as an actor, especially next to the vivacious Shapiro (who was also about five years younger than the then 21-year-old Douglas). Rock & roll was just another musical genre to Douglas, which is not to say he was wrong, it's just that antique numbers like "It All Depends on You" or "Five Foot Two, Eyes of Blue" done straight will never resonate the same way "Dream Lover" or "Rainbows" will to listeners born after 1945.
Douglas' time on the English charts ended in 1962 and his major recording career came to a halt a year later with the advent of the Liverpool sound, but he continues to perform regularly in clubs, on cruises, and in cabarets, as well as international tours. Indeed, well into the 1990s, he had an annual month-long booking in Hong Kong. He's a fondly remembered and talented exponent of England's early flirtation with rock & roll.
https://en.wikipedia.org/wiki/Craig_Douglas
Talents : Vocals
Style musical : Rock 'n' Roll, Pop

https://www.youtube.com/watch?v=juqeKTHfJXI
Years in activity :
| | | | | | | | | | | | |
| --- | --- | --- | --- | --- | --- | --- | --- | --- | --- | --- | --- |
| 1910 | 20 | 30 | 40 | 50 | 60 | 70 | 80 | 90 | 2000 | 10 | 20 |
DISCOGRAPHY
Singles & EP
08//1958
SP DECCA 45-F11055 (US)
.

Nothin' Shakin' / Sitting In A Tree House

10/1958
SP DECCA 45-F11075 (US)
.
Are You Really Mine / Go Chase A Moonbeam
04/1959
SP TOP RANK 45-JAR-110 (UK)
.

Come Softly To Me / Golden Girl

05/1959
SP TOP RANK 45-JAR-133 (UK)
.
A Teenager In Love / Thirty Nine Steps
07/1959
SP TOP RANK 45-JAR-159 (UK)
.
Only Sixteen / My First Love Affair
08/1959
EP TOP RANK JKR 8033 (UK)
CRAIG DOUGLAS SINGS FOR ROXY -

A Teenager In Love / The 39 Steps / Come Softly To Me / Golden Girl

10/1959
SP TOP RANK 45-JAR-204 (UK)
.
The Riddle Of Love / Wish It Were Me
1959
EP TOP RANK RES 106 (F)
Only Sixteen / Wish It Were Me / My First Love Affair / The Riddle Of Love
1959
SP TOP RANK / ART

é

CO RS 101 (F)
Only Sixteen / My First Love Affair
01/1960
SP TOP RANK 45-JAR-268 (UK)
.
Pretty Blue Eyes / Sandy
04/1960
SP TOP RANK 45-JAR-340 (UK)
.
The Heart Of Teenage Girl / New Boy
07/1960
SP TOP RANK 45-JAR-406 (UK)
Oh What A Day / Why Why Why
10/1960
SP TOP RANK JAR-515 (UK)
.
My Hour Of Love / Where's The Girl
1960
SP JARO 77016 (UK)
.
My First Love Affair / What Do You Want
1960
SP JARO 77030 (UK)
.

New Boy / Heart Of A Teenage Girl

1960
EP DECCA DFE 6633 (UK)
CRAIG -

Sitting In A Tree House / Nothin'Shakin' / Are You Really Mine / Go Chase A Moonbeam

1960
EP TOP RANK RES 142 (F)
Pretty Blue Eyes / What Do You Want / Of Love / Sandy
02/1961
SP TOP RANK JAR-543 (UK)
.
The Girl Next Door / Hey Mister Conscience
04/1961
SP TOP RANK JAR-555 (UK)
.
A Hundred Pounds Of Clay / Hello Spring
04/1961
SP TOP RANK JAR-556 (UK)
.
A Hundred Pounds Of Clay

(amended version)

/ Hello Spring
06/1961
SP TOP RANK JAR-569 (UK)
.
Time / After All
1961
SP TOP RANK JAR-569 (DK)
Time / After All
11/1961
SP TOP RANK JAR-589 (UK)
.
No Greater Love / We'll Have A Lot To Tell The Children
02/1962
SP TOP RANK JAR-603 (UK)
.

A Change Of Heart / Another You

03/1962
SP TOP RANK JAR-610 (UK)
.
Whe My Little Girl Is Smiling / Ring A Ding
06/1962
SP COLUMBIA 45-DB 4854 (UK)
.
Our Favorite Melodies / Rainbows
10/1962
SP DECCA 45-F 11523 (UK)
.
Oh Lonesome Me / Please Don't Take My Heart
1962
EP DECCA DFE 8509 (UK)
CUDDLE UP WITH CRAIG -

S

nowy White Snow / I've Got My Love To Keep Me Warm / Give Me A Cosy Corner / Jingle Bells / Sleigh Ride / Winter Wonderland / Rudolph The Red-Nosed Reindeer / White Christmas

01/1963
SP DECCA 45-F 11575 (US)
.
Town Crier / I'd Be Smiling Now
05/1963
SP DECCA 45-F 11665 (US)
.

Danke Schoen / Teenage Mona Lisa

08/1963
SP DECCA 45-F 11722 (US)
.

I'm So Glad I Found Her / Love Her While She's Young

10/1963
SP DECCA 45-F 11763 (US)
.

Counting Up The Kisses / From Russia With Love

1963
EP COLUMBIA SEG 8219 (UK)
CRAIG'S MOVIE SONGS -

A Change Of Heart / Rainbows / Ring-A-Ding / A Painted Smile

04/1964
SP FONTANA TF 458 (UK)
.

Silly Boy / Leave Me Alone

06/1964
SP FONTANA TF 475 (UK)
.
Come Closer / She's Smiling At Me
01/1965
SP FONTANA TF 525 (UK)
.
Across The Street / Party Girl
06/1965
SP FONTANA TF 580 (UK)
.

Around The Corner / Find The Girl

04/1966
SP FONTANA TF 690 (UK)
.

I'm On The Outside Looking In / Knock On Any Door

05/1969
SP PYE

7N 17746

(UK)
.

How Do You Feel About That / Then

12/1969
SP PYE

7N 17863

(UK)
.

Raindrops Keep Falling On My Head / Don't Mind If I Cry

12/1969
SP PYE

7N 17863

(POR)

Raindrops Keep Falling On My Head / Don't Mind If I Cry

1970
SP STATESIDE 7N 17863 (IND)

Raindrops Keep Falling On My Head / Don't Mind If I Cry

08/1971
SP CRYSTAL CR 7011 (UK)
.
All Kinds Of People (Craig DOUGLAS with The GRAFTY GREEN GANG) / Evenin Rain
08/1976
SP CUBE BUG 72 (UK) (promo only)
.

Craig Douglas And Featuring The Dougettes - Who's Sorry Now? / From Both Sides Now

08/1977
SP CUBE BUG 76 (UK)
.
Turn Away / Baby Blue
08/1983
SP EASY-ON-THE-EAR TALE 1 (UK)
.

Love Is A Carousel (Tales From The Unexpected) / Our Favourite Melodies

03/1987
SP OLD GOLD OG 9682 (UK)
.

Only Sixteen / Pretty Blue Eyes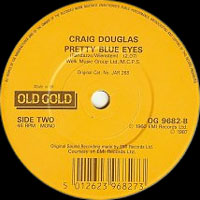 Albums
1960
LP 12" TOP RANK BUY/049 (UK)
CRAIG DOUGLAS - Only Sixteen / Golden Girl / Come Softly To Me / My First Love Affair / What Do You Want / Come Be My Love / Pretty Blue Eyes / New Boy / Teenage In Love / Riddle Of Love / Sandy / Heart Of A Teenage Girl
1981
LP 12" JACKSON JKS-5 (UK)
OH LONESOME ME - Oh Lonesome Me / Across The Street / I Will Live My Life / Both Sides Now / Enchanting Places / You Were Only Fooling / Town Crier / On The Outside Looking In / Please Don't Take My Heart / From Russia With Love / Candy Kisses / I'd Be Smiling Now / Flyaway
1984
LP 12" SEE FOR MILES SEE34 (UK)
ONLY SIXTEEN - Our Favorite Melodies / Time / A Hundred Pounds Of Clay / A Hundred Pounds Of Clay / Another You / A Change Of Heart / Rainbows / Riddle Of Love / When My Little Girl Is Sm / A Teenager In Love / Only Sixteen / Pretty Blue Eyes / No Greater Love / Girl Next Door / Wish It Were Me / Sandy / Hello Spring / Oh What A Day / Dream Lover / Ring-A-Ding
05/1993
CD EMI CDEMS1494 (UK)
THE BEST OF THE EMI YEARS - Teenager In Love / My First Love Affair / Come Softly To Me / Dream Lover / Riddle Of Love / Only Sixteen / Thirty Nine Steps / Battle Of New Orleans / Heart Of A Teenage Girl / My Hour Of Love / Where's The Girl (I Never Met) / Oh What A Day / New Boy Pretty Blue Eyes / After All / Change Of Heart / Girl Next Door / Hundred Pounds Of Clay / Hundred Pounds Of Clay (revised lyrics) / Hello Spring / Another You / There Is No Greater Love / Time / Ring A Ding / When My Little Girl Is Smiling / Our Favourite Melodies / Rainbows / Painted Smile / It All Depends On You / Five Foot Two Eyes Of Blue / Walkin' My Baby Back Home / Row Row Row
09/2004
2 CD EMI 8662582 (UK)
THE VERY BEST OF CRAIG DOUGLAS - Only Sixteen / Pretty Blue Eyes / Teenager In Love / Sunny Side Of The Street / Heart Of A Teenage Girl / Oh What A Day / Hundred Pounds Of Clay / Time / After All / When My Little Girl Is Smiling / Five Foot Two Eyes Of Blue / Another You / No Greater Love / Battle Of New Orleans / Our Favourite Melodies / Change Of Heart / Carolina In The Morning / Come Softly To Me / Riddle Of Love / Walkin' My Baby Back Home / Dream Lover / My First Love Affair / What Do You Want / Where's The Girl (I Never Met) / Painted Smile / It All Depends On You / My Hour Of Love / Rainbows / Girl Next Door / Ring A Ding
02/2005
CD HALLMARK 705442 (UK)
ONLY SIXTEEN - Teenager In Love / Only Sixteen / Pretty Blue Eyes / Heart Of A Teenage Girl / A Hundred Pounds Of Clay (original lyric) / Time / When My Little Girl Is Smiling / Our Favorite Melodies / All In The Game / Oh Lonesome Me / Joanna / Dream Lover / Everyday / You Needed Me / Save The Last Dance For Me / Both Side Now / Come On Over To My Place / The Power Of Love / A Hundred Pounds Of Clay (replacement lyric) / The Hungry Years
04/2005
CD XTRA 26476 (UK)
LOOKING BACK - Teenager In Love / Only Sixteen / Pretty Blue Eyes / Heart Of A Teenage Girl / Hundred Pounds Of Clay / Time / Why My Little Girl Is Smiling / Our Favourite Melodies / It's All In The Game / Oh Lonesome Me / Joanna / Dream Lover / Every Day / You Needed Me / Save The Last Dance For Me / Both Sides Now / Come On Over To My Place / Power Of Love / Hundred Pounds Of Clay / Hungry Years
10/2007
CD VOCALION CDLK 4359 (UK)
CRAIG DOUGLAS AND DOUG SHELDON AT DECCA - SINGLES COMPILATION 1958-1963 -

Sitting In A Tree House / Nothin' Shakin' / Are You Really Mine? / Go Chase A Moonbeam / Please Don't Take My Heart / Oh Lonesome Me / Town Crier / I'd Be Smiling Now / Teenage Mona Lisa / Danke Schoen / Love Her While She's Young / I'm So Glad I Found Her / From Russia With Love / Counting Up The Kisses / Book Of Love / Play Me Some Blues / Runaround Sue / Come With Me / Your Ma Said You Cried In Your Sleep Last Night / You're Only Fooling Yourself / My Kingdom For A Girl / You Never Had It So Good / A Big Big Baby / If You'd Be Mine / Lollipops And Roses / One Way To Say Goodbye / Live Now , Pay Later / Me / Let's Make A Habit Of This / I Saw Linda Yesterday / My Billy / Mickey's Monkey / Falling In Love With Love

11/2008
CD PEGASUS PEGCD 667 (UK)
THE GOLDEN ANNIVERSARY ALBUM -

A Teenager In Love / Pretty Blue Eyes / True Love Ways / The Wonder Of You / The Heart Of A Teenage Girl / I Just Called To Say I Love You / Crazy / Our Favourite Melodies / Imagine / Only Sixteen / Hello / Oh, Lonesome Me / Three Times A Lady / Time / Without You / One Hundred Pounds Of Clay / Wonderful World / When My Little Girl Is Smiling / When You're In Love With A Beautiful Woman /

My Way
05/2011
CD HALLMARK / PICKWICK 710342 (UK)
CRAIG DOUGLAS - Only Sixteen / Golden Girl / Come Softly To Me / My First Love Affair / What Do You Want? / Come Be My Love / Pretty Blue Eyes / New Boy / Teenager In Love / Riddle Of Love / Sandy / Heart Of A Teenage Girl
01/2019
CD JASMINE JASMCD2653 (UK)
ONLY SIXTEEN - Sittin'

in a Tree House

/ Nothin' Shakin' / Are You Really Mine? / Come Softly To Me / A Teenager In Love / Battle Of New Orleans / Dream Lover / Only Sixteen / My First Love Affair / The Riddle Of Love / Pretty Blue Eyes / Sandy / What Do You Want? / Heart Of A Teenage Girl / Come Be My Love / Of Love / Oh! What A Day / Where's The Girl (I Never Met) / My Hour Of Love / The Girl Next Door / A Hundred Pounds Of Clay / Time / After All / No Greater Love / Another You / A Change Of Heart / When My Little Girl Is Smiling / Ring-A-Ding / A Painted Smile / Our Favorite Melodies / Rainbows / Oh Lonesome Me / Please Don't Take My Heart / Town Crier / I'd Be Smiling Now
© Rocky Productions 14/03/2021