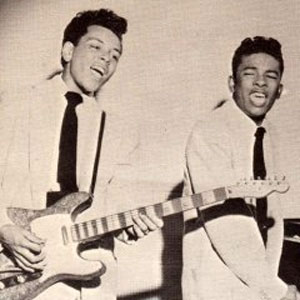 US Rock 'n' Roll duo comprenant Don "Sugarcane" Harris (18 Juin 1938 - 30 Novembre 1999) et Dewey Terry (17 Juillet 1937 - 11 Mai 2003). Tous deux sont nés et ont grandi à Pasadena, en Californie.

American Rock 'n' Roll duo, comprising Don "Sugarcane" Harris (June 18, 1938 - November 30, 1999) and Dewey Terry (July 17, 1937 - May 11, 2003). Both were born and grew up in Pasadena, California.
In 1954, Dewey Terry was a founding member of a group called The Squires while still in high school. He was later joined by a friend, Don Bowman (who would later change his name to Harris). In 1955 the Squires released a record on the minor Los Angeles-based label Dig This Record. In 1957 the group broke up, but Don and Dewey remained together.
Later that year they were signed by Art Rupe's Specialty Records label and for the next two years produced rock and roll, Both Don and Dewey played guitar, with Dewey often doubling on keyboards. When not playing guitar or bass, Don occasionally played the electric violin, a skill for which he subsequently became well known under the name of "Sugarcane" Harris. Legendary drummer Earl Palmer played frequently on their sessions.
Although Don and Dewey did not have any hits of their own, several of the songs that they wrote and/or recorded would appear on the charts later, performed by other artists. "I'm Leaving It Up to You" became a #1 hit for Dale & Grace in 1963. "Farmer John" was a hit by The Premiers, reaching #19 in 1964 after having been covered The Searchers a year earlier. "Koko Joe" (written by the then Specialty Records producer Sonny Bono), "Justine" and "Big Boy Pete" were a staple for The Righteous Brothers for many years. (Indeed, it has frequently been noted that the early Righteous Brothers act was quite closely based on Don and Dewey's.) Finally, "Big Boy Pete" became a minor hit in 1960 for The Olympics, reaching #50 and a #4 hit for The Kingsmen when recorded with new lyrics as "The Jolly Green Giant" in 1965.
https://en.wikipedia.org/wiki/Don_and_Dewey
Talents : Don "Sugarcane" Harris : Violin, Guitar - Dewey Terry : Guitar, Piano
Style musical : Rhythm 'n' Blues, Rock 'n' Roll
Years in activity :
| | | | | | | | | | | | |
| --- | --- | --- | --- | --- | --- | --- | --- | --- | --- | --- | --- |
| 1910 | 20 | 30 | 40 | 50 | 60 | 70 | 80 | 90 | 2000 | 10 | 20 |
DISCOGRAPHY
78 t. & Singles
1956
78 t. SHADE 1000X78 (US)
.

Miss Sue / My Heart Is Aching

1956
SP SHADE 1000X45 (US)
.
Miss Sue / My Heart Is Aching
04/1957
78 t. & SP SPECIALTY 599 (US)
.

Jungle Hop / A Little Love

08/1957
78 t. & SP SPECIALTY 610 (US)
.

Leavin' It All Up To You / Jelly Bean

10/1957
78 t. & SP SPECIALTY 617 (US)
.
Just A Little Lovin´

/ When The Sun Has Begun To Shine

05/1958
78 t. & SP SPECIALTY 631 (US)
.

Justine / Bim Bam

07/1958
78 t. & SP SPECIALTY 639 (US)
.

The Letter / Koko Joe

02/1959
78 t. & SP SPECIALTY 659 (US)
.
DON & DEWEY & Their BAND - Farmer John / Big Boy Pete
08/1959
SP SPOT 45-101 (US)
.

Fiddlin' The Blues / Slummin'

02/1960
SP FIDELITY 3017 (US)
.

Jump Awhile (DON & DEWEY) / H. B. Boogie (H.B. BARNUM)

02/1960
SP FIDELITY 3018 (US)
.

Little Sally Walker / Kill Me

12/1962
SP RUSH 1002 (US)
.

Don & Dewy - Soul Motion / Stretchin' Out

1963
SP RUSH 1003 (US)
.

Don't Ever Leave Me (Don't Make Me Cry) / Heartattack

1963
SP HIGHLAND 1050 (US)
.

Don't Ever Leave Me (Don't Make Me Cry) / Heartattack

05/1964
SP SPECIALTY 691 (US)
.

Get Your Hat / Annie Lee

1964
SP SONET T-7625 (SWE)

Farmer John / Big Boy Pete

1973
SP SPECIALTY 2C 006-94160 (F)

Old Rock New Roll - 14 - Koko Joe / Justine

1986
6 SP SPECIALTY SPBX-4 (US) (limited edition)

Don and Dewey Specialty Hits :

DISC 1 : Jungle Hop / A Little Love
DISC 2 :

Leavin' It All Up To You /

Jelly Bean
DISC 3 : Koko Joe / The Letter
DISC 4 : Justine / Bim Bam
DISC 5 : Big Boy Pete / Farmer John
DISC 6 :

When The Sun Has Begun To Shine /

Pink Champagne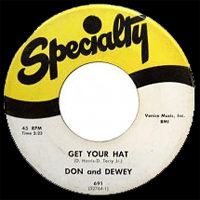 Album
1970
LP 12" SPECIALTY SPS 2131 (US)

They're Rockin' 'Til Midnight, Rollin' 'Til Dawn! - Koko Joe / Leavin' It All Up To You / Big Boy Pete / Mammer-Jammer / When The Sun Has Begun To Shine / Justine / Pink Champagne / Little Sally Walker / Farmer John / Jungle Hop / Kill Me / The Letter

1971
LP 12" SPECIALTY SNTF 5006 (UK)

Don And Dewey - Koko Joe / Leavin' It All Up To You / Big Boy Pete / Mammer-Jammer / When The Sun Has Begun To Shine / Justine / Pink Champagne / Little Sally Walker / Farmer John / Jungle Hop / Kill Me / The Letter

1974
LP 12" SPECIALTY 2 C 062-95293 (F)

Rock N' Roll Museum Vol. 3 - Don And Dewey - Koko Joe / Leavin' It All Up To You / Big Boy Pete / Mammer-Jammer / When The Sun Has Begun To Shine / Justine / Pink Champagne / Little Sally Walker / Farmer John / Jungle Hop / Kill Me / The Letter

1977
LP 12" Metronome

‎

59.003 (GER)

Rock Your Memories - Volume Two - Don And Dewey - Koko Joe / Leavin' It All Up To You / Big Boy Pete / Mammer-Jammer / When The Sun Has Begun To Shine / Justine / Pink Champagne / Little Sally Walker / Farmer John / Jungle Hop / Kill Me / The Letter

1981
LP 10" SPECIALTY VS-2012 (JAP)

Don & Dewey Vs Larry Williams - DON & DEWEY : A Little Love / Just A LIttle Lovin' / Bim Bam / Annie Lee / Get Your Hat / Larry Williams : Slow Down / Just Because / Bad Boy / She Said "Yeah" / Let Me Tell You, Baby / High School Dance

1985
LP 12" Ace

‎

CH 151 (UK)

Bim Bam - Baby Gotta Party / Sweet Talk / Miss Sue / Hey Thelma / Bim Bam / Good Morning / Jungle Hop / Just A Little Lovin' / Day By Day / Jump Awhile / Impossible To Say / Jelly Bean / Walk Alone / A Little Love

05/1991
CD SPECIALTY SPCD-7008-2 (US)

The Legends Of Specialty Series - Don & Dewey ‎- Jungle Hop - Jungle Hop / A Little Love / Hey Thelma / Baby Gotta Party / Miss Sue / Good Morning / Leavin' It All Up To You / Jelly Bean / Sweet Talk / Farmer John / Just A Little Lovin' / The Letter / When The Sun Has Begun To Shine / Bim Bam / Day By Day / Koko Joe / Justine / Little Sally Walker / Kill Me / Big Boy Pete / Farmer John / Pink Champagne / Jump Awhile / Mammer-Jammer / Get Your Hat

1993
CD P-Vine PCD-1911 (JAP)

Don & Dewey - Ko Ko Joe / Leavin' It All Up To You / Big Boy Pete / Mammy-Jammer / When The Sun Had Begun To Shine / Justine / Pink Champagne / Little Sally Walker / Farmer John / Jungle Hop / Kill Me / The Letter / A Little Love / Jelly Bean / Just A Little Lovin' / Bim Bam / Jump Awhile / Get Your Hat / Hey Thelma / Baby Gotta Party / Miss Sue / Good Morning / Sweet Talk / Day By Day / Farmer John -Slow Version
© Rocky Productions 30/11/2020