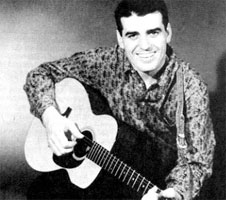 Chanteur né le 17 Août 1933 à Drury (Oklahoma). Mark Dinning est décédé le 22 Mars 1986.

Mark Dinning will probably always be remembered for "Teen Angel," his teenage death rock classic from 1960. The sad ballad rose to the top of the charts in the U.S. It also made quite an impression in the U.K., where it made it into the Top 40 even though radio stations there considered the single morbid and banned it. Less well-known is the country career Dinning cultivated earlier, recording such songs as "Ramblin' Man," "The Streets of Laredo," and "I'm Just a Country Boy."
A native of Oklahoma, Dinning took up the electric guitar at the age of 17. MGM Records gave him a record deal in 1957, thanks to Wesley Rose, a Nashville publisher who liked what he heard when Dinning auditioned for him. A few years later, Dinning got a hold of "Teen Angel," which was written by Jean Dinning, one of his three sisters who had performed in a trio known as the Dinning Sisters from the early '40s through the 1950s.
While growing up in Oklahoma's Grant County, Dinning was one of nine children. Sisters Lou and Ginger, who was Jean's twin, were also in the Dinning Sisters trio. The singer suffered a heart attack and passed away in 1986.
https://en.wikipedia.org/wiki/Mark_Dinning
Talents : Vocals, Guitar
Style musical : Rock 'n' Roll, Pop

http://youtu.be/KG_VIcoiCFA
Years in activity :
| | | | | | | | | | | | |
| --- | --- | --- | --- | --- | --- | --- | --- | --- | --- | --- | --- |
| 1910 | 20 | 30 | 40 | 50 | 60 | 70 | 80 | 90 | 2000 | 10 | 20 |
DISCOGRAPHY
Singles
03/1957
SP MGM K12447 (US)
.
Million Years Ago / Shameful Ways
10/1957
SP MGM K12553 (US)
.
School Fool Side / When You're Tired Of Breaking Other
08/1958
SP MGM K12691 (US)
.
You Thrill Me / Do You Klnow
11/1958
SP MGM K12732 (US)
.
Blackeyed Gypsy / Secretly In Love With You
04/1959
SP MGM K12775 (US)
.
Cutie, Cutie / Life Of Love
12/1959
SP MGM K12845 (US)
.
Teen Angel / Bye Now Baby
03/1960
SP MGM K12888 (US)
A Star Is Born / You Win Again
07/1960
SP MGM K12929 (US)
Come Back To Me Love / Lovin' Touch
10/1960
SP MGM K12958 (US)
.
She Cries On My Shoulders / The World Is Gettin' Smaller
02/1961
SP MGM K12980 (US)
.
Top Forty News Weather And Sports / Suddenly (There's Only You)
04/1961
SP MGM K13007 (US)
.
Can't Forget / Another Lonely Girl
07/1961
SP MGM K13024 (US)
.
Lonely Island / Turn Me On
11/1961
SP MGM K13048 (US)
.
What Will My Mary Say / In A Matter Of Moments
01/1962
SP MGM K13061 (US)
.
All Of This For Sally / The Pickup
08/1962
SP MGM K13091 (US)
.
She's Changed / I Catch Myself Crying
07/1963
SP MGM K13150 (US)
.
Somebody Catch Me Kissin' Mary / The Twelfth Of never
1964
SP CAMEO 299 (US)
.
Joey / January
1964
SP CAMEO 313 (US)
.
Should We Do It / Call Her Your Sweetheart
02/1965
SP HICKORY 45-1293 (US)
.
Dial Al 1-4883 / I'm Glad We Fell In Love
02/1966
SP HICKORY 45-1368 (US)
.
There Stands A Lady / The Last Rose
08/1966
SP HICKORY 45-1404 (US)
.
He Reminds Me Of Me / Run Opie Run
06/1967
SP UNITED ARTISTS UA 50169 (US)
.
Atlanta Georgia Stray Side / It's Such A Pretty World
11/1967
SP UNITED ARTISTS UA 50225 (US)
.

Hangin' On / Maggie (I Wish We'd Never Met)

06/1968
SP UNITED ARTISTS UA 50305 (US)
.
A Dissatisfied Man / Throw A Little Love My.Way
1968
SP UNITED ARTISTS 38203 (F)
Maggie / Hangin' On
05/1969
SP UNITED ARTISTS UA 50540 (US)
.
How Little Men Care / Lemon Yellow
1986
SP Collectables COL 4243 (US)
.
Teen Angel (Mark

Dinning

) / Corrina, Corrina (Ray PETERSON)
1986
SP ERIC 4118 (US)
.
Patches (Dickey LEE) / Teen Angel (Mark

Dinning

)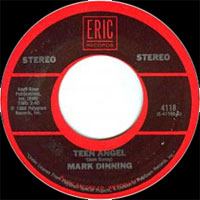 Albums
1960
LP 12" MGM E-3828 (mono) / SE-3828 (stereo) (US)
TEEN ANGEL - Teen Angel / I'm So Lonesome I Could Cry / Blackeyed Gypsy / Danny Boy / You Thrill Me / A Life Of Love / You Win Again / Little Angel / I Lost / Remember / Do You Know / I'm Too Young To Love
1960
LP 12" MGM E-3855 (mono) / SE-3855 (stereo) (US)
WANDERIN' - Feather In The Wind / Lost Highway / Black Is The Color Of My True Love's Hair / Flow Gently Sweet Afton / The Twelfth Of Never / Jamaica Farewell / I'm Just A Country Boy / The japanese Farewell Song / Ramblin' Man / The Streets Of Laredo / Roving Gambler
1992
LP 12" BINGE LP 1012 (GER)

I'M JUST A COUNTRY BOY -

The Black Eyed Gypsy / The Streets Of Laredo / Lost Highway / Rambling Man / The 12th Of Never / The Roving Gambler / Too Young To Die / I Lost / You Thrill Me / I'm Just A Country Boy / A Life Of Love / Little Nagel / Teen Angel
1996
CD CUB SE 3828/55 (US)

TEEN ANGEL -

Teen Angel / I'm So Lonesome I Could Cry / Blackeyed Gypsy / Danny Boy / You Thrill Me / A Life Of Love / You Win Again / Little Angel / I Lost / Remember / Do You Know / I'm Too Young To Love / Feather In The Wind / Lost Highway / Black Is The Color Of My True Love's Hair / Flow Gently Sweet Afton / The Twelfth Of Never / Jamaica Farewell / I'm Just A Country Boy / The Japanese Farewell Song / Ramblin' Man / The Streets Of Laredo / Roving Gambler / Cutie, Cutie / All Of This For Sally / Come Back To Me / The Lovin' Touch / Another Lonely Girl / Can't Forget
© Rocky Productions 11/03/2013