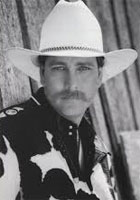 Chanteur Country US né le 26 Mars 1955 à Lake City (Tennessee).

There are songwriters, and then there are poets -- artists who magically weave melodies and words into three-and-a-half-minute masterpieces that outshine the paint-by-numbers songs that often clog up the airwaves. Dean Dillon is the latter. The Tennessee native hitchhiked to Nashville in the early '70s in search of country music glory and wound up being one of the most successful songwriters to ever set foot in Music City. Dillon's earliest break came when, at the age of 15, he won a contest that landed him a regular spot on Jim Clayton's Star Time Variety Show in Knoxville, TN. The singer/songwriter finished high school and then struck out for the bright lights of Nashville. A short-lived stint on Plantation Records, under the name Dean Dalton, produced the single "Las Vegas Girl." In 1976, Dillon landed the role of Hank Williams in Opryland's Country Music Show, USA. The theme park gig indirectly helped Dillon secure his first publishing deal.
Although it was writing songs for others where Dillon's future lay, the young singer was hell-bent on making it as a recording artist himself. Between 1979 and 1981 Dillon released 12 singles for RCA Records. Three of the songs reached the Top 30 on the country charts, including "Nobody in His Right Mind Would've Left Her," which climbed all the way to number 25 (and later became a number one hit for George Strait). Despite the single's success, Dillon's RCA material would sit on the shelf for decades before being released. In 1981, at the urging of RCA label head Jerry Bradley, Dillon teamed up with singer/songwriter Gary Stewart for the first of two duet albums. Stewart and Dillon were cut from the same hard-living, honky tonk cloth; it was a match made in hillbilly heaven. Brotherly Love (1982) and Those Were the Days (1983), both released on RCA, failed to light up the charts, and the good-timing duo went their separate ways.
It would be five years before Dillon landed in record bins (and on the charts) again, but the wordsmith was far from inactive, during this time continuing to pen songs for other artists. Slick Nickel, issued through Capitol Records in 1988, produced the minor hit "I Go to Pieces," which clawed its way into the Top 40. A second album for Capitol, 1989's I've Learned to Live, spawned two singles that failed to make any significant noise on the charts. Dillon moved over to Atlantic Records for Out of Your Ever Lovin' Mind (1991) and Hot, Country & Single (1993). After the latter failed to produce a hit single, Dillon devoted his full attention to writing songs for other singers.
In 2002, Dillon was inducted into the Nashville Songwriters Hall of Fame. In 2007, the Tennessee native returned to the recording ranks with the independently released Dylyn, a ten-song collection available via his website. Perfect Day, another website-only/digital release, arrived in 2009. As a songwriter, Dillon's compositions have been recorded by a wide range of artists, including legendary country singers George Jones, Keith Whitley, and Vern Gosdin. New country stars like Kenny Chesney, Lee Ann Womack, and Toby Keith have also found chart success with Dillon compositions. George Strait has recorded more than 50 of Dillon's songs.
https://en.wikipedia.org/wiki/Dean_Dillon
Talents : Vocals, Songwriter, Guitar
Style musical : Contemporary Country, Traditional Country, Honky Tonk

https://youtu.be/Cb3St1SA520
Years in activity :
| | | | | | | | | | | | |
| --- | --- | --- | --- | --- | --- | --- | --- | --- | --- | --- | --- |
| 1910 | 20 | 30 | 40 | 50 | 60 | 70 | 80 | 90 | 2000 | 10 | 20 |
DISCOGRAPHY
Singles
1975
SP PLANTATION PL-121 (US)
.
Dean DALTON - Las Vegas Girl / A Perfect Way To Cry
11/1979
SP RCA VICTOR

PB-11881 (US)

.
I'm Into The Bottle (To Get You Out Of My Mind) / Tonight
04/1980
SP RCA VICTOR

PB-12003 (US)

.
What Good Is Heart / He's Number One
09/1980
SP RCA VICTOR

PB-12109 (US)

.
Nobody In His Right Mind (Would've Left Her) / Smelling Like A Rose
04/1981
SP RCA VICTOR

PB-12234 (US)

.
They'll Never Take Me Alive / Tonight One Of Us Is Going Out Of My Mind
09/1981
SP RCA VICTOR

PB-12319 (US)

.
Jesus, Let Me Slide / If You're Goin' Crazy
11/1981
SP RCA VICTOR

PB-13049 (US)

Gary STEWART & Dean DILLON -

Brotherly Love /

Firewater Friends
05/1982
SP RCA VICTOR

PB-13208 (US)

.
Play This Old Working Day Away / You To Come Home To
1982
SP RCA VICTOR

PB-13295 (US)

.

You To Come Home To / ?

11/1982
SP RCA VICTOR PB-13401 (US)
.
Those Were The Days (with Gary STEWART) / Drinkin' Thing Those Were The Days (Gary STEWART)
03/1983
SP RCA VICTOR PB-13472 (US)
.
Gary STEWART & Dean DILLON - Smokin' In The Rockies / Hard Time For Lovers
09/1983
SP RCA VICTOR PB-13628 (US)
.
Famous Last Words Of A Fool / Ten Years And Two Babies Later
05/1988
SP CAPITOL

B-44179

(US)
.
New Never Wore Off My Sweet Baby / Feelin' In My Bones
09/1988
SP CAPITOL

B-44239

(US)
.
I Go To Pieces / Hard Time For Lovers
11/1988
SP CAPITOL

B-442

94

(US)
.
Hey Heart / Feelin' In My Bones
05/1989
SP CAPITOL

B-44400

(US)
.
It's Love That Makes You Sexy / Feelin' In My Bones
1989
SP CAPITOL

79827

(US)
.

Back In The Swing Of Things / ?

02/1991
SP ATLANTIC

7-87774

(US)
.

Holed Up In Some Honky Tonk /

All Out Of
05/1991
SP ATLANTIC

7-87794

(US)
.
Friday Night's Woman / Her Thinkin' I'm Doin' Her Wrong
10/1991
SP ATLANTIC

7-87606

(US)
.
Don't You Even / She Knows What She Wants
05/1993
SP ATLANTIC

7-87356

(US)
.

Hot, Country And Single /

Holding My Own
| | |
| --- | --- |
| | |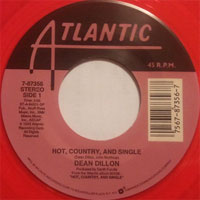 Albums
04/1982
LP 12" RCA VICTOR AHL1-4310 (US)
BROTHERLY LOVE - Gary STEWART & Dean DILLON - Brotherly Love / Cold Turkey / You To Come Home To / Honky Tonk Crazy / Body Shop / Suburban Life / Play This Old Working Day Away / She Sings Amazing Grace / Fairweather Friends / Let's Start A War
01/1983
LP 12" RCA VICTOR MHL1-8602 (US)
THOSE WERE THE DAYS - Gary STEWART & Dean DILLON - Those Were The Days / Misfits / Hard Time For Lovers / Living On The Ragged Edge / Losers And Lovers / Smokin' In The Rockies
1988
LP 12" CAPITOL

C1-48920

(US)

SLICK NICKEL -

Hey Heart / The New Never Wore Off My Sweet Baby / When The Feelin's Right / I Go To Pieces / Hard Time For Lovers / Appalachia Got To Have You Feelin' In My Bones / You Sure Got This Ol' Redneck Feelin' Blue / Still Got A Crush On You / Station To Station / Father, Son And Holy Ghost
08/1989
CD CAPITOL

CDP 7 92079 2

(US)

I'VE LEARNED TO LIVE -

Just In Time / Changes Comin' On / Who Do You Think You Are / Don't You Even Think About Leaving / I've Learned To Live / It's Love That Makes You Sexy / Back In The Swing Of Things / Summer Was A Bummer / Her Thinkin' I'm Doin' Her Wrong / Holdin' Pattern
06/1991
CD ATLANTIC

7 82183-2

(US)

OUT OF YOUR EVER LOVIN' MIND -

Friday Night's Woman / Holed Up In Some Honky Tonk / Best Love Friends She Knows What She Wants / Holding My Own / Don't You Even (Think About Leaving) / Her Thinkin' I'm Do Ing Her Wrong (Ain't Doin' Me Right) / A Country Boy (Who Rolled The Rock Away) / You Must Be Out Of Your Ever Lovin' Mind / The Umbrella Song
06/1991
CD ATLANTIC 7 82438-2 (US)
HOT, COUNTRY AND SINGLE - Hot, Country, And Single / Easy Come, Easy Go / Old News / Some Days It Takes All Night / Heart On The Line / I Just Came In Here To Have A Good Time / What'll I Do With It Now / When Hell Freezes Over / Everybody Knows / Holed Up In Some Honky Tonk
10/2005
CD Raven RVCD-226 (AUS)

Brotherly Love / Those Were The Days - Gary STEWART & Dean DILLON - Brotherly Love / Cold Turkey / You To Come Home To / Honky Tonk Crazy / Body Shop / Suburban Life / Play This Old Working Day Away / She Sings Amazing Grace / Firewater Friends / Let's Start A War / I'm Into The Bottle (To Get You Out Of My Mind) / Tonight / What Good Is A Heart / He's Number One / Nobody In His Right Mind (Would've Left Her) / Smelling Like A Rose / They'll Never Take Me Alive / Tonight One Of Us Is Going Out Of My Mind / Jesus Let Me Slide / If You're Going Crazy (I'm Headed That Way) / Famous Last Words Of A Fool / Those Were The Days / Misfits / Hard Time For Lovers / Living On The Ragged Edge / Losers And Lovers / Smokin' In The Rockies
© Rocky Productions 7/03/2013