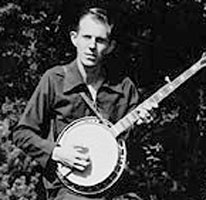 Chanteur et banjoiste Country US né Douglas Flint Dillard, le 6 Mars 1937 à East St. Louis (Illinois). Doug Dillard est décédé le 16 Mai 2012 à Nashville (Tennessee).

Doug Dillard was one of the preeminent ambassadors of bluegrass banjo during the '60s and '70s, incorporating pop, folk, and country-rock material into his repertoire and supporting a wide variety of artists with those sensibilities. Born in Salem, Missouri, in 1937, Dillard started playing bluegrass early on, eventually teaming with his younger brother, Rodney. The duo made their first recordings in 1958, then played with several bands before forming their own group, The Dillards. In 1962, The Dillards relocated to Los Angeles, where they quickly landed a deal with Elektra and issued a string of groundbreaking albums over the rest of the '60s. The Dillards were among the first bluegrass groups to use amplified instruments, and they also had highly eclectic taste in covers, drawing from pop and rock as well as traditional material. Dillard was active outside the group as well, working with a side project called the Folkswingers, backing ex-Byrd Gene Clark with the Gosdin Brothers, and collaborating with Rodney on material for the Bonnie & Clyde soundtrack in 1967.
Later in 1967, Dillard left the band he'd co-founded to pursue new projects. He recorded a solo LP, The Banjo Album, in 1968, which featured backing by several rock musicians, including Gene Clark and Bernie Leadon. Dillard soon formed a partnership with Clark, and recording with a backing band as Dillard & Clark, the two cut some of the earliest country-rock material in existence. Two groundbreaking albums followed before Clark went solo in 1970, and Dillard briefly reorganized the remaining band as the Doug Dillard Expedition, which contributed a song to the soundtrack of 1971's Vanishing Point. Dillard soon resumed his solo career, however, taking occasional session gigs and signing with 20th Century. He released two solo albums -- Duelin' Banjo and You Don't Need a Reason to Sing -- in 1973 and 1974, respectively. In 1977, he re-teamed with brother Rodney and John Hartford in Dillard-Hartford-Dillard, who recorded two albums for Flying Fish in 1977 and 1980. Dillard himself released two LPs on the same label: the 1979 gospel effort Heaven and the concert set Jackrabbit in 1980. During the '80s, he performed regularly with the Doug Dillard Band and also recorded sporadically; Flying Fish released What's That? in 1986 and Heartbreak Hotel three years later. Doug Dillard died in Nashville on May 16, 2012 at the age of 75.
https://en.wikipedia.org/wiki/Doug_Dillard
Talents : Vocals, Songwriter, Banjo, Guitar, Actor
Style musical : Bluegrass, Country Rock

http://youtu.be/cBVfBEl_XWk
Years in activity :
| | | | | | | | | | | | |
| --- | --- | --- | --- | --- | --- | --- | --- | --- | --- | --- | --- |
| 1910 | 20 | 30 | 40 | 50 | 60 | 70 | 80 | 90 | 2000 | 10 | 20 |
DISCOGRAPHY
Singles
11/1968
SP A & M

995 (US)

DILLARD & CLARK - Out On The Side / Train Leaves Here This Morning
1969
SP A & M

1033 (US)

DILLARD & CLARK - Don't Be Cruel / Lyin' Down The Middle
1969
SP A & M

1087 (US)

DILLARD & CLARK - Radio Song / Why Not Your Baby
1970
SP A & M

1165 (US)

DILLARD & CLARK - Don't Let Me Know / Rocky Top
1973
SP 20TH CENTURY 2019 (US)
My Grass Is Blue / Monday Motion
1973
SP 20TH CENTURY 2050 (US)
Music Country / ?
1974
SP 20TH CENTURY 2123 (US)
Fiddle 'n' Banjo / You Don't Need A Reason
Albums
1963
LP 12" World Pacific WP-1812 (mono) / ST 1812 (stereo) (US)

String Guitar! / Folk Blues and Blue Grass - Glen CAMPBELL / Rod DILLARD / Doug DILLARD / Dean WEBB - If I Had A Hammer / Black Mountain Rag / Walk Right In / Wildwood Flower / Blowin' In The Wind / Midnight Special / In Them Old Cottonfields Back Home / Columbus Stockade Blues / Rye Whiskey / Bull Durham / Wabash Cannonball / Dark As A Dungeon / This Train

10/1968
LP 12" A & M

SP-4158 (US)

THE FANTASTIC EXPEDITION OF DILLARD AND CLARK -

Doug DILLARD & Gene CLARK - Out On The Side / She Darked The Sun / Don't Come Rollin' / Train Leaves Here This Mornin' / With Care From Someone / The Radio Song / Git It On Brother (Git In Line Brother) / In The Plan / Something's Wrong
08/1969
LP 12" A & M

S

P-4203

(US)

THROUGH THE MORNING, THROUGH THE NIGHT -

Doug DILLARD & Gene CLARK - No Longer A Sweetheart Of Mine / Through The Morning, Through The Night / Rocky Top / So Sad / Corner Street Bar / I Bowed My Head And Cried Holy / Kansas City Southern / Four Walls / Polly / Roll In My Sweet Baby's Arms / Don't Let Me Down
11/1969
LP 12" TOGETHER STT-1003 (US)
THE BANJO ALBUM - Train 4500 / Turkey Knob / Hard Times / Home Sweet Home / Foggy Mountain Breakdown / Jamboree / Clinch Mountain Back Step / Bully Of The Town / Bells Of St. Mary / Banjolina / With Care From Someone
1970
LP 12" A & M AMLB 50138

(UK)

GRASS ROOTS -

Dillard And Clarke -

FLYING BURRITO BROTHERS -

Dillard And Clarke :

Didn't Come Rollin / I Bowed My Head And Cried Holy / Git It On Brother / So Sad / Kansas City Southern / FLYING BURRITO BROTHERS

:

Older Guys / Dark End Of A Street / Cody Cody / Lazy Days / If You Gotta Go / Hot Burrito No. One
04/1973
LP 12" 20TH CENTURY

T-409

(US)
DUELIN' BANJO - Duelin' Banjo / My Grass Is Blue / Missouri Minor Blues / Filler Up / Sittin' On Top Of The World / Help Wanted / Monday Motion / The Whole World 'Round / The Bell's Of St. Mary's / Old Joseph
1974
LP 12" 20TH CENTURY

T-426

(US)

YOU DON'T NEED A REASON TO SING -

Douglas Flint D

ILLARD -

Fiddle 'n' Banjo / You Don't Need A Reason / Try, Try, To Fall In Love / Something To Believe In / Music Country U.S.A. / Sittin' In Limbo / Ninety Miles / Country Rain / Join The Old Refrain / Spend My Money / It Only Takes A Minute
1975
LP 12" ARIOLA

86

027

(NL)
G & D - Gene CLARK &

Doug DILLARD

- Git It On Brother (Git In Line Brother) / She Darked The Sun / Roll In My Sweet Baby's Arms / Four Walls / With Care From Someone / No Longer A Sweetheart Of Mine / The Radio Song / Through The Morning, Through The Night / Don't Come Rollin' / Don't Let Me Down
1975
LP 12" ARIOLA

86436

(US)

KANSAS CITY SOUTHERN - Doug DILLARD &

Gene CLARK

-

Lyin' Down The Middle / Out On The Side / Why Not Your Baby / Train Leaves Here This Mornin' / Don't Be Cruel / Something's Wrong / Kansas City Southern / Polly / Rocky Top / So Sad / In The Plan / For A Spanish Guitar
1977
LP 12" FLYIN' FISH

FF-036

(US)
GLITTER GRASS FROM NASHWOOD HOLLYVILLE STRINGS - DILLARD - HARTFORD - DILLARD - Don't Come Rollin' / Cross The Border Line / Two Hits And The Joint Turned Brown / Don't Lead Me On / Bear Creek Hop / No End Of Love / Biggest Whatever / Lost In A World / High Dad In The Morning / California Is Nicer Than You / Artificial Limitations / Get No Better
11/1979
LP 12" FLYIN' FISH

FF-086

(US)
HEAVEN - Stars In My Crown / Lord's Last Supper / Heaven / Cast Your Bread Upon The Water / Let The Light Shine Down On Me / Daniel Prayed / Turn Your Radio / God's Record Book Of Life / St. Peter / Singin' All Day
11/1980
LP 12" FLYIN' FISH

FF-208

(US)

JACK RABBIT! - Doug DILLARD BAND -

Hamilton Country Breakdown / Salty Dog Blues / Teardrops In My Eyes / Ocean Of Diamonds / Byron's Barn / Rollin' In My Sweet Baby's Arms / I'll Just Stay Around / Jack Rabbitt / The Last Old Shovell / Hickory Holler
1981
LP 12" FLYIN' FISH

FF-

233

(US)
PERMANENT WAVE - DILLARD - HARTFORD - DILLARD - Break It To Me Gently / That'll Be The Day / Blue Morning / The Same Thing (Makes You Laugh, Makes You Cry) / Yakety Yak / Something's Wrong / Boogie On Reggae Woman / Country Boy Rock And Roll / No Beer In Heaven
12/1986
LP 12" FLYIN' FISH

FF-377

(US)

WHAT'S THAT? - Doug DILLARD BAND -

World Falls Into Dream / Lonesome For You / If I Could Only Have Your Love / Never See My Home Again / What's That? / Windy Mountain / Somebody's Missing You / Endless Highway / Love And Wealth / Every Day I Have To Cry / First Time I Saw Mary
1989
LP 12" FLYIN' FISH

FF-477

(US)
HEARTBREAK HOTEL - Doug DILLARD BAND - Heartbreak Hotel / Banjo On The Mountain / The Angels Sing In Heaven / Close The Door Lightly When You Go / With Pain In My Heart / G-String Boogie / Don't Let The Stars Get In Your Eyes / Hard Hearted / Fixin' To Die / Too Much In Love With You / World Falls Into Dream / Lonesome For You / If I Could Only Have Your Love / Never See My Home Again / What's That? / Windy Mountain / Somebody's Missing You / Endless Highway / Love And Wealth / Every Day I Have To Cry / The First Time I Saw Mary
04/2003
CD REV-OLA CR REV 25

(UK)

THE BANJO ALBUM - Train 4500 / Turkey Knob / Hard Times / Home Sweet Home / Foggy Mountain Breakdown / Jamboree / Clinch Mountain Back Step / Bully Of The Town / Bells Of St. Mary / Banjolina / With Care From Someone
06/2004
CD RURAL RHYTHM RHY 1022

(US)

THE BANJO ALBUM - Runaway Country / Turkey Knob / Home Sweet Home / Foggy Mountain Breakdown / Jamboree / Cumberland Gap / Clinch Mountain Backstep / Bully Of The Town / Dear Old Dixie / Bells Of St. Mary / Banjolina / Back Up & Push / Dixie Breakdown / Hard Times / Old Joe Clark / Train 4500
© Rocky Productions 4/03/2013