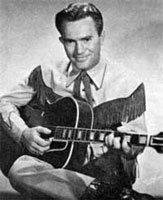 Chanteur Country US né Horace Eldred Dill, le 19 Septembre 1924 à Carroll County (Tennessee). Danny Dill est décédé le 23 Octobre 2008.

Inducted into the Nashville Songwriters Hall of Fame in 1975, Danny Dill is one of country music's greatest songsmiths. His tune, "Long Black Veil", written with Marijohn Wilkin, has been recorded by everyone from Lefty Frizzell and Johnny Cash to the Band, Jerry Garcia and Jason And The Scorchers. Bobby Bare scored a major hit with his song, "Detroit City", in 1963. Both "Long Black Veil" and "Detroit Hits" have become international hits, translated and recorded in more than two dozen languages.
Additional songs by Dill have been recorded by Carl Smith, George Morgan, Eddy Arnold, Willie Nelson, Ray Price, Cowboy Copas, Faron Young, Billy Grammer and Jim Reeves.
A native of Tennessee's Carroll County, Dill was only twenty-one when he, and his wife, Annie Lou, were invited to join the Grand Ole Opry in 1946. During the next dozen years, they toured with Opry and road shows, opening shows for such country artists as Ernest Tubb, Eddy Arnold and Hank Williams.
The first songwriter to sign with the Nashville-based Cedarwood Publishing Company, in 1952, Dill became a writer/consultant for Buckhorn Music in the mid-1970s.
Dill has made guest appearances in a number of music videos including Steve Wariner's "Tips Of My Fingers" and Clint Black's "Put Yourself In My Shoes".
https://en.wikipedia.org/wiki/Danny_Dill
Talents : Vocals, Songwriter, Guitar
Style musical : Traditional Country, Rockabilly
MY GIRL AND HIS GIRL (1956)

GEISHA SWEETHEART (1956)

I'M HUNGRY FOR YOUR LOVIN' (1956)
Years in activity :
| | | | | | | | | | | | |
| --- | --- | --- | --- | --- | --- | --- | --- | --- | --- | --- | --- |
| 1910 | 20 | 30 | 40 | 50 | 60 | 70 | 80 | 90 | 2000 | 10 | 20 |
DISCOGRAPHY
78 t. & Singles
Albums
1960
LP 12" MGM E-3819 (mono) / SE-3819 (stereo) (US)
FOLK SONGS FROM THE WILD WEST - Eyes Of Death / Come In Out Of The Rain / The World's Richest Jackass / Wichita Town / Streets Of Laredo / Who Rides With Billy / The Ghost Of Indian Joe / Esther / Dark As A Dungeon / Bury Me Not On The Lone Prarie / Mississippi Gambler / Long Black Veil
1963
LP 12" LIBERTY LRP-3301 (mono) / LST-7301 (stereo) (US)
FOLK SONGS FROM THE COUNTRY - Tanglefoot Brown / Come In Out Of The Rain / Long Black Veil / The Old Courthouse / There's A Time / Ester / Partners / Land Of Beginning Again / Where The Sad People Are / I 'Ist Laughed / Who'll Go And Tell Him / Satan's Child
07/2006
CD DANNY DILL ? (US)

QUALITY IS ALWAYS IN STYLE -

Grass Won't Grow / Long Black Veil / There's A Time / Ester / Tanglefoot Brown / In My Own Backyard / I'll Take It Before I Say Goodbye / Back On The Farm / He's A Sport / Coming Home / Computer Dating Service / Cry Baby Cry / Partners / Come In Outta' The Rain / Where The Sad People Are / Aces And Eights / Old Courthouse / Never Thought I'd See The Day / Don't Sell The Farm (And Move To Nashville) / Be Anybody's Darlin' But Mine / Grandma's Love Song
© Rocky Productions 4/03/2013