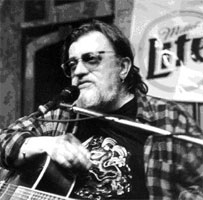 Pianiste et producteur US de Memphis (Tennessee).

A longtime staple of the Memphis music scene, producer Jim Dickinson helmed sessions for successive generations of cult heroes spanning from Screamin' Jay Hawkins to Big Star to the Replacements, additionally lending his keyboard talents to recordings from Ry Cooder, the Rolling Stones, Aretha Franklin, and others. Dickinson began his career during the mid-'60s, emerging as a sought-after session player through recordings with everyone from Petula Clark to Arlo Guthrie to the Flamin' Groovies; in 1971, he appeared on the Stones' classic Sticky Fingers, and that same year collaborated with Cooder on Into the Purple Valley, the first in a series of solo albums and soundtracks with the famed guitarist. In 1972, Dickinson issued his first solo LP, Dixie Fried; around that time he also formed Mud Boy & the Neutrons, a legendary local band featuring Delta bluesmen Sid Selvidge, Lee Baker, and Jimmy Crosswaith. Much of Dickinson's reputation rests on his 1974 production of Big Star's Third/Sister Lovers, the pioneering Memphis power pop group's abortive final masterpiece -- a record that both literally and figuratively captures the sound of a band falling apart, it was not issued in anything close to its intended form until 1992, its status as an underground classic nevertheless assured through years of unauthorized releases. His work with former Big Star frontman Alex Chilton continued on 1979's disastrous Like Flies on Sherbert; the hipster cachet of both projects made Dickinson a sought-after producer among a new generation of bands, and throughout the '80s his credit appeared on albums from the likes of Jason & the Scorchers, Chris Stamey, Green on Red, the True Believers, and, most notably, the Replacements, whose Pleased to Meet Me included their song "Alex Chilton." Dickinson remained active in the years to follow, working with the likes of Primal Scream, Mudhoney, and Rocket from the Crypt; his sons Luther and Cody also pursued careers in music, forming the band DDT and later leading the North Mississippi Allstars.
Dickinson's rare solo albums included 1972's Dixie Fried on Atlantic Records, a live set, A Thousand Footprints in the Sand, released in 1997 by Last Call Records, 2002's Free Beer Tomorrow from Artemis Records, and 2006's Jungle Jim and the Voodoo Tiger from Memphis International, the latter of which found Dickinson backed by his sons Luther and Cody, 2007's Killers from Space and 2008's Dinosaurs Run in Circles. Dickinson died August 15, 2009 of heart complications in Memphis, Tennessee at the age of 67, closing out a varied and impressive musical career that had lasted over four decades. In the summer of 2012, I'm Just Dead, I'm Not Gone was released. Recorded live in Memphis 2006, Dickinson was backed by sons' band, the North Mississippi Allstars.
Talents : Piano, Keyboards, Producer
Style musical : Rock 'n' Roll, Southern Rock, Honky Tonk
Years in activity :
| | | | | | | | | | |
| --- | --- | --- | --- | --- | --- | --- | --- | --- | --- |
| 1910 | 20 | 30 | 40 | 50 | 60 | 70 | 80 | 90 | 2000 |
DISCOGRAPHY
Albums
1972
LP 12" ATLANTIC 8299 (US)
DIXIE FRIED - Wine / The Strength Of Love / Louise / John Brown / Dixie Fried / The Judgement / O How She Dances / Wild Bill Jones / Casey Jones (On The Road Again)
1997
CD LAST CALL 301839 (US)
A THOUSAND FOOTPRINTS IN THE SAND - Jim DICKINSON with Chuck PROPHET & The CREATURES OF HABIT - Money Talks / Down In Mississippi / Down And Out / K.C. Jones / Pain And Strain / Wild Bill Jones / Fraulein / Wildwood Boys / Across The Borderline / Gypsy / Rockin' Daddy / Memories Of France
2002
CD ARTEMIS 751148 (US)
FREE BEER TOMORROW - JC's New York City Blues / Bound To Lose / Hungry Town / It's Rainin' / Asshole / Last Night I Gave Up Smoking / If I Could Only Fly / Ballad Of Billy And Oscar / Well Of Love / Home Sweet Home
05/2006
CD BIRDMAN 089 (US)
FISHING WITH CHARLIE AND OTHER SELECTED READINGS - Congo / Clay Wingate's Dream / Weary Blues / Johnny Kellogg (Youngest Defender Of Tejas) / Coming Through Slaughter / Girl Singer / Maggie Cassidy / Tom's Closing Speech / Fishing with Charlie / Those Sounds
05/2006
CD MEMPHIS INT'L 0215 (US)
JUNGLE JIM AND THE VOODOO TIGER - James Luther DICKINSON - Red Neck, Blue Collar / Truck Drivin' Man / Violin Bums / Out Of Blue / Love Bone / Hadacol Boogie / Rooster Blues / White Silver Sands / Can't Beat The Kid, Pt. 2 / Somewhere Down The Road / Samba De Orfeo
09/2007
CD MEMPHIS INT'L 0220 (US)
KILLERS FROM SPACE - James Luther DICKINSON - Texas Me / Dirty On You, Mama / Nature Boy / Eloise / You Better Rock Me Baby / Lonely Nights / I Need You / Roly Poly / Morning After The Night Before / No, No Never Again / I Was A Champion / Sweet Peace Within
2008
CD MEMPHIS INT'L 0222 (US)
DINOSAURS RUN IN CIRCLES -

Early In The Morning / Coleslaw / Easy Street / The Gypsy / Save The Bones For Henry Jones (Cause He Don't Eat No Meat) / Who Threw The Whisky In The Well / It's The Talk Of The Town / A Chicken Ain't Nothing But A Bird / Hard Times (No One Knows Better Than I) / When You Wish Upon A Star

07/2012
CD MEMPHIS INT'L 228 (US)
I'M JUST DEAD I'M NOT GONE - James Luther DICKINSON / JIM Dickinson / NORTH MISSISSIPPI ALLSTARS -

Money Talks / Ax Sweet Mama / Codine / Red Neck, Blue Collar / Kassie Jones, Pt. 1 / Rooster Blues / Never Make Your Move Too Soon / Truck Drivin' Man / Down In Mississippi
© Rocky Productions 28/02/2013