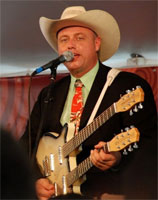 Guitariste Rockabilly US né Derek Dickerson le 3 Juin 1968 à Creve Coeur, St. Louis (Missouri).

A native of Creve Coeur, St. Louis, MO, Deke Dickerson was born June 3, 1968. Growing up on a farm gave him an interesting slant on life and certainly contributed to his love of all things retro. By age 13, Dickerson's musical abilities began to show themselves. Playing in bands around his home town allowed the budding prodigy to nurture his growing talent. At 17, he and some friends from high school formed their own band, Untamed Youth, a garage band that favored surf guitar licks. During the course of time Untamed Youth was together, they operated as a national touring act and released four indie recordings while gaining a strong reputation in the Midwest. But Dickerson wanted more and moved to the West Coast in 1991. He soon became entrenched in the L.A. roots and rockabilly scene and eventually hooked up with the equally talented Dave Stuckey, another Midwesterner who had transplanted his talent to the West Coast. Together they formed one of the premier hillbilly duos to come out of Los Angeles and released two projects, the second being the highly acclaimed CD, Hollywood Barn Dance.
While with Stuckey, Dickerson's expertise as a guitarist began to evolve into the definitive Dickerson style. Part rockabilly, part surf, and rock & roll with a strong dash of the Roy Nichols jazzy style of country guitar, Dickerson put his mark on his brand of guitar playing. Sadly, he needed to move on yet again in spite of the success of Dave & Deke and the overwhelming emotional connection their audiences seemed to feel for the twosome. Parting ways was difficult and their last performance on a hot summer's evening in 1996 at Jacks Sugar Shack, located at the corner of Hollywood & Vine in Hollywood, proved to be a hearbreaking experience for the SRO crowd. Yet, Dave & Deke never sounded better. While tears were shed, both looked toward a future as solo artists.
Under the watchful eye of manager Allen Larman, the same man who guided the career of Big Sandy & His Fly-Rite Boys to success, Deke Dickerson spent the next year seeking out a band to join him on-stage and in the studio. He had a vision built upon the sounds he loved from days gone by, and found his dream band in a unit that he christened the Ecco-Fonics. Armed with his "trademark custom double-neck Mosrite guitar", Deke & the Ecco-Fonics began to meld together and played all around Los Angeles, Orange County, and the West Coast. They were featured at such roots music spectaculars as the Irvine, CA annual Fourth of July Hootenanny and the Viva Las Vegas rockabilly spectacle in Las Vegas, NV.
An accomplished engineer and studio producer, in 1998 Dickerson went into the studio in order to produce a solo project by the Fly-Rite Boys sans Big Sandy. Another critical success, Dickerson was ready to take the Ecco-Fonics into the studio and record his first solo effort. The result of those sessions in 1998 was the fall release of Number One Hit Record on HighTone's HMG label. More Million Sellers followed a year later; Rhythm, Rhyme & Truth was released in fall 2000.
http://www.myspace.com/dekedickerson
https://en.wikipedia.org/wiki/Deke_Dickerson
Talents : Guitar
Style musical : Rockabilly, Alternative/Indie Rock, Retro Swing, Roots Rock

http://youtu.be/LUzzpKi4Fio
Years in activity :
| | | | | | | | | | | | |
| --- | --- | --- | --- | --- | --- | --- | --- | --- | --- | --- | --- |
| 1910 | 20 | 30 | 40 | 50 | 60 | 70 | 80 | 90 | 2000 | 10 | 20 |
DISCOGRAPHY
Singles & EP
1995
SP ESTRUS ES772 (US)

Asphalt Aisle / Midnight Swell

1996
SP ECCO-FONIC EF-1001 (US)
T.J. Tuck And Roll / This Is Ecco Fonic
1996
SP ECCO-FONIC EF-1003 (US)
Swingin' In Outher Space / Diggin'It
1997
EP ECCO-FONIC EF-1009 (US)
SOLID SENDER - Beatin' On The Bars / Solid Sender / Sparkin' / Double Zombie
1997
SP ECCO-FONIC EF-1013 (US) (fan club single)
.
Bottoms Up
1998
SP R&R INC RNRINC 717 (S)

2 SMASH HITS - Tulsa Baby / Look At That Moon

2004
SP SPINOUT 45-016 (US)
.
Deke DICKERSON & LOS STRAITJACKETS - Town Without Pity / Bad Reputation
06/2006
SP PRESTON / ECCO-FONIC 1015 (US)
DEKE DOWN UNDER ! - My Baby Don't Love Me Anymore / Cut Loose / Eefin' Rock / Hey Worm
2012
SP MAJOR LABEL RECORDINGS ML45-1 (US)
Deke DICKERSON & The BO-KEYS - COUNTRY MEETS SOUL -

Love Man / Hello Darlin'

01/2013
SP Major Label ML45-2 (US)

I'm A Trashman - Deke Dickerson & The Trashmen - I'm A Trashman / Torture / Bop A Lena / Brewski
Albums
10/1998
CD HMG 3005 (US)
NUMBER ONE HIT RECORDS - Deke DICKERSON AND THE ECCO-FONICS - Mexicali Rose / Can't See The Forest For The Trees / Hot Rod Queen / Snatch It & Grab It / Lady Killin' Papa / Feelin' Low / What's That Cookin' / Jumpin' Bean (ECCO-FONICS & Larry COLLINS) / The End Of The Line / Sparkin' / Introduction (ECCO-FONICS with Claude TRENIER) / Poontang / Guitar In Orbit, Pt. 37 / I Gotta Date To Cut A Cake / Peroxide Blonde / Long Time In The Ground
10/1999
CD HIGHTONE 8110 (US)
MORE MILLION SELLERS - Deke DICKERSON AND THE ECCO-FONICS - Let The Good Times Roll / The Hatchet Man / I'm A Wreck / Rockin' Gypsy (ECCO-FONICS & Jonny NOBLE) / Nightmare Of A Woman (DEKE & JOHNNY, Billy ZOOM & the ECCO-FONICS) / Broken Down & Broken Hearted / I Gave My Heart Before / My Name Is Deke / You're My Cadillac (ECCO-FONICS & Hadda BROOKS) / Mean Son Of A Gun / So Long, I'm Gone / Tropical Island Boogie Serenade / I Think You Gotta Pay For That (ECCO-FONICS & Sonny LEYLAND) / Red Headed Woman / Closing Theme from Jerry Scoggins / Radio Spots for Disc Jockeys
10/2000
CD HMG 3013 (US)
RHYTHM, RHYME & TRUTH - Deke DICKERSON AND THE ECCO-FONICS - Will You Be Mine / Beat Out My Love / Have Blues Will Travel / Hot Rodder's Lament / Heartbreaker Of The Town / (If I Go To Heaven) Give Me A Brunette / Hello Blues / Where To Aim / C-A Boogie / Don't Push Me Too Far / Wang Dang Dula / I'm Lonesome / Headin' On Down The Road / Speedin' On Keystone / Where Am I Goin?
09/2003
LP 12" MAJOR LABEL RECORDINGS 104 / CD MAJOR LABEL RECORDINGS 001 (US)
IN 3-DIMENSIONS ! - I Might Not Come Home At All / Top Of The Line / Ain't Got A Reason / I Get So Lonely / Sittin' And Thinkin' / Wear Out The Soles Of My Shoes / Take The Long Way Home / It Would Be A Doggone Lie / Let's Go Wild Tonight / Bitter Tears / You've Been Honky Tonkin' / Too Hot To Handle / Knoxville Boogie / Gambler's Guitar / Pinball Boogie / Gentlemen Prefer Blondes / I'm Gonna Live Some Before I Die
09/2003
CD ROCK & ROLL INC. 20 (S)
MISTER ENTERTAINMENT - Burbank Hillbilles Theme / World's Greatest Sinner / Ain't Got A Pot / Your Love's Like A Faucet / Sparkin'

[original version]

/ Double Zombie / Run Boy Run / Wishing Star / Mean Little Mama / Bottoms Up / If Teardrops Were Pennies / Switchblade Stomp / I Love Rock & Bowl / Trick Fueler / Foolish Thoughts / Find My Baby For Me / One Way Ticket / El Cumbanchero / In The Ghetto (In Tacoma) / Blistered / All Dressed Up / Wiggle Wobble / She's So Fine / Muleskinner Blues
06/2004
CD HIGHTONE 8171 (US)
MY NAME IS DEKE - Mexicali Rose / Hot Rod Queen / What's That Cookin' / Can't See The Forest For The Trees / Feelin' Low / Poon-Tang (with Claude TRENIER) / Sparkin' / Snatch It & Grab It / Rockin' Gypsy / Red Headed Woman / My Name Is Deke / Nightmare Of A Woman (with Billy ZOOM) / I Gave My Heart Before / Hot Rodder's Lament (with the CALVANES) / Beat Out My Love / Hello Blues / Will You Be Mine / Where To Aim (with the CALVANES) / Headin' On Down The Road / Where Am I Goin'? / Muleskinner Blues
05/2005
CD MAJOR LABEL RECORDINGS 2 (US)
THE MELODY BY DEKE DICKERSON - Heart Broken / Good Time Gal / Right Or Wrong / Looks Like I'm In Trouble Again / As Long As I Live / Safely In Love / Love Is Like A Song / Someone Used To Love Me / Mister Cheater / Waitin' On My Baby / Give Me All Your Love / Tell Me How / Double Naught Spy / Lookin' For Money / I Never Cared For You
05/2008
CD MAJOR LABEL RECORDINGS 3 (US)
KING OF THE WHOLE WIDE WORLD - King Of The Whole Wide World (introduction) / Deep River / I Can't Wait To See You (Go) / Misshapen Hillbilly Gal (with LUCKY STARS) / Put Me Down / Boone County Blues / Make Way For A Better Man / Itchin' For My Baby / Do You Think Of Me (with Mary HUFF) / Fool's Gold / Trumpet / Early For The Bell / Bomb Shelter (For My Heart) / Double-Clutchin' / King Of The Whole Wide World (reprise)
08/2010
CD MAJOR LABEL RECORDINGS 4 (US)
LIVE AT DUFF'S -

DEKE DICKERSON & THE MODERN SOUNDS -

Intro & Mexicali Rose / Snatch It & Grab It / Early American / Run Red Run / I'm A Lover Not A Fighter / Ain't No Grave Deep Enough / Good Time Gal / Misshapen Hillbilly Gal / I'll Go Down Swingin' / Honky Tonk Nighttime Man / Make Way For A Better Man / End Of The Road / Lover Come Back To Me / Hello Darlin' / I Never Cared For You / El Cumbanchero / Muleskinner Blues
2010
2 CD FLOATING WORLD LOATM 6158 (UK)
NUMBER ONE HIT RECORDS & MORE MILLION SELLERS - Deke DICKERSON AND THE ECCO-FONICS :

CD1 : Mexicali Rose / Can't See The Forest For The Trees / Hot Rod Queen / Snatch It & Grab It / Lady Killin' Papa / Feelin' Low / What's That Cookin' / Jumpin' Bean (ECCO-FONICS & Larry COLLINS) / The End Of The Line / Sparkin' / Introduction (ECCO-FONICS with Claude TRENIER) / Poontang / Guitar In Orbit, Pt. 37 / I Gotta Date To Cut A Cake / Peroxide Blonde / Long Time In The Ground
CD 2 : Let The Good Times Roll / The Hatchet Man / I'm A Wreck / Rockin' Gypsy (ECCO-FONICS & Jonny NOBLE) / Nightmare Of A Woman (DEKE & JOHNNY, Billy ZOOM & the ECCO-FONICS) / Broken Down & Broken Hearted / I Gave My Heart Before / My Name Is Deke / You're My Cadillac (ECCO-FONICS & Hadda BROOKS) / Mean Son Of A Gun / So Long, I'm Gone / Tropical Island Boogie Serenade / I Think You Gotta Pay For That (ECCO-FONICS & Sonny LEYLAND) / Red Headed Woman / Closing Theme from Jerry Scoggins / Radio Spots for Disc Jockeys

02/2011
CD MAJOR LABEL RECORDINGS ? (US)
SOUNDTRACK TO THE MOTION PICTURE - THE WILD AND WONDERFUL WHITES OF WEST VIRGINIA - Mama / Train To Nowhere / West Virginia White Boy / Asphalt Aisle / Sorrow And Pain / Whose Baby Are You, Baby? / Medley: Theme Of Violence and Party At My Pad / I Love My Job / Darkness Breeds Contempt / Diggin' It / Moss On The Trees / Fortified Wine / Lonely Holler / Oh Dem Pills / Sorrow And Light / Mourning Light / West Virginia White Boy (instrumental track) / West Virginia Turnpike (unreleased demo) / Mousey Spy Theme (unreleased demo) / Guns Of Boone County (unreleased demo)
2012
LP 12" MULESKINNER MLP 001(US)
GREATEST HITS - VOLUME 1 -

Mexicali Rose / Red Headed Woman /

Beat Out My Love / Might Not Come Home At All / Wear Out The Soles Of My Shoes / Misshapen Hillbilly Gal / Rockin' Gypsy / Good Time Gal /

Look At That Moon /

Nightmare Of A Woman / Can't See The Forest For The Trees /

Sparkin' /

Hot Rodder's Lament / Muleskinner Blues

10/2014
CD YEP ROC YEP 2407 (US)
Deke Dickerson Sings the Great Instrumental Hits! - Deke Dickerson / Los Straitjackets - Fury / Honky Tonk / Magic Star / Theme from a Summer Place / Perfidia / Apache / Miserlou / Kawanga / Wild Weekend / You Can Count On Me / Walk, Don't Run / Popcorn / Sleepwalk / Pipeline
2014
CD Major Label MLCD-008 (US)

Bringing Back The Trash! - Deke Dickerson & The Trashmen - Olds-Mo-William / I'm A Trashman / Lotta Lovin' / Good News / Mother Trucker / Flippin' The Bird / Land O' Lakes / Real Wild Child / Psycho Bird / Brewski / Red '55 / White Lightnin' / Claudette / My Baby Does The Bird / Think Link / Bucket T
© Rocky Productions 7/08/2015