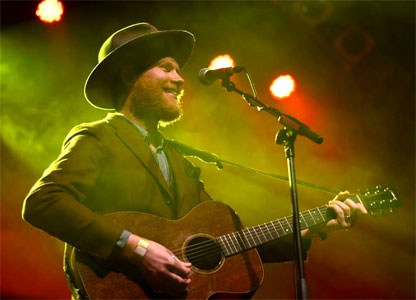 Chanteur Country US de Waco (Texas).

Hailing from Waco, Texas, New York-based singer/songwriter Jarrod Dickenson was first exposed to music via his father's record collection, listening to the Beatles, the Who, and the Rolling Stones before finding his way to classic American blues. Picking up the guitar at the age of 18, Dickensonstarted immediately writing his own material; while shifting his listening habits and focusing on the likes of Bob Dylan, Hank Williams, and Townes Van Zandt to inform his own songs. While in his final year at university, Dickenson wrote and recorded his debut album, 2008's Ashes on the Ground. Heading out in support of the release, he found himself in Nashville, where he recorded a handful of songs, including "Walking in Central Park." Dickenson entered the song in the 2011 Belfast Nashville Songwriters competition in Northern Ireland -- he won the grand prize and headed to Europe to play in Belfast for the first time.
Returning to the U.S., he relocated to Los Angeles to record his sophomore album. Drafting in Grammy-winning producer Ryan Freeland (Aimee Mann, Ray LaMontagne) and a select group of backing musicians, he recorded the more country-leaning The Lonesome Traveler. 2012 saw him head back to Europe -- with dates in London and once again at the Belfast Nashville competition -- before relocating to New York. Dickenson headed back and forth across the Atlantic over the next couple of years to tour before releasing the 2014 EP, Songs from Willow St. An EP, An Evening in the Sun, appeared the following year and captured Dickenson playing live at the legendary Sun Studios in Memphis. With his profile expanding in the U.K., he headed back over to tour with the likes of Don McLean and the Waterboys, as well as playing a slot at 2015's Glastonbury Festival. Although courted by major labels, Dickenson continued on his own and set about recording his third album, this time in Eastbourne, U.K. Recording to 2" tape to give the release an authentic analog feel, the resulting country-soul and folk-referencing Ready the Horses was finally released in late 2017 by Decca.
https://www.jarroddickenson.com/
https://www.facebook.com/jarroddickensonmusic/
Talents : Vocals, Guitar, Songwriter
Style musical : Contemporary Country, Contemporary Folk, Pop/Rock

https://youtu.be/IN_1fQuv7r0
Years in activity :
| | | | | | | | | | | |
| --- | --- | --- | --- | --- | --- | --- | --- | --- | --- | --- |
| 1910 | 20 | 30 | 40 | 50 | 60 | 70 | 80 | 90 | 2000 | 10 |
DISCOGRAPHY
EP
| | | | |
| --- | --- | --- | --- |
| 2014 | CD ASCAP B61708 (US) | | Songs From Willow St - Your Heart Belongs To Me / Take A Breath / Misty Eyes / Take Me At My Word |
Albums
| | | | |
| --- | --- | --- | --- |
| 2012 | CD NOT ON LABEL ? (US) | | The Lonesome Traveler - Ain't Waiting Any Longer / The Northern Sea / No Work For A Working Man / Rosalie / Back To Eden / I Remember June / Little Black Dress / Come What May / Bravery (A Little Bottle Of Gin) / Ballard Of The Lonesome Traveler / The Walking Bridge / Season's Change |
| 09/2017 | CD Decca 5769151 (US) | | Ready the Horses - Faint Of Heart / Take It From Me / Your Heart Belongs To Me / Way Past Midnight / In The Meantime / California / Gold Rush / A Cowboy & The Moon / Nothing More / I Won't Quit |
© Rocky Productions 9/04/2018