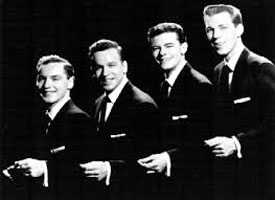 Groupe Dow Wop Canadien formé en 1953 à Toronto, composé de Ted Kowalski (né le 16 Mai 1931, décédé le 8 Août 2010), Phil Leavitt (né le 9 Juillet 1935), Bill Reed (né le 11 Janvier 1936, décédé le 22 Octobre 2004) et Dave Somerville. Les Diamonds se sont dissous en 1962, pour être reformer dans les années soixante-dix par Bob Duncan. Mike Douglas a remplacé Levitt en 1958, Evan Fisher a remplacé Reed en 1959, John Felton a remplacé Kowalski en 1959, puis Glen Stetson a remplacé Felton

The Diamonds, four gentlemen from Toronto, Canada, were one of the most popular singing groups of the 1950s. This versatile group was signed to Mercury Records and was designated to cover the recordings of black artists, as was often the practice in those days because many radio stations wouldn't play "black" songs. Proving they were up to the task, they put 16 hits on the charts of Billboard, three going gold: "Little Darlin", "Silhouettes" and "The Stroll". They even showed up on the R&B charts. Group members were David Somerville, lead; Ted Kowalski, tenor; Phil Levitt; baritone; and Bill Reed, bass. Kowalski and Levitt were students at the University of Toronto, Somerville was a radio engineer at the Canadian Broadcasting Corp. (CBC) and Reed was employed by the telephone company.
In the fall of 1953 Somerville met this unnamed group in the hall of the CBC. The group was in its original form, with Stan Fisher as lead singer, and they were going to audition for a CBC show called "Pick the Stars". Being a trained singer, Somerville thought they weren't ready for the show and offered to tutor the guys and help them along. He got them practice time in "unoccupied" studios and also had connections for professional arrangements. Thing were moving along until the group was scheduled to sing at a Christmas party at a local church. As it turned out, lead singer Fisher opted out to study for an exam the next day. Since Somerville knew all the songs, he took the lead--literally--and the group was an overwhelming success. The decision to go professional came quickly. Fisher decided not to continue with the group. With their new lead Somerville, The Diamonds were about to hit the scene.
They, like most artists of that day, were not an overnight success. They worked hard, developing their craft, learning "barbershop quartet" singing from Bill's dad, also a bass singer. Whenever possible they would get together with a black gospel group called The Revelaires, from Detroit. As The Diamonds have said, "This was the group that had the most effect on our singing; they taught us not to be so square".
After school in the spring of 1954 Ted and Phil decided not to go back in the fall. The guys wanted to get serious about their singing, and this gave them more time to practice. Dave's connections introduced them to Nat Goodman, a professional classical musician who took the group under his management. It was at this point that Dave and Bill quit their jobs and the group began to polish its repertoire. With a performance and a win on the Arthur Godfrey show "Talent Scouts" (1948), and a week guest-starring on Godfrey's radio show, they soon were signed to a four-song contract with Coral Records. A later introduction to Cleveland disc jockey 'Bill Randle', who got them a long-term contact with Mercury Records. In 1956 they had four charted hits before their 1957 hit, "Little Darlin'". This was the song that made them a household name. It also landed them in the teen musical The Big Beat (1958), and they also sang the theme song for the films Kathy O' (1958) and La guerre en dentelles (1962). Their contract with Mercury produced over 60 singles, two original albums and several compilation albums. Even today they still pop up on a soundtrack from a movie.
By 1961 all the original members had left the group, but The Diamonds still continued. Ted and Phil went back to school at the University of Toronto and Bill got on the other side of the record business. Only Dave continued his singing, adapting to the ever-changing music scene. The original members would get together for an occasional oldies reunion, but it wasn't until an appearance in the PBS special Doo Wop 51 (2001) (TV) did they once again gain national attention. That was followed with an appearance in another PBS special, Magic Moments: The Best of 50's Pop (2004) (TV). Fortunately these two programs are available on video and DVD, since there isn't much footage of this fun, energetic group available prior to those two shows.
Talent :s Ted Kowalski : Tenor - Phil Levitt : Baritone - Bill Reed : Bass - Dave Somerville : Lead
Style musical : Doo Wop

http://youtu.be/dUqX1vFNVyE
LITTLE DARLIN' (1957)

DADDY COOL (1957)

THE STROLL (1957)

WALKING ALONG (1958)
Years in activity :
| | | | | | | | | | | |
| --- | --- | --- | --- | --- | --- | --- | --- | --- | --- | --- |
| 1910 | 20 | 30 | 40 | 50 | 60 | 70 | 80 | 90 | 2000 | 10 |
DISCOGRAPHY
Singles & EP
1955
SP CORAL 9-61502 (US)
.
Black Denim Trousers And Motorcycle Boots / Nip Sip
1955
SP CORAL 9-61577 (US)
.
Be My Lovin' Baby / Smooch Me
01/1956
SP MERCURY 70790X45 (US)
.
Why Do Fools Fall In Love / You Baby You
03/1956
SP MERCURY 70835X45 (US)
.
The Church Bells May Ring / Little Girl Of Mine
05/1956
SP MERCURY 70889X45 (US)
.
Ev'ry Night About This Time / Love, Love, Love
07/1956
SP MERCURY 70934X45 (US)
.
Ka Ding-Dong / Soft Summer Breeze
10/1956
SP MERCURY 70983X45 (US)
.
My Judge And My Jury / Put Your House In Order
12/1956
SP MERCURY 71021X45 (US)
.
A Thousand Miles Away / Ev-ry Minute Of The Day
02/1957
SP MERCURY 71060X45 (US)
.
Faithful And True / Little Darlin'
05/1957
SP MERCURY 71128X45 (US)
.
Don't Say Goodbye / Words Of Love
07/1957
SP MERCURY 71165X45 (US)
.
Oh, How I Wish / Zip Zip
09/1957
SP MERCURY 71197X45 (US)
.
Daddy Cool / Silhouettes
1957
SP MERCURY 45223 (CAN)
.
Straight Skirts / Patsy
12/1957
SP MERCURY 71242X45 (US)
.
Land Of Beauty / The Stroll
1957
EP MERCURY 1-3356 (US)
Shoo Ya Blues / You Are The Limit / My Dog Like Your Dog / Oh, How I Wish
1957
EP MERCURY 1-3357 (US)
Honey Bird / For You Alone / Zip Zip / Cool, Cool Baby
1957
EP MERCURY 14168 (F)
You Baby You / Why Do Fools Fall In Love / Ev'ry Night About This Time / + Lola DEE
1957
EP MERCURY 14189 (F)
Faithfull And True / Little Darlin' / Don't Say Goodbye / Words Of Love
1957
EP MERCURY MEP 9515 (UK)

PRESENTING THE DIAMONDS - Little Darlin' / The Church Bells May Ring / Ka-Ding-Dong / Soft Summer Breeze

1957
EP MERCURY EP 60046 (I)
1957
EP MERCURY EP-052 (ISR)
Only You (PLATTERS) / I'm Sorry (PLATTERS) / The Church Bells May Ring (DIAMONDS) / Limbo (DIAMONDS)
03/1958
SP MERCURY C-30050X45 (US)
.
Little Darlin' / The Church Bells May Ring
04/1958
SP MERCURY 71291X45 (US)
Dont Let Me Down / High Sign
06/1958
SP MERCURY 71330X45 (US)
.
Happy Years / Kathy-O
09/1958
SP MERCURY 71366X45 (US)
.
Eternal Lovers / Walking Along
1958
EP MERCURY 1-3358 (US)
Till My Baby Comes Home / Girl Of Mine / One And Only / Honey
1958 ?
EP MERCURY 1-3367 (US)

AMERICA'S NUMBER ONE SINGING STYLISTS - Silhouettes / Daddy Cool / Passion Flower / Sweet Wild Honey

1958
EP MERCURY 14196 (F)
The Stroll / One And Only / Ka-Ding-Dong / Zip Zip
1958
EP MERCURY 14197 (F)
Daddy Cool / Cool, Cool Baby / Honey Bird / For You Alone
1958
EP MERCURY 14198 (F)
Silhouettes / You Are The Limit / My Dog Likes Your Dog / Soft Summer Breeze
1958 ?
EP MERCURY EP 60091 (I)

Little Darlin' / Faithful And True / Don't Say Goodbye / Words Of Love

1959
SP MERCURY 71404X45 (US)
.
From The Bottom Of My Heart / She Say
1959
SP MERCURY 71449X45 (US)
.
A Mother's Love / Gretchen
06/1959
SP MERCURY 71468X45 (US)
.
Holding Your Hand / Sneaky Alligator
1959
SP MERCURY 71505X45 (US)
.
The Twenty Second Day / Young In Years
1959
SP MERCURY 45325 (CAN)
.
Oh Carol / Believe Me
1959
SP MERCURY 71534X45 (US)
.
Walkin' The Stroll / Batman, Wolfman, Frankenstein Or Dracula
1959
EP MERCURY ZEP 10026 (UK)

THE DIAMONDS ARE TRUMPS - From The Bottom Of My Heart / She Say (Oom Dooby Doom) / Gretchen / A Mother's Love

1959
EP MERCURY EP 60100 (I)

Silhouttes / Daddy Cool / Passion Flower / Sweet Wild Honey

1959
EP MERCURY MG-10 114 (S)

THE PLATTERS - THE DIAMONDS - PLATTERS : Winner Take All (El Ganador Se Lleva Todo) / My Dream (Mi Sueño) / DIAMONDS : Straight Skirts / Patsy

1959
EP MERCURY MG-10.117 (S)

She Say (Oom Dooby Doom) (Ella Dice) / Don't Let Me Down (No Me Dejes) / From The Bottom Of My Heart (Desde El Fondo De Mi Corazón) / Every Night About This Time (Todas Las Noches A Esta Hora)

1960
SP MERCURY 71586X45 (US)
.
Real True Love / Tell The Truth
1960
SP MERCURY 45349 (CAN)
.
Passion Flower / San Antonio Rose
1960
SP MERCURY 71633X45 (US)
.
Slave Girl / Pencil Song
11/1960
SP MERCURY 71734 (US)
.
The Crumble / You'd Be Mine
196?
EP MERCURY 1-4038 (US)
THE DIAMONDS' GOLDEN HITS - Little Darlin' / Churchs Bells May Ring / The Stroll / Why Do Fools Fall In Love
1960
EP MERCURY 14218 (F)
Sneaky Alligator / Gretchen / Holding Your Hand / A Mother's Love
1961
SP MERCURY 71782 (US)
.
I Sho Lawd Will / You Short Changed Me
1961
SP MERCURY 71818 (US)
.
Munch / Woomai
1961
SP MERCURY 71831 (US)
.
It's A Doggone Shame / One Summer Night
1962
SP MERCURY 71956 (US)
.
The Horizental Lieutenant / Vanishing American
1968
SP MERCURY C-30132 (US)
.

Walking Along / Zip Zip

1979
SP GUSTO GT4-2019 (US)
.
The Stroll / Little Darlin'
1982
SP ARC 022-82 (NL)

By Request Great Oldies -

Little Darlin' (DIAMONDS) / Chantilly Lace (Big BOPPER)
1986
SP ERIC 4116 (US)
.
The Stroll / Little Darlin'
1986
SP COLLECTABLES COL 4237 (US)
.
Lover Please (Clyde McPHATTER) / She Say (Oom Dooby Doom) (

Diamonds

)
Albums
1957
LP 12" MERCURY MG-20309 (US)
AMERICA'S NUMBER ONE SINGING STYLE - Til My Baby Comes Home / Shoo Ya Blues / Oh, How I Wish / One And Only / Honey / Girl Of Mine / Honey Bird - For You Alone / My Dog Likes Your Dog / Zip Zip / Cool, Cool Baby / You Are The Limit
1958
LP 12" MERCURY MG-20368 (US)
THE DIAMONDS MEET PETE RUGOLO - Wrap Your Troubles In Dreams (And Dream Your Troubles Away ) / Baby Won't You Please Come Home / The Best Things In Life Are Free / Ain't Misbehavin' (I'm Savin' My Love For You) / Until The Real Things Comes Along / I'll Always Be In Love With You / Will You Still Be Mine / Tenderly / For All We Know / One For My Baby (And One More For The Road) / Lulu's Back In Town / You'll Never Walk Alone
1959
LP 12" WING MGW-12114 (CAN)
AMERICA'S FAMOUS SONG STYLISTS - The Stroll / You Baby You / Ev'ry Night About This Time / Ka-Ding-Dong / A Thosand Miles Away / Ev'ry Minute Of The Day / Little Darlin' / Faithful And True / Straight Skirts / Silhouettes / Passion Flower / Daddy Cool
1960
LP 12" MERCURY MG-20480 (mono) / SR-60159 (stereo) (US)
SONGS FROM THE OLD WEST - Cool Water / San Antonio Rose / Beautiful Brown Eyes / High Noon / Wagon Wheel / Gold Mine In The Sky / My Little Buckaroo / Cattle Call / Empty Saddles / Streets Of Laredo / Train Of The Lonesome Pine / Home On The Range
1962
LP 12" WING MGW-12178 (CAN)
POP HITS BY THE DIAMONDS - High Sign / Patsy / Little Girl Of Mine / Moonglow / Land Of Beauty / I'll Always Be In Love With You / Words Of Love / Sweet Wild Honey / Don't Say Goodbye / Don't Let Me Down / Eternal Lovers / Streets Of Laredo
1984
LP 12" RHINO RNDF 209 (US)
BEST OF THE DIAMONDS - Little Darlin' / Church Bells May Ring / Why Do Fools Fall In Love / Words Of Love / Ka-Ding Dong / Silhouettes / Daddy Cool / The Stroll / Love Love Love / High Sign / Zip Zip / She Say (Oom Dooby Doom) / Kathy-O / Walking Along
1993
CD ? (US)
SILHOUETTES FROM THE PAST - Crocodile Rock / Come Go With Me / One Summer Night / Buddy Holly Medley / Walkin' Along / Ka-Ding Dong / Trickle, Trickle / Silhouettes / Barbara Ann / You Belong To Me / Rock And Roll Heaven
1995
CD ? (US)
WE'RE STILL ROCKIN' - American Rock And Roll / Zip Zip / Elvis Presley Medley / Little Darlin' / So In Love / Baby Come Back To Me / Day By Day / The Stroll / You've Lost That Lovin' Feeling / We're Still Rockin'
07/1996
CD POLYGRAM 532734 (US)
THE BEST OF THE DIAMONDS - THE MERCURY YEARS - Why Do Fools Fall In Love / The Church Bells May Ring / Cool, Cool Baby / Ka-Ding-Dong / My Judge And My Jury / Ev'ry Minute Of The Day / Little Darlin' / Zip Zip / Don't Say Goodbye / Words Of Love / Dance With Me / Daddy Cool / Silhouettes / The Stroll / Walking Along / High Sign / She Say (Oom Dooby Doom) / Batman, Wolfman,Frankenstein Or Dracula / Oh! Carol / Believe Me / Chimes In My Heart / One Summer Night
09/1996
CD STARDUST 1010 (US)
THE DIAMONDS COLLECTION - Black Denim Trousers And Motorcycle Boots / Smooch Me / Why Do Fools Fall In Love? / Church Bells May Ring / Love, Love, Love / Ka-Ding-Dong / Soft Summer Breeze / Little Darlin' / Words Of Love / Zip Zip / Silhouettes / Daddy Cool / Stroll / Straight Skirt / High Sign / Don't Let Me Down / Kathy-O / Happy Years / Walking Along / She Say (Oom Dooby Doom) / Sneaky Alligator / Oh! Carol / Walkin' (The Stroll) / Batman, Wolfman, Frankenstein Or Dracula / One Summer Night
1998
CD ? (US)
SILVER BELLS & DIAMONDS - Silver Bells Fanfare / Christmas Rock 'n' Roll Medley / Jingle Bells Medley / Deck The Halls Medley / Silver Bells / Let It Snow / Boots And Stockings / What Can I Give You This Christmas / Sleigh Ride / Joy To The World Medley / White Christmas
1999
CD REMEMBER 14317 (US)
LITTLE DARLIN' - Why Do Fools Fall In Love / Church Bells May Ring / Love, Love, Love / Ka-Ding-Dong / Soft Summer Breeze / Little Darlin' / Words Of Love / Zip Zip / Silhouettes / The Stroll / High Sign / Kathy-O / Happy Years / Walking Along / She Say (Oom Dooby Doom) / One Summer Night / Black Denim Trousers And Motorcycle Boots / Smooch Me / Daddy Cool / Straight Skirt / Don't Let Me Down / Sneaky Alligator / Oh! Carol / Walkin' The Stroll / Batman, Wolfman, Frankenstein Or Dracula
1999
CD ? (US)
CLASSIC CUTS - Are You Ready? / Church Bells May Ring / Groups Of Four Medley / Ka-Ding Dong / Why Do Fools Fall In Love / A Thousand Miles Away / The Stroll / Walking Along / One Summer Night / Zip Zip / Bandstand Boogie / Silhouettes / Little Darlin'
1999
CD ? (US)
RADIO HEROES - At The Hop / Splish Splash / Elvis Presley Medley / Rock Around The Clock / Rockin' Robin / Sea Cruise / Blue Velvet / Buddy Holly Medley / Tequila / Chantilly Lace / Come Go With Me / Little Darlin' / Radio Heroes
04/2007
CD CANETOAD 013 (AUS)
SONGBOOK - Little Darlin / The Stroll / Silhouettes / Cool Cool Baby / The Church Bells May Ring / Why Do Fools Fall In Love / Love Love Love / Daddy Cool / Black DeNim Trousers & Motorcycle Boots / Passion Flower / Straight Skirt / One And Only / Where Mary Go / Kathy-O / You Are The Limit / Honey / Oh How I Wish / Sweet Wild Honey / Words Of Love / Ill Always Be In Love With You / Walking Along / Dont Let Me Down (Chicklets) / Happy Years / High Sign / She Says (Oom Dooby Doom) / Eternal Lovers / Sneaky Alligator / Walkin The Stroll / Batman, Wolfman, Frankenstein Or Dracula / Land Of Beauty / One Summer Night / Youd Be Mine / The Horizontal Lieutenant
2008
CD Blue Label SPV 50982 CD (EUR)
The Nutmegs Meet The Diamonds - Nutmegs : Let Me Tell You / Hello / You're Crying / I Like To Cha Cha / Down To Earth / Roseanne / Why Must We Go To School / Shifting Sands / Out Of My Heart / Wide Hoop Skirts / The Way Love Should Be / Down In Mexico / My Sweet Dreams / Story Untold / Whispering Sorrows /

Diamonds

: Daddy Cool / Walking Along / The Stroll / Dance With Me / Little Darling / Words Of Love / Cool Cool Baby / Why Do Fools Fall In Love / Ev'ry Minute Of The Day / My Judge And My Jury / Zip Zip / Silhouettes / Church Bells May Ring / Ka-Ding Dong / Don't Say Goodbye
12/2011
2 CD JASMINE 8801772 (UK)
THE STROLL :

CD 1 : Til My Baby Comes Home / Shoo Ya Blues / Oh, How I Wish / One And Only / Honey / Girl Of Mine / Honey Bird / For You Alone / My Dog Likes Your Dog / Zip Zip / Cool, Cool Baby / You Are The Limit / The Stroll / You Baby You / Ev'ry Night About This Time / Ka - Ding - Dong / A Thousand Miles Away / Ev'ry Minute Of The Day / Little Darlin' / Faithful And True / Straight Skirt / Silhouettes / Passion Flower / Daddy Cool / Black Denim Trousers And Motorcycle Boots / Why Do Fools Fall In Love / Church Bells May Ring / Love, Love, Love / Soft Summer Breeze / My Judge And My Jury / Words Of Love / Don't Say Goodbye / High Sign / Chick-Lets (Don't Let Me Down)
CD 2 :

Wrap Your Troubles In Dreams / Baby Won't You Plase Come Home / The Best Things In Life Are Free / Ain't Misbehavin' / Until The Real Thing Comes Along / I'll Always Be In Love With You / Will You Still Be Mine / Tenderly / For All We Know / One For My Baby (And One More For The Road) / Lulu's Back In Town / You'll Never Walk Alone / Cool Water / San Antonio Rose / Beautiful Brown Eyes / High Noon / Wagon Wheels / There's A Gold Mine In The Sky / My Little Buckaroo / Cattle Call / Empty Saddles / The Streets Of Laredo / The Trail Of The Lonesome Pine / Home On The Range / Dance With Me / Kathy-O / The Happy Years / Walking Along / She Say (Oom Dooby Doom) / Sneaky Alligator / Batman, Wolfman, Frankenstein, Or Dracula / The Best Things In Life Are Free / Ain't Misbehavin' / Until The Real Thing Comes Along / I'll Always Be In Love With You / Will You Still Be Mine / Tenderly / For All We Know

12/2016
4 CD One Louder AUPCD 4031
Doo Wop Dreams - The Platters, Dion & The Belmonts, The Coasters, The Diamonds :

CD 1 : Platters : The Great Pretender / My Prayer / Smoke Gets In Your Eyes / Twilight Time / (You've Got) The Magic Touch / Only You / Harbor Lights / Enchanted / You'll Never Know / I'm Sorry / To Each His Own / It Isn't Right / He's Mine / I'll Never Smile Again / My Dream / On My Word Of Honor / If I Didn't Care / One In A Million / Red Sails In The Sunset / Heaven On Earth / Remember When / I Wish / Winner Take All / You're Making A Mistake / Helpless / Wish It Were Me
CD 2 : Dion & The Belmonts : A Teenager In Love / I Wonder Why / No One Knows / A Lover's Prayer / Don't Pity Me / Every Little Thing / When You Wish Upon A Star / In The Still Of The Night / Where Or When / Dion : Runaround Sue / Lovers Who Wander / The Wanderer / Havin' Fun / Little Diane / (I Was) Born To Cry / Love Came To Me / The Kissin' Game / Little Miss Blue / Lonely Teenager / The Majestic / BELMONTS : Don't Get Round Much Anymore / Tell Me Why / Come On Little Angel / Diddle De Dum (What Happens When Your Love Is Gone) / I Need Someone
CD 3 : Coasters : Yakety Yak / Charlie Brown / Poison Ivy / Searchin' / Little Egypt (Ying-Yang) / Along Came Jones / Run Red Run / Young Blood / Turtle Dovin' / Zing! Went The Strings Of My Heart / Besame Mucho, Pt. 1 / (Ain't That) Just Like Me / Down In Mexico / Wait A Minute / Gee Golly / Idol With The Golden Head / If Teardrops Were Kisses / Sorry But I'm Gonna Have To Pass / Keep On Rollin' / Loop De Loop Mambo / Shopping For Clothes / Wake Me, Shake Me / What About Us / My Babe / (When She Wants Good Lovin') My Baby Comes To Me / Girls Girls Girls
CD 4 :

Diamonds :

Little Darlin' / The Stroll / Soft Summer Breeze / The Happy Years / High Sign / Ka-Ding-Dong / Kathy-O / A Beggar For Your Kisses / Silhouettes / Zip Zip / Church Bells May Ring / She Say (Oom Dooby Doom) / Ev'ry Night About This Time / Don't Say Goodbye / Oh, How I Wish / One Summer Night / Honey Bird / You Are The Limit / Til My Baby Comes Home / My Judge And My Jury / A Thousand Miles Away / One And Only / Walking Along / Words Of Love / Cool, Cool Baby / Black Denim Trousers & Motorcycle Boots
© Rocky Productions 19/03/2017