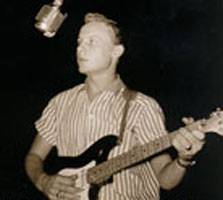 Chanteur US né le 13 Août 1938 à Cherokee (Alabama). Bobby Denton a enregistré chez Tune et Judd Records, deux labels de l'Alabama. Bobby E. Denton fut un membre démocrate du Sénat de l'Alabama, représentant le 1er arrondissement depuis 1978. Il prendra sa retraite du Sénat de l'État en 2010. Il détient un baccalauréat ès arts de l'Université de l'Alabama et est un ancien directeur du développement chez Northwest Shoals Community College à Muscle Shoals.
En 1997, le sénateur Denton est retourné à ses racines musicales et a commencé à enregistrer à nouveau.

US singer born August 13, 1938 in Cherokee (Alabama). Bobby E. Denton is a Democratic member of the Alabama Senate, representing the 1st District since 1978, and is currently the Dean of the Senate, an honorary title. He has a Bachelor of Arts from the University of Alabama and is a previous Director of Development at Northwest Shoals Community College in Muscle Shoals. Denton will retire from the State Senate in 2010.
Senator Denton is also known as "The Singing Senator". In 1956 Tune Records, a small recording company in Florence, Alabama, recorded Senator Denton as a teenager singing "A Fallen Star". The song was later sampled by recording artist Madonna for the track "Lucky Star" on her self-titled debut album. Later Senator Denton joined promoter Judd Phillips, brother of Sam Phillips. Sam was the founder of Sun Records and discovered Elvis Presley. Senator Denton recorded four songs for Judd and later appeared on the Dick Clark Show.
In 1997 Senator Denton returned to his musical roots and began recording again. He has recorded several albums and performs for live audiences.
https://en.wikipedia.org/wiki/Bobby_E._Denton
Talents : Vocals, Guitar
Style musical : Rock 'n' Roll, Rockabilly, Traditional Country, Contemporary Country
Years in activity :
| | | | | | | | | | | | |
| --- | --- | --- | --- | --- | --- | --- | --- | --- | --- | --- | --- |
| 1910 | 20 | 30 | 40 | 50 | 60 | 70 | 80 | 90 | 2000 | 10 | 20 |
DISCOGRAPHY
Singles & EP
| | | | |
| --- | --- | --- | --- |
| 1957 | SP TUNE 45-202 (US) | . | A Fallen Star / Carla |
| 10/1957 | SP TUNE 45-203 (US) | . | Lover's Paradise (Bobby DENTON / voices by TUNE MASTERS) / You'll Be The Last To Know |
| 08/1958 | SP JUDD 1001 (US) | . | Back To School / Sweet And Innocent |
| 08/1959 | SP JUDD J-1013 (US) | . | I'll Always Be Yours / Lover's Plea |
| 1985 | EP ALABAMA MUSIC HALL OF FAME NR16066 (US) | | A Fallen Star / Sweet And Innocent / Peace In The Valley / Just A Closer Walk With Thee |
| 2002 | CD BOBBY DENTON MUSIC BDM2002S (US) | | Senator Bobby DENTON - Love Can Build A Bridge |
| 2012 | CD BOBBY DENTON MUSIC 74444 (US) | | Bridge Over Troubled Water |
Albums
1997
CD ALABAMA MUSIC HALL OF FAME ALA12596 (US)
MY GOD AND I - Mansion Over The Hilltop / His Eye Is On The Sparrow / My God And I / Just A Closer Walk / He'll Understand And Say Well Done / Peace In The Valley / How Great Thou Art / Blessed Jesus Hold My Hand / Amazing Grace / There's A Land Beyond The River / I Come To The Garden Alone / Because He Lives / Take My Hand Precious Lord
1998
CD BOBBY DENTON MUSIC BDM1998 (US)
HOPE - His Hand In Mine /

When He Was On The Cross /

If He Hung The Moon / One Day At A Time / Leaving On My Mind / I Believe / If That Isn't Love / It Is No Secret / Till the Storm Passes By / The Old Rugged Cross
1999
CD BOBBY DENTON MUSIC BDM1999 (US)
LOVE SONGS - SENATOR BOBBY DENTON - Sweet And Innocent / Always On My Mind / The Rose / Only You / Unchained Melody / A Fallen Star / Love Me / My Happiness / You Are My Sunshine / Stars Fell On Alabama (1999 edition only)
2001
CD BOBBY DENTON MUSIC BDM2001 (US)
ALABAMA WELCOMES YOU - SENATOR BOBBY DENTON - Alabama Reunion / Family Values / Alabama Has It All / Old Soldiers / God Loves Alabama / Stars Fell On Alabama
2002
CD BOBBY DENTON MUSIC BDM2002 (US)
LOVE SONGS - SENATOR BOBBY DENTON - Sweet And Innocent / Always On My Mind / The Rose / Only You / Unchained Melody / A Fallen Star / Love Me / My Happiness / You Are My Sunshine / Love Can Build A Bridge (2002 edition only)
2003
CD BOBBY DENTON MUSIC BDM2003 (US)

IF THERE'S STILL TIME - Morning Has Broken / He Looked Beyond My Fault / You're Still Mine / I Bowed On My Knees / Beulah Land / Ten Thousand Angels Cried / How Long Has It Been / I Believe In A Hill Called Mt. Calvary / Don't Overlook Salvation / The Lord's Prayer

2005
CD BOBBY DENTON MUSIC BDM2005 (US)
THE SINGING SENATOR - I Wish I Was 18 Again / Back To School / Sweet And Innocent / Lover's Plea / I'll Always Be Yours / You'll Be The Last To Know / A Fallen Star
2007
CD BOBBY DENTON MUSIC BDM2007 (US)
MEMORIES ARE MADE OF THIS - Memories Are Made Of This / You Raise Me Up / Write Myself A Letter /

It's Only Make Believe / What A Wonderful World / Go Rest High / I Believe In Music / Roses Are Red / It's All In The Game / Imagine

2009
CD BOBBY DENTON MUSIC BDM2009 (US)

HOOKED ON MUSIC - THE BEST OF BOBBY DENTON - Hooked On Music / Love Can Buid A Bridge / What A Wonderful World / Sweet And Innocent / I Wish I Was 18 Again / Imagine / A Fallen Star / The Rose / Alabama Has it All / Always On My Mind / Stars Fell On Alabama / Morning Has Broken / His Hand In Mine / Ten Thousand Angels Cried / His Eye Is On The Sparrow / Beulah Land / I Bowed On My Knees / Go Rest High / Don't Overlook Salvation / You're Still Mine / The Lord's Prayer / In The Arms Of The Angels

2009
CD BOBBY DENTON MUSIC 26382 (US)
VICTORY IN JESUS - Victory In Jesus / When He Was On The Cross / I Believe In A Hill Called Calvary / How Great Thou Art / I Believe / My God And I / Because He Lives / It Is No Secret / Amazing Grace / If That Isn't Love / He Looked Beyond My Fault / He'll Understand And Say Well Done / One Day At A Time / Peace In The Valley / If He Hung The Moon / Land Beyond The River / Leaving On My Mind / Mansion Over The Hilltop / Just A Closer Walk / Now That You Know / Blessed Jesus Hold My Hand / Take My Hand Precious Lord
2010
CD BOBBY DENTON MUSIC 34562 (US)

A FALLEN STAR - A Fallen Star / Unchained Melody / Write Myself A Letter / My Happiness / Back To School (1958) / You Raise Me Up / Memories Are Made Of This / The Rose / It's All In The Game / Sweet And Innocent (1958) / Family Values / You Are My Sunshine / Alabama Reunion / Only You / I Believe In Music / Old Soldiers / Only Make Believe / Love Me / Morning Has Broken / God Loves Alabama / Roses Are Red / America The Beautiful

2010
CD BOBBY DENTON MUSIC 38905 (US)
MERRY CHRISTMAS FROM DIXIE - Holly, Jolly Christmas / Mary Did You Know / Jingle Bell Rock / Santa Claus Is Back In Town / Blue Christmas / Santa, Bring My Baby Back To Me / Rocking Around The Christmas Tree / Silver Bells / Bells Will Be Ringing / Christmas In Dixie
2012
CD BOBBY DENTON MUSIC 68188 (US)
AMAZING GRACE - Amazing Grace / Morning Has Broken / Beulah Land / Ten Thousand Angels Cried / I Bowed On My Knees / Mary Did You Know / His Eye is On The Sparrow / Go Rest High / The Old Rugged Cross / His Hand In Mine / You're Still Mine / Till The Storm Passes By / In The Arms Of The Angels / Don't Overlook Salvation / I Come To The Garden Alone / The Lord's Prayer / How Long Has It Been / God Loves Alabama / Imagine / What A Wonderful World
© Rocky Productions 13/02/2013