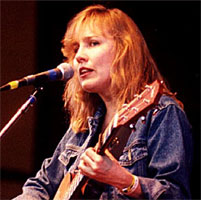 Chanteuse Country US née le 5 Janvier 1961 à Paragould (Arkansas).

One of the most celebrated country-folk performers of her day, singer/songwriter Iris Dement was born on January 5, 1961, in rural Paragould, Arkansas, the youngest of 14 children. At the age of three, her devoutly religious family moved to California, where she grew up singing gospel music; during her teenaged years, however, she was first exposed to country, folk, and R&B, drawing influence from Loretta Lynn, Johnny Cash, Bob Dylan, and Joni Mitchell. Upon graduating high school, she relocated to Kansas City to attend college.
After a series of jobs waitressing and typing, DeMent first began composing songs at the age of 25. Honing her skills at open-mike nights, she moved to Nashville in 1988, where she contacted producer Jim Rooney, who helped her land a record contract. DeMent did not make her recording debut until 1992, when her independent label offering, Infamous Angel, won almost universal acclaim thanks to her pure, evocative Vocals style and spare, heartfelt songcraft. Despite a complete lack of support from country radio, the record's word-of-mouth praise earned her a deal with Warner Bros., which reissued Infamous Angel in 1993 as well as its follow-up, 1994's stunning My Life.
Her third LP, 1996's eclectic The Way I Should, marked a dramatic change not only in its more rock-influenced sound but also in its subject matter; where DeMent's prior work was introspective and deeply personal, The Way I Should was fiercely political, tackling topics like sexual abuse, religion, government policy, and Vietnam. In 1999, she collaborated with countryman John Prine on his album In Spite of Ourselves. DeMent recorded four duets with Prine that earned her a Grammy nod the following year. Her own recording career was on hiatus in the late '90s and early 2000s, but she returned in 2005 with Lifeline, a collection of gospel hymns. Released in 2012, Sing the Delta, her first album of original songs in 16 years, found her working again within the sparse and emotional quilt of her earlier releases. DeMent returned three years later with 2015's The Trackless Woods, a collection of poems by 20th century Russian poet Anna Akhmatova adapted to music.
https://en.wikipedia.org/wiki/Iris_DeMent
Talents : Vocals, Guitar, Songwriter
Style musical : Folk, Country Folk, Alternative Country, Traditional Country, Americana
Years in activity :
| | | | | | | | | | | | |
| --- | --- | --- | --- | --- | --- | --- | --- | --- | --- | --- | --- |
| 1910 | 20 | 30 | 40 | 50 | 60 | 70 | 80 | 90 | 2000 | 10 | 20 |
DISCOGRAPHY
Albums
05/1993
CD WARNER BROS. 45238 (US)
INFAMOUS ANGEL - Let The Mystery Be / These Hills / Hotter Than Mojave In My Heart / When Love Was Young / Our Town / Fifty Miles Of Elbow Room / Infamous Angel / Sweet Forgiveness / After You're Gone / Mama's Opry / Higher Ground
04/1994
CD WARNER BROS. 45493 (US)
MY LIFE - Sweet Is The Melody / You've Done Nothing Wrong / Calling For You / Childhood Memories / No Time To Cry / Troublesome Waters / Mom And Dad's Waltz / Easy's Gettin' Harder Every Day / The Shores Of Jordan / My Life
10/1996
CD WARNER BROS. 46188 (US)
THE WAY I SHOULD - When My Mornin' Comes Around / There's A Wall In Washington / Wasteland Of The Free / I'll Take My Sorrow Straight / This Kind Of Happy / The Way I Should / Letter To Mom / Keep Me God / Quality Time / Walkin' Home / Trouble
10/2004
CD FLARIELLA 1004 (US)
LIFELINE - I've Got That Old Time Religion In My Heart / Blessed Assurance / Fill My Way With Love / Hide Thou Me / The Old Gospel Ship / Sweet Hour Of Prayer / That Glad Reunion Day / Leaning On The Everlasting Arms / He Reached Down / Near The Cross / I Never Shall Forget The Day / I Don't Want To Get Adjusted / God Walks The Dark Hills
10/2012
CD FLARIELLA 1005 (US)
SING THE DELTA - Go On Ahead And Go Home / Before The Colors Fade / The Kingdom Has Already Come / The Night I Learned How Not To Pray / Sing The Delta / If That Ain't Love / Livin' On The Inside / Makin' My Way Back Home / Mornin' Glory / There's A Whole Lotta Heaven / Mama Was Always Tellin' Her Truth / Out Of The Fire
08/2015
CD FlariElla CDFER 1006 (US)

The Trackless Woods -

To My Poems / Broad Gold / And This You Call Work / From The Oriental Notebook / Prayer / Not With Deserters / All Is Sold / Reject The Burden / From An Airplane / Oh, How Good / Like A White Stone / Song About Songs / Listening To Singing / Lot's Wife / Upon The Hard Crest / The Souls Of All My Dears / The Last Toast / Not With A Lover's Lyre - Anna Akhmatova's Recitation of "The Muse"
© Rocky Productions 3/09/2015