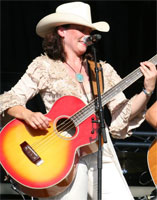 Chanteuse Country Française originaire de Marseilles. Marie Dazzler a démarré sa carrière en reprenant les tubes de ses idoles (Emmylou Harris, Linda Ronstadt, les Judds, pour ne citer qu'elles).
Depuis plus d'une décennie, au sein de diverses formations ou en solo, Marie a baladé sa voix et son énergie sur de nombreuses scènes françaises et internationales.

French Country singer originating in Marseilles. Marie Dazzler started her career by taking again the tubes of her idols (Emmylou Harris, Linda Ronstadt, the Judds, to quote only they). Since more than one decade, within various formations or in solo, Marie trotted her voice and its energy on many French and international scenes.
https://www.facebook.com/legrizzlymusic/?locale=fr_FR
Talents : Vocals, Guitar
Style musical : Contemporary Country, Traditional Country

http://youtu.be/PUZTbzOTUl8
Years in activity :
| | | | | | | | | | | | |
| --- | --- | --- | --- | --- | --- | --- | --- | --- | --- | --- | --- |
| 1910 | 20 | 30 | 40 | 50 | 60 | 70 | 80 | 90 | 2000 | 10 | 20 |
DISCOGRAPHY
Albums
| | | | |
| --- | --- | --- | --- |
| 2006 | CD ? (F) | | SO FAR SO GOOD |
| 200? | CD ? (F) | | NASHVILLE LIGHTS |
| 2008 | CD ? (F) | | COWGIRL DE LUXE |
| 2011 | CD GRIZZLY PRODUCTION ? (F) | | COWGIRL CALYPSO |
© Rocky Productions 11/07/2011