| | |
| --- | --- |
| | |
| | |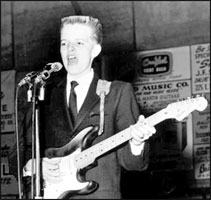 Chanteur Rockabilly US né Ronald M. Dawson, le 11 Août 1939 à Dallas (Texas), Ronnie Dawson a enregistré plusieurs singles à la fin les années cinquante et au début des années soixante sous différents noms: Ronnie Dawson, Ronnie Dee et sous son surnom de "The Blonde Bomber". Il est décédé le 30 Septembre 2003 à Dallas (Texas).

An only child, born in Dallas and raised in Waxahachie, TX to a swing band leader father (Pinky Dawson), Ronnie Dawson launched his musical career while still in his teens. Forming a band, Ronnie Dee and the D Men, he won a talent contest at the Big D Jamboree in Dallas ten weeks in a row. He signed with Gene Vincent's manager, Ed MacLemore and came close to achieving success as a rockabilly guitarist/singer. His first two singles, "Action Packed" b/w "I Make the Love" and "Rockin' Bones," (credited to "The Blonde Bomber-Ronnie Dawson") sold well regionally and resulted in a contract with Dick Clark's label, Swan, and an appearance on National Bandstand. His sides for Swan were well received, but cast Dawson as a countrified teen idol, rather than a rockabilly wildcat. Dawson's new success came to a halt when the late-'50's payola scandal forced Clark to close the record company, leaving Dawson without a label. Dawson made a few unsuccessful attempts to salvage his career, including a 1961 single for Columbia, "Do Do Do" b/w "Who's Done Been Here," credited to the fictional character Commonwealth Jones. Limited to a sideman position, Dawson toured with the Light Crust Doughboys and played drums on Paul & Paula's "Hey Paula" and Bruce Channel's "Hey Baby."
A member of the Dallas-based Levee Singers in the 1960s, he performed with a country-rock band, Steelrail, in the 1970s and '80s and recorded commercial jingles for Hungry Jack pancakes, Jax beer, and Cici's pizza.
Although he remained little-known in his native country, Dawson was hailed as a rock pioneer in England. Signing with the British No Hit label in 1986, he recorded three impressive albums: Monkey Beat!, Rockinitis, and Just Rockin' & Rollin'. The label also released a compilation of his earlier recordings, Rockin' Bones. Dawson recorded a live album, Live! at the Continental Club, in Austin, TX, in January 1998. In October 1998, he returned to the recording studio to record More Bad Habits(released in 1999), his first studio recording in the United States in nearly three decades.
His mid-'80s rediscovery led to Dawson's name and songs winding up in a variety of places. In 1995, Dawson made a triumphant appearance on Late Night with Conan O'Brien. 1998 was a watershed year for the Blonde Bomber, in addition to recording an album, his song "Yum, Yum, Yum" was featured in Mike Nichols' film Primary Colors and Izzy Stradlin of Guns n' Roses recorded his tune "Up Jump the Devil." The following year two songs from More Bad Habits were included in the film Simpatico. His tour for More Bad Habits was announced as his last rockabilly tour, although he continued to perform at festivals and special concert events. In 2002, Dawson was diagnosed with throat cancer and fans in the U.S. and abroad held benefit concerts to help him pay for medical costs. The Blonde Bomber finally succumbed on September 30, 2003. He was 64.
https://en.wikipedia.org/wiki/Ronnie_Dawson_(musician)
Talents : Vocals, Guitar
Style musical : Rockabilly, Rock 'n' Roll

http://youtu.be/Hwxx1v9sCcI
ACTION PACKED (1958) (Ronnie DEE)

ROCKIN' BONES (1959) (The BLOND BOMBER - Ronnie DAWSON)
Years in activity :
| | | | | | | | | | | | |
| --- | --- | --- | --- | --- | --- | --- | --- | --- | --- | --- | --- |
| 1910 | 20 | 30 | 40 | 50 | 60 | 70 | 80 | 90 | 2000 | 10 | 20 |
DISCOGRAPHY
Singles
Acetates
| | | |
| --- | --- | --- |
| 19?? | Acetate | Don't Be Cruel |
| 19?? | Acetate | Heartbreak Hotel |
| 19?? | Acetate | Hound Dog |
| 19?? | Acetate | Jailhouse Rock |
| 19?? | Acetate | Rip It Up |
| 19?? | Acetate | Roll Over Beethoven |
| 19?? | Acetate | Whole Lot Of Shaking Goin' On |
Live Performance
Unissued Tracks
| | | |
| --- | --- | --- |
| 19?? | Unissued | 24 Hours A Day |
| 19?? | Unissued | The Chicken |
| 19?? | Unissued | Congratulations To Me [alt. vers.] |
| 19?? | Unissued | Fire, Fire, Fire [vers. 1] |
| 19?? | Unissued | Fire, Fire, Fire [vers. 2] |
| 19?? | Unissued | Green Eyed Cat |
| 19?? | Unissued | I Make The Love [alt. vers.] |
| 19?? | Unissued | I'm On Your Wagon |
| 19?? | Unissued | Make A Little Love |
| 19?? | Unissued | Muddy Coffee |
| 19?? | Unissued | Reelin' And Rockin' |
| 19?? | Unissued | Rockin' Bones [alt. vers.] |
| 19?? | Unissued | Rumble (instr.) |
| 19?? | Unissued | Searchin' For My Baby |
| 19?? | Unissued | Slenderella [vers. 2] |
| 19?? | Unissued | Slenderella [vers. 6] |
| 19?? | Unissued | Straight Skirts |
| 19?? | Unissued | Tired Of Waitin' |
| 19?? | Unissued | Who Put The Cat Out |
| 19?? | Unissued | Why Did You Cry |
Need Info
| | | |
| --- | --- | --- |
| 19?? | Need info | Baby Brother |
| 19?? | Need info | I'm Coming Home |
| 19?? | Need info | It's Love Baby (24 Hours A Day) |
| 19?? | Need info | My First Love |
Albums
1988
LP 12" NO HIT 1 (UK)
ROCKIN' BONES - Rockin' Bones / Congratulations To Me Rockin' / Who's Been Here / Action Packed / Tied Down / I Make The Love / Riders In The Sky / Jump And Run / Tired Of Waitin' [unissued] / I'm On Your Wagon [unissued] / Who Put The Cat Out [unissued] / Reelin' And Rockin' [unissued] / Straight Skirts [unissued] / Searchin' For My Baby / Everybody Clap Your Hands
1988
LP 12" NO HIT 2 (UK)
STILL A LOT OF RHYTHM - RONNIE DAWSON
1989
CD CRYSTAL CLEAR 9619 (US)
ROCKINITIS - RONNIE DAWSON - Shim Sham Shimmy / You Tore Your Playhouse Down / Monkey's Uncle / Rockinitis / Yum Yum Yum / The Worryin' Kind / Movin' Around / Knock Down Drag Out / Bad Mouthin' / The Cats Were Jumpin' / A Real Good Time / I'm Tore Up / Red Hot Mama / Rockin' In The Cemetery / Hot Hot Water / Sloppy Drunk
1990
CD NO HIT 1 (UK)
ROCKIN' BONES - RONNIE DAWSON - Rockin' Bones / Congratulations To Me / Do Do Do / Who's Been Here / Action Packed / Tied Down / I Make The Love / Riders In The Sky / Jump And Run / Tired Of Waitin' / I'm On Your Wagon / Who Put The Cat Out / Reelin' And Rockin' / Straight Skirts / Searchin' For My Baby / Everybody Clap Your Hands / The Chicken / Muddy Coffee / Rumble [instr.] / 24 Hours A Day
10/1994
CD CRYSTAL CLEAR 9431 (US)
MONKEY BEAT - RONNIE DAWSON - Wham Bam Jam / Wiggle Waddle Woman / Up Jumped The Devil / Rock The Blues Tonight / Little Mixed Up / Crazy Shoes / Mule Train / Sick & Tired / Snake Man / Monkey Beat City / Down In Mexico / This Is The Night / I Tried To Be Fair / Hillbilly Blues / Bad Case Of A Broken Heart / Fool About You / Rockin' Dog / Come Back Uncle John / Running Wild / V Eight Ford Boogie / Party Time / Roadhouse Rock / Ghost Riders
06/1996
CD UPSTART 32 (US)
JUST ROCKIN' AND ROLLIN' - RONNIE DAWSON - Just Rockin' And Rollin / You Got A Long Way To Go / Veronica / Fish Out O'Water / Home Cookin' / Club Wig Wam / You're Humbuggin' Me / Mexigo / It Wouldn't Do No Good / She's A Bad Un / High On Love / Sucker For A Cheap Guitar / Hoodlum / Tired Of Travellin' / No Dice / Party Town
09/1996
2 CD CRYSTAL CLEAR 9643 (US)

| | |
| --- | --- |
| | ROCKIN' BONES, THE LE GENDARY MASTERS - RONNIE DAWSON : |

1998
CD CONTINENTAL ? (US)
LIVE! AT THE CONTINENTAL CLUB - RONNIE DAWSON - Introduction / Red Hot Mama / Good Evening / Shim Sham Shimmy / Intro To Crazy Shoes / Crazy Shoes / It Woulodn't Do No Good / High On Love / Yum Yum / Fish Out O' Water / Jocko / V-8 Ford Booogie / Party Time / Knowk Down Drag Out / Tired Of Travelin' / Oreo Swing Instr / Veronica / Rockinitis / Rockin Bones / Home Cookin' / Action Packed / Monkey Beat City
08/1999
CD YEP ROC 2012 (US)
MORE BAD HABITS - RONNIE DAWSON - Good At Being Bad / Big Mac Attack / Toe Up From The Flo Up / Waxahachie Drag Race / Bobwire Betty / Chili Pepper Mama / Bad Habit Or Two / Rockin' Country Cat / Rockin' Calaveras / Rippin' And A Roarin' / Bayou Beauty / The Frim Fram Sauce / Party Slab
04/2012
CD BEAR FAMILY BCD 16828 (US)
The Carnegie Hall Tour - RONNIE DAWSON & HIGH NOON WITH LISA PANKRATZ - Yum Yum Yum / Fool About You / Who Was That Cat / Up Jumped The Devil / Glory Bound / Beaumont Boogie / Rockin' In The Cemetery / Monkey Beat City / Red Hot Mama / The Cats Were Jumpin' / Yum Yum Yum / The Worrying Kind / Shim Sham Shimmy / Down In Mexico / Party Time / Acoustic Jam / I'm Tore Up / Up Jumped The Devil / Rockin' Bones
© Rocky Productions 20/09/2013