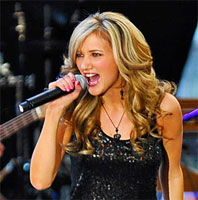 Chanteuse Country US née le 4 Ocobre 1982 à Des Moines (Iowa) et a été élevée dans une petite ville de l'Iowa.

Sarah was born October 4, 1982 in Des Moines and was raised in small-town Iowa.
In 2002, a year after graduating from high school, Sarah saved $5,000, packed up everything she owned in a horse trailer, and headed for Nashville on the advice of Joe Carter, Tracy Byrd's manager.
In 2003, Sarah auditioned for an E Network reality show called "The Entertainer," hosted by veteran Vegas showman Wayne Newton. Much to her shock, she was chosen as one of the 10 finalists. She spent the next eight weeks living in the Las Vegas Hilton with the other contestants, singing classic crooner songs on the program, and vying for a million-dollar performing contract. "I didn't win, but I finished in the top three."
Sarah also did modeling and appeared in a number of country music videos, including "Red High Heels" with Kellie Pickler, "Tequila Makes Her Clothes Fall Off" with Joe Nichols, "Too Much Blood in My Alcohol Level" with David Ball, and "Save A Horse, Ride A Cowboy" with Big & Rich. It was in that video where she played a mannequin and her stiff, non-blinking portrayal was so convincing that "CMT Insider" held an on-air contest to determine whether she was a live person or a dummy. When viewers overwhelmingly voted "mannequin," Sarah went on the show live to prove she was real!
http://www.myspace.com/sarahdarlingmusic
https://en.wikipedia.org/wiki/Sarah_Darling
Talents : Vocals, Guitar
Style musical : Contemporary Country, Country-Rock, Pop/Rock

https://youtu.be/m1mUv-C0zbA
Years in activity :
| | | | | | | | | | | | |
| --- | --- | --- | --- | --- | --- | --- | --- | --- | --- | --- | --- |
| 1910 | 20 | 30 | 40 | 50 | 60 | 70 | 80 | 90 | 2000 | 10 | 20 |
DISCOGRAPHY
Albums
07/2009
CD BLACK RIVER 25 (US)
EVERY MONDAY MORNING - Whenever It Rains / I Never Do What I Should / Can't Call Love / Stop The Bleeding / Don't Love Me / Blue Guitar / Wrapped In Moonlight / Jack Of Hearts / All You've Got / Till The Truth Walks In / Knowing What I Know About Heaven / It Don't Matter Now (Missing You) / I'll Wait For You
02/2011
2 CD BLACK RIVER BRE20113 (US)
ANGELS & DEVILS :

CD 1 :

Thank You / Something To Do With Your Hands / The Boy Never Stays / Toxic / Bad Habit / Angels And Devils / With Or Without You

CD 2 : Stop The Bleeding / Sorry Seems To Be The Hardest Word / Something To Do With Your Hands [A capella] / Waiting On You / I Found In You
© Rocky Productions 27/12/2012