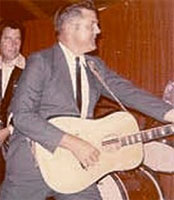 Chanteur Country US né le 12 Décembre 1934 à Houlton (Maine). Harold Crosby fut un soldat de carrière au Vietnam, Corée, Japon et Europe.

Harold Crosby was born Durwood H. Crosby in Houlton, Maine. He graduated from high school in the rural community of Albion, Maine. After graduation, Harold worked at many jobs, construction,tree surgeon and worked for a TV store putting up TV antennas. Music was always in the back of his mind.
At this time Uncle Sam called, Harold spent the next 21 years in the service of his country. Music was always very near and he played his brand of country music all over the world.
Harold mentions that Yodelin' Slim Clark was the very first disc jockey to play Harold Crosby records in the early 1950s era over radio station WABI out of Bangor, Maine.
Over the years Harold performed with or was the opening act for such country music greats as Dick Curless, Jimmie Martin, Buck Owens, Tiny Lynn, Freddie Hart and many other artists.
And when you note that he's said to have played his brand of music all over the world, that is proven out the fact that over the years he's had some some 25 singles that have reached the record charts all over the world with great sales in many countries, including France and England.
Harold's recording career has ran the gamut, having recorded for about a dozen small labels and one big label and through that whole time, was looking for his own sound.
Finally, he decided to form his own label "Traveler Records", his fortune changed with charted records not only by himself as an artist but other acts that had been signed to his label were also moving up the charts.
Talents : Vocals, Guitar
Style musical : Traditional Country, Rockabilly
Years in activity :
| | | | | | | | | | | | |
| --- | --- | --- | --- | --- | --- | --- | --- | --- | --- | --- | --- |
| 1910 | 20 | 30 | 40 | 50 | 60 | 70 | 80 | 90 | 2000 | 10 | 20 |
DISCOGRAPHY
Singles
Albums
| | | | |
| --- | --- | --- | --- |
| 02/2001 | CD TRAVELER HAROLDCROSBY1 (US) | | THE TRADITIONAL TRAIN - I'll Win Your Heart Back Tommorow / She Has Never Turned Me Down / The Ballard Of Jean Lefitte / Harvey's Has It All But You / Gina / Big Boss Man / Folsom Prison Blues / Who's Leaving Who / Win A Few Lose A Few / Let's Fall In Love Together / My Big Truck / Old Slewfoot / Nine Pound Hammer / Born To Lose |
| 10/2004 | CD TRAVELER HAROLDCROSBY2 (US) | | THE LEGEND & THE LADY - HAROLD CROSBY & E.A. DECKER - I Wanna Dance / Letter Edged In Black / Up On The Hill / The Death Of Hank Williams / Love Walks / Gina / Tear Stained letter / Why Baby Why / He Died On The Cross |
| 08/2005 | CD TRAVELER HAROLDCROSBY2 (US) | | LIVE - Folsom Prison Blues / Ole Slewfoot / Born To Lose / A Tombstone Every Mile / 9 Pound Hammer / She Called Me Baby / Release Me / Pass Me Bye / A Girl I Used To Know / Hey Porter / Cold, Cold Heart |
| 07/2006 | CD TRAVELER HAROLDCROSBY4 (US) | | THE PAST - The Bastile Blues / Hire A Mocking Bird / Bamboo Castle / Big, Big Truck / I'll Mend Your Heart Aches Tomorrow / Bright Lights (And Blonde Haired Women) / Gina / Big Boss Man |
© Rocky Productions 10/08/2010