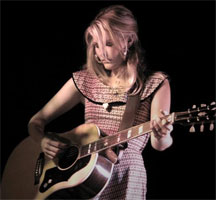 Chanteuse Country US née en 1972 à Wildwood (Floride).

Country singer/songwriter Elizabeth Cook made her Grand Ole Opry debut on March 17, 2000, appearing repeatedly thereafter — a remarkable achievement considering that, at the time, she was an indie artist with no radio airplay. But such was the excitement generated by her clear, beautiful voice, strong songwriting ability, and live performances, all of which have drawn comparisons to younger, critically respected artists like Kelly Willis and legends such as Dolly Parton.
Cook was born in Wildwood, FL. Her West Virginia-born mother played guitar and mandolin and sang on local radio shows. Her father, a Georgia native, also performed country music and served jail time for running moonshine. Upon his release, he and Elizabeth's mother played in local bands together, eventually marrying. Elizabeth, born in 1972, moved to Nashville in her twenties and quickly got a publishing deal. Demos recorded between 1997 and 2000 comprised her self-titled, independently released debut album, which showcased her formidable songwriting ability and featured such well-known Music City musicians as Tim Carroll, Kenny Vaughan, and Rick Schell. Atlantic Records signed Cook soon after its release, and she began working on her major-label debut. Hey Y'All appeared in summer 2002.
http://www.elizabeth-cook.com/
Talents : Singer, Guitar
Style musical : Traditional Country, Contemporary Country

http://youtu.be/jhvma8PZoTc
Années en activité :
| | | | | | | | | | | |
| --- | --- | --- | --- | --- | --- | --- | --- | --- | --- | --- |
| 1910 | 20 | 30 | 40 | 50 | 60 | 70 | 80 | 90 | 2000 | 10 |
Albums
08/2002
CD WARNER BROS. 48289 (US)
HEY, Y'ALL - Stupid Things / Rainbows At Midnight / Mama You Wanted To Be A Singer Too / Dolly / I'm Not Lisa / Everyday Sunshine / You Move Too Fast / Demon / Blue Shades / Don't Bother Me / God's Got A Plan / Ocala
05/2005
CD HOG COUNTY PRODUCTION 462536 (US)
THIS SIDE OF THE MOON - Cupid / Funny Side Of Love / Before I Go That Far / Here's To You / This Side Of The Moon / Kiss Me Again / Ruthless / Alone Down Here / Hard-Hearted / Heather Are You With Me Tonight / All We Need Is Love / Where The Blue Begins / Somebody's Gotta Do It
05/2007
CD THIRTY TIGERS 3101 (US)
BALLS - Times Are Tough In Rock 'n Roll / Don't Go Borrowing Trouble / Sometimes It Takes Balls To Be A Woman / Rest Your Weary Mind (with Bobby BARE Jr.) / He Got No Heart / Mama's Prayers / Sunday Morning / What Do I Do / Down Girl / Gonna Be / Always Tomorrow
05/2010
CD THIRTY ONE TIGERS TOT3102 (US)
WELDER - All The Time / El Camino / Not California / Heroin Addict Sister / Yes To Booty / Blackland Farmer / Girlfriend Tonight / Rock n Roll Man / Mama's Funeral / I'm Beginning To Forget / Snake In The Bed / Follow You Like Smoke / I'll Never Know / Til Then
06/2012
CD THIRTY ONE TIGERS 456183 (US)
GOSPEL PLOW -

If I Had My Way, I'd Tear This Building Down / Gospel Plow / Every Humble Knee Must Bow / The Other Side Of Life / Hear Jerusalem Calling / These Men Of God /

Jesus
© Rocky Productions 20/08/2012