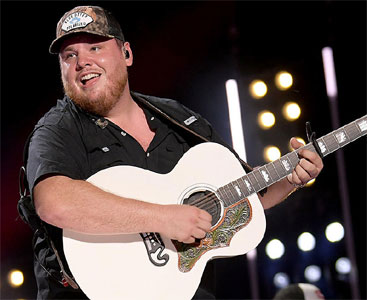 Chanteur Country US né le 2 Mars 1990 à Charlotte (Caroline du Nord).

Blending a love of classic country and Southern-fried soul -- a fusion inspired equally by fellow modern mavericks Eric Church and Chris Stapleton -- Luke Combs slyly updates these traditional sounds with a hint of modern R&B. This combination, which flourished on ballads, made Combs stand apart from both slick country-pop crooners and bro country revelers, a distinction that helped him become a hit right out of the gate. His first single, 2016's "Hurricane," launched a series of five number one Billboard Country Airplay hits in a row. "When It Rains It Pours," "One Number Away," "She Got the Best of Me," and "Beautiful Crazy" -- all pulled from his 2017 debut album This One's for You, the latter pair coming from an expanded reissue of the record -- arrived over the course of the next two years, a period that saw Combs becoming one of the biggest stars in Nashville, a status cemented by his win of the Country Music Associations' Best New Artist award in 2018.
Luke Combs is from North Carolina, born in Charlotte and raised in Asheville, where he moved when he was eight years old. As a teenager, he played football and sang in vocal groups. While attending college at Appalachian State -- the same school Eric Church attended years earlier -- he decided to put his studies on the back burner so he could concentrate on country music. Learning how to play guitar, Combs amassed a catalog of original songs as he played shows on a regular basis. When he was just shy of earning his degree, he dropped out of college. After gigging regularly in North Carolina, he headed to Nashville in 2014 to pursue a musical career.
In February 2014, Combs self-released The Way She Rides EP, which was followed in July by Can I Get an Outlaw. The single "Hurricane" arrived in 2015 and generated enough buzz to secure the singer a contract with River House/Columbia Nashville. The label released the This One's for You EP in November 2015, then reworked "Hurricane" to country radio in 2016, accompanying it with a new EP, also titled This One's for You.
In November 2016, "Hurricane" entered the Country Airplay charts, reaching number one in early 2017. Its success set the stage for Combs' full-length debut, This One's for You, which debuted at number one on Billboard's Country Albums chart upon its June release. "When It Rains It Pours," the singer's second number one on Country Airplay, kept the album on the charts through the year, then This One's for You gained additional momentum in 2018, thanks in part to "One Number Away," his third number one single, but also due to the June re-release of an expanded version of the debut. Called This One's for You Too, this revamped edition of Combs' debut contained five new songs, including "She Got the Best of Me," an anthemic single which followed its predecessors to number one Country Airplay, helping the album reach a peak of four on Billboard's overall Top 200 Albums chart.
Combs continued to gain momentum during the back half of 2018 thanks to the ballad "Beautiful Crazy." Originally an internet sensation, "Beautiful Crazy" became a smash on radio late in 2018, reaching number one on the Country Airplay chart in March 2019; its success was a factor in Combs receiving a Grammy Nomination for Best New Artist in 2019. "Beautiful Crazy" spent seven straight weeks at number one on Country Airplay, breaking the previous records for longevity on the charts. The single also helped Combs earn the distinction of being the first artist to simultaneously hold the top position on all five of Billboard's main country charts: Top Country Albums, Hot Country Songs, Country Airplay, Country Streaming Songs, and Country Digital Song Sales.
Combs teased out music from his second album with the May 2019 release of "Beer Never Broke My Heart," a single that became his sixth number one Country Airplay hit. "Beer Never Broke My Heart" anchored the June EP The Prequel, which offered five songs from his second album What You See Is What You Get, which arrived in November 2019.
https://en.wikipedia.org/wiki/Luke_Combs
Talents : Vocals, Guitar, Songwriter
Style musical : Contemporary Country, Country-Pop

https://youtu.be/BixwVsiDdZM
Years in activity :
| | | | | | | | | | | | |
| --- | --- | --- | --- | --- | --- | --- | --- | --- | --- | --- | --- |
| 1910 | 20 | 30 | 40 | 50 | 60 | 70 | 80 | 90 | 2000 | 10 | 20 |
DISCOGRAPHY
Singles & EP
2017
CD Sony ? (EUR) (promo)

Hurricane

2017
CD Sony ? (EUR) (promo)

When It Rains It Pours

06/2019
CD Columbia

19075-95688-2

(US)

The Prequel - Beer Never Broke My Heart / Refrigerator Door / Even Though I'm Leaving / Lovin' On You / Moon Over Mexico

07/2021
EP 12" Columbia / River House 19439-89272-1

The Trilogy -

Beautiful Crazy / Better Together / Forever After All
Albums
10/2016
CD River House 21 (US)

This One's For You -

Out There / Memories Are Made Of / Lonely One / Beer Can / Hurricane / One Number Away / Don't Tempt Me / When It Rains It Pours / This One's For You / Be Careful What You Wish For / I Got Away With You / Honky Tonk Highway
06/2017
CD Columbia 88985-38883-2 (US)

This One's For You - Out There / Memories Are Made Of / Lonely One / Beer Can / Hurricane / One Number Away / Don't Tempt Me / When It Rains It Pours / This One's For You / Be Careful What You Wish For / I Got Away With You / Honky Tonk Highway

06/2018
CD Columbia 88985-38883-2 (US) (deluxe edition)

This One's For You - Out There / Memories Are Made Of / Lonely One / Beer Can / Hurricane / One Number Away / Don't Tempt Me / When It Rains It Pours / This One's For You / Be Careful What You Wish For / I Got Away With You / Honky Tonk Highway / Houston, We Got A Problem / Must've Never Met You / Beautiful Crazy / A Long Way / She Got The Best Of Me

11/2019
CD Columbia 19075-95687-2 (US)

What You See Is What You Get - Beer Never Broke My Heart / Refrigerator Door / Even Though I'm Leaving / Lovin' On You / Moon Over Mexico / 1, 2 Many (featuring Brooks & Dunn) / Blue Collar Boys / New Every Day / Reasons / Every Little Bit Helps / Dear Today / What You See Is What You Get / Does To Me (featuring Eric Church) / Angels Workin' Overtime / All Over Again / Nothing Like You / Better Together

06/2022
CD Sony 19439-97801-2 (US)

Growin' Up - Doin' This / Any Given Friday Night / The Kind Of Love We Make / On The Other Line / Outrunnin' Your Memory (featuring – Miranda Lambert) / Used To Wish I Was / Better Back When / Tomorrow Me / Ain't Far From It / Call Me / Middle Of Somewhere / Going, Going, Gone
© Rocky Productions 27/07/2022