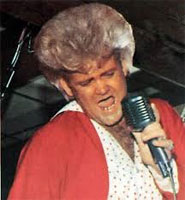 Chanteur Rock 'n' Roll US né le 10 Mai 1939 à Thomaston (Californie). Wayne Cochran enregistra quelques singles sur les labels Scottie (59), Gala (61-62), Confederate (62), Aire (62) et Chess Records (67). Wayne Cochran est décédé le 21 Novemvre 2017 à Miami (Floride).

The outlandish Wayne Cochran — wild outfits, high snow-white pompadour — and his musical odyssey began in 1955 with his first band. By 1963, after a move to Macon, GA, and numerous personnel changes, the outfit became known as Wayne Cochran & the C.C. Riders ("Cochran's Circuit Riders"). Inspired by James Brown and his relentless touring schedule, Cochran purchased an old bus and hit the road. The group took its high-octane show all over the South and Midwest before settling in Miami for an extended stay as the house band at the Barn (aka "the House of Soul"). By this time, the C.C. Riders also had horns to accompany its boogie rhythm section and Cochran's over-the-top Vocals. He was a big favorite at the Barn, and stars such as Jackie Gleason caught his shows regularly. (The enterprising soul singer even wrote a cookbook while in Miami entitled Wayne Cochran's Soul Recipes.)
He cut his first record, " "My Little Girl," on Scottie in 1959. Cochran cut two singles for Gala in the early '60s ("Funny Feeling" and "Liza Jane") before moving on to Confederate ("Linda Lu") and the Aire label ("Cindy Marie"). He obviously loved cutting songs titled with women's names and the trend continued on King Records with "Little Orphan Annie." He also redid his own "Last Kiss," (which he wrote) for his second King single; while "Last Kiss" didn't do much for Cochran, it exploded for J. Frank Wilson & the Cavaliers, who reached number two on the pop charts with it in 1964.
All the singing — at the top of his lungs — along with the usual musical excesses reduced his once-mighty voice to a fraction of what it was. By the time he started appearing on national television shows, the Wayne Cochran that thrilled throngs in Southern pits and Midwest holes was all show, the voice practically gone, so he ratcheted up the live shows with as much gloss as he could. Significant singles included a remake of Bob & Earl's "Harlem Shuffle," which bubbled onto the pop singles chart, and "Sleepless Nights." Wayne Cochran & the C. C. Riders had a Miami reunion in Miami on July 26, and on August 1, 2001 in Hollywood, FL. The C. C. Riders were many, and even included renown jazz bassist Jaco Pastorius at one time. Cochran went through years of turmoil before becoming a born-again Christian and pastor; he started a ministry in 1981.
Wayne Cochran died on November 21, 2017 in Miami (Florida).
https://en.wikipedia.org/wiki/Wayne_Cochran
Talents : Vocals, Guitar
Style musical : Rock 'n' Roll, Blue-Eyed Soul, Pop-Soul

http://youtu.be/pSrSdk0BAGQ
Years in activity :
| | | | | | | | | | | | |
| --- | --- | --- | --- | --- | --- | --- | --- | --- | --- | --- | --- |
| 1910 | 20 | 30 | 40 | 50 | 60 | 70 | 80 | 90 | 2000 | 10 | 20 |
DISCOGRAPHY
Singles
05/1959
SP SCOTTIE 1303 (US)
.
My Little Girl / The Coo
09/1961
SP GALA 45-117 (US)
.
Last Kiss / Funny Feeling
03/1962
SP GALA 45-120 (US)
.
Liza Jane / No Return
08/1962
SP CONFEDERATE 155 (US)
.
Linda Lu / Dreams
10/1962
SP AIRE 1230 (US)
.
Cindy Marie / Edge Of The Sea
12/1962
SP AIRE 150 (US)
.
Last Kiss / Edge Of The Sea
196?
SP GALICO G-45-105 (US)
.
Last Kiss / Funny Feeling
1963
SP DECK 151 (US)
.
Little Orphan Annie / Monkey Monkey (You Do It Like This)
12/1963
SP KING 45-5832 (US)
.
Little Orphan Annie / Monkey Monkey (You Do It Like This)
04/1964
SP KING 45-5856 (US)
.
Last Kiss / I Dreamed, I Gambled, I Lost
05/1964
SP KING 45-5874 (US)
.
Cindy Marie / The Coo
1964
SP KING 45-5950 (US)
.
Mr. Lonely / Wrong Number, Wrong Gal
1965
SP KING 45-5994 (US)
.

Think / You Left The Water Running

1965
SP MERCURY 72507 (US)
.

Harlem Shuffle / Somebody Please

1965
SP MERCURY 72552 (US)
.
Get Down With It

/ No Rest For The Wicked

1966
SP MERCURY 72623 (US)
.

I'm In Trouble / Goin' Back To Miami

1967
SP CHESS 2020 (US)
Some-A' Your Sweet Love

/ When My Baby Cries

10/1967
SP CHESS 2029 (US)
.

Get Ready / Hootchie Cootchie Man

1968
SP CHESS 2054 (US)
.
You Can't Judge A Book By The Cover / Up In My Mind
1969
SP BETHLEHEM 45-3097 (US)
.
Wayne COCHRAN & His C.C. RIDER - Hey Jude-Eleanor Rigby Medley Pt. 1 / Hey Jude-Eleanor Rigby Medley Pt. 2
1969
SP KING 45-6253 (US)
.
Life's Little Ups And Downs - Part 1 / Life's Little Ups And Downs - Part 2
1970
SP KING 45-6288 (US)
.
I Can't Turn You Loose / If I Were A Carpenter
1970
SP KING 45-6326 (US)
.

Harlem Shuffle / Chopper 70

1971
SP KING 45-6358 (US)
.
Wayne COCHRAN & The C.C. RIDER - Let Me Come With You - Part 1 / Let Me Come With You - Part 2
1972
SP EPIC 5-10859 (US)
.
Wayne COCHRAN & The C.C. RIDER - Do You Like The Sound Of Music / Somebody's Been Cuttin' In On My Groove
1972
SP EPIC 5-10859 (US) (promo)
.
Wayne COCHRAN & The C.C. RIDER - Do You Like The Sound Of Music (mono) / Do You Like The Sound Of Music (stereo)
1972
SP EPIC 5-10893 (US)
.
Wayne COCHRAN & The C.C. RIDER - Long, Long Day / Sleepless Nights
1972
SP EPIC 5-10893 (US) (promo)
.
Wayne COCHRAN & The C.C. RIDER - Long, Long Day (mono) / Long, Long Day (stereo)
????
EP GALA ? (US)
HEAR IT! - Last Kiss / Funny Feeling / No Return / Liza Jane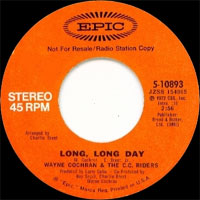 Albums
1967
LP 12" CHESS LP-1519 (mono) / LPS-1519 (stereo) (US)
WAYNE COCHRAN ! -

Get Ready / Boom Boom / The Peak Of Love / You Don't Know Like I Know / Some-A' Your Sweet Love / I'm Leaving It Up to You / You Can't Judge a Book By The Cover / Big City Woman / Little Bitty Pretty One / I'm Your Hoochie Coochie Man / Get Down With It / When My Baby Cries

1970
LP 12" BETHLEHEM 10002 (US)
HIGH & RIDIN' - Wayne COCHRAN & His C.C. RIDER - Sister Sadie / Ode To Billy Joe / Critics Choise / Hey JUude - ELleanor Rigby Medley / Satisfaction / Better Get It In Your Soul / I Was Made To Love Her / Mo-Lasses
1970
LP 12" KING K-1116 (US)
ALIVE AND WELL AND LIVIN' IN A BITCH OF A WORLD - Overture / My Machine / Rider's Blues / If I Were A Carpenter / Sunday Driver / Let Me Come With You / C.C. Rider / Chopper 70
1972
LP 12" EPIC KE-30989 (US)
COCHRAN - Do You Like The Sound Of Music / Long Long Day / Somebody's Been Cuttin' In / Sleepless Nights / Boogie Circle / Sittin' In A World Of Snow / I Will / We're Gonna Make It
02/2005
CD RAVEN 183 (AUS)
THE WHITE KNIFE OF SOUL 1959-1972 - GET DOWN WITH IT ! - Last Kiss / Coo / Harlem Shuffle / Get Down With It / No Rest For The Wicked / Goin' Back To Miami / Some-A' Your Sweet Love / When My Baby Cries / Get Ready / Boom Boom / Peak Of Love / I'm Leaving It Up To You / You Can't Judge A Book By The Cover / Big City Woman / Little Bitty Pretty One / I'm Your Hoochie Coochie Man / Up In My Mind / Somebody's Been Cuttin' In On My Groove / Sleepless Nights / Sittin' In A World Of Snow / We're Gonna Make It / Life's Little Ups And Downs, Pt. 2 / C.C. Rider / Riders Blues
2010
CD ? (?)
LOVE STRIKES AGAIN - Keep On Loving You Baby / I Want To Say I Told You So / Style / Hang On To Love / My Baby Loves Me / Love Strikes Again / When A Man Loves A Woman / Get Your Hands Out Of Your Pocket / Mustang Sally /

Ain't No Joy
© Rocky Productions 21/07/2012