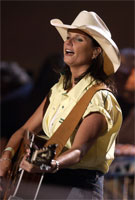 Chanteuse Country canadienne née Terri Lynne Clark, le 5 Août 1968 à Montreal (Quebec).

Like her contemporary, Shania Twain, Terri Clark came storming out of Canada and captured the attention of America's country music industry in the mid-'90s. Where Twain incorporated more rock & roll into her music, Clark pretty much stayed close to her country roots, even if those roots were more new country than hardcore honky tonk.
Raised in Medicine Hat, Alberta, Canada, Terri Clark (born in Montreal, Canada, August 5, 1968) was born into a musical family. Her grandparents, Ray and Betty Gauthier, were country stars in Canada, opening shows for stars like George Jones and Little Jimmy Dickens, while her mother sang folk songs in local coffeehouses. As a child, Terri listened to her grandparents' country records and taught herself how to play guitar. Throughout her adolescence, Clark sang, played, and listened to country music; she was particularly inspired by female artists like Reba McEntire, the Judds, and Linda Ronstadt.
Following her high-school graduation in 1987, she moved to Nashville. Upon her arrival, she wandered into Tootsie's Orchid Lounge unannounced and asked if she could sing. Surprisingly, she impressed the management and landed a job as the club's house singer. Though her initial arrival in Nashville was successful, it took Clark quite a long time to work her way into the actual industry. For the next seven years, she sang at clubs and worked odd jobs, all the while trying to land a record contract. During this time, she met and married a fiddler named Ted Stevenson.
In 1994, she landed an audition for Mercury Records. After seeing a live performance by Clark, the label's president signed the singer. Clark's eponymous debut album was released in the summer of 1995. Terri Clark was a hit upon its release, spawning the Top Ten hits "Better Things to Do," "When Boy Meets Girl," and "If I Were You," as well as going gold. Clark supported the album with a tour opening for George Strait.
In 1996, she was nominated for the Country Music Association's Horizon Award, as well as the Academy of Country Music Awards' Best New Female vocalist. She won a bevy of Canadian Country Music Awards in 1996, including Album of the Year and Single of the Year; she was also named the Top New Female Country Artist of 1995 by Billboard magazine. Her second album, Just the Same, was released in the fall of 1996, preceded by the hit single "Poor Poor Pitiful Me." How I Feel followed in 1998. Fearless brought the country chart single "A Little Gasoline" in fall 2000, and Pain to Kill was released in 2003. Mercury unleashed Clark's Greatest Hits 1994-2004 the next year, followed by Life Goes On in 2005.
https://en.wikipedia.org/wiki/Terri_Clark
Talents : Vocals, Songwriter, Guitar, Bass, Drums
Style musical : Contemporary Country, Traditional Country, Country-Pop

https://youtu.be/OXE-vP15cug
Years in activity :
| | | | | | | | | | | | |
| --- | --- | --- | --- | --- | --- | --- | --- | --- | --- | --- | --- |
| 1910 | 20 | 30 | 40 | 50 | 60 | 70 | 80 | 90 | 2000 | 10 | 20 |
DISCOGRAPHY
Singles
| | | | |
| --- | --- | --- | --- |
| 07/1995 | SP MERCURY 852046-7 (US) | | Better Things To Do / Tyin' A Heart To A Tumbleweed |
| 10/1995 | SP MERCURY 852388-7 (US) | | When Boy Meets The Girl / Flowers After The Fact |
| 02/1996 | SP MERCURY 852708-7 (US) | | If I Were You / Something You Should've Said |
| 06/1996 | SP MERCURY 578280-7 (US) | | Suddenly Single / Catch 22 |
| 09/1996 | SP MERCURY 578644-7 (US) | | Poor Little Pitiful Me / Something You Should've Said |
| 01/1997 | SP MERCURY 574016-7 (US) | | Emotional Girl / Something In The Water |
| 05/1997 | SP MERCURY 574456-7 (US) | | Just The Same / Hold Your Horses |
| 04/1998 | SP MERCURY 568746-7 (US) | | Now That I Found You / Getting Even With The Blues |
| 08/1998 | SP MERCURY 566218-7 (US) | | You're Easy On The Eyes / That's Me Not Loving You |
| 1998 | CD Polymedia DPSM 5254 (US) (promo) | | Kellogg's Country - Poor Poor Pitiful Me (Terri CLARK) / It's All The Same To Me (Billy Ray CYRUS) |
| 1999 | SP MERCURY 566848-7 (US) | | Everytime I Cry / Till I Get There |
| 09/1999 | SP MERCURY 172114-7 (US) | | Unsung Hero / Not Getting |
| 07/2000 | SP MERCURY 172178-7 (US) | | A Little Gasoline / Empty |
| 12/2000 | SP MERCURY 172197-7 (US) | | No Fear / Easy From Now On |
| 07/2001 | SP MERCURY 172214-7 (US) | | Getting There / Sometimes Goodbye |
| 08/2002 | SP MERCURY 172262-7 (US) | | I Just Wanna Be Mad / Three Mississippi |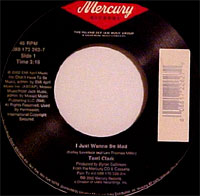 Albums
08/1995
CD MERCURY 526991 (US)
TERRI CLARK - Better Things To Do / If I Were You / Catch 22 / Is Fort Worth Worth It / When Boy Meets Girl / Tyin' A Heart To A Tumbleweed / When We Had It Bad / Suddenly Single / Flowers After The Fact / Inside Story / Was There A Girl On Your Boys' Night / Something You Should've Said
11/1996
CD MERCURY 532879 (US)
JUST THE SAME - Emotional Girl / Poor Poor Pitiful Me / Just The Same / Something In The Water / Neon Flame / Any Woman / Twang Thang / Do You Or You Don't / Keeper Of The Flame / Not What I Wanted To Hear / Hold Your Horses
05/1998
CD MERCURY 558211 (US)
HOW I FEEL - I'm Alright, Now That I Found You / Everytime I Cry / That's How I Feel / You're Easy On The Eyes / Getting Even With The Blues / Till I Get There / Not Getting Over You / This Ole Heart / Cure For The Vommon Heartache / Me Not Loving You / Unsung Heroes
09/2000
CD MERCURY 170157 (US)
FEARLESS - No Fear / Sometimes Goodbye / Take My Time / Empty / Getting There / Easy From Now On / Little Gasoline / Last Thing I Wanted / To Tell You Everything / Real Thing / Midnight's Gone / Good Mother
01/2003
CD MERCURY 170325 (US)
PAIN TO KILL - I Just Wanna Be Mad / Three Mississippi / Pain To Kill / I Just Called To Say Goodbye / I Wanna Do It All / One You Love / Almost Gone / Working Girl / Better Than You / Not A Bad Thing / God And Me
07/2004
CD MERCURY 190602 (US)
GREATEST HITS - 1994-2004 - Better Things To Do / When Boy Meets Girl / If I Were You / Poor Poor Pitiful Me / Emotional Girl / Now That I Found You / You're Easy On The Eyes / Everytime I Cry / Little Gasoline / I Just Wanna Be Mad / I Wanna Do It All / Girls Lie Too / One Of The Guys / No Fear
11/2005
CD MERCURY 000257902 (US)
LIFE GOES ON - Life Goes On / Damn Right / She Didn't Have Time / Cowboy Days / Not Enough Tequila / Bigger Windows / I Wish He's Been Drinkin' Whiskey / Honky Tonk Song / Travelin' Soul / Everybody's Gotta Go Sometime / Slow News Day / Tear It All Down
08/2006
CD MERCURY 7009 (US)
20TH CENTURY MASTERS - THE MILLENNIUM COLLECTION - When Boy Meets Girl / Suddenly Single / Poor, Poor Pitiful Me / Now That I Found You / You're Easy On The Eyes / Unsung Hero / A Little Gasoline / No Fear / I Just Wanna Be Mad / I Wanna Do It All / Girls Lie Too / The World Needs A Drink
02/2008
CD HUMPHEAD HUMP 14 (US)
ULTIMATE COLLECTION - Better Things To Do / When Boy Meets Girl / If I Were You / Suddenly Single / Poor, Poor Pitiful Me / Emotional Girl / Just The Same / Now That I Found You / You're Easy On The Eyes / Everytime I Cry / Unsung Hero / A Little Gasoline / No Fear / Getting There / I Just Wanna Be Mad / Three Mississippi / I Wanna Do It All / Girls Lie Too / The World Needs A Drink / She Didn't Have Time / Damn Right
02/2008
CD MERCURY 001046502 (US)
THE DEFINITIVE COLLECTION - Better Things To Do / If I Were You / When Boy Meets Girl / Suddenly Single / Poor, Poor Pitiful Me / Emotional Girl / Now That I Found You / You're Easy On The Eyes / Everytime I Cry / A Little Gasoline / No Fear / I Just Wanna Be Mad / Three Mississippi / I Wanna Do It All / One Of The Guys / Girls Lie Too / The World Needs A Drink / She Didn't Have Time
04/2008
CD UNIVERSAL 5305222 (UK)
THE BEST OF TERRI CLARK - GREEN SERIES - When Boy Meets Girl / I Just Wanna Be Mad / Poor, Poor Pitiful Me / Better Things To Do / A Little Gasoline / Suddenly Single / No Fear / If I Were You / Unsung Hero / Everytime I Cry / The World Needs A Drink / Girls Lie Too (greatest hits version) / I Wanna Do It All / Emotional Girl / You're Easy On The Eyes
07/2009
CD BARE TRACK ? (US)
LIVE - ROAD RAGE - In My Next Life / You're Easy On The Eyes / Better Things To Do / Medley / No Fear / Dirty Girl / Now That I Found You / Love Me Like A Man / I Just Wanna Be Mad / Poor, Poor Pitiful Me / Girls Lie Too / I Wanna Do It All / Hard To Handle
10/2009
CD BARE TRACK / CAPITOL 800203 (US)
THE LONG WAY HOME - Gypsy Boots / If You Want Fire / A Million Ways To Run / What Happens In Vegas (Follows You Home) / Merry Go Round / The One You Love / Poor Girls Dream / If I Could Be You / Tough With Me / You Tell Me / Gypsy Boots

[acoustic demo version]

10/2009
CD UNIVERSAL 75321713 (UK)
BEST OF TERRI CLARK - SUPERSTAR SERIES - When Boy Meets Girl / Poor, Poor Pitiful Me / A Little Gasoline / Now That I Found You / If I Were You / You're Easy On The Eyes / Better Things To Do
07/2011
CD HUMPHEAD HUMP 110 (US)
ROOTS AND WINGS - Wrecking Ball / Breakin' Up Thing / The One / Northern Girl / Beautiful And Broken / Lonesome's Last Call / The Good Was Great / Smile / We're Here For A Good Time / Flowers In Snow
12/2012
CD BARE TRACK ? (US)
CLASSIC - It Wasn't God Who Made Honky Tonk Angels / Love Is A Rose / How Blue (feat. Reba) / Don't Come Home A Drinkin' (With Lovin' On Your Mind) / Gentle On My Mind / Golden Ring (feat. Dierks BENTLEY) / Two More Bottles Of Wine / Leavin' On Your Mind (feat. Jann ARDEN) / Swinging Doors / Delta Dawn (feat. Tanya TUCKER) / I'm Movin' On (feat. Dean BRODY)
© Rocky Productions 6/12/2012