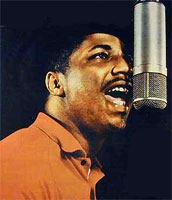 Chanteur Rhythm 'n' Blues US né Delecta Clark, le 7 Novembre 1938 à Blythesville (Arkansas). Dee Clark a connu son premier succès en 1958 avec "Nobody But You". Son style fut tout d'abord comparé à celui de Little Richard, puis à celui de Clyde McPhatter. Ila enregistré chez Vee Jay, Line et Falcon Records. Dee est mort, suite à une attaque cardiaque, le 7 Décembre 1990 à Smyrna (Georgie).

Though largely unknown among contemporary audiences, Dee Clark was one of the most successful R&B singers of the late '50s and early '60s, his resonant, expressive tenor gracing classics like "Raindrops" and "(Hey) Little Girl." Delecta Clark was born in Blytheville, Arkansas on November 7, 1938; from the age of three, he grew up on Chicago's West Side, in 1952 joining with schoolmates Sammy McGrier and Ronnie Strong in the Hambone Kids. A fad that required performers to slap their thighs, chests, and other parts of the body in emulation of what's now known as a Bo Diddley beat, the Hambone Kids were popular long enough for the teenage trio to collaborate with Red Saunders & His Orchestra for a single, also titled "Hambone," issued on Okeh in 1952. The record was a minor hit, but in 1953 Clark moved on, assuming lead duties with the Chicago Vocals group the Goldentones -- when local DJ Herb "The Kool Gent" Kent took over their management, he rechristened his charges the Kool Gents, landing them a recording deal with Chicago's Vee-Jay label. The group issued its debut single "This Is the Night" in early 1956, followed that summer by "I Just Can't Help Myself." (As the Delegates, they also released "The Convention," a novelty record inspired by that year's presidential election.)
After one final Vee-Jay session yielding 1957's "Mother's Son," the label's general manager Ewart Abner convinced Clark to go solo -- his debut "Gloria" was, in fact, a Kool Gents recording, although only Clark's name appeared on the label. He struggled to forge his own style, mimicking Clyde McPhatter on the follow-up "Seven Nights" and aping Little Richard on 1958's "Oh, Little Girl." Neither charted, but when Little Richard himself abruptly quit performing to enter Bible college, his booking agent hired Clark to fulfill his remaining live dates; he ultimately spent five months on the road with Richard's backing band the Upsetters, also enlisting the group for studio dates. Clark officially came into his own with late 1958's "Nobody But You" -- a luminous, uptempo love song ideally matched to his deeply affecting Vocals, the single reached number 21 on the pop charts and number three on the R&B charts, creating the template for the remainder of his Vee-Jay output. Its 1959 follow-up "Just Keep It Up (And See What Happens)" was an even bigger pop hit, reaching the number 18 spot (although going only as high as number nine on the R&B rankings), and with the Bo Diddley-inspired rocker "(Hey) Little Girl" Clark solidified his popularity, reaching number 20 pop and number two R&B during a 15-week run on the charts.
In 1960 Clark notched three more consecutive pop chart entries: the Top 40 hit "How About That," "(Crazy Little Mama) At My Back Door," and "You're Looking Good." The streak continued in 1961 with "Your Friends," which reached number 34 on the national pop charts and proved an even bigger hit in his hometown Chicago market. Inspired by the inclement weather that plagued a road trip back from New York City, the follow-up "Raindrops" was both Clark's biggest hit and his creative apex -- a vividly cinematic virtuoso performance that reached number two on the Billboard pop chart, its sophisticated sound anticipated the R&B genre's coming evolution into soul. But Clark never again recaptured its success either in the studio or on the charts: none of his next three singles -- "Don't Walk Away from Me," 1962's "You Are Like the Wind," and "Dance On, Little Girl" -- even charted. "I'm Going Back to School" was a renaissance of sorts, cracking the R&B Top 20, but in 1963 Clark again stumbled, and after three successive singles ("I'm a Soldier Boy," "How Is He Treating You?" and "Walking My Dog") failing to chart, he left Vee-Jay, signing with Ewart Abner's new label Constellation for the dance record "Crossfire Time," which squeaked onto the Billboard Hot 100 at number 92 -- his final U.S. chart appearance.
Clark's Constellation tenure is a study in frustration -- between 1964 and 1966, he released eight singles for the label, none of which charted. (Some were nevertheless excellent, in particular the Bob Gaudio-penned "Come Closer," "Warm Summer Breeze," and "T.C.B.") In the wake of "Old Fashion Love," issued in mid-1966, Constellation folded and Clark spent the remainder of his career hopscotching from label to label, never again releasing more than one single on any given imprint -- these efforts include 1967's "In These Very Tender Moments" (Columbia), 1968's "Nobody But You" (Wand), 1970s "24 Hours of Loneliness" (Liberty) and the self-explanatory "Raindrops '73," which appeared on the Warner subsidiary Rocky. Throughout this period he lived in almost as many cities, making a living by headlining local lounges and nightclubs during extended stays in Los Angeles, Atlanta, and Orlando. Although 1975's Chelsea label release "Ride a Wild Horse" enjoyed chart success in the U.K., the single was Clark's last -- he continued touring relentlessly during the decade-plus to follow, the grind no doubt contributing greatly to the massive heart attack that ended his life on December 7, 1990 at the age of only 52.
https://en.wikipedia.org/wiki/Dee_Clark
Talents : Vocals
Style musical : Rock 'n' Roll, Doo Wop, Rhythm 'n' Blues
Years in activity :
| | | | | | | | | | | | |
| --- | --- | --- | --- | --- | --- | --- | --- | --- | --- | --- | --- |
| 1910 | 20 | 30 | 40 | 50 | 60 | 70 | 80 | 90 | 2000 | 10 | 20 |
DISCOGRAPHY
Singles & EP
1956
SP VEE JAY 173 (US)
.
The KOOL GENTS (Delecta CLARK, leader) - This Is The Night

/ Do Ya Do

1956
SP VEE JAY 207 (US)
.
The KOOL GENTS (Delecta CLARK, leader) - You Know / I Just Can't Help Myself
1957
SP VEE JAY 243 (US)
.
The DELEGATES (with Delecta CLARK) -

Mother's Son / I'm Gonna Be Glad

1957
SP FALCON 1002 (US)
Gloria / Kangaroo Hop
1957
SP FALCON 1005 (US)
.

Seven Nights /

24 Boy Friends
1958
SP FALCON 1009 (US)
.
Oh Little Girl / Wonderin'
1958
SP ABNER 1019 (US)
.

Nobody But You / When I Call On You

1959
SP ABNER 1026 (US)
.

Just Keep It Up / Whispering Grass

1959
SP ABNER 1029 (US)

Hey Little Girl / It Wasn't For Love

1959
SP ABNER 1032 (US)
.

How About That / Blues Get Off My Shoulder

1959
SP ABNER (promo) (US)
.

Blues Get Off My Shoulder

1959
EP ABNER 900 (US)
Dee CLARK
1959
EP VEE JAY 900 (US)
Dee CLARK
1959
EP LONDON RE 10031 (F)
Just Keep It Up / Whispering Grass / Nobody But You / When I Call On You
1959
EP TOP RANK / ARTECO RES 109 (F)
Hey Little Girl / Just Keep It Up / Seven Night / Nobody But You
1960
SP ABNER 1037 (US)
.

At My Front Door (Crazy Little Mama) / Cling-A-Ling

1960
SP VEE JAY 355 (US)
.
You're Looking Good / Gloria
1961
SP VEE JAY 372 (US)
.
Your Friends

/ Because I Love You

1961
SP VEE JAY 383 (US)
.
Raindrops

/ I Want To Love You

1961
SP VEE JAY 394 (US)
.

Gotos Delluvia (Raindrops) / + Al SMITH

1961
SP VEE JAY 409 (US)
.

Don't Walk Away From Me / You're Telling Our Secrets

1962
SP VEE JAY 428 (US)
.

You Are Like The Wind / Drums In My Heart

1962
SP VEE JAY 443 (US)
.
Dance On Little Girl / Fever
1962
SP VEE JAY 462 (US)
.

I'm Going Back To School / Nobody But You

1963
SP VEE JAY 487 (US)
.

I'm A Soldier Boy / Shook Up Over You

1963
SP VEE JAY 532 (US)
.

How Is He Treating You / The Jones Boy

1963
SP VEE JAY 548 (US)
.

Walking My Dog / Nobody But Me

1963
SP CONSTELLATION 108 (US)
.

Crossfire Time / I'm Going Home

196?
SP OLDIES 45 ?? (US)
.
Raindrops

/ I Want To Love You

1964
SP OLDIES 45 65 (US)
.

When I Call On You / Nobody But You

1964
SP OLDIES 45 71 (US)
.

If It Wasn't For Love / Hey Little Girl

1964
SP OLDIES 45 104 (US)
.

This Is The Night

(The KOOL GENTS (Delecta CLARK, leader)

) /

+ The TOKENS
1964
SP OLDIES 45 113 (US)
.

You Are Like The Wind / + Gladys KNIGHT & The PIPS.

1964
SP CONSTELLATION 113 (US)
.

It's Raining / That's My Girl

1964
SP CONSTELLATION 120 (US)
.

Come Closer / That's My Girl

1964
SP CONSTELLATION 132 (US)
.

Warm Summer Breeze / Heartbreak

1964
SP CONSTELLATION 142 (US)
.

Ain't Gonna Be Your Fool / In My Apartment

196?
SP OLDIES 45 120 (US)
.

You Are Like The Wind / + The MELLO MOODS

1965
SP CONSTELLATION 147 (US)
.

T. C. B. / It's Impossible

1965
SP CONSTELLATION 155 (US)
.

I Can't Run Away / She's My Baby

1966
SP CONSTELLATION 165 (US)
.

I Don't Need (Nobody Like You) / Hot Potato

1966
SP CONSTELLATION 173 (US)
.

Old Fashion Love / I'm Goin' Home

1967
SP COLUMBIA 44200 (US)
.

In These Very Tender Moments / Lost Girl

1968
SP WAND 1177 (US)
.

Nobody But You (Part 1) / Nobody But You (Part 2)

1970
SP LIBERTY 56152 (US)
.

24 Hours Of Loneliness / Where Did All The Good Times Go

1971
SP UNITED ARTITS 50759 (US)
.

You Can Make Me Feel So Good / Old Time Religion

1973
SP ROCKY / WARNER BROS. 7720 (US)
.

Raindrops '73 / I'm A Happy Man

1973
SP ERIC 168 (US)
.
Raindrops

/ Just Keep It Up

1975
SP CHELSEA 3025 (US)

Ride A Wild Horse Part 1 / Ride A Wild Horse Part 2

1975
SP CHELSEA 2005 037 (NL)

Ride A Wild Horse Part 1 / Ride A Wild Horse Part 2

1980
EP CHARLY CTD 115 (UK)
Your Friends

/ Hey Little Girl / Raindrops

1983
SP COLLECTABLES COL 014597 (US)
.
Raindrops

/ I Want To Love You

1984
SP ORIGINAL SOUND OBG-4507 (US)
.
Raindrops

/ + Gene CHANDLER

02/1991
SP COLLECTABLES 9147 (US)
Raindrops

/ Hey Little Girl

199?
SP COLLECTABLES COL 030417 (US)
.

Hey Little Girl / Nobody But You

199?
SP COLLECTABLES COL 035587 (US)
.
You're Looking Good / I Like It Like That
199?
SP GOOD OLD GOLD 064 (US)
.
Raindrops

/ + Gene ALLISON

199?
SP GOLDIES ? (US)
.
Raindrops

/ I Want To Love You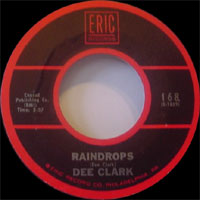 Albums
08/1959
LP 12" ABNER LP-2000 (mono) / SR-2000 (stereo)(US)

| | |
| --- | --- |
| | DEE CLARK - Just Keep It Up /Blues Get Off My Shoulder / Hey Little Girl / Whispering Grass / Seven Nights / I Can't Dream / Nobody But You /If It Wasn't For Love / Lucky Me / When I Call On You / Nature Boy / Count On Me |

1960
LP 12" ABNER LP-2002 (mono) / SR-2002 (stereo)(US)
HOW 'BOUT THAT -

How About That / Cling A Ling / They're Talkin' / At My Front Door / The Convention / I Love You Darling / Senior Blues / Foggy Day / You There / Silently Lovin' You / Moonlight In Vermont / The Time Has Come

1960
LP 12" VEE JAY LP-1019 (US)
YOU'RE LOOKING GOOD - You're Looking Good / Wondering / Kangaroo Hop / I Just Can't Help Myself / Little Red Riding Hood / Gloria / Come To California / Baby What You Want Me To Do / 24 Boyfriends / Just Like A Fool / What I Say
1961
LP 12" VEE JAY LP-1026 (mono) / SR-1026 (stereo) (US)
DEE CLARK -

Just Keep It Up / Blues Get Off My Shoulder / Hey Little Girl / Whispering Grass / Seven Nights / I Can't Dream / Nobody But You / If It Wasn't For Love / Lucky Me / When I Call On You / Nature Boy / Count On Me

1961
LP 12" VEE JAY LP-1028 (mono) / SR-1028 (stereo) (US)
DEE CLARK -

How About That / Cling-A-Ling / They're Talkin' / At My Front Door / The Convention / I Love You Darling / Senior Blues / Foggy Day / You There / Silently Lovin' You / Moonlight In Vermont / The Time Has Come

1961
LP 12" VEE JAY LP-1037 (mono) / SR-1037 (stereo) (US)
HOLD ON... IT'S DEE CLARK -

Hold On / Portrait Of My Love / Cupid / Always Together / Raindrops / Cindy / Nature Boy / What Kind Of Fool / Whisperin' Grass / I Want To Love You / Your Friends

1962
LP 12" VEE JAY LP-1047 (mono) / SR-1047 (stereo) (US)
THE BEST OF DEE CLARK -

Nobody But You / Hey Little Girl /Just Keep It Up / Portrait Of My Love / How About That / Blues Get Off My Shoulder / Raindrops / Your Friends / If It Wasn't For Love / You're Lookin' Good / When I'll Call On You / The Time Has Come

1968
LP 12" SUNSET 5217 (US)
WONDERING -

Wondering / Kangaroo Hop / I Just Can't Help Myself (The Kool Gents) / Little Red Riding Hood / Gloria / Come To California / What'd I Say / Whispering Grass (Don't Tell The Trees) / Seven Nights / I Can Dream

1980
LP 12" CHARLY CRB 1010 (UK)
KEEP IT UP - Your Friends (with the DELLS) / Nobody But Me / You're Telling Our Secrets / Don't Walk Away From Me / Bong Back My Heart / I'm A Soldier Boy / Shook Up Over You / Raindrops / Hey Little Girl / The Convention (with The DELEGATES) / Emma Jean / Oh Little Girl (with The UPSETTERS) / Wondering (with The UPSETTERS) / Nobody But You / When I Call Upon You
1982
LP 12" BRYLEN BN 4542 (US)
HEY LITTLE GIRL - Hey Little Girl / How 'Bout That / Only You / Slip Away / Leroy Brown / Barefootin' / You're Looking Good / Twilight Time / Nobody But You / Raindrops
1982
LP 12" Curcio GSR - 70 (I)

La Grande Storia Del Rock - 70 - Billy BLAND / Dee Clark - Billy BLAND : Sweet Thing / I Spent My Life Loving You / Busy Little Boy / Steady Kind / I Cross My Heart / Mamma Killed The Chicken / Let The Little Girl Dance / You Took My Love For Granted / Dee Clark : Raindrops / Cupid / Cindy / Nature Boy / Hold On / Portrait Of My Love / Always Together

1984
LP 12" SOLID SMOKE SS-8026 (US)
HIS BEST RECORDINGS - DEE CLARK & THE KOOL GENTS & THE DELEGATES -

This Is The Night (The KOOL GENTS) / I Just Can't Help Myself (The KOOL GENTS) / Crazy Over You (The KOOL GENTS) / When I Call On You (The KOOL GENTS) / Just Like A Fool (The KOOL GENTS) / I'm Gonna Be Glad (The DELEGATES) / Mother's Son (The DELEGATES) / Raindrops / Hey Little Girl / Your Friends / What Kind Of Fool / Wondering / It's Impossible / I'm Going Home

1986
LP 12" CHARLY CRB 1113 (UK)
THE DELECTABLE SOUND OF DEE CLARK -

Seven Nights / Just Like A Fool / 24 Boyfriends / Why Don't You Come Home / Blues Get Off My Shoulder / I Just Can't Help Myself / Because I Love You / Money / Dance On Little Girl / Drums In My Heart / You Are Like The Wind / Fever / Old Man River / Little Boy Blue / How Is He Treating You / I'm Going Back To School

1987
CD CHARLY CD 69 (UK)
RAINDROPS - I Just Can't Help Myself / When I Call on You (The KOOL GENTS) / Just Like A Fool (The KOOL GENTS) / Seven Nights / Why Don't You Come Home / 24 Boyfriends / Oh Little Girl (with The UPSETTERS) / Wondering (with The UPSETTERS) / Nobody But You / Blues Get Off My Shoulder / Just Keep It Up / Hey Little Girl / Your Friends / Raindrops / You're Telling Our Secrets / Walk Away From Me / You Are Like The Wind / Drums In My Heart / Bring Back My Heart / Fever / I'm A Soldier Boy / Shook Up Over You
04/1993
CD NEW ROSE 5108 (F)
THE DEE CLARK SHOW - Knock On Wood / Nobody But You / Sweet Soul Music: People Get Ready - Lucille / Just Keep It Up / You Send Me / If I Had A Hammer / Raindrops / Hey Little Girl / I'm Going Back To School
01/1993
CD VEE JAY 703 (US)
RAIN DROPS - I Just Can't Help Myself / Mother's Son / Gloria / Kangaroo Hop / Seven Nights / 24 Boyfriends / Emma Jean

/

If It Wasn't For Love / Nobody But You / Just Keep It Up / Hey Little Girl / How About That / I Love You Darling

/

At My Front Door / Cling A Ling / You're Looking Good / Your Friends / What Kind Of Fool / Raindrops / Cupid / (Don't) Walk Away From Me / Bring Back My Heart

/

Fever / I'm Going Back To School / Shook Up Over You
05/1995
CD CHARLY 19 (UK)
HEY LITTLE GIRL - I Just Can't Help Myself / When I Call On You / Just Like A Fool / Seven Nights / Oh Little Girl / Wondering / Nobody But You / Just Keep It Up / Hey Little Girl / How About That / Blues Get Off My Shoulder / At My Front Door / You're Looking Good / Your Friends / Because I Love You / Raindrops / (Don't) Walk Away From Me / I'm Going Back To School / Shook Up Over You / I'm A Soldier Boy
11/1996
CD COLLECTABLES COL 5760 (US)
GOLDEN CLASSICS -

Raindrops / Hey Little Girl / Nobody But You / Crossfire Time / I'm Going Home / That's My Girl / It's Raining / Come Closer / Warm Summer Breezes / Heartbreak / In My Apartment / I Ain't Gonna Be Your Fool / T. C. B. / It's Impossible / She's My Baby / I Can't Run Away / Hot Potato / I Don't Need (Nobody Like You) / Ole Fashun Love

08/1998
CD WESTSIDE 805 (UK)
TAKE CARE OF BUSINESS - 1963-1966 - THE CONSTELLATION MASTERS - Crossfire Time / It's Raining / Come Closer / I'm Going Home / That's My Girl / In My Apartment / Heartbreak / Warm Summer Breezes / I Ain't Gonna Be Your Fool / T.C.B. / I Can't Run Away / I Don't Need (Nobody Like You) / She's My Baby / It's Impossible / Hot Potato / Ole Fashun Love / Nobody But You, Pts. 1 & 2
09/2000
CD COLLECTABLES COL 7250 (US)
DEE CLARK / HOW ABOUT THAT -

Just Keep It Up / Blues Get Off My Shoulder / Hey Little Girl / Whispering Grass / Seven Nights / I Can't Dream / Nobody But You / If It Wasn't For Love / Lucky Me / When I Call On You / Nature Boy / Count On Me / How About That / Cling-A-Ling / They're Talkin' / At My Front Door / The Convention / I Love You Darling / Senior Blues / Foggy Days / You There / Silently Lovin' You / Moonlight In Vermont / The Time Has Come

10/2000
CD COLLECTABLES COL 7265 (US)
YOU'RE LOOKING GOOD / HOLD ON -

You're Looking Good / Wondering / Kangaroo Hop / I Just Can't Help Myself / Little Red Riding Hood / Gloria / Come To California / Baby What You Want Me To Do / Twenty-Four Boyfriends / Just Like A Fool / What I Say / Hold On / Portrait Of My Love / Cupid / Always Together / Raindrops / Cindy / Nature Boy / What Kind Of Fool / Whispering Grass / I Want To Love You / Your Friends

08/2000
CD NEON 34538 (NL)
RAINDROPS - Raindrops / Hey Little Girl / Nobody But You / Just Keep It Up / How About That / At My Front Door / You're Looking Good / Your Friends / I'm Going Back To School / Because I Love You / (Don't) Walk Away From Me / Shook Up Over You / I'm A Soldier Boy / Blues Get Off My Shoulder / Seven Nights / Just Can't Help Myself / When I Call On You / Just Like A Fool / Oh Little Girl / Wondering
03/2002
CD PRESTIGE ELITE 230 (JAP)
RAINDROPS - THE BEST OF DEE CLARK - Raindrops / Just A Little Bit / How About That / Just Keep It Up / Hey Little Girl / Dock Of The Bay / Only You / Twilight Time / Leroy Brown / Little Bitty Pretty One / Lavender Blue / Bare Footin' / High Heel Sneakers / Slip Away
04/2005
2 CD PAZZAZZ 0005 (US)
GENE CHANDLER MEETS THE DUKE OF EARL :

CD 1 : Walk On With The Duke / London Town / Daddy's Home / The Big Lie / You Left Me / I'll Follow You / Tear For Tear / Miracle After Miracle / Kissin' In The Kitchen / Duke Of Earl
CD 2 : Nobody But You / Just Keep It Up / Hey Little Girl / How About That / At My Front Door / You're Looking Good / Your Friends / Raindrops / I'm Going Back To School / I'm A Soldier Boy

08/2005
CD PAZZAZZ 200052 (US)
HOW ABOUT THAT - Nobody But You / Just Keep It Up / Hey Little Girl / How About That / At My Front Door / You're Looking Good / Your Friends / Raindrops / I'm Going Back To School / I'm A Soldier Boy
03/2006
CD MARGINAL 39 (F)
ULTIMATE COLLECTION - Bring Back My Heart / Nobody But You / Don't Walk Away From Me / Raindrops / Cupid / Your Friends / Fever / I Love You Darling / What Kind Of Fool / Drums In My Heart / Shook Up Over You / I'm A Soldier Boy / Because I Love You / Gloria / Come Closer / In My Apartment / She's My Baby / That's My Girl / Tcb / It's Impossible / Hot Potato / I Don't Need / Nature Boy / Cross Fire Time / Come To California / Hold On / Just Keep It Up / Hey Little Girl / How About That / At My Front Door / You're Looking Good
04/2011
2 CD JASMINE JASCD 593 (US)
A HISTORY - 1952-1960 :

CD 1 : This Is The Night (KOOL GENTS) / Do Ya Do (KOOL GENTS) / You Know (KOOL GENTS) / I Just Can't Help Myself (KOOL GENTS) / Just Like A Fool (KOOL GENTS) / Crazy Over You (KOOL GENTS) / The Convention (DELEGATES) / Mother's Son (DELEGATES) / I'm Gonna Be Glad (DELEGATES) / Gloria / Kangaroo Hop / 24 Boyfriends / Seven Nights / Oh Little Girl / Wondering / Nobody But You / When I Call On You / Just Keep It Up / Whispering Grass / Hey Little Girl / If It Wasn't For Love / How About That / Blues Get Off My Shoulder / At My Front Door
CD 2 : Cling A Ling / You're Looking Good / Because I Love You / Your Friends / Little Red Riding Hood / Come To California / Baby What Do You Want Me To Do / Just Like A Fool / What'd I Say / I Can't Dream / Lucky Me / Count On Me / Nature Boy / They're Talkin' / Senor Blues / A Foggy Day In London Town / You There / Silently Loving You / Moonlight In Vermont / The Time Has Come / Emma Jean / I Love You Darling (duo with Jerry BUTLER)
© Rocky Productions 26/10/2010