| | |
| --- | --- |
| | |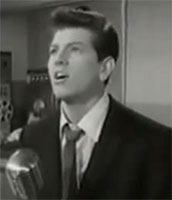 Chanteur US né le 2 Septembre 1940 à Baton Rouge (Louisiane). Jimmy Clanton a débuté en 1957 et a surtout été connu pour son succès: "Venus In Blue Jeans" sorti en 1962.



To most rock & roll listeners who recognize it at all, the name Jimmy Clanton likely evokes one image -- the slightly stiff but honest performance that Clanton gave in Go Johnny Go, the 1959 Alan Freed-produced jukebox movie. It would be difficult, based on the evidence of that film, to tell that Clanton was one of the most serious and complex of the generation of teen idols in which he is usually grouped, standing head and shoulders above the likes of Fabian, Bobby Rydell, and others, but Clanton was a dedicated R&B enthusiast and singer with a great voice and a genuine feel for New Orleans music. What's more, he also wrote many of the songs that he recorded -- a relative rarity among white singers of his day.
Clanton was born in Baton Rouge, LA on September 2, 1940. He reached his teen years just as R&B was starting to find an audience among younger whites. By the time he formed his first band, the Dixie Cats, in 1956, he was emulating the sounds of Fats Domino, Little Richard, and Elvis Presley, and his other influences included Johnny Ace. His rivals in those days included a young John Fred, more than a decade away from his chart-topping "Judy in Disguise (With Glasses)" and Johnny Ramistella, later known as Johnny Rivers and still eight years from his big break. Clanton joined forces with a rival bandleader, pianist Dick Holler (later the author of "Abraham, Martin and John"), in the Rockets, a combo that was hot enough to justify a 1957 trip to New Orleans and a visit to Cosimo Matassa, who owned the only recording studio in the city.
Matassa was taken with Clanton's easygoing charm and his way with a song -- he sang R&B from the heart, and he had an outgoing, likable personality. Matassa signed both Clanton and Holler under his management, recorded each one fronting the Rockets, and then got them both recording deals with Mississippi-based Ace Records in September 1957.
At first, Clanton stood somewhat in the shadow of Huey "Piano" Smith, who was Ace's golden boy with "Rockin' Pneumonia and the Boogie-Woogie Flu" under his belt and "Don't You Just Know It" waiting in the wings. Gradually, however, Clanton's "Just a Dream" began to gain airplay and sales, starting in the South and then building elsewhere. Eventually, the record reached number four on the Billboard Pop chart and topped the R&B charts in 1958, and suddenly Clanton was one of Ace's hottest properties. Appearances on American Bandstand followed, along with his first bookings outside of the South. There were engagements at the Hollywood Bowl and performances on Freed's package tours, which in turn led to Clanton's starring role in the second of Freed's two rock & roll films, Go Johnny Go, in which Clanton was seen performing "Ship on a Stormy Sea," "My Love Is Strong," and "It Takes a Long, Long Time." What's more, he held his own in a cast that included Chuck Berry, Jackie Wilson, Sandy Stewart, the Flamingos, the Cadillacs, Jo-Ann Campbell, Eddie Cochran, and Ritchie Valens.
Clanton's next release was a double A-side single: "Letter to an Angel" (which owed a lot in feel and content to Johnny Ace's "Pledging My Love") and "A Part of Me," both of which charted, though not high. He reached number 33 with "My Own True Love," which was adapted from the main title music of Gone with the Wind -- this was, ironically enough, Clanton's first single that he didn't write or co-write (usually with Matassa). It wasn't until 1960 that he again reached the Top Ten, with "Go Jimmy Go," written by Doc Pomus and Mort Shuman, which hit number five. By that time, the teen idol boom was going full-force and Clanton was firmly cast in this role -- he was a natural with his good looks and easygoing personality, and his music was reshaped from R&B to more of a softer White rock & roll vein. He still wrote an occasional song, but Clanton increasingly turned to outside writers, including Pomus and Shuman and Neil Sedaka and Howie Greenfield.
In early 1961, Clanton was drafted, and he spent the next two years in the U.S. Army. Ace did its best to keep his name in the public eye with a series of single releases. Those early-'60s singles, including his own "Don't Look at Me" and Dr. John's "Because I Do," were pretty powerful rockers, and marked something of a return to Clanton's original New Orleans-based sound, in the wake of his success with pop ballads.
His return to performing coincided with the release of his last major hit, "Venus in Blue Jeans," which peaked at number seven in mid-1962, maintaining his status as a mainstay of the Mississippi-based label. He had one further chart entry with "Darkest Street in Town," but that was the end of Clanton's run of hits. He continued performing even after Ace Records folded in the mid-'60s and later recorded for Phillips, Mala, Laurie, and Imperial, but the British Invasion heralded a shift in public taste that made it more difficult to get steady bookings.
Clanton became a disc jockey in the '70s and performed in an oldies revue of his own, and reportedly had a religious conversion in the '80s. He performed at oldies shows in the '90s with his one-time labelmate Frankie Ford, and his appearances at oldies shows continued during the first decade of the new millennium.
https://en.wikipedia.org/wiki/Jimmy_Clanton
Talents : Vocals
Style musical : Rock 'n' Roll, Teen Idol, Traditional Country

https://youtu.be/_13davmxPb4
Years in activity :
| | | | | | | | | | | | |
| --- | --- | --- | --- | --- | --- | --- | --- | --- | --- | --- | --- |
| 1910 | 20 | 30 | 40 | 50 | 60 | 70 | 80 | 90 | 2000 | 10 | 20 |
DISCOGRAPHY
Singles & EP
| | | | |
| --- | --- | --- | --- |
| 1957 | SP ACE 537 (US) | . | I Trusted You / That's You, Baby |
| 1958 | SP ACE 546 (US) | | Jimmy CLANTON & His ROCKETS - Just A Dream / You Aim To Please / Mr. Blue (FLEETWOODS) / You Mean Everything To Me (FLEETWOODS) |
| 09/1958 | SP ACE 551 (US) | . | A Letter To An Angel / A Part Of Me |
| 01/1959 | EP LONDON RE-S 10014 (F) | | JIMMY CLANTON & His ROCKETS - Just A Dream / You Aim To Please / A Letter To An Angel / A Part Of Me |
| 1959 | SP ACE 560 (US) | . | My Love Is Strong / A Ship On A Stormy Sea |
| 06/1959 | SP ACE 567 (US) | | Little Boy In Love / My Own True Love |
| 1959 | EP TOP RANK / ARTECO RES 102 (F) | | Jimmy CLANTON : Little Boy In Love / My Own True Love / FLEETWOODS : Mr. Blue / You Mean Everything To Me |
| 11/1959 | SP ACE 575 (US) | | Go, Jimmy, Go / I Trusted You |
| 1959 | EP ACE 101 (US) | | It Takes A Long Long Time / Ship On A Stormy Sea / Angel Face / My Love Is Strange |
| 1959 | EP ACE 103 (US) | | I'm Beginning To See The Light / Sleepy Time Gal / Linda |
| 04/1960 | SP ACE 585 (US) | | Another Sleepless Night / I'm Gonna Try |
| 05/1960 | SP ACE 51860 (US) | . | The Slave / Rambling Girl |
| 08/1960 | SP ACE 600 (US) | | Come Back / Wait |
| 1960 | SP ACE 607 (US) | | What Am I Gonna Do? / If I |
| 1960 | EP TOP RANK / ARTECO RES 131 (F) | | Jimmy CLANTON : I Trusted You / Go, Jimmy, Go / Ike CLANTON : Land Of Dreams / Show Me The Way |
| 1961 | SP ACE 616 (US) | | Jimmy CLANTON & Mary Ann MOBLEY - Down The Aisle / No Longer Blue |
| 04/1961 | SP ACE 622 (US) | | I Just Wanna Make Love / Don't Look At Me |
| 1961 | SP ACE 634 (US) | | Not Like A Brother / Lucky In Love With You |
| 11/1961 | SP ACE 641 (US) | | Twist On, Little Girl / Wayward Love |
| 1961 | EP ACE 642 (US) | | Green Light / Happy Times / Twist On, Little Girl / Wayward Love |
| 1962 | SP ACE 655 (US) | | Just A Moment / Because I Do |
| 1962 | SP ACE 664 (US) | . | Venus In Blue Jeans / Highway Bound |
| 1962 | SP ACE 668 (US) | . | Many Dreams / Heart Hotel |
| 07/1962 | SP ACE 8001 (US) | . | Venus In Blue Jeans / Highway Bound |
| 11/1962 | SP ACE 8005 (US) | . | Darkest Street In Town / Dreams Of A Fool |
| 02/1963 | SP ACE 8006 (US) | . | Another Day, Another Heartache / Endless Nights |
| 1963 | SP ACE 8007 (US) | . | I Care Enough (To Give The Very Best) / Cindy |
| 1963 | SP PHILIPS 40161 (US) | . | Red Don't Go With Blue / All The Words In The World |
| 1963 | SP OLDIES 45 5 (US) | . | Rockin' Pneumonia And The Boogie Woogie Flu, Part 1 (Huey "Piano" SMITH) / Just A Dream (Jimmy CLANTON) |
| 03/1964 | SP PHILIPS 40181 (US) | . | I Won't Cry Anymore / I'll Step Aside |
| 1964 | SP PHILIPS 40219 (US) | . | Follow The Sun / Lock The Windows |
| 06/1964 | SP PHILIPS 40208 (US) | . | If I'm A Fool For Loving You / A Million Drums |
| 04/1965 | SP MALA 500 (US) | . | Hurting Each Other / Don't Keep Your Friends Away |
| 1965 | SP MALA 516 (US) | . | Everything I Touch Turns To Tears / That Special Way |
| 05/1967 | SP IMPERIAL 66242 (US) | . | The Absence Of Lisa / C'mon Jim |
| 07/1969 | SP LAURIE LR-3508 (US) | . | Curly / I'll Never Forget Your Love |
| 1969 | SP LAURIE LR-3508 (US) | . | Curly / The Girl Who Cried Love (Once Too Often) |
| 12/1969 | SP LAURIE LR-3534 (US) | . | Tell Me / I'll Never Forget Your Love |
| 1976 | SP STARFIRE S-104 (US) | | You Kissed A Fool Goodbye / I Wanna Go Home |
| 1978 | SP Janus Records Gold ‎1jg 748 (US) | . | To Know Him Is To Love Him (TEDDY BEARS) / Another Sleepless Night (Jimmy CLANTON) |
| 19?? | SP ERIC 159 (US) | . | Just A Dream / Venus In Blue Jeans |
| 19?? | SP TRIP TR-82 (US) | . | Just A Dream / Venus In Blue Jeans |
Albums
1959
LP 12" ACE LP-1001 (US)
JUST A DREAM -

Just A Dream / Take Her Back / No Greater Love / Part Of Me / It's All Over Now / Land Of Tomorrow / Letter To An Angel / It Takes A Long Long Time / My Love Is Strong / Losing The One I Love / Angel Face / Ship On A Stormy Sea

1960
LP 12" ACE LP-1007 (US)

| | |
| --- | --- |
| | JIMMY'S HAPPY - You're Just In Love / A Kiss To Build A Dream On / Jimmy's Tune / That Old Feeling / Linda / I'm Sitting On Top Of The World / Sleepy Time Gal / I'm Beginning To See The Light / Beg Your Pardon / Over The Rainbow / You're An Old Smoothie / I'm Always Chasing Rainbows |

1960
LP 12" ACE LP-1008 (US)

| | |
| --- | --- |
| | JIMMY'S BLUE - I Feel Those Tears Comin' On / Somebody Please Help Me / You'll Never Know / Don't Look At Me / Nothing Left For Me / I'm Gonna Try / Another Sleepless Night / You Better Settle Down / You Kissed A Fool Goodbye / Love Me Tonight / Highway Bound / I Wanna Go Home |

1960
2 LP 12" ACE DLP-100 (US)
JIMMY'S HAPPY, JIMMY'S BLUE :

| | |
| --- | --- |
| | JIMMY'S HAPPY - You're Just In Love / A Kiss To Build A Dream On / Jimmy's Tune / That Old Feeling / Linda / I'm Sitting On Top Of The World / Sleepy Time Gal / I'm Beginning To See The Light / Beg Your Pardon / Over The Rainbow / You're An Old Smoothie / I'm Always Chasing Rainbows |

| | |
| --- | --- |
| | JIMMY'S BLUE - I Feel Those Tears Comin' On / Somebody Please Help Me / You'll Never Know / Don't Look At Me / Nothing Left For Me / I'm Gonna Try / Another Sleepless Night / You Better Settle Down / You Kissed A Fool Goodbye / Love Me Tonight / Highway Bound / I Wanna Go Home |

1961
LP 12" ACE LP-1011 (US)
MY BEST TO YOU -

Just A Dream / Another Sleepless Night / Go Jimmy Go / My Own True Love / Come Back / Wait / What Am I Gonna Do / If I / Little Boy In Love / I Trusted You / I'm Gonna Try / A Letter To An Angel

1961
LP 12" ACE LP-1014 (US)
TEENAGE MILLIONAIRE (SOUNDTRACK) -

Teenage Millionaire / Possibility / Smokey / Yogi / Kissin' Game / Somebody Nobody Wants / Back To School Blues / Hello Mister Dream / Greenlight / Happy Times / Let's Twist Again / The Jet / The Way I Am / Lonely Life / Show Me / Oh Mary / I Wait

1962
LP 12" ACE LP-1026 (US)
VENUS IN BLUE JEANS -

Darkest Street In Town / Molly Darling / Dreams Of A Fool / Walk With Me / Not Like A Brother / Just A Moment / Venus In Blue Jeans / Because I Do / Lucky In Love (With You) / I Just Wanna Make Love / Twist On Little Girl / Wayward Love

1964
LP 12" DESIGN SLP-176 (mono) / SDLP-176 (stereo) (US)
JIMMY CLANTON & BRISTOW HOPPER - (Jimmy CLANTON / Bristow HOPPER) - Angel Face / Just A Dream / The Slave / Please Me / I Need To Be Loved / Love Has No Strings / Foolish Thing / Baby That's Love / Hate That Bear / Rolling Western Plains
1964
LP 12" PHILIPS PHM 200-154 (US)
THE BEST OF JIMMY CLANTON - Just A Dream / It's Too Late / Got You On My Mind / But I Do / Mathilda / Follow The Sun / A Million Drums / There Is Something On Your Mind / My Own True Love / If I'm A Fool For Loving You / A Million To One / Teardrops
1964
LP 12" Constellation CS-7 (US)

Collectors Showcase Aces 3 Vol. VII - Jimmy Clanton, Frankie Ford, Huey Smith & His Clowns - Jimmy Clanton : Just A Dream / Another Sleepless Night / Venus In Blue Jeans / Go, Jimmy, Go / A Letter To An Angel / Frankie Ford : Sea Cruise / Cheatin' Woman / Huey Smith & His Clowns : Rockin Pneumonia And The Boogie Woogie Flu / Don't You Know Yockomo / Don't You Just Know It / High Blood Pressure / We Like Birdland

1989
CD ACE 2039 (US)
THE VERY BEST OF JIMMY CLANTON - Venus In Blue Jeans / Because I Do / It Only Hurts For A Little While / See See Rider / Any More / Feel So Bad / What Am I Living For? / Just A Dream / Go, Jimmy, Go / Half As Much As You Do / Fool For You / I Got A Woman / You Win Again / Another Sleepless Night / Just A Moment
1990
CD BIG TOP ? (UK)
LET THE GOOD TIMES ROLL -

Just A Dream / Go, Jimmy, Go / Wayward Love / Another Sleepless Night / You Better Settle Down / Don't Look At Me / You Aim To Please / I Wanna Go Home / I'm Gonna Try / It Takes A Long Time / Nothing Left For Me / Because I Do / I Feel Those Tears / Somebody Please Help Me / Ship On A Stormy Sea / Venus In Blue Jeans / Lucky In Love / I Just Wanna Make Love / Twist On Little Girl / Jimmy's Tune

02/1998
CD MUSIC CLUB 50047 (UK)
THIS IS... JIMMY CLANTON - Just A Dream / You Aim To Please / I Trusted You / That's You Baby / A Letter To An Angel / A Part Of Me / Ship On A Stormy Sea / My Love Is Strong / My Own True Love / It Takes A Long, Long Time / Go, Jimmy, Go / Another Sleepless Night / I'm Gonna Try / What Am I Gonna Do / Don't Look At Me / Because I Do / Venus In Blue Jeans / Darkest Street In Town
04/1998
CD WESTSIDE 517 (UK)
GO, JIMMY, GO ! - THE VERY BEST OF JIMMY CLANTON - Just A Dream / I Trusted You / That's You Baby / You Aim To Please / Letter To An Angel / Part Of Me / Ship On A Stormy Sea / My Love Is Strong / My Own True Love / Little Boy In Love / Go, Jimmy, Go / Another Sleepless Night / I'm Gonna Try / Wait / Come Back / What Am I Gonna Do? / Down The Aisle / Twist On Little Girl / I Just Wanna Make Love / Just A Moment / Venus In Blue Jeans / Highway Bound / What Am I Living For? / Darkest Street In Town
03/1999
CD WESTSIDE 542 (UK)
JIMMY'S TUNES - MORE OF THE BEST - How's The World Treating You? / Just A Dream / See See Rider / Go Jimmy Go / Angel Face / Because I Do / You Win Again / It's All Over Now / A Fool For You / Losing The One I Love / You Better Settle Down / Another Sleepless Night / Any More / I Feel So Bad / I Trusted You (2nd version) / Take Her Back / A Slave Before My Queen / Jimmy's Tune (I'm in Love) / No Greater Love / Somebody Help Me / I Feel Those Tears Coming On / Teenage Millionaire / Love Me Tonight / Don't Look At Me / Nothing Left For Me / Lucky In Love (With You) / Greenlight / Funny But It's True
09/1999
CD EDSEL 923 (UK)
VENUS IN BLUE JEANS - Darkest Street In Town / Molly Darling / Dreams Of A Fool / Walk With Me / Not Like A Brother / Just A Moment / Venus In Blue Jeans / Because I Do / Lucky In Love (With You) / I Just Wanna Make Love / Twist On Little Girl / Wayward Love
2000
CD WESTSIDE 842 (UK)
JIMMY'S HAPPY / JIMMY'S BLUE -

You're Just In Love / A Kiss To Build A Dream On / Jimmy's Tune / That Old Feeling / Linda / I'm Sitting On Top Of The World / Sleepy Time Gal / I'm Beginning To See The Light / Beg Your Pardon / Over The Rainbow / You're An Old Smoothie / I'm Always Chasing Rainbows / I Feel Those Tears Comin' On / Somebody Please Help Me / You'll Never Know / Don't Look At Me / Nothing Left For Me / I'm Gonna Try / Another Sleepless Night / You Better Settle Down / You Kissed A Fool Goodbye / Love Me Tonight / Highway Bound / I Wanna Go Home

2007
CD K-TEL ? (UK)
JUST A DREAM & OTHER GREAT HITS - A Letter To An Angel / A Part Of Me / Another Sleepless Night / Come Back / Darkest Street In Town / Go Jimmy Go / Just A Dream / My Own True Love / Venus In Blue Jeans / Wait / What Am I Gonna Do
2008
CD MY BEST YEAR 001 (US)
ONLY THE BEST
2008
CD MY BEST YEAR 002 (US)
TELL THEM
09/2009
CD FUEL 2000 061788 (US)
THE JIMMY CLANTON'S GREATEST HITS - VENUS IN BLUE JEANS -

Just A Dream / I Trusted You / That's You Baby / You Aim To Please / A Letter To An Angel / A Part Of Me / It Takes A Long, Long Time / Ship On A Stormy Sea / My Own True Love / Go, Jimmy, Go / Another Sleepless Night / I'm Gonna Try / You Better Settle Down / Somebody Please Help Me / Don't Look At Me / What Am I Gonna Do / Greenlight / Venus In Blue Jeans

200?
CD ? (US)
JUST A DREAM -

. Just A Dream / Go Jimmy Go / Ship On A Stormy Sea / Venus In Blue Jeans / You Aim To Please / Letter To An Angel / A Part Of Me / Angel Face / That's You Baby / My Own True Love / Don't Look At Me / I'm Gonna Try / Another Sleepless Night / I Trusted You / Little Boy In Love / It Takes A Long, Long Time / Take Her Back / Land Of Tomorrow / A Slave Before My Queen / Wedding Bells / No Greater Love / Because I Do / My Love Is Strong / Losing The One I Love / Lucky In Love With You / It's All Over Now / I Just Wanna Make Love / Angel Face (outtake) / Darkest Street In Town / I Wanna Go Home
© Rocky Productions 4/05/2012