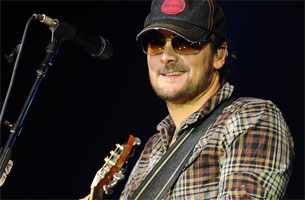 Chanteur Country US originaire de Granite Falls (Caroline du Nord).

Country singer/songwriter/guitarist Eric Church grew up in Granite Falls, NC, and began singing as a child. At 13, he started writing songs, later teaching himself to play guitar. While attending college at Appalachian State, he formed a band, the Mountain Boys, that played around western North Carolina. After graduating with a degree in marketing, he moved to Nashville, TN, to pursue a career in country music. It took him a year to get a song publishing deal with Sony/ATV Tree, after which he started getting his songs recorded by other artists, an example being Terri Clark's version of "The World Needs a Drink." He met producer Jay Joyce, who took an interest in him as a recording artist, and they began making demos. That led to his being signed by Capitol Records Nashville. His debut single, "How 'Bout You," was released in early 2006, and it had reached the country Top 20 by the time Capitol released his first album, Sinners Like Me, on July 18, 2006. The album was both a critical and commercial success, and Church followed it up with Carolina in 2009, in which he swung for the contemporary country fences and hit them, scoring two Top Ten singles on the country charts with "Love Your Love the Most" (certified gold), and "Hell on the Heart." He scored another gold single with "Smoke a Little Smoke" in 2010. He won Top New Solo Vocalsist at the Academy of Country Music Awards for that calendar year. After extensive touring, Church released the extended play Caldwell County EP in January of 2011, which reached the number 13 position on the Billboard country chart, as did the single "Homeboy." Church followed with the album Chief in July.
Chief wound up as Church's entry into superstardom. Upon its July 2011 release it debuted at number one on the Billboard 200 and the Top Country Albums chart and soon afterward "Drink in My Hand" climbed to the top of the charts, becoming Church's first number one single. Its popularity was eclipsed in the summer of 2012 by "Springsteen," a ballad that also reached number one on the country charts but also crossed over to the pop Top 20. Two other singles were pulled from Chief -- "Creepin'" and "Like Jesus Does" -- and the album won Album of the Year at the 2012 Country Music Academy Awards. Early in 2013, Church released the live set Caught in the Act, which was recorded at the Tivoli Theatre in Chattanooga, Tennessee in October of 2012; the album debuted at five on the Billboard 200. Church spent the rest of 2013 working on his fourth studio album. The first taste of this new album was the heavy rock of "The Outsiders," a single that turned out to be the album's title track. Preceded by the second single "Give Me Back My Hometown," The Outsiders arrived to considerable anticipation and acclaim in February 2014. It became his second album to hit number one on both the country and overall charts. The Outsiders racked up five hit singles -- the biggest were the ballads "Give Me Back My Hometown" and "Talladega," both of which reached number one on Billboard's U.S. Country Airplay charts -- and while "Like a Wrecking Ball" remained on the charts, Church released a brand-new full-length album, Mr. Misunderstood, as a surprise in the first week of November 2015.
Mr. Misunderstood debuted at two on Billboard's Top 200 and country charts, eventually earning a gold certification and winning CMA's Album of the Year in 2016, along with spawning three hit singles: "Mr. Misunderstood," "Record Year," and "Kill a Word," which featured Rhiannon Giddenson its single version. In November 2016, Church released the EP Mr. Misunderstood on the Rocks Live and (Mostly) Unplugged. A fourth single off Mr. Misunderstood, "Round Here Buzz," appeared in 2017 and reached the Top 20 of Billboard's Country Songs chart. The singer's sixth studio album, Desperate Man, arrived in October 2018, preceded by its title track as a single.
Talents : Singer, Guitar, Songwriter
Style musical : Contemporary Country

http://www.youtube.com/watch?v=jgRB45eEzPQ
Years in activity :
| | | | | | | | | | | |
| --- | --- | --- | --- | --- | --- | --- | --- | --- | --- | --- |
| 1910 | 20 | 30 | 40 | 50 | 60 | 70 | 80 | 90 | 2000 | 10 |
DISCOGRAPHY
Albums
07/2006
CD CAPITOL 745 (US)
SINNERS LIKE ME - Before She Does / Sinners Like Me / How Ďbout You / These Boots / What I Almost Was / The Hard Way / Guys Like Me / Lightning / Canít Take It With You / Pledge Allegiance To The Hag (featuring Merle HAGGARD) / Two Pink Lines / Liviní Part Of Life
03/2009
CD CAPITOL 208102 (US)
CAROLINA - Ain't Killed Me Yet / Lotta Boot Left To Fill / Young And Wild / Where She Told Me To Go / Longer Gone / Love Your Love The Most / Smoke A Little Smoke / Without You Here / You Make It Look So Easy / Carolina / Hell On The Heart / Those I've Loved
07/2011
CD EMI 94266 (US)
CHIEF - Creepin' / Drink In My Hand / Keep On / Like Jesus Does / Hungover & Hard Up / Homeboy / Country Music Jesus / Jack Daniels / Springsteen / I'm Gettin' Stoned / Over When It's Over
04/2013
CD EMI 047472 (US)

CAUGHT IN THE ACT - LIVE - Before She Does / How 'bout You / Drink In My Hand / Over When It's Over / I'm Gettin' Stoned / Creepin' / Keep On / Hungover & Hard Up / Sinners Like Me / Country Music Jesus / Pledge Allegiance To The Hag / Jack Daniels / Homeboy / Lotta Boot Left To Fill / Smoke A Little Smoke / These Boots / Springsteen

02/2014
CD CAPITOL / EMI B 001940202

The Outsiders -

The Outsiders / A Man Who Was Gonna Die Young / Cold One / Roller Coaster Ride / Talladega / Broke Record / Like A Wrecking Ball / That's Damn Rock & Roll / Dark Side / Devil, Devil (Prelude: Princess Of Darkness) / Give Me Back My Hometown / The Joint
11/2015
CD EMI / Universal 002420002 (US)

Mr. Misunderstood -

Mr. Misunderstood / Mistress Named Music / Chattanooga Lucy / Mixed Drinks About Feelings (Eric

Church

feat: Susan

Tedeschi

) / Knives Of New Orleans / Round Here Buzz / Kill A Word / Holdin' My Own / Record Year / Three Year Old
04/2017
CD CAPITOL / EMI 002583902 (US)

Mr. Misunderstood - on the Rocks - Live & (Mostly) Unplugged - Mistress Named Music (Red Rocks Medley) / Chattanooga Lucy / Mixed Drinks About Feelings / Knives Of New Orleans / Kill A Word / Record Year / Hallelujah

10/2018
CD EMI 002873302 (US)

Desperate Man - The Snake / Hangin' Around / Heart Like A Wheel / Some Of It / Monsters / Hippie Radio / Higher Wire / Desperate Man / Solid / Jukebox And A Bar / Drowning Man
© Rocky Productions 5/10/2018