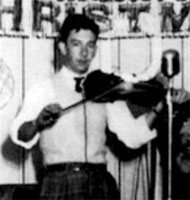 Chanteur et fiddler Country US né le 26 Décembre 1922 à Rayne (Louisianne). Harry Choates a débuté dans les années 30. Une authenticité, alliée à un professionnaliste de bon aloi était l'une des caractéristiques de la musique dansante, vivante et exubérante de Harry Choates, qui fut un peu le Hank Williams de la musique Cajun. Il est mort d'une cirrhose, le 17 Juillet 1951 à Austin (Texas). Il fut surnommé: "Jole Blon".

Harry Choates was not only one of the most influential musicians in the history of Cajun music, but one of its most tragic figures. A wild and imaginative fiddler, Choates wrote such classic tunes as the Cajun national anthem, "Jole Blon," and popularized such songs as "Allons à Lafayette." Recording for Gold Star, DeLuxe, D.O.T., Allied, Cajun Classics, Macy's, and Humming Bird, Choates introduced Western swing, blues, jazz, and country music to the two-steps and waltzes of southwest Louisiana's bayous, influencing nearly every Cajun musician who followed in his footsteps.
Like Hank Williams, Choates balanced his musical talents with painful struggle in his real life. An acute alcoholic, he sold the rights to "Jole Blon" for $100 and a bottle of whiskey. His habit of missing concerts led him to be blacklisted by the musicians union in San Antonio and resulted in his band breaking up. His death was equally tragic. Failing to make support payments of $20 a week for his son and daughter following his divorce, he was jailed by a judge who found him in contempt of court. After three days of being forced to curtail his drinking habit, he began beating his head against the cell bars and fell into a coma. He died a few days later on July 17, 1951.
Born in either Rayne or New Iberia, LA, Choates moved to Port Arthur, TX, with his mother in the 1930s. Rather than going to school, Choates spent much of his childhood in bars and taverns, listening to honky tonk and blues records on the jukebox. By the age of 12, Choates was playing fiddle in barbershops for tips.
Launching his professional music career in Cajun bands led by Leo Soileau and Leroy "Happy Fats" LeBlanc, Choates formed his own group, the Melody Boys, in 1946. The same year, he rewrote the classic Cajun tune, "Jolie Blonde," for his daughter, Linda, and recorded it for the Gold Star label. Although the tune became a country hit when covered by Aubrey "Moon" Mullican, Choates had given up all rights to the song and received no further compensation for his composition. Choates and the Melody Boys continued to record at a prolific rate, releasing more than two dozen songs for Gold Star in 1946 and 1947. Adapting the Western swing of Bob Wills & His Texas Playboys to Cajun music, Choates became known as "the fiddle king of Cajun swing."
Although he performed with Jesse James & His Gang on radio station KTBC after the disbanding of the Melody Boys in 1951, Choates suffering ended a few months later. His grave was left unmarked until 1980, when money was raised for a gravestone with the bilingual inscription, "Purrain de la Musique Cajun -- The Godfather of Cajun Music." In the mid-'60s, Cajun musician Rufus Thibodeaux was one of the first to pay homage to Choates' influence when he recorded an album of Choates' songs, A Tribute to Harry Choates.
https://en.wikipedia.org/wiki/Harry_Choates
Talents : Vocals, Fiddle, Guitar, Steel Guitar
Style musical : Cajun, Western Swing, Honky Tonk, Traditional Country
Years in activity :
| | | | | | | | | | | | |
| --- | --- | --- | --- | --- | --- | --- | --- | --- | --- | --- | --- |
| 1910 | 20 | 30 | 40 | 50 | 60 | 70 | 80 | 90 | 2000 | 10 | 20 |
DISCOGRAPHY
78 t. & Singles
1940
78 t. BLUEBIRD B-8537 (US)
FAT'S RAYNBO RAMBLERS - Lost Gal / Old Ice Man
1940
78 t. BLUEBIRD B-8623 (US)
HAPPY FATS RAYNBO RAMBLERS - I Know You Feel The Way I Do / Lake Charles Shuffle
1940
78 t. BLUEBIRD B-8648 (US)
HAPPY FATS RAYNBO RAMBLERS - Little High Chair / I've Grown So Lonely
1941
78 t. BLUEBIRD B-8879 (US)
FAT'S RAYNBO RAMBLERS - In The House At The End Of The Road / When The Weeping Willow Smiles
1942
78 t. BLUEBIRD B-8928 (US)
FAT'S RAYNBO RAMBLERS - If I Ever Leave The South / I'm Not Sorry Now
07/1946
78 t. GOLDSTAR 1313 / 1314 (US)
Harry COATES - Jole Blon

/ Basile Waltz

1946
78 t. MODERN 20-511 (US)
Harry COATES - Jole Blon

/ Basile Waltz

1946
78 t. DELUXE 6000 (US)
Harry COATES - Jole Blon

/ Basile Waltz

1946
78 t. GOLDSTAR 1319 (US)
Allons A Lafayette / Port Arthur Waltz
03/1947
78 t. GOLDSTAR 1326 (US)
Cajun Hop / Fa-De-Do Stomp
1947
78 t. GOLDSTAR 1330 (US)
Harry Choates Special / Cajun Hop
1947
78 t. GOLDSTAR 1333 (US)
Missing You / Wrong Keyhole
1947
78 t. GOLDSTAR 1335 (US)
Bayou Pon Pon / Lawtell Waltz
1947
78 t. GOLDSTAR 1336 (US)
Louisiana / Poor Hobo
1947
78 t. MODERN 20-528 (US)

Rubber Dolly / Cajun Hop

1947
78 t. MODERN 20-530 (US)

Harry Choates Special / Fa-De-Do Stomp

1947
78 t. MODERN 20-595 (US)

Louisiana / Poor Hobo

1947
78 t. CAJUN CLASSICS 1005/1006 (US)
Je Passe Durvan Ta Port / Tip-E-Te Tip-E Ta Ameon
1947
78 t. CAJUN CLASSICS 1007/1008 (US)
Hackberry Hop / Yes, I Love You
1947
78 t. CAJUN CLASSICS 1009/1010 (US)
Poor Hobo / Jole Brun
1948
78 t. GOLDSTAR 1340 (US)
Rye Whiskey / Devil In The Bayou
1948
78 t. GOLDSTAR 1343 (US)
Dragging The Bow / Te Petite
1948
78 t. GOLDSTAR 1345 (US)
Harry CHOATES & Buddy DUHON - Old Cow Blues / Nobody Cares For Me
1948
78 t. GOLDSTAR 1350 (US)
Honky Tonkin' Days / Mari Jole Blon
1949
78 t. GOLDSTAR 1380 (US)
Louisiana Boogie / Sidewalk Waltz
1949
78 t. GOLDSTAR 1385 (US)
Harry Choates Blues / Chere Meon
1949
78 t. GOLDSTAR 1388 (US)
It Won't Be Long / Maggie Waltz
1949
78 t. OKLAHOMA TORNADO OT-107 (US)
Jolie Blon's Gone / Valse De Lake Charles
1950
78 t. HUMMING BIRD HB-1011 (US)
Oh-Meon / Big Woods
1950
78 t. MACY'S 124 (US)
Harry "Jole Blon" CHOATES & His Fiddle - Gra Mamou / Cat 'n Around
1950
78 t. MACY'S 134 (US)
Louisiana Boogie / What's The Use
1950
78 t. MACY'S 141 (US)

Korea Here We Come / Do You Still Love Me

1950
78 t. MACY'S 147 (US)

I've Quit My Cattin' Around / Folka Polka

1950
78 t. MACY'S 158 (US)
She's Sweet Sweet / Harry's Blues
1950
78 t. MACY'S 159 (US)
Corpus Christe Waltz / My Pretty Brunette
1951
78 t. HUMMING BIRD HB-1012 (US)
A Gulf Coast Waltz / Big Mamou (Grosse Mamou)
1951
SP ALLIED 101 (US)
Austin Special / Saturday Night Waltz
1951
SP ALLIED 103 (US)
Beaumont Waltz / Five-Time Loser
05/1955
SP STARDAY 45-187 (US)

Original Jole Blon (French) / Original Jole Blon (English)

11/1955
SP STARDAY 45-212 (US)

Opelousas Waltz / Poor Hobo

03/1956
SP STARDAY 45-224 (US)

Port Arthur Waltz / Honky Tonk Boogie

11/1956
SP STARDAY 45-273 (US)

Draggin The Fiddle / Allons A Lafayette

01/1957
SP STARDAY 45-284 (US)

Basile Waltz / Tondellay

11/1958
SP D 1023 (US)

Allons A Lafayette / Draggin' The Fiddle

11/1958
SP D 1024 (US)

Jole Blon / Draggin' The Bow

11/1958
SP D 1024 (US)

Jole Blon / Corpus Christi Waltz

02/1959
SP D 1043 (US)

Opelousas Waltz / Poor Hobo

02/1959
SP D 1044 (US)

Honky Tonk Boogie / Port Arthur Waltz

03/1960
SP D 1132 (US)

Tondelay / Basil Waltz

10/1961
SP D 1222 (US)

Big Woods / Oh-Neon

11/1961
SP D 1224 (US)

Dragging The Bow / Jole Blon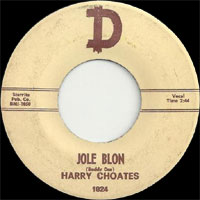 Albums
1959
LP 12" D DLP-7000 (US)
JOLE BLON - Jolé Blon / Dragging The Bow / Allons À Lafayette / Poor Hobo / Port Arthur Waltz / Tondelay / Louisiana / Basile Waltz / Opelousas Waltz / Honky Tonk Boogie
1982
LP 12" ARHOOLIE 5027 (US)
FIDDLE KING OF CAJUN SWING - Allons À Lafayette / Basile Waltz / Cajun Hop / Port Arthur Waltz / Harry Choates Special / It Won't Be Long / Wrong Keyhole / Dragging The Bow / Te Petite / Rubber Dolly / Louisiana / Poor Hobo / Devil In The Bayou / Rye Whiskey / Fais Do Do Stomp / Lawtell Waltz / Bayou Pon Pon / Chere Meon / Harry Choates Blues / Mari Jole Blon / Honky Tonking Days / Grand Mamou / Je Pase Durvan Ta Port / Hackberry Hop / Jolie Brun / Lousiana Boogie
1986
LP 12" KRAZY KAT KK-7453 (UK)

FIVE TIME LOSER -

Louisiana Boogie / She's Sweet Sweet / Old Cow Blues / Je Pass Durvant'a Pour / Hackberry Hop / Do You Still Love Me / Cat'n Around / My Pretty Brunette / Big Mamou / Oh Meon / What's The Use / Big Woods / Beaumont Waltz / Five Time Loser
12/1993
CD ARHOOLIE 380 (US)
FIDDLE KING OF CAJUN SWING - Allons À Lafayette / Basile Waltz / Cajun Hop / Port Arthur Waltz / Harry Choates Special / It Won't Be Long / Wrong Keyhole / Dragging The Bow / Te Petite / Rubber Dolly / Louisiana / Poor Hobo / Devil In The Bayou / Rye Whiskey / Fais Do Do Stomp / Lawtell Waltz / Bayou Pon Pon / Chere Meon / Harry Choates Blues / Mari Jole Blon / Honky Tonking Days / Grand Mamou / Je Pase Durvan Ta Port / Hackberry Hop / Jolie Brun / Lousiana Boogie
07/1998
CD KRAZY KAT KK CD-22 (UK)
FIVE-TIMER LOSER 1940-1951 - Lake Charles Shuffle / Old Ice Man / O.S.T. Gal / I've Grown So Lonely For You / Tete Fille Lafayette / Gran Prairie / Veuve De La Coulee / Je Pase Durvan Ta Port / Hackberry Hop / Poor Hobo / I Love You, I Love You / Old Cow Blues / Nobody Cares For Me / Sidewalk Waltz / Louisiana Boogie / She's Sweet Sweet / What's The Use? / Do You Still Love Me / I've Quit My Cattin' Around / My Pretty Brunette / Maggie Waltz / Big Mamou / Oh Meon / Austin Special / Saturday Night Waltz / Beaumont Waltz / Five Time Loser
07/1999
CD GLAD 7000 (US)
THE ORIGINAL CAJUN FIDDLE OF HARRY CHOATES - JOLE BLON - Jolé Blon / Dragging The Bow / Allons À Lafayette / Poor Hobo / Port Arthur Waltz / Tondelay / Louisiana / Basile Waltz / Opelousas Waltz / Honky Tonk Boogie
10/1999
CD AIM AIM 1205 (AUS)
CAJUN FIDDLE KING - Gran Prairie / Poor Hobo / Five Time Loser / Veuve De La Coulee / Louisiana Boogie / Beaumont Waltz / Hackberry Hop / Grand Mamou / Saturday Night Waltz / Do You Still Love Me / Jolé Blon / Lake Charles Shuffle / O.S.T. Gal / I've Quit My Cattin' Around / Je Pase Durvan Ta Port / She's Sweet Sweet / Harry's Blues / My Pretty Brunette / Jolé Blon's Farewell / Austin Special / What's The Use? / Oh Meon / Big Mamou / Old Ice Man / I've Grown So Lonely for You / Fiddle Polka
11/2002
2 CD BEAR FAMILY BCD 16355 (GER)
DEVIL IN THE BAYOU - THE GOLD STAR RECORDINGS :

CD 1 : Jole Blon (Pretty Blond) / Louisiana Boogie / Poor Hobo / Port Arthur Waltz / Dragging The Bow (Draggin' The Fiddle)/ Tondelay / Basile Waltz / It Won't Be Long / Louisiana / Cajun Hop (Les Blues Du Port Arthur) / Allons A Lafayette / Harry Choates Special / Wrong Keyhole (The Right Key The Wrong...) / San Antonio Waltz / Honky-Tonking Days / Everybody's Waltz (Wednesday Night Waltz) / I'm Gonna Move To The Outskirts Of Town / Have You Heard The News (Good Rockin'...) / Joe Turner / Nobody Cares For Me / Old Cow Blues (Milk Cow Blues) / Devil In The Bayou / Chere Meon / Bayou Pon Pon (Bear Creak Hop) / Harry Choates Blues / Te Petite (T'est Petite Et Mignonne) / Fa-D-Do Stomp (Fais Do-Do Stomp) / Rubber Dolly / Jole Blon (engl. vers.)
CD 2 : Honky-Tonking Days / Lawtell Waltz / Maggie Waltz (When You And I Were Young...) / Mari Jole Blon (Jole Blon's Husband) / Gulf Coast Blues / Missing You / Rye Whiskey / Sidewalk Waltz / Oh-Meon / Corpus Christi Waltz / Jolie Blon's Gone / Valse De Lake Charles / Hackberry Hop / Je Pase Durvan' Ta Port (I'll Pass In...) / Tip-E-Te Tip-E-Ta Ameon (You're Cute And...) / Poor Hobo / Jole Brun (Pretty Brunette) / Yes, I Love You / O.S.T. Gal / A Litte High Chair / The Old Ice Man / I Know You Feel The Way I Do / Lake Charles Shuffle (instr.) / I've Grown So Lonely For You / Gran P'rairie (Cajun Hop) / La Polka A Gilbert (Old Time Polka) / Le Veuve De La Coulee (Cajun Hop) / Les Tete Fille Lafayette (Cajun Hop)
© Rocky Productions 27/04/2012