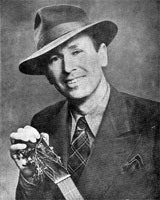 Chanteur Country US né Lewis Everett Childre, le 29 Avril 1901 à Opp (Alabama). Lew Childre est décédé le 3 Décembre 1961.

One of the holdovers from the early days of vaudeville shows and one-man bands, Lew Childre managed a successful career during the 1930s and '40s playing radio broadcasts and doing his own advertising transcriptions. Born in Opp, AL, in 1901, he played trombone, trumpet, and drums in high school before being persuaded to attend the University of Alabama by his parents. Childre finished school, but in 1923 joined a tent show as a singer/performer.
He then formed a jazz band called the Alabama Cotton Pickers -- which also included Lawrence Welk -- and recorded several sides before becoming fascinated with country music, then in its commercial infancy. Childre learned to play guitar and then returned to the tent shows until joining broadcast radio in Texas in 1930. After recording several sides for Gannett Records during September 1930, he toured the state with Wiley Walker (later of Wiley & Gene fame) as the Alabama Boys.
Lew Childre moved to New Orleans in 1934, broadcasting over WWL and recording for ARC. He spent the late '30s working the Texas border station XERA with the Carter Family, but moved to West Virginia's Wheeling Jamboree by the early '40s. Childre's talent for ad-libbing comedy and songs made him a natural for advertising, and after he joined the Grand Ole Opry in 1945, he began producing transcriptions for General Foods and Pepsi, among other companies. He recorded an LP for Starday in the mid-'50s, but retired from music in 1959 and died two years later.
http://www.hillbilly-music.com/artists/story/index.php?id=11994

Talents : Vocals, Hawaiian Guitar, Trumpet, Trombone, Drums, Comedy, Yodeler
Style musical : Old-Time Country, Traditional Country, Comedy, Yodeling

http://youtu.be/JbpzdnStTeo
Years in activity :
| | | | | | | | | | | | |
| --- | --- | --- | --- | --- | --- | --- | --- | --- | --- | --- | --- |
| 1910 | 20 | 30 | 40 | 50 | 60 | 70 | 80 | 90 | 2000 | 10 | 20 |
DISCOGRAPHY
78 t., Singles & EP
| | | |
| --- | --- | --- |
| 1930 | 78 t. SUPERIOR 2520 (US) | Bert CARSON - I Learned About Women From Her / My Red-Haired Lady |
| 06/1930 | 78 t. GENNETT 7183 (US) | Wagon Yard / Moonshine Blues |
| 1930 | 78 t. CHAMPION 16011 (US) | Wagon Yard / Moonshine Blues |
| 1930 | 78 t. GENNETT 7312 (US) | The Old Grey Mare / Horsie Keep Your Tail Up |
| 1930 | 78 t. CHAMPION 16093 (US) | The Old Grey Mare / Horsie Keep Your Tail Up |
| 1930 | 78 t. SUPERTONE 9773 (US) | The Old Grey Mare / Horsie Keep Your Tail Up |
| 03/1936 | 78 t. CONQUEROR 8656 (US) | When My Louie Sings His Yodel Laddy Hoo / Horsey Keep Your Tail Up |
| 04/1936 | 78 t. CONQUEROR 8657 (US) | It Don't Do Nothing But Rain / Hang Out Your Front Door Key |
| 06/1936 | 78 t. MELOTONE 6-06-51 (US) | Hang Out Your Front Door Key / The Fishing Blues |
| 06/1936 | 78 t. PERFECT 6-06-51 (US) | Hang Out Your Front Door Key / The Fishing Blues |
| 1936 | 78 t. BANNER 6-06-51 (US) | Hang Out Your Front Door Key / The Fishing Blues |
| 08/1936 | 78 t. MELOTONE 6-08-59 (US) | My Red Haired Lady / I'm Saving Up Coupons |
| 10/1936 | 78 t. MELOTONE 6-10-52 (US) | Wagon Yard / Horsie Keep Your Tail Up |
| 06/1951 | 78 t. MERCURY 6339 (US) | Riding The Elevated Train / Everybody's Fishin' |
| 06/1951 | SP MERCURY 6339-X45 (US) | Riding The Elevated Train / Everybody's Fishin' |
| 08/1951 | 78 t. MERCURY 6355 (US) | When Fog Forms On The Rio Grande / Hog Callin' Blues |
| 08/1951 | SP MERCURY 6355-X45 (US) | When Fog Forms On The Rio Grande / Hog Callin' Blues |
| 1962 | EP STARDAY SEP-198 (US) | When They Baptized Sister Lucy Lee / Alabama Home / Wreck Of The Old 97 / Lew's Theme / Souther Hospitality / George Colum |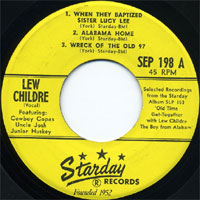 Albums
| | | | |
| --- | --- | --- | --- |
| 1962 | LP12" STARDAY SLP 153 (US) | | OLD TIME GET TOGETHER WITH LEW CHILDRE - Lew CHILDRE with Cowboy COPAS, Uncle JOSH & Junior HUSKEY - Alabamy Bound / This Train / Everybody's Fishin' / Strawberry Roan / When They Baptized Sister Lucy Lee / Alabama Home / Wreck Of The Old 97 / Hog Callin' Blues / Rock My Little Baby To Sleep / Lew's Theme / Southern Hospitality / George Colum / Hang Out the Front Door Key / Blue Ridge Mountain Blues / Little Joe The Wrangler / Moonshine Blues / Martins & The Coys / My Dream Of The USA |
| 1980 | LP12" OLD HOMESTEAD OHCS-132 (US) | | ON THE AIR - 1946 - VOLUME 1 - Lew CHILDRE - Alabamy Bound (Theme) - Elevated Railroad / I'm Heading For the Blue Horizon / Big Eyed Rabbit / Maple On The Hill / When the Fog Forms On The Rio Grande / Everybody's Fishing / Rock All Our Babies To Sleep / When The Sweet Azaleas Are Blooming / Hang Out The Front Door Key / Don't Say Aloha When I Go / Alabamy Bound (Theme) - Are You From Dixie / When You Said Yes Yesterday / Horsie Keep Your Tail Up / Silver Dollar / This Train / Little Old Church In The Valley / It Don't Do Nothing But Rain / My Red Haired Lady / Moonshine Blues / How I Miss You Tonight - Alabamy Bound (theme) |
| 20?? | CD OLD HOMESTEAD RCD216 (US) | | ON THE AIR - 1946 - VOLUME 1 - Lew CHILDRE - Alabamy Bound (Theme) - Elevated Railroad / I'm Heading For The Blue Horizon / Big Eyed Rabbit / Maple On The Hill / When The Fog Forms On The Rio Grande / Everybody's Fishing / Rock All Our Babies To Sleep / When The Sweet Azaleas Are Blooming / Hang Out The Front Door Key / Don't Say Aloha When I Go / Alabamy Bound (Theme) - Are You From Dixie / When You Said Yes Yesterday / Horsie Keep Your Tail Up / Silver Dollar / This Train / Little Old Church In The Valley / It Don't Do Nothing But Rain / My Red Haired Lady / Moonshine Blues / How I Miss You Tonight - Alabamy Bound (Theme) / When My Louie Sings His Yodel-Lady-Hoo / Horsie Keep Your Tail Up / It Don't Do Nothing But Rain / Everybody's Fishing / Ridin' The Elevated Railroad |
| 20?? | CD OLD HOMESTEAD OH-4132-CD (US) | | ON THE AIR 1946 VOL. 1 - Lew CHILDRE - Alabamy Bound (Theme) - Elevated Railroad / I'm Heading For The Blue Horizon / Big Eyed Rabbit / Maple On The Hill / When The Fog Forms On The Rio Grande / Everybody's Fishing / Rock All Our Babies To Sleep / When The Sweet Azaleas Are Blooming / Hang Out The Front Door Key / Don't Say Aloha When I Go / Alabamy Bound (Theme) - Are You From Dixie / When You Said Yes Yesterday / Horsie Keep Your Tail Up / Silver Dollar / This Train / Little Old Church In The Valley / It Don't Do Nothing But Rain / My Red Haired Lady / Moonshine Blues / How I Miss You Tonight - Alabamy Bound (Theme) / When My Louie Sings His Yodel-Lady-Hoo / Horsie Keep Your Tail Up / It Don't Do Nothing But Rain / Everybody's Fishing / Ridin' The Elevated Railroad |
© Rocky Productions 14/11/2023