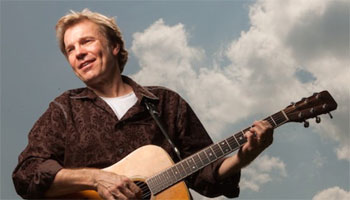 Chanteur Country US né Lionel Burke Cartwright, le 10 Février 1960 à Gallipolis (Ohio).

Lionel Cartwright was a multi-talented performer and songwriter whose career took off in the late '80s. Like his peers Garth Brooks, Travis Tritt, and Alan Jackson, Cartwright favored a contemporary country-pop sound. His love of music began during childhood piano lessons; Cartwright also went on to master the guitar and eight other instruments. At age ten, he began performing at community gatherings in his hometown of Glendale, WV. While in high school, he was a regular on a country radio show in Milton, WV, also appearing on Columbus, OH's Country Cavalcade. After joining the Wheeling Jamboree in West Virginia as a pianist, he was soon promoted to performer status, and from there became the show's musical director.
Cartwright started working on the Nashville Network music and comedy series I-40 Paradise in 1981 and later on the show's spinoff, Pickin' at the Paradise. On both shows he served as a performer, arranger, and musical director, also writing and performing the theme songs. While working on the show, he met Cindy Stewart, who went on to become his songwriting collaborator and wife. He also met Boudleaux and Felice Bryant, the two composers behind many of the Everly Brothers' greatest hits, who encouraged him to further develop his songwriting skills. While performing live in Knoxville, Cartwright was spotted by MCA producer Tony Brown, who was impressed but felt the young singer needed more experience before he could land a record contract.
In 1986, Cartwright went to Nashville with his best songs and had a formal audition with Brown, who signed him to MCA. In 1988, Cartwright released his debut single, "You're Gonna Make Her Mine," and scored a Top 50 hit. He also released a self-titled album in 1989, which contained the aforementioned single and three other Top 20 hits, including "Give Me His Last Chance," which made it to the Top Five. His next album, I Watched It on the Radio (1990), contained several hits. He scored his first chart-topper, "Leap of Faith," in 1991, from the album Chasin' the Sun.
http://www.lionelcartwright.com/
https://en.wikipedia.org/wiki/Lionel_Cartwright
Talents : Vocals, Songwriter, Piano, Guitar, Mandolin, Keyboards
Style musical : Contemporary Country

https://youtu.be/fUyKAJGyfKY
Years in activity :
| | | | | | | | | | | | |
| --- | --- | --- | --- | --- | --- | --- | --- | --- | --- | --- | --- |
| 1910 | 20 | 30 | 40 | 50 | 60 | 70 | 80 | 90 | 2000 | 10 | 20 |
DISCOGRAPHY
Singles & EP
11/1988
SP MCA

MCA-53444 (US)

.

You're Gonna Make Her Mine / In My Eyes

02/1989
SP MCA

MCA-53498 (US)

.

Like Father Like Son /

A Little Lesser Blue
06/1989
SP MCA

MCA-53651 (US)

.

Give Me His Last Chance /

Let The Hard Times Roll
10/1989
SP MCA

MCA-53723 (US)

.

In My Eyes /

That's Why They Call It Falling
03/1990
SP MCA

MCA-53779 (US)

.

I Watched It All (On My Radio) /

Hard Act To Follow
06/1990
SP MCA

MCA-79046 (US)

.

My Heart Is Set On You /

True Believer
12/1990
SP MCA

MCA7-53955 (US)

.

Say It's Not True / In The Long Run

06/1991
SP MCA

MCA7-54078 (US)

.

Leap Of Faith /

Smack Dab In The Middle Of Love
11/1991
SP MCA

MCA7-54237 (US)

.

What Kind Of Fool /

I'm Your Man
12/1991
SP MCA

MCA7-54366 (US)

.

Family Tree /

30 Nothin'
1992
SP MCA

MCA7-54440 (US)

.

Be My Angel /

Sleep Walking
1992
SP MCA

MCA7-54514 (US)

.

Standing On The Promises /

She Will
02/2002
CD INTUITIVE ? (US)
SIGNATURE SERIES - VOLUME 1 -

Leap Of Faith

/ Perfect Stranger / In My Eyes / Little White Lies / My Place Is Here with You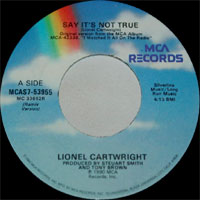 Albums
1989
CD MCA

MCA-42276 (US)

LIONEL CARTWRIGHT - Fallin Again ,/ Like Father Like Son / You're Gonna Make Her Mine / A Little Lesser Blue / In My Eyes / Give Me His Last Chance / That's Why They Call It Falling / Blue Fiddle Waltz / She Never Saw Love / Let The Hard Times Roll
1990
CD MCA

MCAD-42336 (US)

I WATCHED IT ON THE RADIO -

I Watched It All (On My Radio) / Old Coal Town / Playing It Safe / In The Long Run / Say It's Not True / I Refuse To Sing The Blues / My Heart Is Set On You / Let's Try Again / Hard Act To Follow / True Believer
08/1991
CD MCA

MCAD-10307 (US)

CHASIN' THE SUN -

Waitin' For The Sun To Shine / Susannah / 30 Nothin' / What Kind Of Fool / When You Cross That Line / I'm Your Man / Smack Dab In The Middle Of Love / Family Tree / Great Expectations / Leap of Faith
05/1999
CD INTUITIVE IR-001 (US) (US)
MILES & YEARS - City Limits / Miles & Years / If That's What You Call Love / You Keep Me Guessing / Wild Life Sanctuary / (I Need To Know) You Still Believe / Devil's Triangle / Smoke & Mirrors / Simple Questions / I Believe
2018
CD NOT ON LABEL ? (US)

Circling Back - Circling Back / Leap Of Faith / Measureless / White Water / Always Been You / Free Me From Myself / A Road Less Traveled / I Watched It On The Radio / Give Me His Last Chance / Miles And Years / Soldier / Soul Mines / Quiet Determination / Practice Your Presence / When The Exile Returns / Golden Moment / Press On
© Rocky Productions 27/01/2023