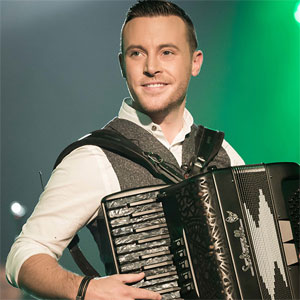 Chanteur Country Irlandais né le 28 Mai 1990 à Liverpool (Angleterre) de parents Irlandais.

Country Irish star Nathan Carter was originally born in Liverpool in 1990 to Irish parents, but at age 18, he decided to make the move to his parents' home country. With an upbringing filled with music -- at age four he could play the accordion and at age ten he won the All-Ireland Title for Traditional Singing -- Carter would naturally gravitate toward the industry. His debut album, Starting Out, appeared in 2007, with the record's mix of country and Celtic influences helping revive the country and Irish genres in Ireland and England.
Becoming a firm favorite in Ireland, Carter released his sophomore album, The Way That You Love Me, in 2010; Time of My Life arrived the following year. In 2012, with the release of his fourth album, Wagon Wheel, Carter's career really took off. Peaking at number six on the Irish album charts, the record cemented his position as the leader of the new country and Irish scenes. 2013's Where I Wanna Be reached the top spot of the Irish album chart, and two years later, his seventh effort, Beautiful Life, did the same, and he reached the U.K. album chart for the first time. With a U.K. tour booked for that year, Carter continued to perform, wowing crowds in both the U.K. and Ireland.
Following this success, he released his eighth studio album, Stayin' Up All Night, in 2016, again peaking at the top of the Irish album chart; the set also fared well on the U.K. albums chart, and entered the Top 40. He returned the following year with his ninth studio LP, 2017's Livin' the Dream. Ever prolific, Carter continued his trend of an album a year with 2018's Born for the Road and 2019's Irish Heartland, before delivering his first best-of album, Anniversary Collection: The Best of the First 10 Years, in 2020.
http://www.nathancartermusic.com/
https://en.wikipedia.org/wiki/Nathan_Carter
Talents : Vocals, Accordion, Guitar, Piano
Style musical : Traditional Country, Celtic

https://youtu.be/jeCD57mQifg
Years in activity :
| | | | | | | | | | | | |
| --- | --- | --- | --- | --- | --- | --- | --- | --- | --- | --- | --- |
| 1910 | 20 | 30 | 40 | 50 | 60 | 70 | 80 | 90 | 2000 | 10 | 20 |
DISCOGRAPHY
Single
2017
CD

Nathan Carter Self Released (IRL)

(promo)

Livin' The Dream
Albums
2008
CD EMI ? (IRL)

On The Road - Adalida / I Just Want To Dance With You / Tryin' To Get Over You / Past The Point Of Rescue / Lovely Leitrim Shore ~ Galway Bay / The Answer To Everything / Speak To The Sky / Buy Me A Rose / Face On The Cutting Room Floor / The Cowboy Rides Away / Teach Your Children Well / Never Be The Sun

2011
CD J&J / Sharpe J&JCD 002 (IRL)

Time of My Life - Time Of Your Life / The Rainbow In Glenfarne / The Dancer / Take Another Little Piece Of My Heart / Home To Aherlow / Lay Down Beside Me / Fishing In The Dark / Where Do You Go To My Lovely / Delta Dawn / My Forever Friend / Spanish Lady - Holy Ground - Westmeath Bachelor / One For The Road

01/2012
CD Nathan Carter Music NCMCD 02 (IRL)

Wagon Wheel -

Wagon Wheel / Long Time Gone / Hug / Pub Crawl / Caledonia / Tequila Makes Her Clothes Fall Off / You've Got A Friend In Me / Drift Away / Botany Bay / Back To Tourmakeady / Nobody's Darlin' / If I Get An Encore
2013
CD Nathan Carter Music NCMCD 03 (IRL)

Where I Wanna Be - Welcome To The Weekend / Ho Hey / Precious Time / South Australia / Eighteen Wheels And A Dozen Roses / Where Did I Go Wrong? / Twelfth Of Never / Where I Wanna Be / The Road Back / Boys Of Summer / On The Other Side / Let Me Be There / Saw You Running / Brightest Lights

2013
CD Nathan Carter Music NCMCD 04 (IRL)

The Wagon Wheel Show Live - Welcome To The Weekend / Drift Away / King Of The Road / Saw You Running / I Will Love You All My Life / South Australia / Caledonia / Tequila Makes Her Clothes Fall Off / The Leaving Of Liverpool / Bless The Broken Road / Ho Hey / Where I Wanna Be / Hills Of Donegal / Baton Rouge / The Town I Loved So Well / Old Time Rock 'n' Roll Medley : Old Time Rock 'n' Roll - Burning Love - Spirit In The Sky - Rocking All Over The World / Pub Crawl Medley : Pubcrawl - Medley / Wagon Wheel

2014
CD Decca 4713805 (EUR)

Christmas Stuff - Christmas Stuff / Santa Claus Is Coming To Town / The Christmas Song / Sleigh Ride / The Star Still Shines / Rudolph's Rocking Christmas / O Holy Night / Winter Wonderland / When A Child Is Born / Blue Christmas / Christmas Kiss / Silent Night

05/2015
CD Decca 4723856 (EUR)

Beautiful Life - Wagon Wheel / Where I Wanna Be / Caledonia / Boat To Liverpool / Beautiful Life / Call You Home / Saw You Running / Lay Down Beside Me / One For The Road / On The Other Side / Tequila Makes Her Clothes Fall Off / Drift Away / Welcome To The Weekend / Good Morning Beautiful

05/2015
CD + DVD Decca 4729347 (EUR)

Beautiful Life :

CD : Wagon Wheel / Where I Wanna Be / Caledonia / Boat To Liverpool / Beautiful Life / Call You Home / Saw You Running / Lay Down Beside Me / One For The Road / On The Other Side / Tequila Makes Her Clothes Fall Off / Drift Away / Welcome To The Weekend / Good Morning Beautiful / Where Do You Go To My Lovely / Twelfth Of Never / Ho Hey
DVD : Wagon Wheel (live) / The Town I Loved So Well (live) / Caledonia (live) / Where I Wanna Be (live) / Wagon Wheel / Learn The Wagon Wheel Dance / Nathan On Tour

12/2015
2 CD Decca 4765086 (EUR)

Beautiful Life At Christmas :

CD 1 : Wagon Wheel / Where I Wanna Be / Caledonia / Boat To Liverpool / Beautiful Life / Call You Home / Saw You Running / Lay Down Beside Me / One For The Road / On The Other Side / Tequila Makes Her Clothes Fall Off / Drift Away / Welcome To The Weekend / Good Morning Beautiful / Where Do You Go To My Lovely / Twelfth Of Never / Ho Hey
CD 2 : Christmas Stuff / Santa Claus Is Comin' To Town / The Christmas Song / Sleigh Ride / The Star Still Shines / Rudolph's Rocking Christmas (Rudolph The Red Nosed Reindeer - Let It Snow - Rockin' Around The Christmas Tree - White Christmas) / Oh Holy Night / Winter Wonderland / When A Child Is Born / Blue Christmas / Christmas Kiss / Silent Night

05/2016
CD Universal Music / Decca 4784895 (EUR)

Stayin' Up All Night - Wanna Dance / Temple Bar / Skinny Dippin' / Island Town / Wontcha Come Down / Buy Me A Rose / Two Doors Down / Young To See / Liverpool / Good Time Girls / Don't Know Lonely / Banks Of The Roses / Thank You

2017
CD Nathan Carter Music NCM CD 08 (IRL)

Live At The Marquee Cork - Intro Intro Wagon Wheel / Good Time Girls / Beautiful Life / How Sweet It Is / Boat To Liverpool / Polka Medley: Maggie In The Wood - Kerry Polka / Good Morning Beautiful / Call You Home / I Can't Stop Loving You / Temple Bar / South Australia / Home To Donegal / Thank You / Two Doors Down / Burning Love - Proud Mary / You'll Never Walk Alone / Loch Lomand / Irish Rover

06/2017
CD Nathan Carter Music NCM CD 09 (UK) / Sharpe Music NCMCD09 (IRL)

Livin' the Dream - Livin' The Dream / Caribbean Feeling / Beeswing / Holdin' A Good Hand / Just Hasn't Happened To Me / Summer's Here / Riding With Private Malone / Jealous Of The Angels / Me And You / Ned Of The Hill (traditional) / Stay Alive / Rollin' Home / Summer In Dublin (live bonus track)

10/2017
CD Nathan Carter Music / Sharpe Music NCMCD 10 (IRL)

Live At 3arena - Intro / Two Doors Down / Living The Dream / Good Time Girls / Wanna Dance / Fishing In The Dark / Liverpool / Temple Bar / Rare Auld Times / Glen Campbell Medley / Skinny Dipping / Let The Good Times Roll / Jealous Of The Angels / Kenny Rogers Medley / The Irish Rover / Bridge Over Troubled Water / Wagon Wheel / Shut Up And Dance

2017
CD DPTV Media DPT-CD-110 (US)

Celtic Roots - Live With Nathan Carter - Loch Lomond / Where I Wanna Be / Caledonia / Banks Of Roses / Spanish Lady Medley : Spanish Lady - Whiskey In The Jar - Rare Old Mountain Dew / Grace / Hard Times / Temple Bar / Bridge Over Troubled Water / Wagon Wheel / Reels / Jealous Of The Angels / Home To Donegal / Irish Rover / The Town I Loved So Well / South Australia / Boat To Liverpool / Good Time Girls

10/2018
CD Nathan Carter Music NCM CD11 (UK) (IRL)

Born For The Road - Winnie O'Neill / She Don't Know She's Beautiful / Love Is A Beautiful Dance / If You Wanna Find Gold / Right All Right / There You Are / Misty / Unbelievable / The World Looks Better With You / Jug Of Sangria / Give It To Me / Little Rock / Garden Party / Why Walk When You Can Fly / Last The Rest Of Your Life / Dan O'Hara

03/2019
CD BFD 146 (IRL)
CELTIC COUNTRY - Two Doors Down / Good Time Girls / Temple Bar / I Can't Stop Loving You / Fishing In The Dark / Caledonia / Dublin In The Rare Auld Times / Try A Little Kindness / Southern Nights / Rhinestone Cowboy / Let the Good Times Roll / Jealous Of The Angels / The Irish Rovers / Bridge Over Troubled Waters / Wagon Wheel / Shut Up And Dance / The Gambler / Liverpool / Summer In Dublin
11/2019
CD Sharpe Music NCM CD 12 (IRL)

Irish Heartland - Ireland / Mountains Of Mourne / Donnybrook Fair (vocals : Finbar Furey) / Nancy Spain / Rare Auld Times / Trouble In The Fields / Temple Bar / The Banks Of The Roses / Grace / Beeswing / Belfast / Winnie O'Neill / Dan O'Hara / My Own Island Town / On The Boat To Liverpool / Ned Of The Hill / Heart Of The Home (vocals : Cherish the ladies) / May The Road Rise (vocals : The High Kings)

10/2020
CD HYPERTENSION MUSIC 18314 (IRL)
THE JOURNEY - Wagon Wheel / Wanna Dance / Beeswing / Don't Know Lonely / Livin' The Dream / Two Doors Down / Just Hasn't Happen To Me / Banks Of Roses / Ned Of The Hill / Buy Me A Rose / Eighteen Wheels And A Dozen Roses / Let Me Be There / Where I Wanna Be / Good Morning Beautiful / Caledonia / Summer In Dublin [live]
11/2020
CD Sharpe NCMCD 14 (IRL)

Anniversary Collection - The Best of the First 10 Years - Sarah Jane / Temple Bar / Beeswing / The Games People Play / Wings To Fly / Gypsy Queen / Banks Of The Roses / Break For The Border / Where I Wanna Be / Boat To Liverpool / Caledonia / Good Time Girls / Welcome To The Weekend / May The Road Rise / Time Of Your Life / You Can't Make Old Friends / Winnie O'Neill / Good Morning Beautiful / Wagon Wheel / One For The Road
© Rocky Productions 15/02/2021