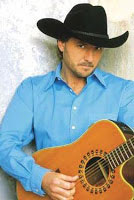 Chanteur Country US né Jeffrey Lee Herndon, le 16 Décembre 1963 à Tulsa (Oklahoma). Jeff Carson est décédé le 26 Mars 2022 à Franklin (Tennessee).

Jeff Carson was one of the new country singers who was able to parlay the mass success of country music in the early '90s to a massive hit with his eponymous first album.
Carson was born in Tulsa, OK, but raised in the small Arkansas town of Gravette. As a child, he sang in church and played harmonica and guitar. While he was in high school, he and his friends formed a band to play their school's talent show, performing the Eagles' "Seven Bridges Road." After the ad hoc group won second place, Carson was convinced to pursue a musical career. Following his high-school graduation, he entered a talent contest at an entertainment complex called Ozark Mountain Music in Rogers, AR. Although he didn't come in first, the winner asked Carson to play in his house band. For the next four years, he played with the outfit, until they finally disbanded.
Carson moved to Branson, MO, where he played bass in local bands and started writing his own songs. In Branson, he met and married his wife, Kim Cooper, who encouraged him to move to Nashville. Kim had a friend who played at the Opryland Hotel and his group Texana needed a bassist — hence, Carson moved to Music City in 1989. After some persuasion, he convinced the hotel to book him as a solo act. Around the same time, he signed a songwriting deal with Little Big Town Music and began singing on demo tapes for a variety of companies. Eventually, publisher/producer Chuck Howard heard Carson's original material and signed a publishing and development deal with him. By 1994, Jeff had signed with Curb Records.
Jeff Carson's self-titled debut album was released in early 1995; the first single, "Yeah Buddy," went nowhere, but the second single, "Not on Your Love," rocketed to number one. It was followed by the Top Ten hit "The Car."
Jeff Carson passed away on March 26, 2022 in Franklin (Tennessee).
https://en.wikipedia.org/wiki/Jeff_Carson
Talents : Vocals, Songwriter, Bass Guitar, Guitar, Harmonica
Style musical : Contemporary Country

https://youtu.be/OK6dnAX0fPA
Years in activity :
| | | | | | | | | | | | |
| --- | --- | --- | --- | --- | --- | --- | --- | --- | --- | --- | --- |
| 1910 | 20 | 30 | 40 | 50 | 60 | 70 | 80 | 90 | 2000 | 10 | 20 |
DISCOGRAPHY
Singles & EP
02/1995
SP MCG / CURB

D7-76946 (US)

.

Yeah Buddy / Betty's Takin' Judo

02/1995
CD MCG / CURB

CURB-1111

(US) (promo)

Yeah Buddy

05/1995
SP MCG / CURB

D7-76954 (US)

.

Not On Your Love / Betty's Takin' Judo

05/1995
CD MCG / CURB

CURB-1128

(US) (promo)

Not On Your Love

09/1995
SP MCG / CURB

D7-76970 (US)

.

The Car / Holdin' On To Something

09/1995
CD MCG / CURB

D2-76970 (US)

The Car / Holdin' On To Something
09/1995
CD MCG / CURB

CURB D-1171

(US) (promo)

The Car

1995
CD MCG / CURB

CURB D-1208 (US)

Santa Got Lost In Texas / White Christmas / PSA#1 "Not On Your Love" Bed w/Happy Holiday Message / PSA#2 "Not On Your Love" Bed w/Don't Drink & Drive Message / PSA#3 "White Christmas" Bed w/Happy Holiday Message / PSA#4 "White Christmas" Bed w/Don't Drink & Drive Message / PSA#5 Jeff Carson (voice only), "Happy Holiday Message" / PSA#6 Jeff Carson (voice only), "Don't Drink & Drive Message"

1995
CD MCG / CURB

CURB D-1214

(US) (promo)

Holdin' Onto Something - Holdin' Onto Something / Holdin' Onto Something (dance mix) / Not On Your Love / The Car

1996
CD MCG / CURB

D-1269

(US) (promo)

.

That Last Mile

04/1997
CD MCG / CURB

Curb

D-1344

(US) (promo)

.

Do It Again (single version) / Do It Again (Programmer Ad Lib version)

06/1997
SP MCG / CURB

D7-73023

.

Butterfly Kisses / Here's The Deal

06/1997
CD MCG / CURB

D2-73023 (US)

Butterfly Kisses / Here's The Deal
06/1997
CD MCG / CURB

Curb

D-1380 (US) (promo)
.
Here's The Deal
1997
CD MCG / CURB CURB D-1421

(US) (promo)

.

Cheatin' On Her Heart

06/1998
SP MCG / CURB

D7-730

64

.

Shine On / It Wouldn't Kill Me

06/1998
CD MCG / CURB

D2-73064 (US)

Shine On

/ It Wouldn't Kill Me
06/1998
CD MCG / CURB CURB D-14

56

(US) (promo)

.

Shine On

02/2000
CD MCG / CURB

D2-73094 (US)

Scars And All / Good For Nothing
2002
CD CURB CURBD-1648 (US) (promo)

Until We Fall Back In Love Again / Until We Fall Back In Love Again (Suggested Callout Research Hook)

2003
CD CURB CURBD-1679 (US) (promo)
.

I Can Only Imagine

2005
CD CURB CURBD-1092 (US) (promo)
.

Jeff Carson featuring Lisa Brokop - God Save The World

2006
CD CURB CURBD-2012 (US) (promo)
.

When You Said You Loved Me / When You Said You Loved Me (Suggested Callout Research Hook)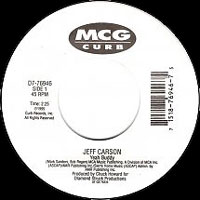 Albums
05/1995
CD MCG / CURB

D2-77744 (US)

JEFF CARSON - Yeah Buddy / Not On Your Love / Get A Guitar / Definite Possibilities / The Car / Betty's Takin' Judo / Preachin' To The Choir / Me Too / If I Ain't Got You / That Last Mile / Holdin' Onto Something
06/1997
CD MCG / CURB

D2-77859 (US)

BUTTERFLY KISSES - Butterfly Kisses / Here's The Deal / She's The One / Do It Again / Try Bein' Me / If You Wanna Get To Heaven / The Stone / Hangin By A Thread / As One As Two Can Get / Cheatin' On Her Heart / Today I Started Loving You Again / Butterfly Kisses - Daddy's Little Girl
1997
CD MCG / CURB

Curb

D-1387

(US) (promo)

Radio Special - It's A Glamour Business - Song #1 : She's The One/Commerical Break #1 / Song #2 : Cheatin' On Her Heart - Song #3 : Butterfly Kisses - Song #4 : As One As Two Can Get - My Wife Really Likes That Song - Commercial Break #2 / A Powerful Carson Ballad/Song #5: The Stone - Movers And Shakers - Song #6 : Do It Again - Commercial Break #3 / Song #7 : Hangin' By A Thread - Finding A Great Ballad - Song #8 : Try Bein' Me - Commercial Break #4 / Song #9 : Here's The Deal - Taking The Road By Storm - Radio Show Close - Closing Credits Must Air / Promo #1 - Promo #2

1998
CD CURB 77937-2P (US) (promo)
.

Shine On - Shine On / My One And Only Love / Where Did I Go Right / What's Not To Love / Divine Intervention / It Wouldn't Kill Me / I Got A Mind To Go Crazy / Good For Nothin' / Land Of The Lovin' / Scars And All

09/1998
CD MCG / CURB

D2-77937

(US)

REAL LIFE - Real Life (I Never Was The Same Again) / My One And Only Love / Until We Fall Back In Love Again / I Almost Never Loved You / Shine On / Where Did I Go So Right / What's Not To Love / Divine Intervention / It Wouldn't Kill Me / Scars And All
2001
CD CURB CURBD-1627 (US) (promo)

A Conversation With Jeff Carson - Radio Special Segment 1 - Time Flys / Radio Special Segment 2 - What Have You Been Doing Jeff? / Radio Special Segment 3 - Nashville's Great Writers / Radio Special Segment 4 - We Love The Road / Radio Special Segment 5 - A Song Written Just For You / Promos 1 / Promos 2 / Interview Answers Only Begin / Interview Answers Continue / Real Life (acoustic version only) / Special "The Car" version
© Rocky Productions 4/12/2022