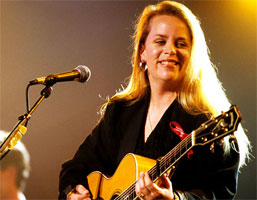 Chanteuse Country US née Mary-Chapin Carpenter, le 21 Février 1958 à Princeton (New Jersey).

Mary Chapin Carpenter was part of a small movement of folk-influenced country singer/songwriters of the late '80s. Although many of these performers never achieved commercial success, Carpenter was able to channel her anti-Nashville approach into chart success and industry awards by the early '90s.
Carpenter was born and raised in Princeton, NJ, the daughter of a Life magazine executive; she spent two years of her childhood in Japan, where her father was launching the Asian edition of Life. During the folk explosion of the early '60s, her mother had begun to play guitar. When Mary became interested in music as a child, her mother gave her a guitar. Carpenter played music during her high-school years, but she didn't actively pursue it as a career. In 1974, her family moved to Washington, D.C., where she became involved in the city's folk music scene. After graduating from high school in the mid-'70s, she spent a year traveling Europe; when she was finished, she enrolled at Brown University, where she was an American civilization major.
Following her college graduation, she became deeply involved in the Washington-area folk scene, performing a mixture of originals, contemporary singer/songwriter material, and pop covers. Carpenter met guitarist John Jennings during the early '80s and the pair began performing together. Eventually, they made a demo tape of their songs, which they sold at their concerts. The tape wound up at Columbia Records, which offered Carpenter an audition. By early 1987, the label had signed her as a recording artist. Her first album, Hometown Girl, was released that year.
Hometown Girl and its follow-up, State of the Heart (1989), earned her a dedicated cult following, as well as two Top Ten singles, "Never Had It So Good" and "Quittin' Time." Country radio was hesitant to play her soft, folky, feminist material, but she received good reviews and airplay on more progressive country stations, as well as college radio. Shooting Straight in the Dark, released in 1990, managed to break down a lot of the barriers that stood in her way. "Down at the Twist and Shout" became a number two single and the album sold well, setting the stage for her breakthrough album, 1992's Come on Come On.
Come on Come On signaled a slight change in direction for Carpenter -- although there were still folk songs, she felt freer to loosen up on honky tonk and country-rock songs, which resulted in several hit singles. Two of the singles from the album -- "I Feel Lucky" and "Passionate Kisses" -- hit number four, and "He Thinks He'll Keep Her" hit number two on the Billboard Hot Country Songs chart. Come on Come On would eventually sell over two million copies. Her fifth album, Stones in the Road, released in 1994, concentrated on the folkier material, but it was still a major success, selling over a million copies within its first six months of release. The album's lead single, "Shut Up and Kiss Me," became Carpenter's first song to hit number one on the Billboard Hot Country Songs chart and won her a Grammy for Best Female Country Performance. Her follow-up, 1996's Place in the World, also performed well, hitting number three on the country albums chart and reaching the Top 20 on the Billboard 200.
In 2001, Carpenter returned with her seventh studio album, Time* Sex* Love*. Recorded in London at famed Beatles producer Sir George Martin's Air Studios, the album found Carpenter departing somewhat from her country-inflected sound and ruminating on relationships and career from a distinctly middle-aged perspective. Carpenter's tenth album, 2004's Between Here and Gone, was produced in Nashville with longtime associates pianist Matt Rollings and guitarist John Jennings. The album was a somewhat introspective affair that revealed Carpenter still grappling with the aftermath of the September 11th attacks, as well as the death of fellow singer/songwriter Dave Carter, who inspired the title track.
In 2007, Carpenter delivered The Calling, her first album for Zoë Records after parting ways with Columbia. Co-produced by Carpenter and Rollings, The Calling hit number ten on the Billboard Top Country Albums chart. A year later, Zoë also released a holiday album from Carpenter, Come Darkness, Come Light: Twelve Songs of Christmas. A new studio album, The Age of Miracles, appeared early in 2010 and reached number one on the Billboard Folk Albums chart. Carpenter followed it in the summer of 2012 with Ashes and Roses, an entirely self-penned collection that she co-produced with Rollings. In 2013, she teamed with Grammy-winning arranger Vince Mendoza to create an orchestral album of songs from her existing catalog. Songs from the Movie was released in January of 2014 and celebrated with a performance of the set in its entirety with the BBC Scottish Symphony Orchestra at the Celtic Connections Festival in the Royal Concert Hall, Glasgow, Scotland on January 24.
Carpenter retreated to write immediately thereafter. In the spring of 2015, she entered the studio with producer Dave Cobb (who also played guitars and Mellotron during the sessions) and a small group of musicians and worked through the summer. The finished album, entitled The Things That We Are Made Of (on her own Lambent Light label via Thirty Tigers), was prefaced by three tracks: "Something Tamed Something Wild," "What Does It Mean to Travel," and "Map of My Heart," in December. The full-length was released in May 2016. In 2018, Carpenter took another look at her back catalog with the album Sometimes Just the Sky. Produced by Ethan Johns, the LP found her recording new, stripped-down interpretations of 12 of her songs, along with one original tune, the title track.
http://www.marychapincarpenter.com/
https://en.wikipedia.org/wiki/Mary_Chapin_Carpenter
Talents : Vocals, Songwriter, Guitar
Style musical : Country-Folk, Folk-Rock, Contemporary Country

https://youtu.be/SuapCENFM2U
Years in activity :
| | | | | | | | | | | | |
| --- | --- | --- | --- | --- | --- | --- | --- | --- | --- | --- | --- |
| 1910 | 20 | 30 | 40 | 50 | 60 | 70 | 80 | 90 | 2000 | 10 | 20 |
DISCOGRAPHY
Singles
| | | | |
| --- | --- | --- | --- |
| 09/1987 | SP COLUMBIA 38-07598 (US) | . | Lot Like Me / Family Hands |
| 01/1988 | SP COLUMBIA 38-07681 (US) | . | Downtown Train / Just Because |
| 03/1989 | SP COLUMBIA 38-68677 (US) | . | How Do / It Don't Bring You |
| 07/1989 | SP COLUMBIA 38-69051 (US) | . | Never Had It So Good / Other Streets And Other Towns |
| 01/1990 | SP COLUMBIA 38-73202 (US) | . | Quittin' Time / Heroes And Heroines |
| 05/1990 | SP COLUMBIA 38-73361 (US) | . | Something Of A Dreamer / Slow Country Dance |
| 10/1990 | SP COLUMBIA 38-73567 (US) | . | You Win Again / Moon And St Christopher |
| 01/1991 | SP COLUMBIA 38-73699 (US) | . | Right Now / What You Didn't Say |
| 05/1991 | SP COLUMBIA 38-73838 (US) | . | Down At The Twist And Shout / Halley Came To Jackson |
| 09/1991 | SP COLUMBIA 38-74038 (US) | . | Going Out Tonight / When She's Gone |
| 05/1992 | SP COLUMBIA 38-74345 (US) | . | I Feel Lucky / Middle Ground |
| 09/1992 | SP COLUMBIA 38-74485 (US) | . | Not Too Much To Ask (with Joe DIFFIE) / I Am A Town (with Joe DIFFIE) |
| 01/1993 | SP COLUMBIA 38-74795 (US) | . | Passionate Kisses (edited version) / Middle Ground |
| 03/1993 | SP COLUMBIA 38-74930 (US) | . | Hard Way / Goodbye Again |
| 07/1993 | SP COLUMBIA 38-77134 (US) | . | The Bug / Rhythm Of The Blues |
| 11/1993 | SP COLUMBIA 38-77316 (US) | . | He Thinks He'll Keep Her / Only A Dream |
| 04/1994 | SP COLUMBIA 38-77476 (US) | . | I Take My Chances / Come On Come On |
| 09/1994 | SP COLUMBIA 38-77696 (US) | . | Shut Up And Kiss Me / End Of My Private Days |
| 12/1994 | SP COLUMBIA 38-77780 (US) | . | Tender When I Want To Be / John Doe No 24 |
| 03/1995 | SP COLUMBIA 38-77826 (US) | . | House Of Cards / Jubilee |
| 06/1995 | SP COLUMBIA 38-77955 (US) | . | Why Walk When You Can Fly / Stones In The Road (alternate version) |
| 09/1996 | SP COLUMBIA 38-78417 (US) | . | Let Me Into Your Heart / Downtown |
| 02/1997 | SP COLUMBIA 38-78511 (US) | . | I Want To Be Your Girlfriend / Quittin' Time |
| 04/1999 | SP COLUMBIA 38-79148 (US) | | Almost Home / Dancing In The Dark (live) |
| 04/2001 | SP COLUMBIA 38-79541 (US) | . | Single Life / Slave To The Beauty |
Albums
02/1987
LP 12" COLUMBIA FC 40758 (US)
HOMETOWN GIRL - Lot Like Me / Other Streets And Other Towns / Hometown Girl / Downtown Train / Family Hands / Road Is Just A Road / Come On Home / Waltz, Just Because / Heroes And Heroines
05/1989
LP 12" COLUMBIA FC 44228 (US)
STATE OF THE HEART - How Do / Something Of A Dreamer / Never Had It So Good / Read My Lips / This Shirt, Quittin' Time / Down In Mary's Land / Goodbye Again / Too Tired / Slow Country Dance / I Don't Bring You
09/1990
LP 12" COLUMBIA FC 46077 (US)
SHOOTING STRAIGHT IN THE DARK - Going Out Tonight / Right Now / More Things Change / When She's Gone / Middle Ground / Can't Take Love For Granted / Down At The Twist And Shout / Halley Came To Jackson / What You Didn't Say / You Win Again / Moon And St Christopher
06/1992
CD COLUMBIA CK 48881 (US)
COME ON COME ON - Hard Way / He Thinks He'll Keep Her / Rhythm Of The Blues / I Feel Lucky / Bug / Not Too Much To Ask / Passionate Kisses / Only A Dream / I Am A Town / Walkin' Through The Fire / I Take My Chances / Come On Come On
10/1994
CD COLUMBIA CK 64327 (US)
STONES IN THE ROAD - Why Walk When You Can Fly / House Of Cards / Stones In The Road / Keeper For Every Flame / Tender When I Want To Be / Shut Up And Kiss Me / Last Word / End Of My Pirate Days / John Doe No 24 / Jubilee / Outside Lookin' In / Where Time Stands Still / This Is Love
1994
CD RMS 033 (US)
PASSIONATE KISSES FROM AUSTIN - Never Had It So Good / You Win Again / Going Out Tonight / How Do / Rhythm Of The Blues / Passionate Kisses / Read My Lips / Only A Dream / Come On Come On / He Thinks He'll Keep Her / Moon And St Christopher / I Feel Lucky / Never Had It So Good
10/1996
CD COLUMBIA CK 67501 (US)
A PLACE IN THE WORLD - Keeping The Faith / Hero In Your Own Hometown / I Can See It Now / I Want To Be Your Girlfriend / Let Me Into Your Heart / What If We Went To Italy / That's Real / Ideas Are Like Stars / Naked To The Eye / Sudden Gift Of Fate / Better To Dream Of You / Place In The World
05/1999
CD COLUMBIA CK 68751 (US)
PARTY DOLL AND OTHER FAVORITES - Can't Take Love For Granted / Wherever You Are / Down At The Twist And Shout / I Feel Lucky / Dreamland / Passionate Kisses / Quittin' Time / This Shirt / Grow Old With Me / He Thinks He'll Keep Her / I Take My Chances / Shut Up And Kiss Me / Hard Way / Ten Thousand Miles / Stones In The Road / Almost Home / Party Doll
05/2001
CD COLUMBIA CK 85176 (US)
TIME* SEX* LOVE* - Whenever You're Ready / single Life / Swept Away / Slave To The Beauty / Maybe World / What Was It Like / King Of Love / This Is Me Leaving You / Someone Else's Prayer / Dreaming Road / Alone But Not Lonely / Long Way Home / In The Name Of Love / Late For Your Life
11/2003
CD SONY 90772 (US)
THE ESSENTIAL MARY CHAPIN CARPENTER - Stones In The Road / The Long Way Home / Shut Up And Kiss Me / I Take My Chances / I Feel Lucky / Almost Home / Halley Came To Jackson / I Am A Town / Quittin' Time / Down At The Twist And Shout / He Thinks He'll Keep Her / Only A Dream / Late For Your Life / The Hard Way / Passionate Kisses / 10,000 Miles
04/2004
CD COLUMBIA CK 86619 (US)
BETWEEN HERE AND COME - What Would You Say To Me / Luna's Gone / My Heaven / Goodnight America / Between Here And Gone / One Small Heart / Beautiful Racket / Girls Like Me / River / Grand Central Station / Shelter Of Storms / Elysium
03/2007
CD ZOE 011431111 (US)
THE CALLING - The Calling / We're All Right / Twilight / It Must Have Happened / On And On It Goes / Your Life Story / Houston / Leaving Song / On With The Song / Closer And Closer Apart / Here I Am / Why Shouldn't We / Bright Morning Star
08/2007
CD SBME A708450 (US)
SUPER HITS - Downtown Train / Just Because / This Shirt / Never Had It So Good / Passionate Kisses / The Bug / Why Walk When You Can Fly / Shut Up And Kiss Me / A Road Is Just A Road / Simple Life
09/2008
CD ZOE 431123 (US)

COME DARKNESS, COME LIGHT - TWELVE SONGS OF CHRISTMAS -

Once In Royal David's City / Hot Buttered Rum / Still, Still, Still / On A Quiet Christmas Morn / Come Darkness, Come Light / Christmas Time In The City / Candlelight Carol / The Longest Night Of The Year / Thanksgiving Song / Bells Are Ringing / Christmas Carol / Children, Go Where I Send Thee
09/2008
CD PLAYLIST 727283 (US)
THE VERY BEST OF MARY CHAPIN CARPENTER - Stones In The Road / Shut Up And Kiss Me / I Take My Chances / I Feel Lucky / Halley Came To Jackson / I Am A Town / Quittin' Time / Down At The Twist And Shout / He Thinks He'll Keep Her / Only A Dream / The Hard Way / Passionate Kisses / Late For Your Life / 10, 000 Miles
04/2010
CD ZOE 1133 (US)
THE AGE OF MIRACLES - We Traveled So Far / Zephyr / I Put My Ring Back On / Holding Up The Sky / 4 June 1989 / I Was A Bird / Mrs. Hemingway / I Have A Need For Solitude / What You Look For / Iceland / The Age Of Miracles / The Way I Feel
11/2010
3 CD SONY 774696 (US)
TRIPLE FEATURE :

CD 1 : Going Out Tonight / Right Now / The More Things Change / When She's Gone / Middle Ground / Can't Take Love For Granted / Down At The Twist And Shout / Halley Came To Jackson / What You Didn't Say / You Win Again / The Moon And St. Christopher
CD 2 : Why Walk When You Can Fly / House Of Cards / Stones In The Road / A Keeper For Every Flame / Tender When I Want To Be / Shut Up And Kiss Me / The Last Word / The End Of My Pirate Days / John Doe No. 24 / Jubilee / Outside Looking In / Where Time Stands Still / This Is Love
CD 2 : The Hard Way / He Thinks He'll Keep Her / Rhythm Of The Blues / I Feel Lucky / The Bug / Not Too Much To Ask / Passionate Kisses / Only A Dream / I Am A Town / Walking Through Fire / I Take My Chances / Come On Come On

06/2012
CD ROUNDER 4311502 (US)

ASHES AND ROSES - Transcendental Reunion / What To Keep And What To Throw Away / The Swords We Carried / Another Home / Chasing What's Already Gone / Learning The World / I Tried Going West / Don't Need Much To Be Happy / Soul Companion (feat. James TAYLOR) / Old Love / New Year's Day / Fading Away / Jericho

01/2014
CD ROUNDER / Zoë 4311472 (US)

Songs from the Movie - On And On It Goes / I Am A Town / Between Here And Gone / Ideas Are Like Stars / The Dreaming Road / Only A Dream / Come On Come On / Mrs. Hemingway / Where Time Stands Still / Goodnight America

05/2014
2 CD Up Country UPRC 0162CD (UK)

Hometown Girl / State of the Heart :

CD 1 : A Lot Like Me / Other Street And Other Towns / Hometown Girl / Downtown Train / Family Hands / A Road Is Just A Road / Come On Home / Waltz / Just Because / Heroes And Heroines
CD 2 : How Do / Something Of A Dreamer / Never Had It So Good / Read My Lips / This Shirt / Quittin' Time / Down In Mary's Land / Goodbye Again / Too Tired / Slow Country Dance / It Don't Bring You

05/2016
CD Lambent Light LLR 001CD (US)

The Things That We Are Made Of -

Something Tamed Something Wild / The Middle Ages / What Does It Mean To Travel / Livingston / Map Of My Heart / Oh Rosetta / Deep Deep Down Heart / Hand On My Back / The Blue Distance / Note On A Windshield / The Things That We Are Made Of
03/2018
CD Lambent Light / Thirty Tigers LLR 002 (US)

Sometimes Just the Sky - Heroes And Heroines / What Does It Mean To Travel / I Have A Need For Solitude / One Small Heart / The Moon And St. Christopher / Superman / Naked To The Eye / Rhythm Of The Blues / This Is Love / Jericho / The Calling / This Shirt / Sometimes Just The Sky

06/2020
CD Lambent Light LLR 003 (US)

The Dirt and the Stars - Farther Along And Further In / It's OK To Be Sad / All Broken Hearts Break Differently / Old D-35 / American Stooge / Where The Beauty Is / Nocturne / Secret Keepers / Asking For A Friend / Everybody's Got Something / Between The Dirt And The Stars

07/2021
3 LP Lambent Light LLR0041 (US)
ONE NIGHT LONELY :

DISC 1 : The Age Of Miracles / Chasing What's Already Gone / Farther Along And Further In / Sometimes Just The Sky / I Have A Need For Solitude / Something Tamed, Something Wild / Houston / I Take My Chances / Grand Central Station / All Broken Hearts Break Differently
DISC 2 : This Shirt / I Am A Town / Stones In The Road / Heroes And Heroines / Old D-35 / This Is Love / John Doe No. 24 / Don't Need Much To Be Happy
DISC 3 : He Thinks He'll Keep Her / Why Shouldn't We / Twilight / Late For Your Life / The Hard Way / Between The Dirt And The Stars / The Things That We Are Made Of / Traveler's Prayer
© Rocky Productions 19/11/2021