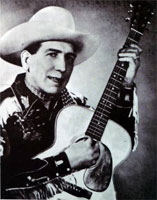 Chanteur Country US né le 14 Mai 1903 à Hardinsburg (Kentucky). Jenks "Tex" Carman est décédé le 2 Février 1968.

Jenks Tex Carman was one of the more dubious but interesting talents ever to achieve stardom, however fleeting, in country music. A player of great dexterity but severely lacking in any sense of rhythm, and even more lacking in a voice, Carman succeeded on the basis of the sheer enthusiasm of his performances, achieving some respectable record sales and a national following based on his television appearances.
Jenkins Carman was the seventh of eight children born to Alford Carman and his wife. They were a farm family with a great love of music — throughout his career, Carman also claimed part Cherokee ancestry, and tried to emphasize this by wearing Native American regalia in some of his public appearances and later album cover art. By age 12 he was on his way to becoming an accomplished guitarist, and he left home in his teens to pursue a career in music. He started out in vaudeville and playing Chautauqua shows, and by the end of the 1920s had emerged as a solo-guitar novelty act. He cut a pair of songs in late 1929 for the Gennett label in Indiana, but neither was ever issued.
In the early '30s, he hooked up with Hawaiian guitar virtuoso Frank Plada, who taught Carman the basics of Hawaiian guitar technique. This instrument became the core of Carman's music from the early '30s onward, and it was using the unamplified acoustic Hawaiian guitar, hung from his neck and fretted with a steel bar, that he began making a name for himself in country music. By the late '40s, he had signed to the Four Star label and begun recording under the name Jenks Tex Carman, "the Dixie Cowboy," as well as appearing on local radio. Soon after, he started to perform regularly on television on the country music showcase Town Hall Party, hosted by Tex Ritter and Johnny Bond, and later still became a regular on Cliffie Stone's Hometown Jamboree. His contract with Four Star ended, and Stone brought Carman to Capitol Records and producer Ken Nelson in 1951.
Carman's Capitol recording career lasted from April of 1951 until December of 1953, and despite some very uncomfortable moments in the studio, he generated some choice sides — "Hillbilly Hula" was his most famous and requested song, a number he featured on his television appearances, but other highlights included "The Caissons Go Rolling Along" and "Locust Hill Rag." The backing personnel on these cuts is not known, although essayist Cary Ginell believes that Joe Maphis was probably one of the participants on electric guitar or banjo. Carman never acquired much more than a cult following through his records, but on stage or television he was a major attraction. The sheer wildness of his appearances and the unbridled enthusiasm of his work made him a continuous showstopper, despite his inability to hold a beat or hit a cue.
The sales of Carman's singles were too low to justify the renewal of his Capitol contract, and after a lapse of several years, he signed to the small Sage & Sand label, even as he continued to work on television as a regular on locally produced variety series. His later albums tended to emphasize his unverified claims to Cherokee ancestry, which were reinforced by his unusual physiognomy — as one onlooker recalled, Carman dressed like a cowboy and looked like an Indian; occasionally, he even donned a feathered headdress.
Carman's last album was called The Ole Indian, released by Sage & Sand in 1962. By the mid- to late '60s, he had retired after a 40-year career in music.
Jenks Tex Carman was not in a league with the best steel or Hawaiian guitarists, and his Vocals skills were even more limited. He was a master showman, however, and accomplished with sheer enthusiasm and reckless abandon what he couldn't do with technical skills or musical instincts.
https://en.wikipedia.org/wiki/Jenks_"Tex"_Carman
Talents : Vocals, Guitar, Hawaiian Guitar, Songwriter
Style musical : Traditional Country, Country Boogie, Country-Pop

https://youtu.be/6W1778h-L0k
Years in activity :
| | | | | | | | | | | | |
| --- | --- | --- | --- | --- | --- | --- | --- | --- | --- | --- | --- |
| 1910 | 20 | 30 | 40 | 50 | 60 | 70 | 80 | 90 | 2000 | 10 | 20 |
DISCOGRAPHY
78t., Singles & EP
02/1948
78 t. 4 STAR 1229 (US)
Jenks CARMAN - End Of The World

/ Hillbilly Hula

02/1948
78 t. 4 STAR 1230 (US)
Jenks CARMAN - I Don't Know Why But I Do / Wreck Of The Old no9
11/1948
78 t. 4 STAR 1278 (US)

Sunny Tennessee / New Waikiki Beach

03/1949
78 t. 4 STAR 1302 (US)

Hawaiian Hotel / There's A New Moon Over My Shoulder

09/1949
78 t. 4 STAR 1379 (US)

I Really Believe / Kahila March

09/1950
78 t. 4 STAR 1515 (US)

Chain Gang / Artillery Song

09/1950
SP 4 STAR 45-1515 (US)

Chain Gang / Artillery Song

1951
78 t. 4 STAR X-6 (US)

Old Number 9 / Little White Rose

05/1951
78 t. CAPITOL 1571 (US)
Jenks CARMAN -

I Could Love You Baby / Ten Thousand Miles (Away From Home)

05/1951
SP CAPITOL F1571 (US)

Jenks CARMAN - I Could Love You Baby / Ten Thousand Miles (Away From Home)

10/1951
78 t. CAPITOL 1822 (US)
Jenks CARMAN -

Hilo March /

Just Another Good Dream Gone Wrong

10/1951
SP CAPITOL F1822 (US)

Jenks CARMAN - Hilo March / Just Another Good Dream Gone Wrong

04/1952
78 t. CAPITOL 2067 (US)
Jenks CARMAN - Don't Feel Sorry For Me / My Trusting Heart
04/1952
SP CAPITOL F2067 (US)
Jenks CARMAN - Don't Feel Sorry For Me / My Trusting Heart
01/1953
78 t. CAPITOL 2345 (US)
Hillbilly Hula

/ I'm A Poor Lonesome Fellow

01/1953
SP CAPITOL F2345 (US)
Hillbilly Hula

/ I'm A Poor Lonesome Fellow

07/1953
78 t. DECCA 28771 (US)
Hillbilly Hula

/ New Waikiki Beach

07/1953
SP DECCA 9-28771 (US)
Hillbilly Hula

/ New Waikiki Beach

07/1953
78 t. CAPITOL 2354 (US)
Locust Hill Rag

/ My Lonely Heart And I

07/1953
SP CAPITOL F2354 (US)
Locust Hill Rag

/ My Lonely Heart And I

10/1953
78 t. CAPITOL 2621 (US)

Blue Memories / Caissons Go Rolling Along

10/1953
SP CAPITOL F2621 (US)

Blue Memories / Caissons Go Rolling Along

03/1954
78 t. CAPITOL 2752 (US)
Samoa Stomp

/ Sweet Luwanna

03/1954
SP CAPITOL F2752 (US)
Samoa Stomp

/ Sweet Luwanna

08/1954
78 t. CAPITOL 2886 (US)
Dixie Cannon Ball

/ Indian Polka

08/1954
SP CAPITOL F2886 (US)
Dixie Cannon Ball

/ Indian Polka

06/1956
78 t. SAGE & SAND 218 (US)

They Had To Say Goodbye / You'll Come Crawlin' Back

06/1956
SP SAGE & SAND 45-218 (US)

They Had To Say Goodbye / You'll Come Crawlin' Back

09/1957
SP SAGE 45-246 (US)

Krish-A-Boom-Ba / Walking & Crying Over You

11/1957
SP SAGE 45-251 (US)

Wolf Creek / My Broken Heart Won't Let Me Sleep

09/1958
SP SAGE 45-272 (US)

Honk, Honk, Honk / Wildwood Flower

1958
EP SAGE EP-273 (US)

Silver Rails Leading Westward / The Old Guitar & Me / Love Me Darling / Spanish Dancer /

Bamboo Love / Locust Hill Rag
03/1959
SP SAGE 45-289 (US)

Beverly Ann / I Feel Like I Feel

08/1959
SP SAGE 45-300 (US)

Little May / This Lonely Road

03/1961
SP SAGE 45-337 (US)

Amo Mio / Ozark Rose

04/1962
SP SAGE 45-351 (US)

Fire In The Tee Pee / Learning To Do Without You

04/1962
SP SAGE 45-352 (US)

I'll Go On Loving You / Maggie's Twist

1962
SP SAGE 45-355 (US)

Aungalala / Somewhere In This World

1962
SP SAGE 45-364 (US)

Indian Love Song / Lobo Of The Border

1963
SP REM 329 (US)
Bamboo Love / Black Jack David
1966
SP SAGE 45-398 (US)

Custer's Massacre / Little Black Jack David
Albums
1950 ?
LP 10" 4 STAR ET-15 (US)
? - End Of The World / Sunny Tennessee / I Don't Know Why But I Do / Wreck Of The Old No 9 / New Waikiki Beach / Hillbilly Hula - around
1950 ?
LP 10" 4 STAR ET-15 (US)
? - Mississippi Valley Blues / Moonlight And Memories / The Artillery Song / Kahila March / To Not Be Loved / Fireball Mail
1952 ?
LP 10" 4 STAR ET-42 (US)

? -

Moonlight And Memories / The Artillery Song / Kahila March / To Not Be Loved / Fireball Mail / Mississippi Valley Blues
1959
LP 12" MODERN MLP-7037 (mono) / MST-837 (stereo) (US)
COUNTRY CARAVAN - "TEX" CARMEN - Beverly Ann / The Wreck Of Old No.9 / Wild And Wooley West / Pal Of My Heart / Wondering / Wildwood Flower / Wolf Creek / Get Along Pony / My Baby I'll Be There / Border Town / My Hawaii Calls
1960
LP 12" SAGE & SAND C-9 (US)
JENKS "TEX" CARMAN - Hillbilly Hula / Beverly Ann / Wreck Of Old No. 9 / The Wild And Woolly West / Pal Of My Heart / Wondering / Wildwood Flower / Wolf Creek / Get Along Pony / My Baby, I'll Be There / Casey Jones / Heartaches And Tears / Bordertown / My Hawaii Calls
1962
LP 12" SAGE & SAND C-26 (US)
THE OLE INDIAN - Prairie Fire / Baby Me Baby / Wholehearted / I'm Going Crazy / You Did'nt Stay / Lonesome Train / Thinking Of You / Your Only Love / Make Love To Me Baby / My Dog, My Everything / Wild Rose Of Tennessee / My Hearts A Lonely Ghost Town
1963
LP 12" SAGE & SAND C-40 (US)
JENKS "TEX" CARMAN SINGS & PLAYS - Possum Twist / There's No Use Pretending / Tickle Foot Rag / I'll Never Go On Without You / Following The Trail Of The Rainbow / Wait For Me, Angelina / My Darling Silverball / Sadie, Oh Do / Little Black Jack Davey / My Darling La Rue / Valley Of The Sun / Ho-Down
1963
LP 12" CROWN CLP-5324 (mono) / CST-324 (stereo) (US)
"TEX" CARMAN - Beverly Ann / The Wreck Of Old No.9 / Wild And Wooley West / Pal Of My Heart / Wondering / Wildwood Flower / Wolf Creek / Get Along Pony / My Baby I'll Be There / Border Town / My Hawaii Calls
1963
LP 12" REM RL-1007 (US)

THE WRECK OF THE OLD No 9 -

The Wreck Of Old No.9 / Farewell, My Love / Just Follow The Tears / The Possom Twist / Your Fickle Heart I Know So Well / Wild Fire / Highway To Your Heart / The Singing River / Teresa, My Love / Cherokee Rose / Who's Been Here Since I've Been Gone / Sweet Marie
1973
LP 12" CMH CMH-211 (GER)

THE DIXIE COWBOY -

Artillery Song / Moonlight And Memories / Fireball Mail / Not To Be Loved / Kahila March / Mississippi Valley Blues / Blue Memories / I'm A Poor Lonesome Fellow / Hillbilly Hula / My Lonely Heart And I / Caissons Go Rolling Alone / Locust Hill Rag / Samoa Stomp / Indian Polka / Sweet Luwanna / Dixie Cannonball
1978
LP 12" DANNY JC-7801 (GER)

REDSKIN COWBOY -

Aungalala / Indian Love Song / My Broken Heart Won't Let Me Sleep / You'll Come Crawlin' Back / They Had To Say Goodbye / Fire In The Teepee / Custer's Massacre / Little Black Jack Davey / Krish-A-Boom-Ba / Walking And Crying For You / Bamboo Love / Locust Hill Rag (No. 4)
1983
LP 12" OLD HOMESTEAD

OHCS-302

(US)

THE WRECK OF THE OLD No 9 -

The Wreck Of Old No.9 / Farewell, My Love / Just Follow The Tears / The Possom Twist / Your Fickle Heart I Know So Well / Wild Fire / Highway To Your Heart / The Singing River / Teresa, My Love / Cherokee Rose / Who's Been Here Since I've Been Gone / Sweet Marie
198?
LP 12" CCL CCL 1118 (NL)

THE DIXIE COWBOY -

Artillery Song / Moonlight And Memories / Fireball Mail / Not To Be Loved / Kahila March / Mississippi Valley Blues / Blue Memories / I'm A Poor Lonesome Fellow / Hillbilly Hula / My Lonely Heart And I / Caissons Go Rolling Alone / Locust Hill Rag / Samoa Stomp / Indian Polka / Sweet Luwanna / Dixie Cannonball
11/1991
CD BEAR FAMILY BCD 15574 (GER)
HILLBILLY HULA - Hillbilly Hula / Another Good Dream Gone Wrong / Hilo March / Gosh I Miss You All The Time / Locust Hill Rag / The Caissons Go Rolling Along / Samoa Stomp / Dixie Cannon Ball / Sweet Luwanna / My Lonely Heart And I / Indian Polka / I'm A Poor Lonesome Fellow / Don't Feel Sorry For Me / My Trusting Heart / Gonna Stay Right Here / A Penny Postcard / Ten Thousand Miles / I Could Love You Darling / You Tell Her, 'Cause I Stutter / Blue Memories
1993
LP 12" COWGIRLBOY LP-5096 (GER)

SUNNY TENNESSEE -

Sunny Tennessee / New Waikiki Beach / Hillbilly Hula (No. 1) / End Of The World / I Don't Know Why But I Do / The Wreck Of The Old No 9 / Hilo March / Artillery Song / Chain Gang / Fireball Mail / Kahila March / Moonlight And Memories / To Not Be Loved / Mississippi Valley Blues
1993
LP 12" COWGIRLBOY LP-5113 (GER)

REDSKIN COWBOY -

Aungalala / Indian Love Song / My Broken Heart Won't Let Me Sleep / You'll Come Crawlin' Back / They Had To Say Goodbye / Fire In The Teepee / Custer's Massacre / Little Black Jack Davey / Krish-A-Boom-Ba / Walking And Crying For You / Bamboo Love / Locust Hill Rag (No. 4)
05/1998
CD REVENANT CD-207 (US)
CHIPPEHA ! - THE ESSENTIAL DIXIE COWBOY (1947-1957) -

4 Star Recordings

(1947-51) : The Artillery Song / Hillbilly Hula / Wreck Of The Old ' no 9 / Mississippi Valley Blues / New Waikiki Beach / Sunny Tennessee / Fireball Mail / Kahila March / End Of The World / Old Number 9 / Stutter Song

(unreleased)

/ Roll On Silver Moon

(unreleased)

/

U.S. Air Force "Country Music Time"

(Ca. 1957) : Dixie Cannonball [live] / Hillbilly Hula [live] / Cripple Creek [live] /

Capitol Recordings

(1951-53) : Blue Memories

(unreleased)

/ Indian Polka / Hilo March / Locust Hill Rag / Dixie Cannonball / Hillbilly Hula / Caissons Go Rolling Along
02/2004
CD BEAR FAMILY BCD 16652 (GER)
THE OLD GUITAR AND ME - Hillbilly Hula / Casey Jones / Heartache And Tears / They Had To Say Goodbye / You'll Come A Crawlin' Back / Krish A Boom Ba / Walking And Crying For You / My Broken Heart Won't Let Me Sleep / Honk, Honk, Honk / Silver Rails Leading Westward / The Old Guitar And Me / Love Me Darlin' / Spanish Dancer / I Feel Like I Feel / This Lonely Road / Little May / Ozark Rose / To Win, To Place, To Show / Fire In The Teepee / Learning To Do Without You / Little Black Jack Davey / My Darling La Roue / Valley Of The Sun / Ho-Down 1000 / Maggie's Twist / I'll Go On Lovin' You / Aungalala / Somewhere In This World / Lobo Of The Border / Indian Love Song / Custer's Massacre
04/2004
CD BEAR FAMILY BCD 16668 (GER)
COW PUNK - Hilo March / Beverly Ann / Wreck Of The Number 9 / The Wild And Woolly West / Pal Of My Heart / Wondering / Wildwood Flower / Wolf Creek / Get Along Pony / My Baby I'll Be There / Bordertown / My Hawaii Calls / I'm Going Crazy / The Wild Rose Of Tennessee / My Dog, My Everything / Prairie Fire / Wholehearted / Your Only Love / Lonesome Train / Make Love To Me Baby / My Heart's A Lonely Ghost Town / You Didn't Stay / Baby, Me Baby / Thinking Of You / Possum Twist / There's No Use Pretending / Tickle Foot Rag / I'll Never Go On Without You / Following The Trail Of The Rainbow / Wait For Me, Angelina / My Darling Silverbell / Sadie, Oh Do
© Rocky Productions 14/11/2022