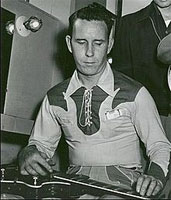 Guitariste et compositeur Country US né Kenneth Ray Carllile, le 2 Avril 1931 à Saint Louis (Missouri). Thumbs Carllile est décédé le 31 Juillet 1987.

Kenneth Ray "Thumbs" Carllile was an innovative guitar player and songwriter. The son of an impoverished Illinois tenant farmer, he began playing music at the age of eight after his sister Evelyn won a dobro for selling balm. He used the new instrument so much that his irritated sister hid the steel bar, but the resourceful young man began using his thumbs to practice. When his father gave him a Silvertone guitar, Carllile's thumbs were too short and fat to make it around the neck, so he began playing it on his lap like a dobro. Carllile's family moved to Granite City, Missouri when he was ten. There he made his debut playing "Sweet Georgia Brown" during a Ferlin Husky performance. He was tossed out of high school at age 16 for refusing to shave and then began performing regularly with Husky until being discovered by Little Jimmy Dickens during a performance in St. Louis. Dickens was impressed and gave Carllile the nickname "Thumbs," a moniker Carllile never really liked.
From 1949 to 1952, Thumbs played with Dickens' Country Boys. In 1952, he began a two-year stint in the Army's Special Services. He was stationed in Stuttgart, Germany when he met and married singer/songwriter Virginia Boyle in 1955. After his discharge, Carllile played with Bill Wimberley's Rhythm Boys and Red Foley's Troupe. As a soloist, he regularly appeared on the Ozark Jubilee. He met guitar great Les Paul, who was impressed by both Boyle's writing and Carllile's skill and took them to his home recording studio to lay down enough tracks for two albums. Later that year, Carllile sang a duo with Ginny O'Boyle, "Indian Girl, Indian Boy." Two years later he joined the Wade Ray Five and Ray's Las Vegas band. Carllile joined Roger Miller in 1964; later, Miller helped Carllile sign with Smash Records, where he released two albums, Roger Miller Presents Thumbs Carllile and All Thumbs, in 1965. During 1966, he released several singles, including "Let It Be Me," "Caravan," "Blue Skies," and "Hold It." In 1968, he made the album Walking in Guitar Land. Although no singles were released from it, three songs, "It's a Good Day," "Work Song" and "High Noon," found favor with the public.
In 1986, Carllile, whose daughter Virginia had a minor hit with "Stay Until the Rain Stops" in 1980, underwent surgery for colon cancer. After recovering, he began playing on Sagebrush Boogie in Atlanta. In 1987, Carllile was preparing to perform as the opening act for Michael Hedges when he suffered a massive coronary and died.
https://en.wikipedia.org/wiki/Kenneth_Carllile
Talents : Guitar, Dobro, Songwriter
Style musical : Traditional Country, Country-Pop

http://youtu.be/4dmOxGeP1bI
Years in activity :
| | | | | | | | | | | | |
| --- | --- | --- | --- | --- | --- | --- | --- | --- | --- | --- | --- |
| 1910 | 20 | 30 | 40 | 50 | 60 | 70 | 80 | 90 | 2000 | 10 | 20 |
DISCOGRAPHY
Singles
1955
SP TEX TEX-103 (US)
.

Virginia Carllile, "Thumbs" Carllile, Bill Wimberly's Country Rhythm Boys - Tired Of Your Honky-Tonk Love / Where Are You

06/1962
SP EPIC 5-9517 (US)
Thumbs CARLYLE & Ginny O'BOYLE - Indian Girl, Indian Boy / Now That You're Leavin' Me
06/1966
SP SMASH S-2044 (US)
.
Candy Girl / My Bossa Nova
1974
SP GEMINI G 3007 (US)
.

Wounded Knee / Old Friend

1974 ?
SP GEMINI G 3007 (US) (promo)
.
Wounded Knee / Wounded Knee
1974
SP GEMINI G 3014 (US)
.
Killing Me Softly / Mystery Train
1979
SP FRONTLINE

fls

-703 (US) (promo)
.

Bury Me Beneath The Willow / Lie To Me
Albums
1966
LP 12" SMASH

SRS-67074 (US)

ROGER MILLER PRESENTS THUMBS CARLLILE -

Yesterday / Hold It / Minute Minuet / My Bossa Nova / Caravan / Downtown / Candy Girl / Bach To Bach /

Engine, Engine #9 / Fly Me To The Moon / Moonglow / Mister Funk

1965
LP 12" SMASH

SRS-67085 (US)

ALL THUMBS - On The Street Where You Live / Strangers In The Night / Autumn Leaves / A Good Time / Greensleeves / Let It Be Me / Harmony Grits / Gravy Waltz / Old Cape Cod / Bill Bailey / Morning Star / Just Blues
10/1973
LP 12" GEMINI GR-101 (US)

ON HIS OWN -

Wounded Knee / Son / Lost Highway / Raunchy / Close To You / Mystery Train / Killing Me Softly / Me & Memphis / Old Friend / Silver Wings / Getting Your Ship Together / Family Tree
12/1979
LP 12" FRONTLINE FLP-7001

(US)

LIFE... AND TIMES - Way Back In The Hills / Catch Me If You Can / Lie To Me / Hold Me Up / Worried Over You / Bury Me Beneath The Willow / Love's Been Good To Me / When I Grow Too Old To Dream / Cotton Eyed Joe

12/1979
LP 12" DIRECT TO DISK 110 (US)
GUITAR WIZARD -

Just The Way You Are / I Feel Like Makin Love / Dance With Me / Sin Drums / Stayin' Alive / Where Do We Go From Here / Lonely Bull / Reminissin

1980
LP 12" DIRECT TO DISK 111 (US)

JAZZ CARLLILE STYLE - Feels So Good / Blue Skies / Velvet Funk / Curves Ahead / Sunshine Of My Life (You Are The) / Home Grown / Mercy, Mercy / Hank's Theme

1985
LP 12" Herby Wallace Productions HWP-1003 (US)

Take One - Herby Wallace - Thumbs Carllile And Company - Fat Boy Rag / The Entertainer / Speedin' West / Misty Blue (vocals - Brenda Rayburn) / Li'l Liza Jane / Honeysuckle Rose / Until It's Time For You To Go / Baby I Love You (vocals - Brenda Rayburn) / Wind Beneath My Wings / Too Many Rivers
© Rocky Productions 12/11/2022