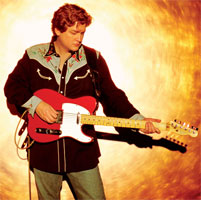 Chanteur Country US né Darrell DeShawn Camp, le 29 Août 1966 à Perryville (Arkansas).

Country singer/songwriter Shawn Camp spent his early years on a farm outside of Perryville, AR. His father was an ironworker and his mother a beautician. Both sang and played guitar, infusing their child with a love of music; he began playing guitar himself at five. At the age of 20 in January 1987, he moved to Nashville to become a professional musician. He first found a berth as a fiddle player for the Osborne Brothers, and subsequently moved on to the backing bands for Jerry Reed, Alan Jackson, Suzy Boggus, Shelby Lynne, and Trisha Yearwood. In 1991, he left Yearwood to become a solo performer. He was signed to the Reprise division of Warner Bros. Records, which released his debut single, "Fallin' Never Felt So Good," in 1993. It entered the country charts that July and peaked in the Top 40 in October. That month, Reprise released Camp's first album, Shawn Camp, which spent several weeks in the country charts. A second single, "Confessin' My Love," peaked in the country Top 40 in January 1994.
Camp recorded a second album for Reprise, but the label rejected it and dropped him. He turned to working as a session musician, appearing on albums by John Prine, Garth Brooks, Nanci Griffith, and Guy Clark, among others, over the rest of the decade. At the same time, he co-wrote songs that were covered by many artists, including Diamond Rio, Tracy Byrd, Kenny Chesney, John Anderson, and Randy Travis. "Two Pina Coladas," which he co-wrote for Garth Brooks, appeared on Brooks' Sevens album and hit number one on the country charts in May 1998, and "How Long Gone," which he co-wrote for Brooks & Dunn, hit number one on the country charts in September 1998. Camp self-released his second album, Lucky Silver Dollar, in July 2001. This set was followed by Live at the Station Inn in 2004, Fireball in 2006, and The Bluegrass Elvises, Vol. 1 with Billy Burnette in 2007. In 2009, Warner Music Nashville President/CEO John Esposito caught Camp at a guitar pull during a music conference and was knocked out. Discovering that Warner had Camp's unreleased second album in its vaults, he had the label release the album in 2010 (now entitled 1994), to coincide with a reissue of his 1993 debut for Reprise.
https://en.wikipedia.org/wiki/Shawn_Camp_(musician)
Talents : Vocals, Guitar, Fiddle, Songwriter
Style musical : Traditional Country, Contemporary Country, Bluegrass, Americana

http://youtu.be/pfXLzIGSASc
Years in activity :
| | | | | | | | | | | | |
| --- | --- | --- | --- | --- | --- | --- | --- | --- | --- | --- | --- |
| 1910 | 20 | 30 | 40 | 50 | 60 | 70 | 80 | 90 | 2000 | 10 | 20 |
DISCOGRAPHY
Singles
| | | | |
| --- | --- | --- | --- |
| 1993 | SP REPRISE 7-18331 (US) | . | Confessin' My Love / K-i-s-s-i-n-g |
| 1993 | SP REPRISE 7-18465 (US) | . | Fallin' Never Felt So Good / Turn Loose Of My Pride |
| 1993 | CD REPRISE PRO-CD-6280 (US) (promo) | | Fallin' Never Felt So Good (album version) |
| 1993 | CD REPRISE PRO 583 (EUR) (promo) | | Fallin' Never Felt So Good |
Albums
10/1993
CD REPRISE 9 45450-2 (US)
SHAWN CAMP - Fallin' Never Felt So Good / Confessin' My Love / K-I-S-S-I-N-G / I'm Not Just Passin' Through / Man, What A Woman / Speakin' Of The Angel / Bound To Cry / One Of Them Days / Turn Loose Of My Pride / Little Bit Of Love
06/2001
CD SKEETERBIT SBRCD1001 (US)
LUCKY SILVER DOLLAR - Baby's Gone Home To Mama / How Long Gone / Walkin' The Line / Middle Of Nowhere / Tune Of The Twenty Dollar Bill / Lost At Sea / That Ol' Love Thing / I Feel More Like I Do Right Now / Let's Talk About This / I Ain't The Hero / Can't Have One Without The Other / Been There Done That / Fallen Star Saloon / Off To Join The World
08/2004
CD OH BOY

OBR-032

(US)
LIVE AT THE STATION INN - Travelin' Teardrop Blues (Intro) / Travelin' Teardrop Blues / Redbird / Forever Ain't No Trouble Now / Dear Departed / Ain't No Way Of Knowin' / Sis Draper / Magnolia Wind / Soldiers Joy 1864 / The Guilt Was Gone / The Tune Of The Twenty Dollar Bill / My Love Will Not Change
03/2006
CD SKEETERBIT 5917132 (US)
FIREBALL - Fireball / Tulsa Sounds Like Trouble To Me / Love Crazy / The Way It Is / Fallin' For You / Waitin' For The Day To Break / Hotwired / Beagle Hound / Would You Go With Me / Love Ain't Leavin' / Nothin' To Do With You / Just As Dead Today / Drank
08/2007
CD American Roots 1236536 (US)
THE BLUEGRASS ELVISES - VOL. 1 - Shawn CAMP & Billy BURNETTE - 2007: A Bluegrass Oddity / Don't Be Cruel / All Shook Up / Little Sister / Jailhouse Rock / Good Rockin' Tonight / Burnin' Love / Are You Lonesome Tonight / A Big Hunk O' Love / Mystery Train / That's Alright Mama / Hound Dog / Blue Suede Shoes
09/2010
CD REPRISE

526070-2

(US)
1994 - Near Mrs. / Little Bitty Crack In Her Heart / In Harm's Way / Clear As A Bell / My Frame Of Mind / Stop, Look And Listen (Cow Catcher Blues) / Worn Through Stone / Since You Ain't Home / Movin' On Up To A Double Wide / The Grandpa That I Know
© Rocky Productions 11/10/2022