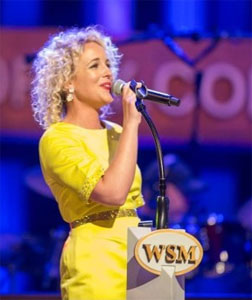 Chanteuse Country US née Camaron Marvel Ochs, le 19 Novembre 1984 à Huntington Beach (Californie).

A singer and songwriter whose music embraces both the small-town virtues of country music and the glossy tunefulness of pop, Cam (full name Camaron Ochs) was born in Huntington Beach, California, and raised in Lafayette, a small but comfortable community in the northern part of the state. While growing up, Cam spent plenty of time with her grandparents, who lived in a rural community in Oceanside, California, where she soaked up the influences of country living and Patsy Cline. After studying psychology in college, Camaron developed a passion for songwriting, and blessed with a strong, clear voice, she decided to relocate to Los Angeles and pursue a career in music. Her first songs were in a contemporary pop style, and as Camaron Ochs, she released an album, Heartforward, in 2010. However, by 2012 she'd slimmed down her name, first to Cam Ochs and later simply Cam, and was writing and singing country-oriented material.
After moving on to Nashville, Tennessee, in 2013 Cam recorded an album, financed through Kickstarter, that featured contributions from songwriter and producer Tyler Johnson (who helped create songs for Taylor Swift and P!nk) and producer Jeff Bhasker (who worked with Bruno Mars, Beyoncé, and Fun.). One of the songs cut for the album, "Down This Road," co-written by Cam, Johnson, and Douglas Charles Showalter, impressed the programmers at WSIX-FM in Nashville so much that they put it into regular rotation, even though Cam didn't have a record deal and had self-released the recording digitally. Cam supported the record with plenty of live appearances, and shared bills with everyone from Emmylou Harris, Loretta Lynn, and Vince Gill to Dan + Shay. By the spring of 2015, Cam had signed a record deal with Arista Nashville/RCA Records, and a four-song EP, Welcome to Cam Country, saw digital release. A full-length album, produced by Bhasker and Johnson, was anticipated for release in 2015. When not busy writing and performing her own songs, Cam writes material for others, and has composed tunes for Miley Cyrus.
Untamed generated a hit single with "Burning House," which peaked at two on Billboard's Country Airplay chart and crossed over to 29 on its Top 40." After "Burning House" finished its extended run on the charts, "Mayday" was pulled as a single in 2016, reaching 36 on Country Airplay. The next year, Cam released the single "Diane," a response to Dolly Parton's "Jolene." A succession of digital singles followed in the next year, as Cam made the transition from Arista Nashville to Thirty Tigers. The Otherside, her first album for Thirty Tigers, appeared in October 2020.
https://www.facebook.com/camcountry
https://en.wikipedia.org/wiki/Cam_(singer)
Talents : Vocals, Songwriter
Style musical : Contemporary Country, Country-Pop

https://youtu.be/XKgzxAjZB9c
Years in activity :
| | | | | | | | | | | | |
| --- | --- | --- | --- | --- | --- | --- | --- | --- | --- | --- | --- |
| 1910 | 20 | 30 | 40 | 50 | 60 | 70 | 80 | 90 | 2000 | 10 | 20 |
DISCOGRAPHY
Singles
2015
CD SONY ? (EUR) (promo)

Burning House

2015
CD Arista

88875-07265-2 (US) (promo)

My Mistake / My Mistake [Hook 1] / My Mistake [Hook 2]

2018
CD SONY ? (UK) (promo)
Diane
Albums
2010
CD Rubber Room 12915 (US)
Heartforward -

Camaron Ochs -

The Traveler / Give This Time / Lullaby For Adults / You Were Late / Heartforward / How'd I Get This Far / This Far Gone / Harder On Your Own / Don't Wait Too Long / My Offer / Little Voice / You And My Electric Guitar
12/2015
CD Arista / Sony 88875070492 (US)

Untamed -

Untamed / Hungover On Heartache / Mayday / Burning House / Cold In California / My Mistake / Runaway Train / Half Broke Heart / Want It All / Country Ain't Never Been Pretty / Village
10/2020
CD RCA / TRIPLE TIGERS 19439-80331-2 (US)

The Otherside - Redwood Tree / The Otherside / Classic / Forgetting You / Like A Movie / Changes / Till There's Nothing Left / What Goodbye Means / Diane / Happier For You / Girl Like Me
© Rocky Productions 11/10/2022