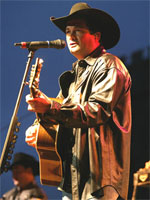 Chanteur Country US né le 18 Décembre 1966 à Vidor (Texas).

Tracy Byrd's brand of new traditionalist country made him a star in the '90s, particularly his playful, good-time party singalongs (though he also turned in the occasional ballad success). Byrd was born in the small rural town of Vidor, TX, in 1966 and grew up listening to his family's extensive country record collection. When Byrd was 20 years old, he visited a novelty recording studio in a shopping mall and sang over a karaoke-style backing track of "Your Cheatin' Heart." Impressed, the saleswoman invited him to perform in an amateur talent show, and when Byrd was well received, he decided to make country music his vocation. He dropped out of college and joined Mark Chesnutt's band, eventually replacing Chesnutt as the house headliner at a popular nightspot in Beaumont, TX. He made one unsuccessful trip to Nashville in search of a record deal, but his second time around, he landed a private audition with MCA executives, who signed him right away.Byrd's self-titled debut album was released in 1993, and while it wasn't a blockbuster, it put the singer on the map in a big way with its third single, the number one smash "Holdin' Heaven." The follow-up album, 1994's No Ordinary Man, was Byrd's commercial breakthrough; it sold over two million copies thanks to four Top Five hits: the dance tunes "Watermelon Crawl," "Lifestyles of the Not So Rich and Famous," and "The First Step," and the change-of-pace ballad "The Keeper of the Stars," which became a wedding favorite among country fans. Byrd followed his big success quickly with 1995's Love Lessons, and while singles like "Walking to Jerusalem" and "4 to 1 in Atlanta" didn't duplicate the massive popularity of their predecessors, they still helped the album sell at a respectable gold level. 1996's Big Love returned Byrd to the Top Five of the singles charts with the title track and "(Don't Take Her) She's All I Got," and the title track of 1998's I'm from the Country reached similar territory.
Byrd subsequently decided to leave MCA for RCA, and made his label debut with 1999's It's About Time, which featured a smoother, poppier production on tracks like the near-Top Ten "Put Your Hand in Mine" (the record's biggest single). However, Byrd returned to straight-ahead, good-time country for the follow-up, 2001's Ten Rounds; fans rewarded him by sending the single "Ten Rounds with Jose Cuervo" to the top of the charts, giving Byrd his second number one. The album also featured the Top Ten hit "Just Let Me Be in Love" and a duo with Chesnutt on the playfully anti-pop "A Good Way to Get on My Bad Side." A final album for RCA, Truth About Men, appeared in 2003. Byrd then released Different Things on Blind Mule Records in 2006.
https://www.tracybyrdmusic.com/
https://en.wikipedia.org/wiki/Tracy_Byrd
Talents : Vocals, Songwriter, Guitar
Style musical : Contemporary Country

http://youtu.be/qLCl1ApjV4s
Years in activity :
| | | | | | | | | | | | |
| --- | --- | --- | --- | --- | --- | --- | --- | --- | --- | --- | --- |
| 1910 | 20 | 30 | 40 | 50 | 60 | 70 | 80 | 90 | 2000 | 10 | 20 |
DISCOGRAPHY
Singles
| | | |
| --- | --- | --- |
| 07/1992 | SP MCA MCAS7-54426 (US) | That's The Thing About A Memory / Back In The Swing Of Things |
| 01/1993 | SP MCA MCAS7-54497 (US) | Someone To Give My Love To / Talk To Me Texas |
| 05/1993 | SP MCA MCAS7-54639 (US) | Holdin' Heaven / Edge Of A Memory |
| 09/1993 | SP MCA MCAS7-54735 (US) | Why Don't That Telephone Ring / Out Of Control Ranging Fire |
| 04/1994 | SP MCA MCAS7-54778 (US) | Lifestyles Of The Not So Rich And Famous / You Never Know Just How Good You've Got It |
| 07/1994 | SP MCA MCAS7-54889 (US) | Watermelon Crawl / You Never Know Just How Good You've Got It |
| 11/1994 | SP MCA MCAS7-54945 (US) | First Step / No Ordinary Man |
| 02/1995 | SP MCA MCAS7-54988 (US) | Keeper Of The Stars / Pink Flamingos |
| 05/1995 | SP MCA MCAS7-55049 (US) | Walkin' To Jerusalem / Down On The Bottom |
| 08/1995 | SP MCA MCAS7-55102 (US) | Love Lessons / Don't Need That Heartache |
| 01/1996 | SP MCA MCAS7-55155 (US) | Heaven In My Woman's Eyes / Walking In |
| 05/1996 | SP MCA MCAS7-55201 (US) | 4 To 1 In Atlanta / Have A Good One |
| 12/1996 | SP MCA MCAS7-55292 (US) | (Don't Take Her) She's All I Got / I Love You, That's All |
| 04/1997 | SP MCA MCAS7-72002 (US) | Don't Love Make A Diamond Shine / Tucson Too Soon |
| 08/1997 | SP MCA MCAS7-72011 (US) | Good Ol' Fashioned Love / Driving Me Out Of Your Mind |
| 11/1997 | SP MCA MCAS7-72037 (US) | Gettin' Me Over Mountains / On Again Off Again |
| 02/1998 | SP MCA MCAS7-72040 (US) | I'm From The Country / For Me It's You |
| 05/1998 | SP MCA MCAS7-72058 (US) | I Wanna Feel That Way Again / Gettin' Me Over The Mountains |
| 11/1998 | SP MCA MCAS7-72083 (US) | When Mama Ain't Happy / Back To Texas |
| 07/1999 | SP RCA 65846-7 (US) | Put Your Hand In Mine / Callout |
| 11/1999 | SP RCA 65907-7 (US) | Put Your Hand In Mine / It's About Time |
| 03/2000 | SP RCA 60210-7 (US) | Love You Ain't Seen The Last Of Me / Put Your Hand In Mine |
| 07/2000 | SP RCA 69006-7 (US) | Take Me With You When You Go / Love You Ain't Seen The Last Of Me |
| 02/2001 | SP RCA 69081-7 (US) | Good Way To Get On My Bad Side / Put Your Hand In Mine |
| 07/2001 | SP RCA 69106-7 (US) | Just Let Me Be In Love / Somebody's Dream |
| 2002 | SP RCA 69171-7 (US) | Ten Rounds With Jose Cuervo / Somebody's Dream |
| | |
| --- | --- |
| | |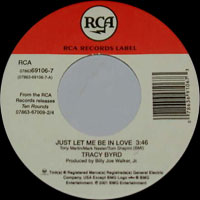 Albums
04/1993
CD MCA 10649 (US)
TRACY BYRD - That's The Thing About A Memory / Back In The Swing Of Things / Someone To Give My Love To / Holdin' Heaven / Why / Out Of Control Raging Fire / Hat Trick / Why Don't That Telephone Ring / Edge Of A Memory / Talk To Me Texas
06/1994
CD MCA 10991 (US)
NO ORDINARY MAN - First Step / Lifestyles Of The Not So Rich And Famous / No Ordinary Man / Anybody Else's Heart But Mine / Watermelon Crawl / Keeper Of The Stars / You Never Know Just How Good You've Got It / Redneck Roses / Right About Now / Pink Flamingos
07/1995
CD MCA 11242 (US)
LOVE LESSONS - Walking To Jerusalem / Love Lessons / 4 To 1 In Atlanta / Heaven In My Woman's Eyes / Honky Tonk Dancing Machine / You Lied To Me / Down On The Bottom / Don't Need That Heartache / Have A Good One / Walkin' In
10/1996
CD MCA 11485 (US)
BIG LOVE - Big Love / Cowgirl / Good Ol' Fashioned Love / She's All I Got / If I Stay / Don't Love Make A Diamond Shine / Tucson Too Soon / I Don't Believe That's How You Feel / Driving Me Out Of Your Mind / I Love You That's All
05/1998
CD MCA 70016 (US)
I'M FROM THE COUNTRY - Gettin' Me Over Mountains / I Wanna Feel That Way Again / I Still Love The Night Life / For Me It's You / I've Got What It Takes / On Again Off Again / Walkin' The Line / Back To Texas / Old One Better / I'm From The Country
02/1999
CD MCA 70048 (US)
KEEPERS - When Mama Ain't Happy / Soemone To Give My Love To / Holdin' Heaven / Lifestyles Of The Not So Rich And Famous / Watermelon Crawl / Keeper Of The Stars / Love Lessons / Heaven In My Woman's Eyes / Big Love / She's All I Got / I'm From The Country
10/1999
CD MCA 67881 (US)
IT'S ABOUT TIME - Put Your Hand In Mine / It's About Time / Can't Have One Without The Other / Take Me With You When You Go / Every Time I Do / Love You Ain't Seen The Last Of Me / Ain't It Just Like A Woman / Undo The Right / Proud Of Me / Little Love / Something To Brag About
07/2001
CD MCA 67009 (US)
TEN ROUNDS - Somebody's Dream / Just Let Me Be In Love / Ten Rounds With Jose Cuervo / Wildfire / How Much Does The World Weigh / Summertime Fever / Crazy Every Time / Good Way To Get On My Bad Side / Needed / Tryin' Not To Love You / Never Gonna Break Again / Keeper Of The Stars
11/2001
CD MCA 70245 (US)
THE MILLENNIUM COLLECTION - Holdin' Heaven / Lifestyles Of The Not So Rich And Famous / Watermelon Crawl / First Step / Keeper Of The Stars / Walking To Jerusalem / Love Lessons / Big Love / She's All I Got / I'm From The Country
07/2003
CD MCA 67073 (US)
THE TRUTH ABOUT MEN - Drinkin' Bone / You Feel Good / How'd I Wind Up In Jamaica / Tiny Town / Truth About Men / Making Memories Of Us / That's What Keeps Her Getting By / When You Go / Baby Put Your Clothes On / Somewhere I Wanna Go / Ten Rounds With Jose Cuervo
02/2005
CD BNA / BMG 64861 (US)
GREATEST HITS - The Truth About Men / Just Let Me Be In Love / Drinkin' Bone / Watermelon Crawl / Keeper Of The Stars / A Good Way To Get On My Bad Side / Ten Rounds With Jose Cuervo / Put Your Hand In Mine / I'm From The Country / Tiny Town / Johnny Cash / Revenge Of A Middle-Aged Woman
09/2006
CD BLIND MULE 40010 (US)
DIFFERENT THINGS - Different Things / More I Feel Like Rockin' / She Was Smart / Cowboy And A Dancer / Biggest Thing In Texas / Just One Woman / Saltwater Cowboy / Cheapest Motel / Better Places Than This / Before I Die / Hot Night In The Country
03/2007
CD MCA 08135 (US)
DEFINITIVE COLLECTION - Holdin' Heaven / Lifestyles Of The Not So Rich And Famous / Watermelon Crawl / The First Step / The Keeper Of The Stars / Walking To Jerusalem / Love Lessons / Heaven In My Woman's Eyes / Big Love / (Don't Take Her) She's All IGot / Don't Love Make A Diamond Shine / I'm From The Country / I Wanna Feel That Way Again / Put Your Hand In Mine / Just Let Me Be In Love / Ten Rounds With Jose Cuervo / The Truth About Men / Drinkin' Bone
09/2007
CD SONY / BMG 714944 (US)
SUPER HITS - I'm From The Country / How'd I Wind Up In Jamaica / Drinkin' Bone / Watermelon Crawl / The Truth About Me / Put Your Hand In Mine / Ten Rounds With Jose Cuervo / Keeper Of The Stars / Just Let Me Be In Love / Take Me With You When You Go
2008
CD BLIND MULE ? (US)
DIFFERENT THINGS - THE ACOUSTIC MIXES - Cheapest Motel / She Was Smart / Just One Woman / The More I Feel Like Rockin' / A Cowboy And A Dancer / Better Places Than This / The Biggest Thing In Texas / Saltwater Cowboy / Different Things / Hot Night In The Country / Before I Die
10/2011
2 CD T-BIRD AMERICANA TBIRDAM 2023 (US)
IT'S ABOUT TIME & TEN ROUNDS :

CD 1 : Put Your Hand In Mine / It's About Time / Can't Have One Without The Other / Take Me With You When You Go / Every Time I Do / Love You Ain't Seen The Last Of Me / Ain't It Just Like A Woman / Undo The Right / Proud Of Me / Little Love / Something To Brag About
CD 2 : Somebody's Dream / Just Let Me Be In Love / Ten Rounds With Jose Cuervo / Wildfire / How Much Does The World Weigh / Summertime Fever / Crazy Every Time / Good Way To Get On My Bad Side / Needed / Tryin' Not To Love You / Never Gonna Break Again / Keeper Of The Stars

03/2012
CD MCA 001640502 (US)
ICON - I'm From The Country / Holdin' Heaven / Lifestyles Of The Not So Richand Famous / (Don't Take Her) She's All I Got / The Keeper Of The Stars / Big Love / Walking To Jerusalem / When Mama Ain't Happy / Love Lessons / Heaven In My Woman's Eyes / Watermelon Crawl
© Rocky Productions 8/03/2012